Every brand aspires to be the leading brand – not simply the one in the masses. Companies that leverage the power of innovation and artificial intelligence in listening and responding to customers, will be the next successful brands in the industry. On the contrary, traditional market surveys are no longer capable of providing real-time customer insights and demand manual efforts.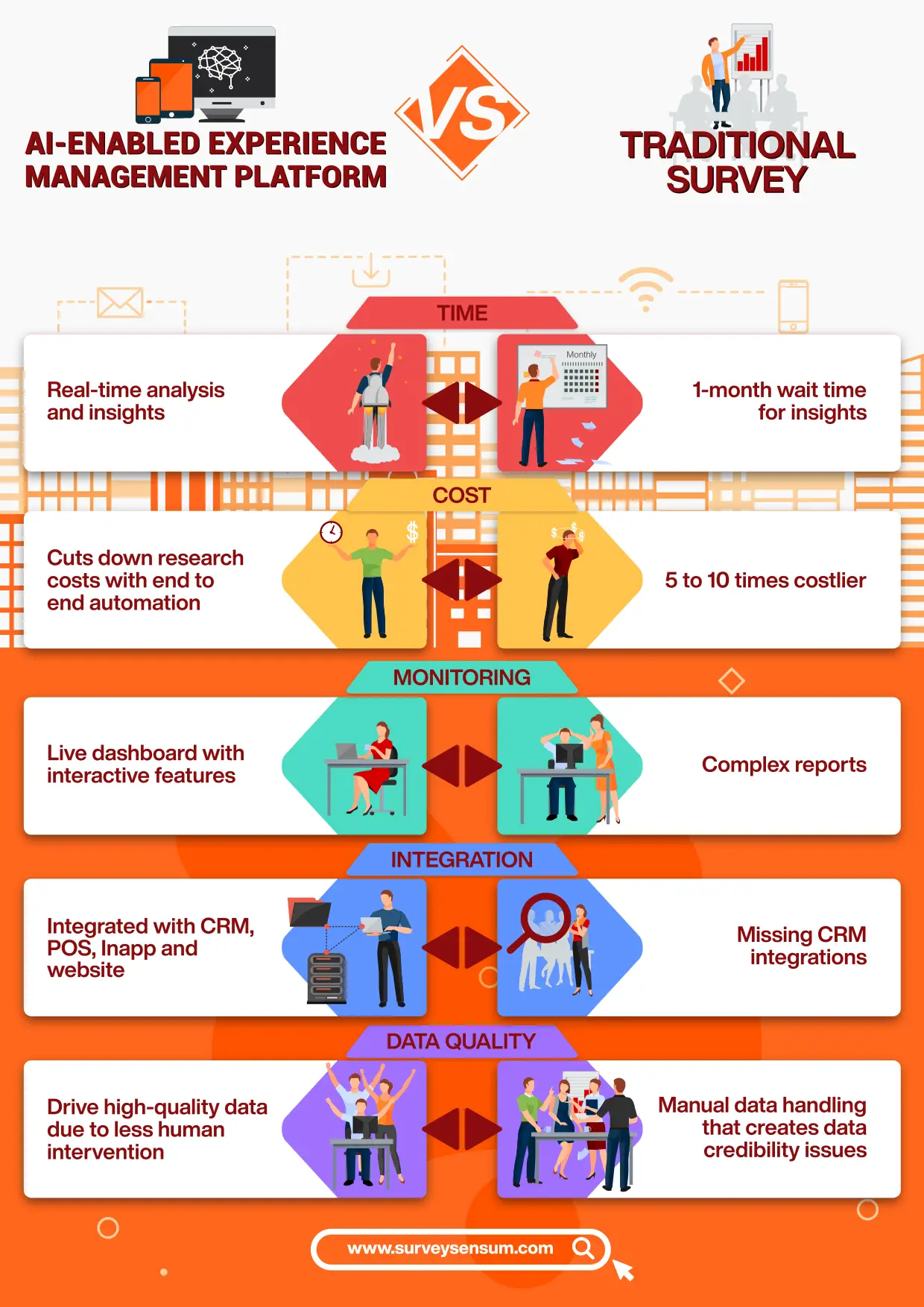 "Innovation distinguishes between a leader and a follower." — Steve Jobs
Experience Management over Traditional Survey
Ai-enabled experience management is agile and scalable that has close the loop and real-time dashboard functionalities for the brands of today's ever-competitive era.
Check out the comparison between a traditional market survey and an Ai-enabled experience management platform.
Time: Unlike traditional survey where you will have to wait for 1-month for insights, and Ai-enabled experience management platform offers real-time and meaningful customer insights. No more waiting – you will get the reports on the go.
Cost: Cut down manual research costs by 30 to 40 per cent because of automation in experience management. While traditional survey demands a lot of time, costs and efforts.
Monitoring: Access the real-time dashboard with usable insights that can help businesses in making profitable decisions while traditional survey involves a lot of paper-intensive methods which are hard to manage and monitor whenever needed.
Integration: When using an Ai-enabled experience management tool, you can simply integrate customer feedback with your CRM, Point of Sale (POS software), in-app and website for quick actions on every feedback that facilitates close the loop. But, it's not feasible in the traditional survey.
Data Quality: The data quality is crucial in marketing research and with an Ai-enabled experience management platform in place, data quality is guaranteed due to less human intervention and automation.
Having a detailed comparison chart at your fingertips puts you on the forefront of your brand's success.
Schedule a call with CX experts to understand how it can help your business in improving customer retention and measuring customer experience.
How much did you enjoy this article?
Stay up-to-date with latest CX tips and tricks, subscribe now!
Don't worry, we don't spam you.