B2B SaaS Customer Journey: Surveys for every stage
Do you want to proactively prevent customer churn?
Do you want to understand what your customer is looking for?
And just magically deliver it!
There's only one way to do it. 
You need to get into their heads! 
But how?
Follow an "outside-in" perspective. Ask them effective revealing questions. 
And their answers will give you everything you are looking for!
After all, what's more efficient than asking them what they want?
One of the best ways to understand the customer is by launching a survey. However simple it seems, it sometimes delivers insignificant results. Why?
Because asking the right question is not enough. You need to ask those questions at the right time throughout the customer life cycle. 
For any B2B SaaS company that is starting its Voice of Customer program, the customer journey is the first step to understanding your customers. It will tell you at what different stages of the B2B SaaS customer journey you should launch customer surveys to collect feedback.  
Today, I am going to share with you,
What is a typical B2B SaaS customer journey?

At what touchpoints and milestones should you launch feedback surveys?

What type of feedback questions should you ask at each milestone?

And more…
Also, going forward, I'll share some greater insights I gathered in a conversation with
Yanira Sesniak, VP of Customer Success at IngeniousIO.
Let's start by understanding a typical B2B SaaS customer journey with an example.
Understanding B2B SaaS Customer Journey
A customer journey is a path of several stages that your customer goes through before arriving at that final activity of purchase. 
In the above typical B2B SaaS customer journey, a customer visits your website and finds out about your product. Intrigued, they take the product demo, and after being delighted with the product, they purchase it.
You implement the product and onboard them. Then the customer starts using the product and takes the help of your support or customer success if and when required. And if at this point, they are satisfied and happy with the product they become advocates of your brand.
Click here to know more about the customer journey 
Throughout this customer journey, you'll gather customer feedback from every stage using CSAT, CES, and NPS surveys, depending on each touchpoint.  
So, which surveys are used to collect feedback at every stage of the B2B SaaS Customer Journey?
Now, what are CSAT, CES, and NPS Survey?
a.) CSAT Survey
CSAT or Customer Satisfaction surveys are used to gauge customer satisfaction along every touchpoint of their journey. Be it after a certain interaction, or on the overall experience of the customer, customer satisfaction is a strong predictor of how happy and satisfied your customers are with your brand.
Click here to know more about customer satisfaction
b.) CES Survey
CES or Customer Effort Score surveys help you gauge the user experience of a product or service. Mostly measured after product usage, or new feature adoption, CES surveys help you evaluate how easy your product or service is for the customer to use and identify the areas of improvement if any.
Click here to know more about the customer effort score
c.) NPS Survey
NPS or Net Promoter Score surveys are the perfect metrics to gauge customer loyalty toward your brand. On a scale from 0 to 10, it asks customers how likely they are to recommend your brand to others. Based on their answers, they are divided into detractors, passives, and promoters. 
Click here to know more about the Net Promoter Score
All of this valuable customer feedback goes into your VOC dashboard and helps you improve your onboarding process, customer support, product, and the entire VOC program.
Now, which of these surveys should you launch at each milestone?
What Surveys to launch at each milestone of the B2B SaaS Customer Journey?
Let's start with the first milestone!
1. Take a website feedback survey 

Take in-the-moment feedback on your digital experiences with website surveys.  It can be considered one of the most important stages of the B2B SaaS customer journey. It is also the easiest way to ask for feedback on your website.
Embed a pop-up survey on your website or place a feedback button on the right panel to get consistent feedback. This will grab the attention of your visitors and increase the response rate. 
Gather maximum quantitative and qualitative feedback on your site by keeping your surveys short with only 1-3 questions and including only one open-ended question to get in-depth responses. 
These surveys allow you to gauge the effectiveness of your website by asking your customers about how they found out about you, their experience on the website if the website meets their needs, and their likelihood to return. 
Here's an efficient example of a CSAT and CES website survey.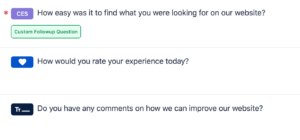 The above survey helps you analyze how efficient, easy, and user-friendly your website is. 
Great user experience makes it highly likely that your visitors buy from you and turn into customers. This takes us to the post-purchase survey. 
2. Post-purchase customer satisfaction survey 
It tells you how your sales process was. Taking a post-purchase feedback survey right after a customer buys your product is a non-intrusive way to understand how your customers feel about your company. It is a crucial step in measuring your customer satisfaction and helps a lot in building a strong customer-brand relationship. 
This survey aims to gather valuable insights on how you can improve your buying experience. You can use this feedback to enhance the experience and retain customers by improving your marketing and sales strategy friction. 
Propose a survey of 4 to 6 questions, including a few open-ended questions to discover new aspects of your business. 
Below is an example of a lucrative post-purchase CES survey that delivers great insights.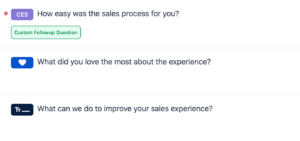 The above post-purchase survey will help you gather insights into how impressive and smooth your sales process is in the customers' eyes.
Now heading on to the next milestone of the B2B SaaS customer journey is the post-onboarding survey.
3. Post Onboarding surveys to evaluate your onboarding process
How efficient is your onboarding process?
Are your customers happy with it?
The SaaS onboarding process of your product can vary from a few weeks to months depending on the type or the level of complexity of your product or service beholds. 
There can be two types of onboarding processes: quick onboarding, and long onboarding. 
a.) Quick Onboarding
Yanira Sesniak
says, "The onboarding can vary depending on the complexity of the platform and the buyer. For example, in some cases, SMBs will have onboarding of no more than 90 days, while the enterprises' onboarding can take upto 6 months. We send an NPS survey after onboarding and every 6 months after that to ensure we have a pulse on how our customers feel."
The quick onboarding process can complete within 7 to 15 days. It ends when the hand-holding through the product is no longer necessary, and the customer can navigate through it. For instance, the onboarding of Zoom, Slack, or Intercom takes only a few days. Once integrated and after some training, you are good to go. These solutions are generally made for SMBs.
You should send a CES survey post onboarding to evaluate how satisfied your customer is with your SaaS onboarding process.
Here's an example of a post-onboarding CES survey.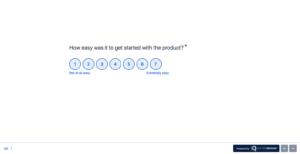 b.) Long Onboarding:
On the other hand, some products require custom solutions and proper implementation as per the customer's requirements. These take 30 days to a few months to get onboarded.
Now that your customer has been with you for months, along with the CSAT survey, you should also include an NPS survey as part of your SaaS onboarding surveys!
Here's one example for you.

So now that the onboarding is done, let's talk about product adoption.
4. Understand product adoption with CSAT and CES surveys
Find out how satisfied your customers are with your products and service with the CSAT and CES product surveys after they have used every feature of the product. The valuable feedback collected will help you prioritize your product roadmap, improve product quality, and increase customer satisfaction and retention.
Yanira Sesniak adds, "A CSM considers an account adopted when they have achieved the customer's desired business outcome and completed a set of tasks in the product that will set them up for long-term success with the product. The outcomes could be saving time or money, or earning money (depending on every B2B company) after using the product."
Here are some questions you can ask in a product feedback survey. Sent while relationship surveys.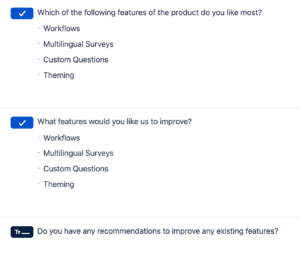 After a new feature launch, you need to evaluate how happy your customers are with the new features. So, send a CSAT survey just after the launch to see how efficient your new product features are. 
For instance,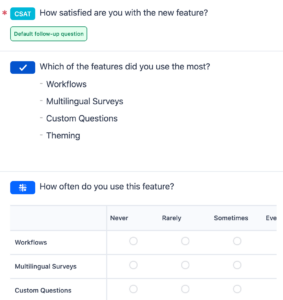 It is crucial to gather customer feedback about your product and service after you have delivered the product to know how effective your solutions are and drive customer success and satisfaction.
After successful product adoption, it is imperative to monitor customer health and keep them happy with the product. For that, you should take relationship surveys after a certain interval.
5. Monitor health with Relationship NPS Surveys 
Relationship NPS helps in investigating what areas of customer experience needs improvement. It helps you get a holistic overview of the measures you need to take in order to achieve the overall health of the relationship with the customer. The best way to use relationship NPS is to understand who to send the surveys to and when.
In B2B, there are many people involved in one account playing different roles. It is critical to understand who you should take feedback from and about what. 
Ideally, there are three types of roles that you should take feedback from.
a.) User: 
They are the product users that use your product to accomplish their core job. They are the ones that tell you how awesome your product is and if any improvements are required.
b.) Buyer: 
They are the decision-makers who don't require any approval in making buying decisions. They sometimes use the product to analyze business outcomes or view executive-level reports.
c.) Champion: 
They are the advocates of the product. They are the ones that directly influence the buyer's purchasing decisions. 
Yanira Sesniak comments, "We share with our teams what type of user is giving feedback every week in our Customer Success/Product Sync. It's important to know things like customer type as well as ARR for customers. So we know which customer feedback to prioritize." 
She adds, "We take feedback after a sales demo, after Onboarding is completed, and every 6 months after that in the form of an NPS survey."
Now, let's understand when to send these relationship surveys.
The timings of every survey differ with each client, type of product, product usage, and the number of touchpoints. The ideal time to send a relationship NPS survey is every three months, that is, after 30 days of onboarding, and then every quarter or twice a year.
Here's an example of a relationship NPS survey.

But to maintain a healthy relationship with your customer, you need to provide them with top-notch customer service. This takes us to the customer service feedback survey.
6. Customer service feedback survey
Did you know that US businesses lose around $83 billion each year due to poor customer service?
And 86% of the customers leave a brand after poor customer service.
That is why it is essential to provide excellent customer service and meet customer expectations at all touchpoints of a B2B SaaS customer journey.
But how do you know how efficient your customer service team is?
With customer service feedback surveys!
Send CES and CSAT surveys immediately after the customer interacts with your customer service team and gather in-the-moment feedback.
Here's a perfect example of a customer service feedback survey.

7. Take CSAT and NPS surveys before renewal
Renewal or retention surveys help you analyze if your customer is happy with your brand or service or is likely to switch.
Every customer has some expectations from your product or service and it is critical that you meet those expectations. If you aren't meeting their expectations, be assured that they are looking for some alternatives. You can either make a hard shift to exceed those expectations or at least meet them.
The best approach is to take a CSAT survey. They are a strong predictor of customer loyalty, customer retention, and product renewal.
And the ideal time to send these surveys is one month before renewing the contract. This one-month gap helps you analyze what problems they are facing with your product and how you can resolve them.
You solve their problem, gain their confidence, and retain them!
While talking about the customer lifecycle and the VOC program,
Will Pagden
, Head of Customer Success at Webeo says, "We send CSAT survey post onboarding, NPS survey two times a year, and a renewal survey 6 months before renewal."
Here are some of the questions that you should ask in your retention surveys.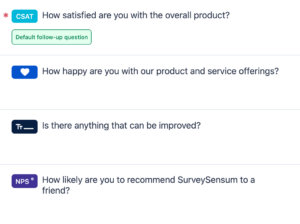 To increase customer satisfaction and retention, the foremost thing you need to do is build a robust customer relationship.  
Now that you know how you should retain your customers, let's move on to the next milestone of the B2B SaaS customer journey, product-market fit.
8. Product Market Fit, a cornerstone of marketing
The one question that many business owners or product managers ask themselves is, "Is this a great product?" 
In the times of a crowded marketplace and fluctuating customer demands and expectations, it is crucial to find your product-market fit. If your product is not solving your customers' pain points, then it won't be successful! 
Understanding the product-market fit can not only improvise your product but also gives the right direction to the development team.
Since you are looking to resolve your customers' pain points, you need to talk to them. Their feedback will not only tell you their problems but also tell you if the proposed solution is effective or not. 
Finding out how satisfied your customers are with your product provides you with valuable information that can help you improve your retention rate.
Some questions that you should ask in your product fit CSAT survey are,
Conclusion:
Before sending any surveys, make sure that you understand the stages of your customer journey and know the critical touchpoints. And also divide the customers into the right segments. This will help you in creating goals, planning strategies, and defining KPIs. 
You will not only be able to understand which surveys should you send and why but what approaches you should take to achieve your goals. 
Also, while designing surveys, keep in mind the objective of each survey. Always add CTA along with the response received for each survey.
The golden rule is to reduce the number of questions and surveys and gather maximum relevant responses without overwhelming the customer. So, best of luck surveying your customers at each touchpoint of their SaaS customer journey.
FAQ (Frequently Asked Questions) on B2B SaaS customer journey
Why should SaaS brands analyze their customer journey?
For SaaS companies, it is critical to understand prospective customers and guide them through several steps and turn them into loyal clientele. It all starts by analyzing how your customers learned about you, their history, purchases, customer efforts, and experiences. And you do this by asking SaaS survey questions. The customer journey is all about going through the customer's experience, emotions, and behavioral patterns.
What is the customer journey in B2B?
A B2B customer journey is all about the customer interaction points and the multiple touchpoints the customer may travel through. It includes how customers discovered your products/services, the steps they took to complete the purchase, and what they feel after the purchase. Also, ask SaaS survey questions and conduct a B2B customer satisfaction survey to get more details. 
How do I map a customer journey in SaaS?
It is very critical for companies to map a customer journey in SaaS. In order to map the SaaS customer journey, you need to stick to the below points. 
Discover the timeline, goals, and objectives.

Pick your goal and customer persona.

Determine all the customer touchpoints and interaction points.

Evaluate the conversion and customer engagement data.

Interview your customers regularly for feedback.

Ask SaaS survey questions.

Run a B2B customer satisfaction survey.

Build your customer journey map with insights and data.

Identify and include the areas of friction and pain points.

Optimize the product as well as the customer journey.
How do I create a B2B customer journey roadmap?
The steps to create a B2B customer journey roadmap are as follows.
Hold meetings to understand and communicate the goals, plans, and overview clearly

Conduct employee workshops at intervals and train them on how to deal with customers' emotions, attitudes, and efforts. Mentor them to offer the best-in-class customer experience at support at all customer touchpoints. 

Validate your feedback data for quality. Use multiple platforms to discuss with customers what is wrong and what is good about their experience with your brand and products. 

Validate your feedback quantitatively from as many customers as you can so that you get reliable insights and information to work on.

Create detailed reports and analytics based on your findings and map them to the customer journey.

 Create action plans from the customer journey map and blueprint them for qualitative training and understanding purposes.

Initiate workshops and training sessions to train staff based on your action plans. 
How much did you enjoy this article?
Stay up-to-date with latest CX tips and tricks, subscribe now!
Don't worry, we don't spam you.