So your organization feels that you have a great product and a competitive price. Yet, those sales are not coming through and you are unsure where does the problem lies. A bit of introspection could lead organizations to realize that measuring Customer Satisfaction could mean a world of difference between realizing success or failure.
Let's consider a few compelling reasons why measuring customer satisfaction can make or break your organization's growth.
On top of the mind, measuring customer satisfaction can aid organizations
 Track progress against key targets wrt CX, product and other departments
Identify friction points and prioritize the key drivers of growth
 Predict customer behavior, manage churn and drive customer loyalty
 Provide context to personalize customer experiences
 Identify internal process, policies, and product hurdles that hinder customer satisfaction
 Coach teams with real-time data and qualitative Customer feedback
So, you may believe that almost every business would prioritize measuring and improving customer satisfaction and success?
However, research suggests that only 48% of customers believe the brands and businesses they buy from are actually measuring their satisfaction levels. And 86% of consumers are willing to pay more for better customer experience.

let's look at 4 key reasons why and how companies can start measuring customer satisfaction metrics asap
As organizations may struggle to put various pieces of the customer satisfaction puzzle in place,
Focus on Accountability: Reflection of quality of products and services offered
The reason for recording and measuring customer satisfaction is for organizations to get a reality check on their offerings.
It is also a means to improve customer retention by tapping into their likelihood of churning. These metrics can highlight problems that you were not aware of, giving you the opportunity to respond and take remedial action.
Key intent behind engaging in such surveys can reflect on
What's working or not working wrt to the products/services/experiences offered and why?
Key touchpoints to improve/personalize experiences for your customers?
By prioritizing customer satisfaction as a differentiator and revenue contributor instead of a cost center and by taking accountability of their customer satisfaction rates,
organizations can improve the quality of offerings that can lead to both direct and indirect improvement in revenues and growth. Some key insights that you can gather include
How often do your customers use the product or service
Does the product help your customers achieve their goals
What is the user's favorite tool or portion of the product or service offered
What features/experiences should you improve
For example, CSAT surveys can be extended to meet the objectives of various departments.
For instance, below two examples showcase how respective teams can improve their effectiveness by asking the user relevant questions.
when they click on a product tutorial or when they complete product purchases.
How helpful do you find our product tutorials?
Not helpful at all
Barely helpful
Neither helpful nor unhelpful
Somewhat helpful
'Was there anything in your checkout process we could improve? If so, what?'
For B2C companies asking key questions around a customer's experience can act as a lookout to manage customer churn, retain customers and receive feedback on their new initiatives.
Airbnb does this seamlessly by including a simple "How are we doing" in their support section. This is more qualitative in nature but customers may be prompt in answering this question as it pops up when they are about to raise a support query.
Other B2B companies like Skype, Facebook and Whatsapp constantly measure their product performance by automating their call quality feedback question to pop-up after the end of every single call.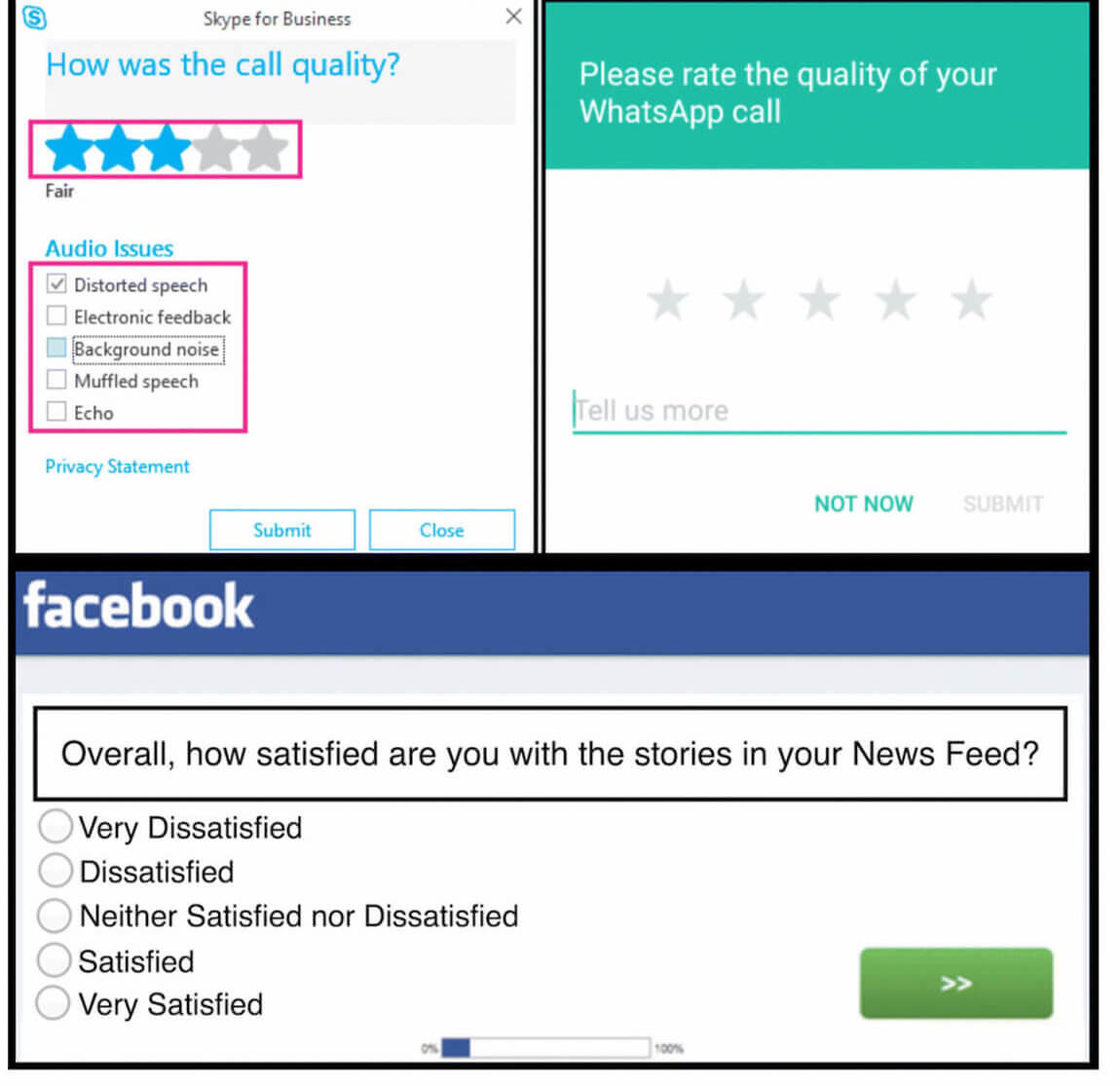 Be in touch with your customers and uncover hidden patterns
Typically, organizations work in silos and the customer feedback may not reach the product teams in a timely manner.
Measuring customer feedback in a timely manner can help product teams uncover hidden patterns and customer's needs that can help them improve their products or services.
One way to uncover hidden patterns and get real-time feedback would be to understand what metrics you're looking to improve and see if there are patterns on these specific items.
For instance, if 30 percent of respondents say the customer service wait time was too long, companies now have data to justify improving their support ops.
If the customer satisfaction survey indicates poor performance in areas such as order processing or accounting department, companies may be able to narrow down and prioritize key problems to be addressed.
Companies can make it a practice to gather real-time feedback as soon as its user performs an action that directly impacts an organization's key KPI such as canceling an item or downgrading their subscription or abandoning the cart or if there's a payment failure.
This feedback that can be gathered via a CSAT (customer satisfaction) survey is crucial in gaining deeper insights on factors that impact an organization/product/service success rates.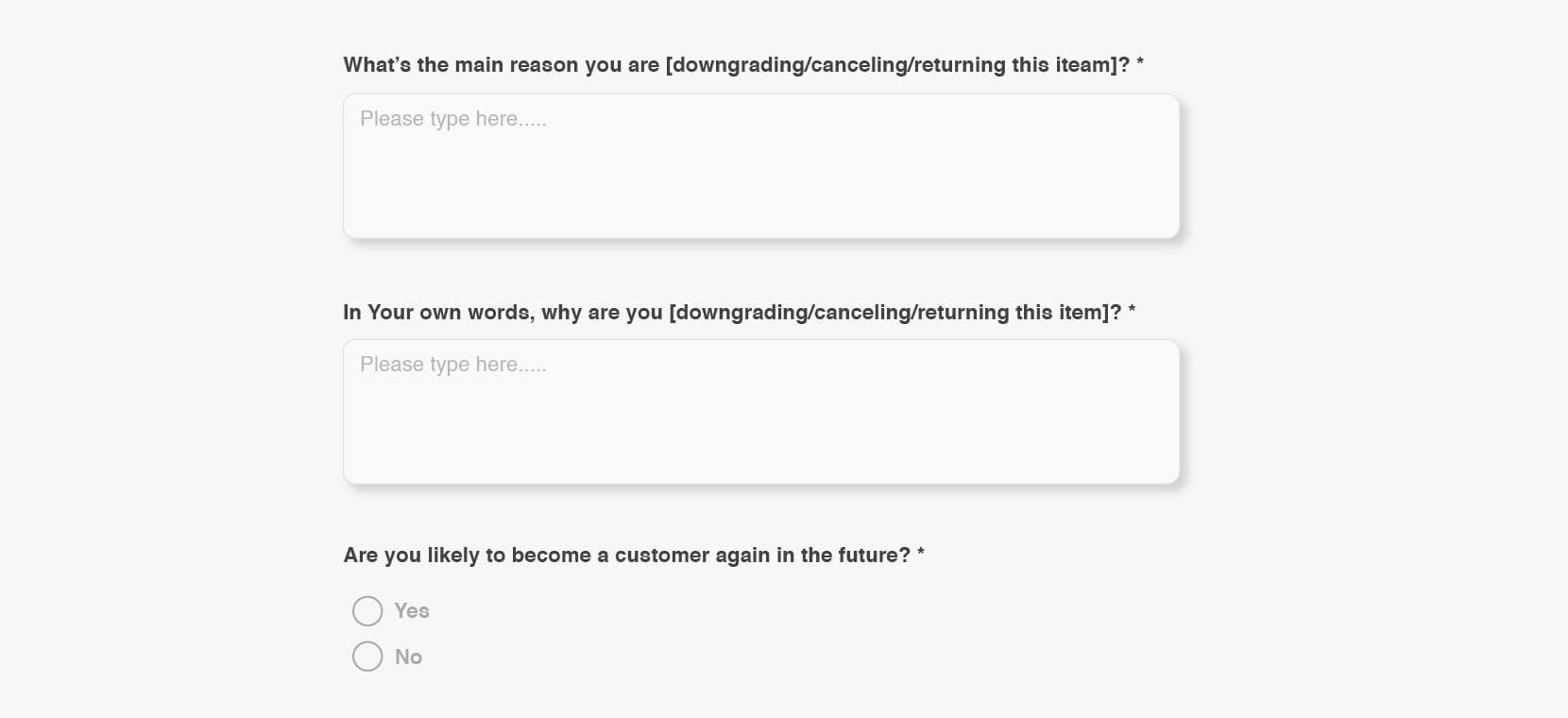 For instance, Hotjar introduces a survey that appears seconds after its user upgrades or downgrades the subscription plan.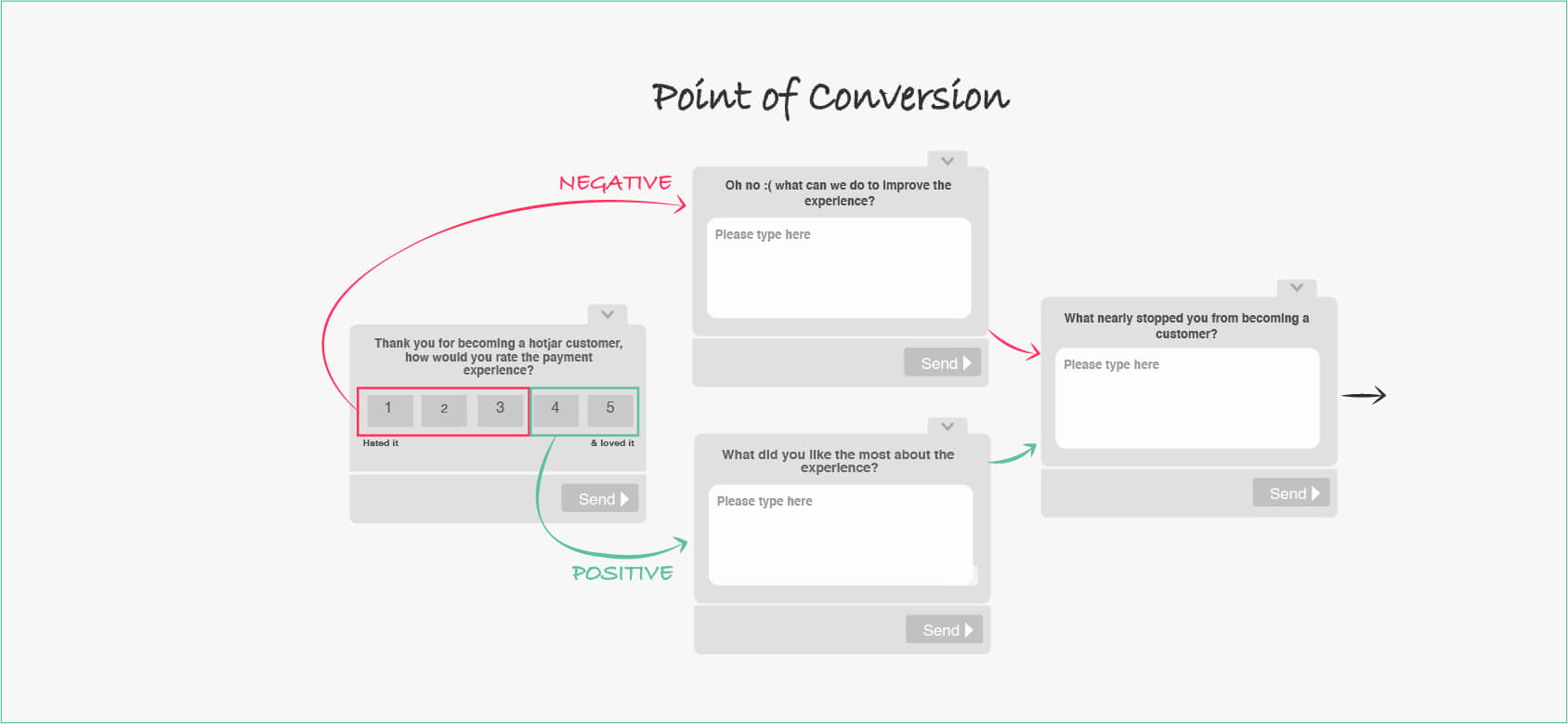 Another B2B CX technology company, Qualtrics, constantly introduces questions that can help them measure the frequency of usage of their products and services.
These types of customer satisfaction survey responses can become very useful in identifying churn patterns or customer usage patterns and aid organizations to implement the right growth aiding measures for related sets of users.
Below is one such example of uncovering hidden patterns that can help companies assess their core strengths and weaknesses.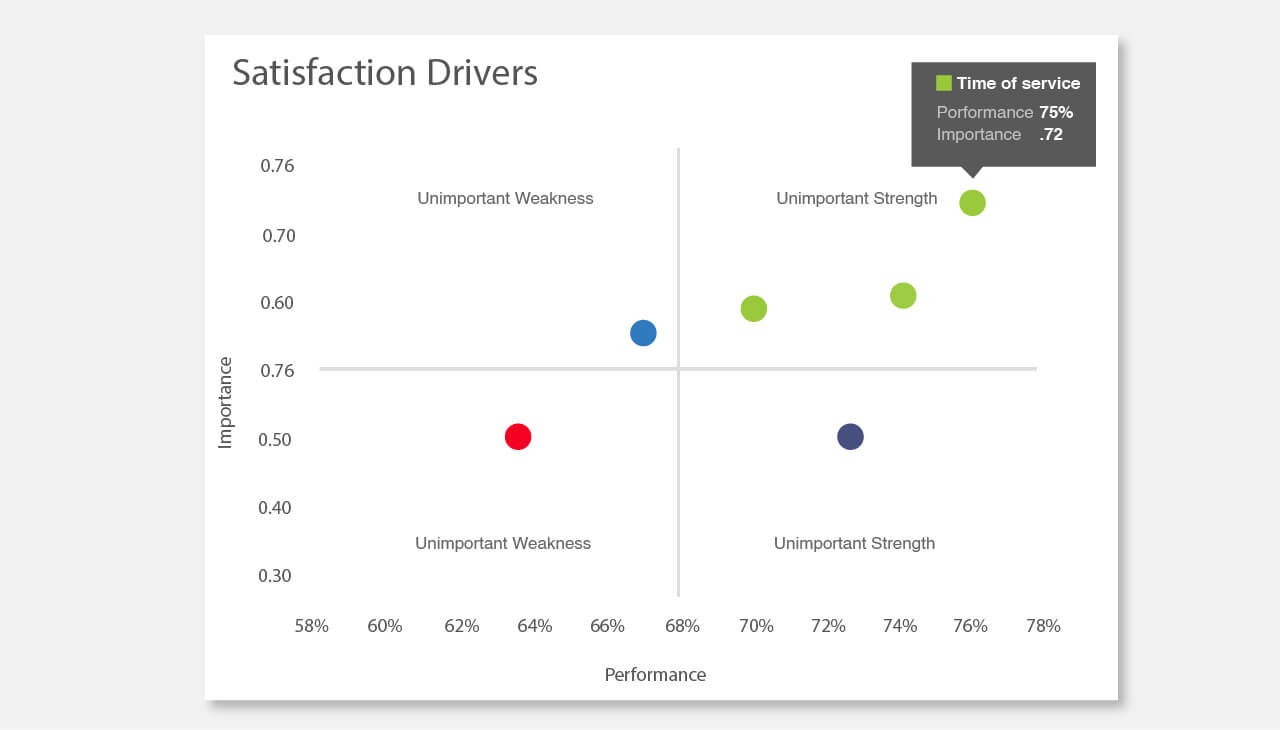 If you feel limited by qualitative data, there are open text analytics tools that help you understand the real sentiment behind every qualitative feedback.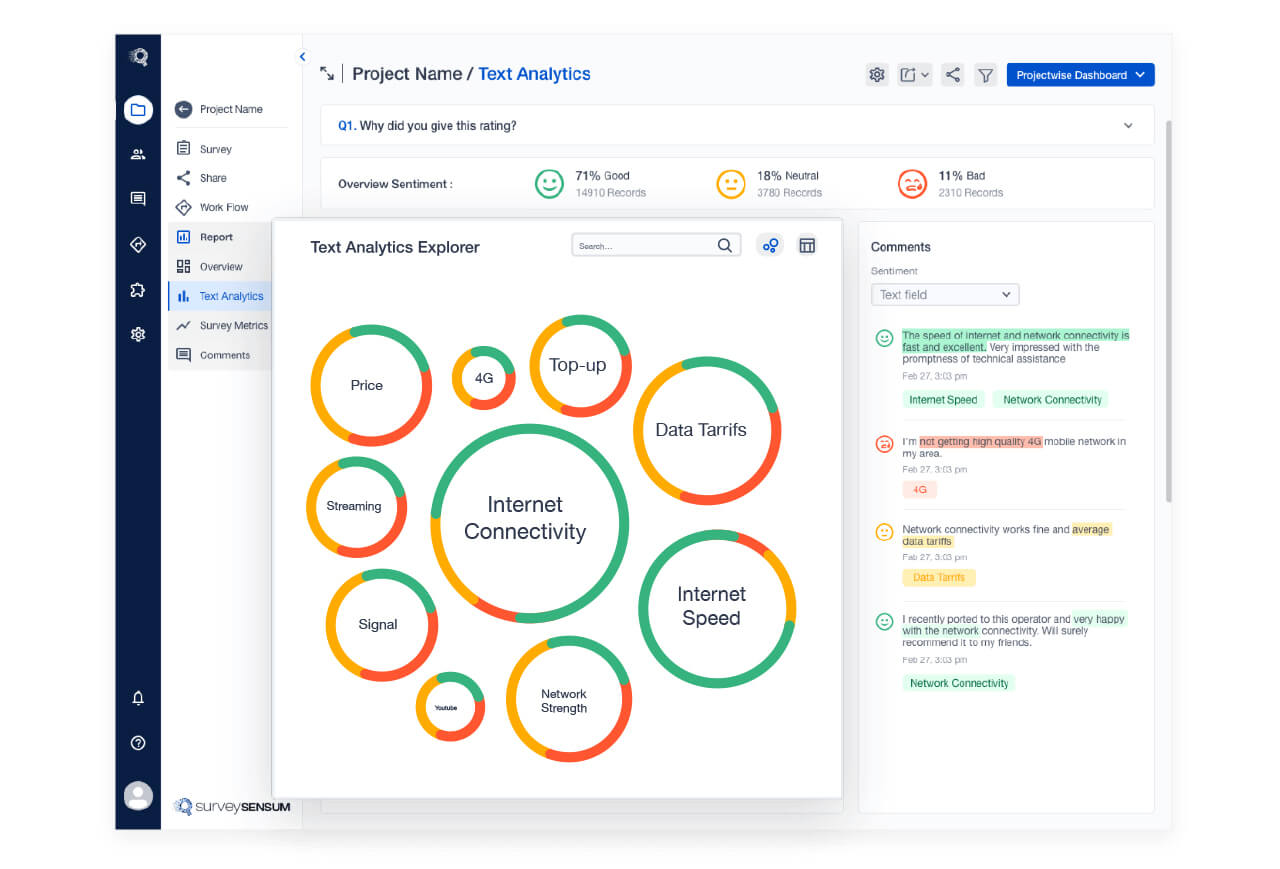 Align the internal departments and operations with a common vision and mission
Measuring customer satisfaction can help teams align better instead of working in silos. It helps the products and customer success teams strive towards achieving a common set of goals that can help them align with the overall objectives of the organization.
Employees in departments such as accounts or order processing may not have clarity on how their work contributes to overall customer satisfaction.
By including questions such as "how satisfied are you with the accuracy of payment invoices" or "how satisfied are you with our operations to refund your order,"
companies can make the internal teams directly accountable and lay the foundation for an organization-wide customer-focused attitude.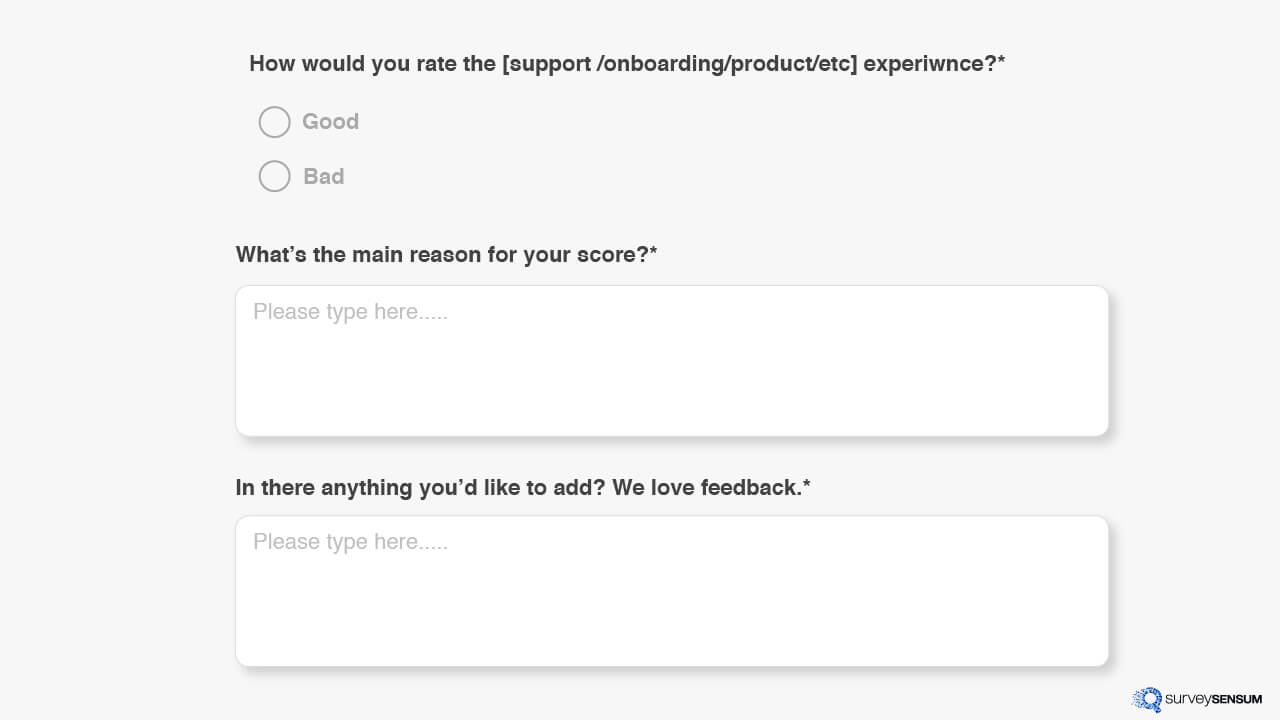 If customers complain about a product feature, the product department must be responsive and in alignment with the support team to understand how to fix the issues better.
Measuring customer satisfaction metrics can ensure that various departments have the right visibility and accountability towards resolving the core issues that impact not only their department KPIs but also their organization's KPIs.
In these situations, questions about internal processes and policies can give companies visibility into how various teams are aligned with the common mission of resolving common customer complaints or in delighting their customers.
Few examples of such questions are mentioned below:
To what extent do you agree with the following statement:
[Product/Policy name] onboarding process was simple, straightforward, and painless.
Strongly disagree
Somewhat disagree
Neither agree nor disagree
 Somewhat agree
Strongly agree
How easy did we make it to resolve your payment issue?
Very difficult
Somewhat difficult
About as easy as I expected
Somewhat easy
Very easy
Shopify's exemplifies this act where both its customer service and product teams constantly identify and utilize the communications channels that their customers frequent most often to measure their satisfaction rates.
For instance, Shopify made a Twitter account dedicated entirely to providing support to their customers. Their internal product and operations teams are highly alighted to receive prompt tweets and act on the relevant feedback immediately.
Strive towards building a credible brand
Ultimately, timely measurement of customer satisfaction metrics and implementation of the relevant feedback can help organizations establish themselves as a conscientious brand that truly cares about delighting its customers.
The below-mentioned example of survey questions, also commonly referred to as Net Promoter Score survey questions, can help companies identify the overall brand sentiment towards its products and services.
In your own words, describe how you feel about (insert company name or product here).
What can we do better?
Do you have any additional comments or feedback for us?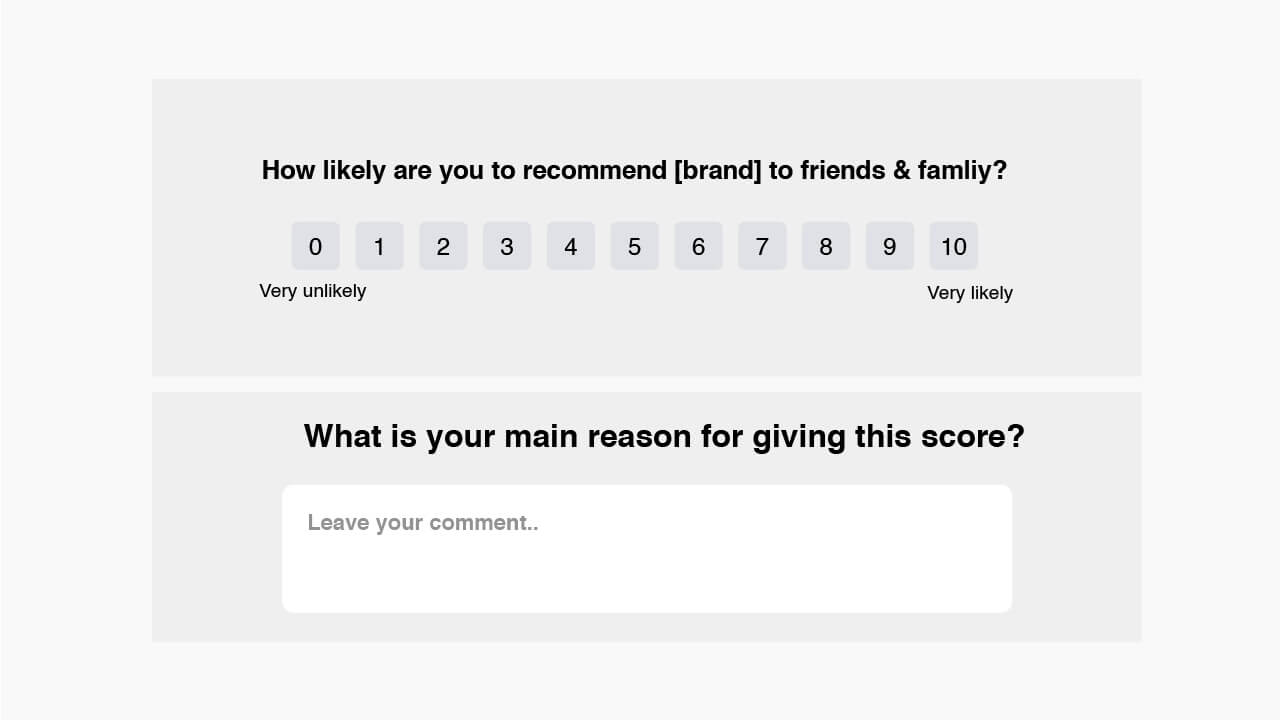 When it comes to striving for overall customer satisfaction and delight, no company does it better than Amazon, Google, and Apple.
Amazon is constantly innovating with new customer solutions, including one-day shipping, easy returns and creative physical locations that integrate for a truly omnichannel experience partly thanks to the data gathered, analyzed and implemented from its customer satisfaction surveys.
Similarly, Google has the highest ACSI among its software counterparts, thanks to its superior employee-customer engagement initiatives, where customer satisfaction metrics have a key role to play.
Apple also makes it a practice among its employees to use the Three F's principle: Feel, Felt and Found to empathize, gather their feedback and help its customers get the perfect tech solutions for their lives.
The higher the level of satisfaction you can achieve from your customers, the more likely an organization can retain its loyal customers,
Improve repeat purchase revenues, expand its customer base thanks to the free word-of-mouth publicity from its loyal users and improve its overall growth rate, something that is extremely important for any type of business today.