What is a Pulse Survey?
An employee pulse survey is a quick and easy survey approach used to determine the levels of satisfaction and engagement among employees. It consists of a short and regular set of questions sent to employees. As the name suggests, pulse surveys are carried out to continuously gain employees' opinions on job-related roles, interactions and associations, and the overall work environment.
How is a pulse survey different from an annual employee engagement survey?
There are three major differences between pulse surveys and annual employee engagement surveys. Pulse surveys are
Conducted more frequently

Short

Follows a continuous sequential approach
1. Conducted More Frequently 
While annual employee engagement surveys are conducted once a year, employees tend to share feedback about their recent events. That's where pulse surveys are required. Unlike annual engagement surveys, pulse surveys are conducted on a weekly, monthly, or quarterly basis. They receive employee feedback on a frequent basis, so you regularly have a pulse on your employees and react quickly to any concerns. 
2. Short
Annual employee surveys are very long and laborious as it covers an entire year's events. This leads to everyone rushing through to finish the long list of questions. It can affect the quality of your results as people will be focused on completing the survey quickly rather than giving genuine answers to every question. On the other hand, pulse surveys barely affect your employee's day as they typically consist of about 5-10 questions. It means more people will complete the surveys, leading to a high response rate. And the efficacy of your results will increase because the respondents are more likely to answer each question honestly.
3. Follows a continuous sequential approach
Pulse surveys usually follow a sequential approach as they aim to learn from the results of the changes established in a previous survey. On the other hand, broad random questions are asked in annual surveys. Therefore, the questions asked may not necessarily follow a sequential order. 
Now that we know there are some significant differences between pulse surveys and annual employee engagement surveys. Let's understand the advantages of pulse surveys.
Advantages of a pulse survey
The main benefits of pulse survey are: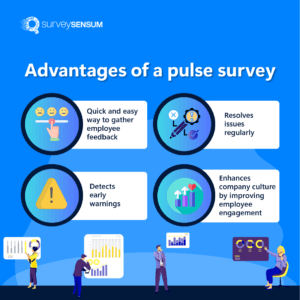 1. Quick and easy way to gather employee feedback
Pulse surveys are one of the easiest ways to gather employee feedback and analyze employee engagements. It is comparatively shorter containing only relevant questions and can be completed in a matter of minutes. This survey is more effective because employees don't have to think too much before answering the questions. 
2. Resolves issues regularly
Now that you've gathered and analyzed the feedback you'll know what is bothering your employees. You know the issues they are facing in terms of work culture, skillset, processes, colleagues, etc. Listening to them every month gives you a chance to work on those problems and resolve them at the earliest.
3. Detects early warnings
Not just employee issues, pulse surveys help companies to maintain an early warning system for crucial business metrics. When you include questions related to their job roles, satisfaction, and work culture, you get an idea of what exactly the employee feels about your company. If the response indicates dissatisfaction, then there are chances of your employee leaving your company for a better offer. And this helps you in retaining them at the right time.
4. Enhances company culture by improving employee engagement
A pulse survey is an ideal step towards positive employee engagement. Asking your employees frequent questions about their expectations, things they care about, their performance, or more keeps a gentle stream of communication alive and contributes towards engaged and satisfied employees.
Furthermore, it encourages employee interaction on non-work-related topics, creating a friendly and effective team to work around. The employees feel valued as they can freely put forward their valuable suggestions through feedback and they are more likely to stay in the organization. 
Now that we've established how important pulse surveys are, let's talk about how to create effective pulse surveys.
How to design an effective pulse survey?
Here are the steps to create highly efficient pulse surveys.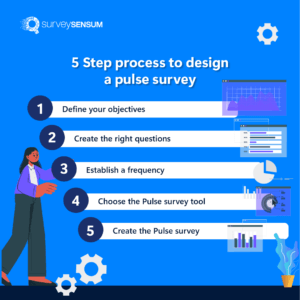 1. Define your objectives 
It's easy to create pulse surveys and send them out, but before that, you have to define the objectives clearly. If you begin a pulse survey without a clear plan, you'll get irrelevant results that don't answer your questions. So, before creating a pulse survey, it's important to define what you want to achieve. For example,
What are the engagement levels or drivers of engagement?

What action plans are working and what needs to be changed?

How strong is the team bonding or mental health of the employees?
2. Create the right questions 
Now that you know what you want to achieve, the next step is to understand the how. What questions should you ask that can help you collect the data you are looking for. Try to focus on one or two key topics of interest. You should decrease the quantity and increase the quality of questions. Try to create pulse survey questions that are specific, timely, and actionable. 
3. Establish a frequency
Balancing the correct number of questions with the right frequency is one of the most critical phases of conducting effective pulse surveys. Your pulse survey frequency should take all of the other listening posts your company is using into consideration. Because too many surveys can become distracting and tiring to your employees. The recommended survey frequency is monthly or quarterly.
4. Choose the Pulse survey tool 
Using the right pulse survey tool can make big differences in employee engagement strategy. The software should be intuitive, advanced, and able to help you deliver immaculate surveys. Moreover, it should also gather insights from responses to help you take appropriate actions.
Yes, you are all set to create a pulse survey, but before doing that, let's talk about how to make it successful!
How to increase the success rate of your pulse surveys?
Try these steps if you want to increase the success rate of your pulse survey
Announce the survey

Know your audience

Simplify question format

Analyze responses

Take appropriate action
1. Announce the survey
Make an official announcement before conducting the survey and communicate to the employees how the feedback will benefit the organization. Improved interaction can have a significant positive effect on participation rates. Announce the timeline in advance and send reminders so that employees don't delay in responding. 
2. Know your audience
Knowing the audience is a crucial step before conducting the survey. For example, if you're looking to make a company-wide change, you need to hear from all the employees and staff. On the other hand, if it's a managerial performance evaluation, only teams that engage with certain managers will be participating.
3. Simplify question format
Depending on the objective of your feedback program, focus on creating simple and explanatory questions. Choose the types of questions that are most easy to answer and gather both quantitative and qualitative feedback from the employee. You can use the Likert scale, NPS scale, multiple-choice, rating scale, drop-down questions, etc.
4. Analyze responses
Analysis of the responses is one of the most critical parts of the employee pulse survey. Make a note of all of the positives that build a more robust organizational culture, and plan for the areas of interest. Employee feedback offers detailed insights on enhancing the employee experience. Alternatively, if the feedback is negative, it will help you identify the areas of improvement and take action in time.
5. Take appropriate action
While it's helpful to listen to employees to understand their issues better, only appropriate action will help to improve their experience. When employees see that no action has been taken on their feedback, they are likely to be demotivated and won't respond again. So,  analyze the results of your surveys, identify the areas of improvement, and then make the required changes moving forward. It will make the survey successful and encourage employees to participate again in the future.
Top 10 pulse survey questions
To make pulse surveys effective, you must ask questions that get relevant and significant answers. Here are some examples.
How happy are you at work?

How satisfied are you with our current employee benefits?

Do you feel our company cares about your mental and physical well-being?

What are the challenges you are facing?

Are you able to find enough time to rest and focus on your personal needs?

How likely are you to recommend our organization's products or services to a friend?

How likely are you to recommend your organization to a friend as a good place to work?

Do you have opportunities to learn and acquire new skills?

Do you feel like coworkers respect one another here?

Are you often stressed with deadlines and workloads?
Key Statistics about Pulse Surveys
Why should you choose SurveySensum for your pulse surveys?
Even though there are plenty of pulse survey tools in the market, SurveySensum offers some unique benefits. Here are some.
1. Relevant pre-built template
We understand time is a constraint for you. So simply use the pre-built templates. All you need to do is add your organization's name and make some edits (if any) and you are good to go! Relevant questions, prefab reports dashboard, and close loop integrations, etc. are already added to these templates. 
2. Auto-generated insights
Gathering survey responses is of no use. The real deal lies in the insights instilled from these responses. SurveySensum's automated dashboard gives you a quick analysis of how your survey is performing, who all responded, gives you trends and verbatims, and more. No more manual reporting, simply download the customized resorts. 
3. Text and sentiment analysis
Its Text and Sentiment Analysis captures the pulse of your employees. How? It continuously examines the texts from their feedback, analyses the sentiments behind it, and lets you know how your employees feel about your company. All of this is automated, you don't need to put any manual effort into analyzing the open-ended feedback.
4. Share surveys across multiple platforms
SurveySensum allows you to share your pulse surveys across multiple platforms such as emails, chatbots, Slack, WhatsApp, etc. 
5. Custom dashboard
The custom dashboard helps you create multiple reports of different surveys/touchpoints inside a single platform. In a single view, it shows you how your surveys are performing, how many people responded, what kind of responses you are getting, its trending topics, and so much more. 
6. Close the loop
We believe in closing the loop. That's why this platform ensures that instant response is given to the employees who shared their feedback. This assures them that someone is actually listening to them. Moreover, SurveySensum's consultants can help you take action on this feedback. 
7. Powerful integrations
Switching from one platform to another can be tiresome. So, let's bring everything to one place. SurveySensum can integrate seamlessly with your existing tools, such as Slack, Google WorkSpace, etc., to make your day-to-day operations efficient and easy.