In just 4 months, Manulife increased its NPS score by 5 points.
43%
revenue increased
5 NPS
points raised
8-10 hours
saved weekly on analysis
SurveySensum helped us identify the issues behind the declination of our NPS score. And their team helped us resolve those issues which boosted our NPS score by 5 points in just 4 months.
Harry Hakim
Customer Experience Manager
PT Manulife Aset Manajemen Indonesia
How did Manulife increase its NPS score in just 4 months?
Request a Demo
The Objective
Their CX team wanted to identify the gaps between the brand and their customer, prioritize those gaps and act on them to deliver a great customer experience.
The Challenge
While measuring the NPS score for the past 2 years with the help of a research agency, Manulife's CX team identified that there had been a declination in the score. The challenge was to identify the reasons for the low NPS score and resolve those issues.
The Solution
They started measuring CSAT after support calls and after a customer purchases or tries to purchase mutual funds.
While analyzing their open-ended feedback, it was found that the customers were struggling to buy funds on their own because they didn't know how to choose the right one.
The team reached out to these customers over calls to confirm these issues and get more details.
Actions Taken
1.
They created help articles and videos telling customers how to find the right mutual fund to invest in.
Actions Taken
2.
They also created a webinar series on the same and pushed these recordings to the customers.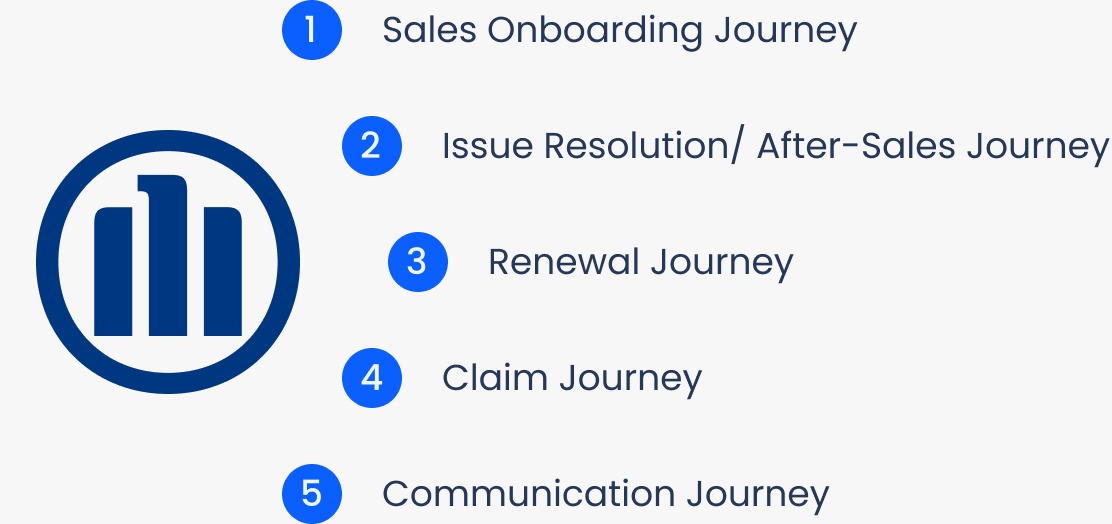 How did it solve the problem?
Well-designed Dashboard:
They can now analyze data in real-time on a well-designed dashboard. For example, they can always see their NPS scores live rather than analyzing them in excel sheets which used to take a lot of time.
Text Analysis:
Understanding and analyzing open-ended text verbatims is now easy with an AI-based text analysis engine. They can identify the most occurring customer issues, prioritize them, and act on them.
Instant Alerts:
They get instant notifications as soon as there is a dissatisfied customer. It helps them to call the customers in time and close the feedback loop.
Customer Support:
The customer support team is always there to help them out quickly whenever required.
Manulife Indonesia offers a variety of financial services including life insurance, accident and health insurance, investment services, and pension funds to individual customers and businesses in Indonesia. Through a network of more than 9,000 employees and professional agents spread across 25 marketing offices, it serves more than 2.5 million customers in Indonesia.
Industry
Investment management
Businesses that found their solutions with SurveySensum

Learn how businesses are making their feedback actionable
Want to get started with SurveySensum?