Mercedes increased its CSAT score by 30% with quality feedback.
60%
drop in the survey cost
30%
boost in customer satisfaction
Real-time
feedback gathered
SurveySensum has saved about 70% of our survey costing and has helped us identify every respondent with a low score, share them with the respective dealers directly, and improve the experience in real-time.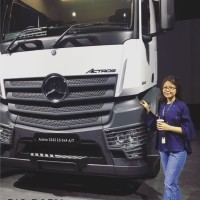 Ade Dwi Septiani Jusa
Retail Network Development
Daimler Commercial Vehicles Indonesia (DCVI)
How did Mercedes increase its customer satisfaction by 30%?
Request a Demo
The Objective
Mercedes's (Daimler) CX team wanted to offer a simple place for their customers to share their feedback and listen to them in time to take the required action.
The Challenge
Timely action on customer feedback is incredibly important to deliver an exceptional customer experience. Mercedes (Daimler) was facing the same. They were using CATI (telephonic surveys) via a third party till 2021 but they were receiving customer feedback at least after one month of the issue. Moreover, the telecallers needed to be trained every time because the questions were not conveyed to the customers properly. The miscommunication annoyed the customers and they'd drop off the calls leading to a reduced response rate.
The Solution
When the Mercedes's (Daimler) team started looking for a solution, they heard about SurveySensum. It helped them with their most important task - creating customer satisfaction surveys. Creating a survey was easy and effortless and comes with multiple templates. Moreover, not just for the surveyor, sharing feedback became easier for the respondents as well.
SurveySensum enabled them to share all kinds of surveys such as SSI, CSI, and NPS online and get feedback in real-time allowing them to take action on them in time, saving 70% of the overall cost. Also, it became easier to generate reports and identify areas of improvement.
And their 27 dealers all over Indonesia were delighted. They were receiving instant alerts on customer feedback, assuring customers, resolving their issues which boosted customer satisfaction by 30%.
How did it solve the problem?
Quick Templates:
SurveySensum helped multiple teams of Mercedes (Daimler) to create multiple kinds of surveys like employee surveys, product surveys, SSI, CSI, etc.
Easy Survey Design:
The platform is so easy that you can launch a simple survey in just 2 minutes.
Instant Alerts:
They received instant, personalized alerts on all low satisfaction scores enabling them to take timely action and close the feedback loop.
Powerful Dashboard and Reporting:
Just a glimpse of the dashboard and they had everything on your tips.
Exceptional Customer Support:
Focusing on the customer's experience, SurveySensum focuses on their customers and listens and acts on their feedback.
Replace CATI/phone surveys with
WhatsApp surveys

and

Boost

your response rate by 20%

Reduce

your survey cost by 50%

Gather

real-time quality feedback
The Mercedes-Benz Group AG (former Daimler AG) is one of the world's most successful automotive companies. With Mercedes-Benz AG, we are one of the leading global suppliers of premium and luxury cars and vans. Mercedes-Benz Mobility AG offers financing, leasing, car subscription and car rental, fleet management, digital services for charging and payment, insurance brokerage, as well as innovative mobility services.
Businesses that found their solutions with SurveySensum

Learn how businesses are making their feedback actionable
Want to get started with SurveySensum?