Introduction
If customer happiness is the objective then NPS aka net promoter score is one of the best ways to get there. With an index ranging from -100 to 100, NPS clearly gauges the loyalty or the enthusiasm of a customer to recommend your brand to their near and dear ones.
This simple metric has brought groundbreaking changes to CX and has become very much significant in such a short time. The reason is…
Net Promoter Score is not a metric that just measures customer loyalty and satisfaction, it actually gauges the overall emotion of the customer towards your brand.
Organizations can use their net promoter score to discuss problem areas, improve the experience of their customers, monitor loyalty trends, and grow revenue.
What is an NPS tool?
NPS tool helps you survey your customers' loyalty, categorize them as per their satisfaction data, and keep in touch with them. It helps you find out whether your customers would be willing to recommend your brand to others and improve many other assets of your company. 
A well-designed NPS survey tool features NPS calculation, automation, survey scheduling, customer segmentation, an intuitive dashboard, reports, real-time notifications, etc. to help you make the most of your NPS survey. 
How to choose the right NPS tool?
Every company's requirements are unique. You will need dedicated NPS software with innovative survey distribution channels, and specific analytic and reporting features to conduct successful NPS surveys. It should also feature integrations to incorporate NPS scores and feedback into your existing platforms. In other words, the right NPS tool will streamline the entire process. 
So, here are the factors that will help you choose the right NPS tool for your business.
You need to make sure that the software you choose can manage the volume of surveys you intend to send. Most companies restrict survey volume by pricing tier, depending on the number of surveys you send via a particular distribution channel.
The workload gets simplified when all of the platforms and applications you use every day perform well together. Also, the user doesn't have to switch between multiple platforms as all the operations can be done on the existing platform itself. So look for an NPS tool that integrates with your existing applications seamlessly. It should blend effortlessly with your technology, workflows, and communications.
Pre-built survey templates are one of the most important must-haves for any NPS tool. It reduces your workload and saves time in creating manual templates. Customizable survey templates also allow you to apply your brand's colors and attach your logo to any surveys you send out. You don't have to build a survey from scratch. A little bit of editing here and there and you are ready to go!
The best NPS tool will segment your customers into three categories, namely, promoters, passives, and detractors amongst other segments such as tags, demographics, etc. The respondents are classified into these categories according to the score given by them in the survey. Your software should allow you to save this data in your CRM, help desk, and billing systems and trigger workflows immediately.
How we evaluated the NPS tools
Comparing and identifying the best NPS software tools was a challenging task. Therefore, we used the below criteria to evaluate them and then came up with the final list of the best 15 NPS software tools. 
Please have a look at our evaluation process here. We evaluated factors like pricing, available customer support types, availability of free versions and free trials, and the ratings from G2.com. 
| | |
| --- | --- |
| Evaluation Criteria | Description |
| Pricing | We evaluated the cost of NPS survey tools and the different plans and packages available.  |
| Free Trials | Free trials are a must to understand the product better. So, we analyzed whether the shortlisted companies offer a free trial for customers to engage and understand the software better.  |
| Free version | We checked if the platforms offered a free version even with limited features and functions. It helped us understand how sophisticated each NPS tool is. |
| Customer support: | The most critical aspect of a software product is the availability of multiple customer support types. Therefore, we have listed the customer support options for you to contact when implementing or using an NPS tool. |
| Review score | G2 is one of the most-trusted software review platforms today. So we have evaluated how each NPS tool ranked in terms of customer reviews out of 5.  |
15 Best NPS Tools: A Detailed Comparison
| | | | | | |
| --- | --- | --- | --- | --- | --- |
| NPS Software | Pricing | Free Version  | Free Trial | Customer Support | G2 Review Score |
| SurveySensum | Start at $99 / month | Yes | Yes | End-to-end customer support (Live chat, email, blogs, etc.) | 4.7 (5) |
| Zonka Feedback | Start at $49 per month. | No | Yes | Live chat, email, help desk, etc.  | 4.7 (5) |
| Qualtrics | Contact Qualtrics | No | Yes | Live chat, online in-person training, etc.  | 4.5 (5) |
| Qualaroo | Start at $69 / month | Yes | Yes | Live chat, email, phone, help center/knowledge base | 4.4 (5) |
| GetFeedback | Contact GetFeedback | No | Yes | Email support, resource center | 4.5 (5) |
| SurveyMonkey | Start at $20 per month | Yes | Yes | Email and phone support | 4.4 (5) |
| Delighted | Start at $224 / month | Yes | Yes | Live chat, contact form, help center/knowledge base | 4.8 (5) |
| AskNicely | Contact AskNicely | No | No | Live chat, email, phone, help doc | 4.6 (5) |
| NiceReply | Start at $39 / month | No | Yes | Help center, podcasts, ebooks, etc | 4.5 (5) |
| Retently | Start at $25 / month | Yes | Yes | Email, phone, help center, knowledge base | 4.9 (5) |
| InMoment | Contact InMoment | Yes | Yes | Live chat, phone, email, help center, ebooks | 4.6 (5) |
| Medallia | Contact Medallia | No | No | Ticketing | 4.5 (5) |
| Hotjar | Start at $39 / month | Yes | Yes | Resource center, emails | 4.3 (5) |
| CustomerGauge | Contact CustomerGauge | No | No | Resource center, ticketing | 4.6 (5) |
| SurveySparrow | Contact SurveySparrow | Yes | Yes | Live chat, emails, phone, knowledge base | 4.6 (5) |
15 Best NPS Tools of 2023
We've done our bit of research and shortlisted 15 of the best NPS tools you should check out in 2023. Here, take a look at the tools that can help you organize, share, and analyze your NPS surveys.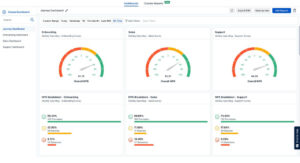 SurveySensum is a powerful NPS survey tool that helps you make customer feedback actionable. It lets you send NPS, CES, CSAT, product, onboarding, and many VOC surveys to your customers. And not just that, it helps you with what questions to ask, how to interpret results, and prioritize actions to assist you in focusing on your business goals.
Using this free NPS tool, you can analyze data with real-time, journey-based dashboards, and identify customer issues with a sentiment analysis feature. 
Best Features
SurveySensum offers best-in-class features to conduct efficient NPS surveys.

You will

get instant automated alerts

on detractors so that you can respond to them in time and get more information.

The tool offers real-time customized dashboards to take quick actions and make improvements.
The innovative Text and Sentiment Analysis technology automatically extract quantitative data from unprocessed, qualitative information to discover patterns and trends within the text. 
SurveySensum can easily integrate with your existing apps. 
Using SurveySensum, you can create surveys in the language of your choice.
Pros
Easy-to-use interface

Automated workflows improve speed and reduce errors.

Features excellent customer support team
Cons
Some app integrations are missing

Custom branding missing
Pricing: SurveySensum offers a free version with 25 responses and 100 emails per month. 
Its pricing starts from $99 per month. Contact their team for more details. 
2. Zonka Feedback

Zonka Feedback is a great NPS Survey tool that can create NPS Surveys and send them to your customers through multiple channels to measure customer loyalty and satisfaction. It notifies you of detractors, collects actionable feedback, works on it, closes the feedback loop, and converts your detractors into promoters.
Best Features
Measure NPS at every touchpoint with multiple channels – SMS, email, website, Android tablets, and smartphones.
Gather survey responses both on-premises as well as on the go.
Get notified with real-time notifications for angry customers, at-risk customers, and detractors. Reach out to improve their experience and reduce churn.
Create customized NPS surveys, and white-label surveys, and add your own logo and branding to them.
Pros
Very easy interface to set up and use.
Allows Zapier Integrations and easily integrates with other tools like Slack, Google Sheets, Shopify, Webex, and more.
Offers a free trial for 15 days.
Cons
The free version is yet to come.

Poor customer support

Does not include integrated translation
Pricing: The tool offers a free version and its paid version start at $49 per month.
3. Qualtrics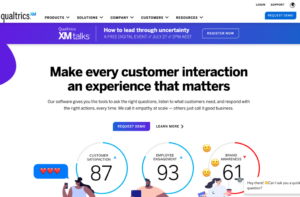 Qualtrics is an NPS survey software that helps you measure, analyze, and improve your net promoter score. It allows you to measure NPS at any customer touchpoint via any platform or channel like SMS or email.
The Qualtrics NPS tool includes their Predict IQ feature, which couples NPS and operational data to predict customer behavior. This report helps you find which individuals are at the highest risk of churning. Qualtrics also features role-based dashboards to assure the right people on your team get the customer information they need to enhance CX and loyalty.
Now, if you are an existing Qualtrics customer who's looking for a switch then you may want to take a look at these alternatives to Qualtrics.
Best Features
Qualtrics allows you to create, distribute, and analyze web-based NPS Surveys.

Qualtrics can connect with dozens of channels to help you analyze feedback in real-time.

Qualtrics' CustomerXM platform supports predictive analytics, which can show you key trends and patterns.
Pros:
Includes many built-in features and templates for data visuals and reporting

It can be accessed from any device like a mobile or PC.
Cons:
Customer support slow to respond

Too pricey
Pricing: Contact Qualtrics for detailed pricing
4. Qualaroo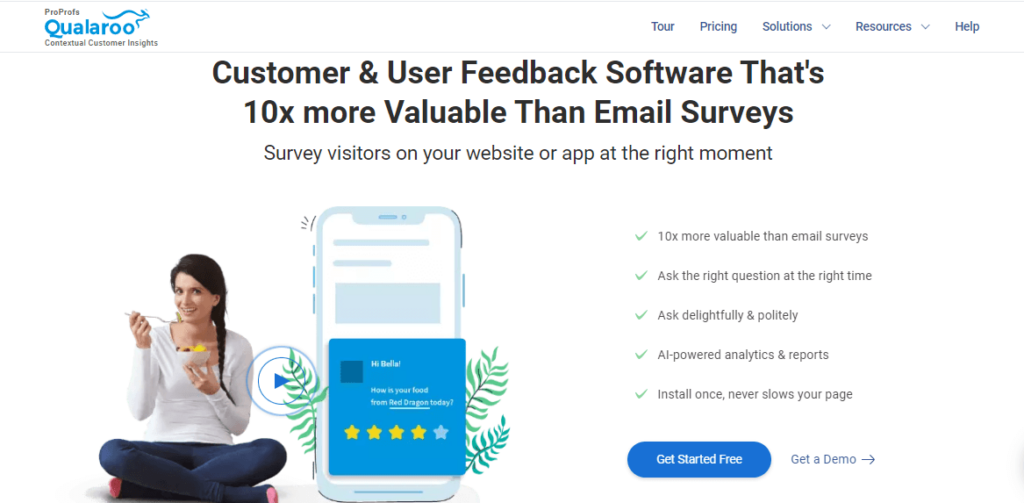 Qualaroo is a complete customer experience that leverages powerful survey Nudge™ technology to let you hear the voices of your customers. You can create branched NPS surveys to collect insights across multiple channels like your website, app, product, email, and more.
It also lets you monitor the NPS score in real-time with a fully-fledged dashboard to compare the customer experience at different touchpoints and predict churn. But what makes Qualaroo one of the top NPS tools is the AI-powered analytics engine that lets you dig through the free-text responses in real-time using sentiment analysis and word cloud.
Best Features
Intuitive editor to create NPS, CES, CSAT, and other surveys in minutes.

Supports multi-channel deployment to share surveys on your website, app, product, mail, and other channels.

Offers question branching, 70+ survey languages, 40+ templates, and branding options.

Flexible survey theme and layout customization.

Provides integration APIs for workspace tools like Mailchimp, Salesforce, Hootsuite, and more.
Pros
Robust sentiment analysis to categorize the feedback responses automatically.

Spot trends in the NPS score and feedback with the visual dashboard.

Advanced targeting options to show the NPS survey to the right people at the right time.
Cons
Needs more industry-specific templates.

Reporting section can be improved with more filters and sorting options.

Pricing: Starts at $69 per month
5. GetFeedback

GetFeedback is a customer experience solution purpose-built for integration with Salesforce (other integrations are also available). This software offers several CX tools, including NPS surveys and various resources. It provides in-built templates to speed up the setting up of mobile-friendly, responsive NPS Surveys, which you can white-label and customize to add more questions. 
Best Features
It has powerful analytics tools.

It distributes surveys with comprehensive multi-channel options, including e-mail, web apps, mobile apps, and even SMS.

It allows user segmentation for more targeted outreach.
Pros
Excellent integration

Visualizations and graphics are customer-friendly

Very easy to use and customize
Cons
Customer support is not up to the mark.

They have minimal integration.

The tool's implementation requires IT support.
Pricing: GetFeedback offers a free version. Their pricing includes 3 plans – Essential, Pro, and Ultimate – details of which are available upon request.
6. SurveyMonkey

Next on the list of NPS tools is SurveyMonkey. It's an online survey development platform that allows users to create, distribute and analyze surveys. 
The tool has in-built analytics and reporting to track and compare survey results and identify areas of improvement. It also supports multiple distribution channels, including email, social media, and website embedding.
It's easy to use and offers customizable survey templates, making it easier to create and distribute NPS surveys. 
Best Features 
It offers a user-friendly drag-and-drop interface that makes creating surveys quick and straightforward.

The platform offers real-time data analysis and visualization tools to help make sense of survey results.

It can be easily integrated with popular third-party tools like Salesforce, Mailchimp, and Slack. This allows users to streamline their data collection and analysis processes.
Pros:
Intuitive user interface

Better integration capabilities

Real-time data analysis
Cons:
Limited number of response options for certain types of questions.

Poor customer services

Expensive pricing to make use of all features
Pricing: SurveyMonkey provides both the free version and trial. Its pricing starts at $20 per user per month.
7. Delighted

Delighted lets you run NPS, CSAT, and CES surveys effectively and distribute these surveys via email, web, SMS, and a link and setup are easy. In addition, Delighted also supports multiple integrations with applications such as Salesforce and HubSpot.
Delighted's program concentrates on the free-response follow-up to the NPS question, allowing customers to give insights into why they gave a specific NPS score in their own words. Using Delighted, you'll get instant, clear feedback on what you're doing well and what you should improve. 
Best Features
The app helps you respond to surveys on the email itself instead of using an external link.

It has innovative branding and customization options.

Support for customers is available in over 37 different languages.

The tool can integrate with Slack, Shopify, Salesforce, Zendesk, etc.
Pros:
It can easily integrate with other apps.

A lot of different metrics aside from NPS

It is made explicitly for measuring customer experience.
Cons:
It is focused extensively on customer experience.

Measuring NPS across multiple product lines is not the simplest to execute.
Pricing: A free version of the tool is available. Delighted's pricing plan starts at $224 per month. Their Enterprise plan is a custom one. Contact the Delighted team for more details. 
8. AskNicely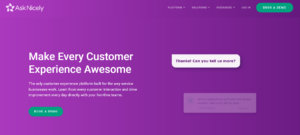 AskNicely is a powerful CX platform that allows you to manage customer feedback automatically with the help of customizable NPS surveys. You can also distribute them via SMS, your website, email, and more. 
Best Features 
You can easily share real-time insights with your team using AskNicely.

AskNicely can integrate your CRM to trigger any feedback requests.

You can effortlessly set the tool to automatically survey a set of customers in your CRM each month.

This NPS tool can integrate with third-party apps.
Pros:
Clean and simple user interface

The mobile version is available.
Cons:
Can't customize the NPS scoring

Difficult to manage contacts

Poor customer support
Pricing: Contact AskNicely for detailed pricing
9. NiceReply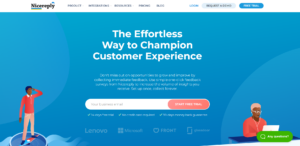 One of the favorite alternatives when it comes to measuring customer experience is NiceReply. It encourages you to follow developments continuously with a variety of charts, time filters, and comparisons. This NPS tool also includes features like customization, analytics, data security, and integrations. 
Best Features
Nicereply features an Intuitive UI dashboard to manage surveys easily.

It has follow-up questions, data range features, and insightful reports for better efficiency.

The tool displays data in CRM and sets triggers accordingly.
Pros:
Easy to use

Has reward features

Low cost
Cons:
App design needs improvements

Limited features
Pricing: The tool doesn't provide a free version, but a 14-day trial. Its pricing plan starts at $59 per month.
10. Retently

Retently is a fully automated NPS tool that saves you time and increases your response rates. It allows you to test your surveys to decide which versions get the most responses. You can easily customize your NPS surveys with the inbuilt template editor. The software also has a survey campaign feature that enables you to run many NPS campaigns among different customer segments easily.
Best Features
Setting up regular and transactional campaigns is easier with Retently by sending a predefined set of surveys to particular customer segments. 

You can easily target all the customers in your Retently account with a preset filter. 

It allows you to customize survey templates easily according to your style.

Customers can be easily segmented according to their plans
Pros:
It offers precise NPS measurement.

Ease of use

It has a built-in email cleaning feature.
Cons:
Not very flexible outside NPS
Pricing: They provide a 14-day trial and their paid plans start at $25 per month. 
11. InMoment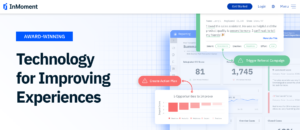 InMoment is one of the top-rated NPS survey tools, with various features. It enables you to conduct customizable NPS, CSAT, and CES surveys with real-time score updates on different channels. It also observes customer experience throughout the customer journey, so you can follow trends and take important actions to prevent churn. In addition, it lets you track and analyze the customer sentiments shared in reviews and on social media.
Best Features
It offers in-app surveys to boost customer engagement and QR code survey delivery services to enhance engagement. 

Features like tagging, segmentation, custom reports, and dashboards. It would be better to integrate a QR Code creator with your existing NPS tool to further enhance the results you get from QR Code survey
Pros:
All important information can be easily accessed from one location.

Simple integrations with third-party tools

Very easy to use and adapt
Cons:
Expensive pricing

Difficult to customize the platform to your needs

Late response from the support team.
Pricing: Contact InMoment for detailed pricing
12. Medallia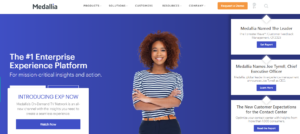 Medallia helps you learn more about your customers and analyze their journey. With Medallia, you can follow and interpret the NPS score and easily segregate customers based on their responses. It uses machine and human learning to automatically analyze the NPS feedback and coordinate with the team to take action and solve issues.
Best Features
Medallia Experience Cloud can compute scores and give you customer insights.

Medallia's platform employs machine and human learning to automatically analyze text feedback.
Pros:
Powerful integrations and concise tagging

Features user-friendly interface
Cons:
Lack of prebuilt templates

Add-on features are costly
Pricing: Contact Medallia for detailed pricing
13. Hotjar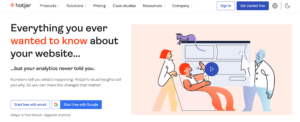 Hotjar features a visual dashboard that enables individual analysis of customer responses. The innovative Feedback Poll feature provides an easy process to create NPS surveys. Additionally, you can calculate the NPS score automatically when the target audience submits their responses.
Best Features
The tool offers multiple options for where surveys can appear like a small widget, full screen on a webpage, or an external link.

It has a unique heat map feature, which is a graphical representation of values using colors.

It allows for results to be e-mailed to team members for analysis from the survey dashboard.
Pros:
Intuitive UX

Easy customization of survey appearance.
Cons:
Not specifically made for NPS measurement

Lacks some important features associated with analyzing and segmenting NPS.
Pricing: Their basic plan offers a free version of the tool. And the paid plan starts from $39 per month.
14. CustomerGauge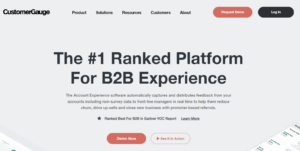 CustomerGauge is an experience management platform that connects customer experience, revenue, and account data. It offers an end-to-end, integrated, Net Promoter Score system for data collection, reporting, analysis, and action. This NPS tool offers both NPS surveys and employee NPS (ENPS) surveys. Using CustomerGauge, you can set up NPS surveys smoothly and measure the loyalty of your customers. 
Best Features
This NPS survey tool can plug into your eCommerce, CRM, or accounting system to automatically survey customers.

The app offers a decent array of provisions to handle feedback like auto-result reports, instant alerts, closed-loop tools, and dashboards. 
Pros:
It is simple and quick to implement.

It doesn't require additional software or hardware as it is hosted in the cloud.

It is a multichannel-enabled tool.
Cons:
Lack of integration

Difficult to navigate
Pricing: Contact CustomerGauge for detailed pricing
15. SurveySparrow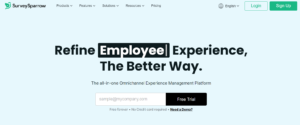 SurveySparrow is an omnichannel customer experience management tool. It features an impressive NPS survey program to gauge customer loyalty. In addition, it offers streamlined workflows, comprehensive dashboards, reputation management, white labeling, and more to make your NPS surveys more reliable.
It also allows you to categorize your customers into various groups and follow up with them easily. With SurveySparrow, you can analyze the data and obtain valuable insights to guide your business easily.
Best Features
It offers scheduled NPS and ENPS surveys.

The tool also features preview functionality and dynamic lists for better engagement.
Pros:
It has open integrations.

Includes chat-based surveys

Responsive customer support
Cons:
Lack of email marketing features 

Clunky UI
Pricing: The tool allows a free version for personal use. More details about the pricing plans for businesses are available upon request.
Conclusion
Every business needs a unique NPS survey tool to fit its needs. The right tool helps your CX team to improve productivity and engagement. All of these best NPS survey tools are equipped with useful features to gauge customer loyalty and help you improve customer experience and support. This detailed list will surely help you choose the most appropriate NPS survey tool to grow your business. 
FAQ (Frequently Asked Questions) on NPS tools
What is an NPS tool?
An NPS tool or software is a platform that can gauge and record the net promoter score for any business. It helps you collect insightful feedback from customers by asking the NPS loyalty question, 'How likely are you to recommend (company name) to your friends or acquaintances?'.
An NPS score is a value that resembles the customer experience levels. You can collect NPS scores using any of the leading NPS software available. And can further integrate it with your CRM and other tools to make actionable plans and reports on what went wrong and what to improve. 
What is a good NPS for a software company?
A good NPS can differ from industry to industry. For a software company, an NPS score between 0 and 30 will be considered good. Anything that goes above 30 is excellent, and you are doing great. The more your NPS score is, the happier your customers are. 
How much does NPS software cost?
NPS software costs depend on the features, packages, and customer support you need. It all varies from vendor to vendor. Most of the NPS software vendors charge subscription fees for NPS tools. Some of the most prominent NPS software are:
SurveySensum: Offers a free version. The basic plan starts at $49/per month. In addition, you can get customized enterprise plans based on your business needs.
Zonka Feedback: The pricing starts at $79/per month. 
Promoter.io: The plan starts at $199/per month.
Delighted: Their pricing begins at $224/per month.
Retently: The package starts at $49/month.
What is the best NPS software you'd recommend and why?
There are many NPS software available in the market. The selection depends purely on your budget. Also, evaluate factors like functions, features, and support options before finalizing. 
We recommend SurveySensum, one of the most sophisticated and ROI-guaranteed NPS software in the market today. They offer competitive pricing, features, a free version to try, and end-to-end customer support. 
Which company has the highest NPS score?
Some of the top companies with the highest NPS scores include; Apple, First Direct, PayPal, Xfinity, Google, Lloyds, etc. Amazon has a score of 73 while Apple has a score of 54, and Samsung has a score of 67.
How much did you enjoy this article?
Stay up-to-date with latest CX tips and tricks, subscribe now!
Don't worry, we don't spam you.