Do you know what your customers really want? If you're actively listening to their feedback, then you probably have a good idea. However, what if you're not actively gathering and analyzing customer feedback? This is where Voice of Customer (VoC) tools come into play.
VoC tools allow you to discover how your customers feel about your products and services, understand their expectations, and find ways to deliver the best customer experience possible.
But that's not all! These tools also help you connect with the right customers, gather invaluable insights, and analyze their responses — all from a single, user-friendly dashboard. With the help of VoC tools, you can bid farewell to customer friction and the guesswork surrounding their desires.
By utilizing VoC tools to collate data and improve customer satisfaction, you can scale your business more effectively. In this blog, we will explore 11 remarkable voices of customer tools. We'll delve into their features, pros, cons, and pricing in detail, equipping you with the knowledge to make informed choices and enhance your customer-centric approach.
Let's dive in and learn more about these VoC tools!
What are VoC tools?
A VOC tool is software that allows you to collect feedback and generate in-depth analysis reports from unstructured data. These tools come with built-in applications to collect feedback, analyze texts and sentiments, provide visual analytics, and more. 
The ultimate aim of using it is to derive insights, make data-driven business decisions, and create exceptional customer experiences.
But, what should you look for in a great VoC tool?
A perfect tool must compulsorily give you systematic insights for growth. It has must-have features that support you in 3 core functional areas:
Data Collection
Customer data is very critical to learning how your customers value your products and services and what they think of your brand in general. 
You may find it easy to collect data manually from a hundred customers. But what about collecting data from customer feedback in thousands? Managing that data can be a real hassle.
That's where a VOC tool helps. It not only automates the entire process of capturing customer feedback, but it also gathers it from multiple channels like websites, in-app, social channels, surveys, emails, etc, and stores them in one place.
Data Analysis
Now that you've collected the feedback, it's time to analyze it.
Because, when the feedback is captured in thousands, it is impossible to process all this data manually or using a spreadsheet or other legacy software. 
A VoC tool does this in a matter of seconds. It automatically generates valuable insights and statistical reports from the data collected to show you customer trends, sentiments, customer segments, and competitor performance.
Check how you can analyze the survey data here
Action & Reporting
There is no point in capturing customer feedback if you are not going to take any action on it. 
But, how would you know what to do with these insights?
Well, an efficient voice of the customer tool helps you with it. It gives you valuable insights that will help you make your case in front of the stakeholders. Moreover, post discussing the issues with the relevant teams, you can remove the issue from the core and close the feedback loop with the customer.
Top 11 Voice of the Customer Tools in 2023
To save your time and effort, we've shortlisted a list of the top VoC tools from the market based on their quality, cost-effectiveness, and performance. 

If you are looking for a top-notch AI-powered voice of the customer tool, SurveySensum is your right choice. It helps you conduct the research to understand the voice of your customer seamlessly. It measures customer loyalty and sentiments by listening to your customers, understanding their expectations, and closing the loop.
With this tool, you can visualize customer feedback at different stages to reduce customer churn and make positive decisions at the right time. You can also promote positive reviews and co-create with the customers to gauge their sentiments and loyalty.
SurveySensum makes it easier for you to monitor and collect the voice of the customers from multiple channels to elevate the customer experience and branding. 
Best Features
Text & sentiment analysis 
Identify the sentiments in customer feedback as negative, positive, or neutral, and recognize the tone and emotions behind each feedback. 
Listen to customer feedback
Use pre-built surveys, emails, chats, SMS, and other external sources to collect customer feedback and understand what a customer expects. 
An intuitive dashboard compiles all your information in one place hassle-free to provide one-click analytical reports, feedback, reviews, tags, and more in one place. 
Share the reports and analytics with the right team at the right moment to take appropriate actions on the feedback. Close the loop by informing the customers of the actions taken. 
Pros:
Great customer support

ROI-assurance  

User-friendly

Offers 360-degree solutions

Makes feedback actionable

Great value for money

Trains to close the feedback loop on request
Cons:
Integrating third-party apps require technical support

A limited number of integrations
Pricing
Explore SurveySensum. Request a Demo.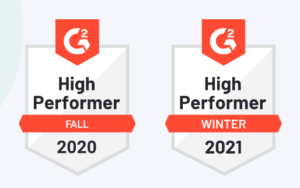 2. Qualtrics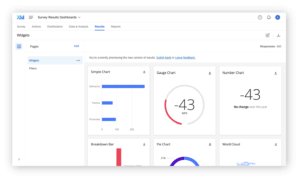 Qualtrics is one of the widely used platforms to capture feedback and close the loop. This VOC tool helps you optimize your profit, transform your products and services, identify customer priorities, and build new concepts.  
With automated survey technologies, Qualtrics comes with 100+ customizable questions. The AI-powered survey tool allows you to share your surveys with anyone as it is portable, mobile-friendly, and responsive. 
Best Features
It enables you to capture real-time feedback and extract text from it instantly. It has 27 channels and 128 sources to feed data into a centralized platform to generate insights. 
The predictive AI engine provides quick insights in real-time to identify customer trends and patterns. It points out areas of concern and helps you improve them with the help of AI.  
This intelligent feature recommends action plans in real-time to the right person. It helps in closing the loop and increasing customer satisfaction. 
Pros:
Ease of use

Excellent customer support

In-depth analysis and reporting
Cons:
Messy consumer data aggregation

Hard to compile questions for multiple platforms

Fit for large enterprises only
Pricing: 
It offers a free version and a free trial. 

Please reach out to Qualtrics to know their price.
3. MonkeyLearn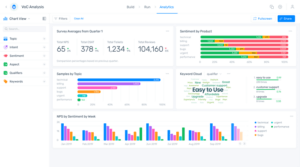 MonkeyLearn is one of the most versatile VOC analytics apps that provide accurate feedback analysis reports. It is a text-analysis platform that gives you the data visualization to restructure and simplify your customer experience.  
MonkeyLearn is best suited for small and medium companies to automate customer support, feedback management, and pricing optimization. A user-friendly dashboard provides sentiment analysis reports, negative and positive tagging, and real-time insights. 
Best Features
Monkeylearn's text classifier is a great feature that comprises text labeling tools, sentiment analysis tools, and intent detection tools that will help you interpret the text data in no time. It also enables you to build custom classifiers to examine and compare text histories

This automated text extraction process helps you structure your data and identify critical texts, tags, etc., in seconds using machine learning. Keyword extraction tools, feature extraction tools, and entity extraction tools are the key takeaways for you. 
Connect with hundreds of communication apps, productivity apps, survey apps, and customer support apps seamlessly with Monkeylearn to analyze text and automate workflows. 
Pros: 
Maximum automation and minimal manual efforts

Easy to set up and use

Seamless classification of text in labels
Cons:
Limitations in the basic plan

(limits the use of visualization dashboards, data sync, user seats, etc.)

Expensive

Steep learning curve
Pricing:
The basic plan starts from

$299

for teams with 10 thousand queries per month and 3 seats.

Free trial available  
4. Thematic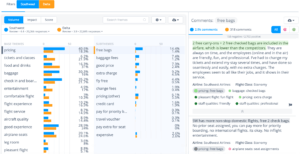 Thematic is an AI-powered Text Analytics solution that analyses and extracts text from customer feedback. This VOC analytic app evaluates the meaning of texts and classifies them into themes.
Thematic insights generate results against the trends and patterns in the themes, enabling you to create data visualizations. It also integrates easily with most third-party tools. Unified data analytics, text & sentimental analytics, analysis and reporting, theme customization, data filters, and real-time alerts are some of the popular functions of Thematic.
Best Features
Thematic provides you with one-click integrations to multiple feedback systems. Extract and analyze data safely from online portals, reviews, surveys, and chat messages effortlessly. 
Text & sentiment analysis
Thematic uses themes to tag feedback and sentiments. A search tool in it helps you identify similar themes, allowing you to control and tag themes, and generate insight from them. 
Use filtering controls in the analysis tools to refine and cluster your search results. You may also locate root causes and emergency issues using interactive alerts and notifications. 
Pros
Easy to integrate

User-friendly

Brings Continuous app improvements
Cons:
Initial implementation difficulty

New users need more training

Lack of refinement in the software
Pricing:
Offers a free trial

The basic plan

starts at $500/month for 1000 feedback/month and includes 3 user accounts.
5. Lexalytics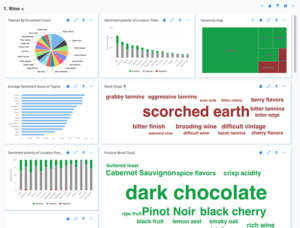 Lexalytics has hosted three tools to analyze text and transform them into resourceful data: – Salience is an on-premise NLP that uses sentiment analysis to extract data from feedback and identify the sentiment, tone, intent, etc. Semantria is a cloud-based tool to recognize natural languages from words. Semantria Storage and Visualization (SSV) allows you to collect, store, and analyze texts to generate reports and structure data to identify trends. 
Best Features
Text Analytics for Robotic process automation
The best option to scale your robotic process automation is to integrate text analytics from Lexalytics. Get precise and accurate analytical data to resolve customer issues and tickets quickly. 
Lexalytics offers personalized apps for compliance solutions and top-tier support for training and integrations.
Using a multi-layered analysis tool, it detects customer intent in feedback by breaking text into components and pinpointing sentiments from each part.
Pros: 
Multi-language support

Fast and secure model

Customizable
Cons:
Expensive additional feature

Exporting available only to excel 

No WordPress plugins
Pricing:
Offers a free trial

The basic plan starts at $999 per month without set-up costs.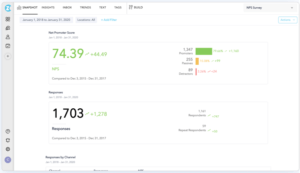 Zonka Feedback is a Voice of Customer Survey tool designed for businesses of all sizes to collect customer feedback at every touchpoint. It enables you to collect customer insights about their thoughts, expectations, requirements, and how they perceive the experience you provide them.
With Zonka Feedback, you can create any type of survey and send them to your customers through multiple channels like SMS, emails, website, Android tablets, and smartphones. The tool allows you not only to collect customer insights but also to work on them to fulfill customers' requirements, resolve their issues, and close the feedback loop to improve their experience. Here are some pros and cons of the tool. 
Pros:
You get a powerful Survey Builder with 40+ question types and ready-to-use templates to create customized surveys of all types and industries.
You can create Multilingual surveys for customers with diverse backgrounds and different languages.
It allows you to Whitelabel your surveys and add your own branding and style to them.
It works on multiple channels and on both iOS and Android devices and you can also set your tablets as kiosks at your location.
You get real-time notifications for survey responses and you can also set criteria for these notifications like alerts of miffed customers or negative feedback.
The tool works offline also, it can save data for weeks and automatically syncs it when your device is connected to the internet.
It offers various plans to choose from and also offers a free trial for 15 days.
Cons:
Zonka hasn't launched a free version yet. 
Pricing:
Offers a free trial for 15 days.

Basic plans start from $79/month for unlimited responses and 10000 emails.
7. Medallia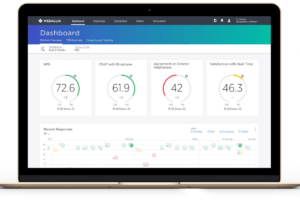 Medallia is an award-winning SaaS platform used to improve the customer experience exponentially. It comes with advanced features, capabilities, and tools to analyze and monitor the touchpoints at every stage. It uses social media, emails, messaging apps, in-app tools, and other digital mediums to collect and monitor data, patterns, and feedback. 
The highly sophisticated AI helps you detect customer trends and use machine learning to solve issues. Real-time alerts, insights, and notifications enable you to make wiser decisions on time. It uses surveys to combine surveys and analytics to generate detailed reports and sentiment analysis to detect customer patterns. 
Best Features
Text Analytics and Machine Learning
Text analytics and machine learning allow you to improve customer experience and satisfaction exponentially by understanding customer behavior, trends, and sentiments.
Get detailed insights on customers who are at risk of leaving you. Also, identify the factors driving them to leave your organization using neural-network-based predictive models. 
Automate your workflow and integrate with high-end tools effortlessly with Medallia. You can integrate with Slack, Workplace, etc., to collaborate better.
Pros:
Ease of use

Robust & in-depth insights

Real-time feedback
Cons:
Too much space (characters) for feedback (People go on writing and that can trigger negative words & tones)
Highlights both bad and good words
Expensive
Pricing:
Offers free trial.

Contact the Medallia sales team to know more about pricing. 
8. Clarabridge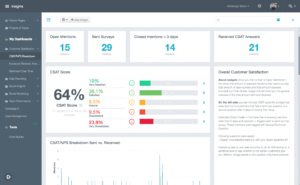 Clarabridge is one of the most versatile experience management solutions that provide in-depth statistics and analytics on customer experience. The NLU of Clarabridge examines the actual words used in all the communication platforms to generate detailed analysis reports. The text analysis tool reveals the sentiments associated with each feedback for a comprehensive understanding. 
Best Features
Pre-built & configurable topic models
It automatically organizes keywords used for communications in your industry. Be it banking, health, or retail industries, use the pre-built topic models to learn what your customers and employees think. 
Recognize the feedback tone from text and other feedback quickly with this tool. It lets you know the emotion conveyed through the text. 
Topic detection & categorization
The tool tags negative, positive, and neutral responses and categorizes them automatically. It also buckets similar themes for proper monitoring and insights. 
Emotion & empathy analysis
Clarabridge uses more than 50+ emotion assessments to understand what the customer tries to communicate in every feedback. 
Pros:
Easy organization of surveys and feedback 

Excellent customer support

50+ prebuilt emotions
Cons:
Average UI

Scattered responses
Pricing:
Offers a free trial for 14 days

For detailed pricing information, contact customer service at Clarabridge. 
9. Confirmit 

Confirmit is one of the powerful VOC analytics apps that uses multi-channel data collection methods to analyze feedback and restructure data. It provides you with robust and in-depth insights to transform your customer experience.
Also, helps in creating data visualizations easily from the gathered. Thus, it is best suited for industries of all sizes and types.
Best Features
You can generate high-end analytics insights and reports from Confirmit's analytical solution. You can convert them into insightful business decisions. 
It gives you recommendations to close the loop at the earliest and improve customer satisfaction using survey results. 
Advanced survey design functionalities
The advanced functionalities not only support VOC but programs like Voice of the employees and more. 
Pros:
Regular and continuous updates

Easy to design complex questionnaires

Friendly customer support
Cons:
Issues in adapting to new changes and updates every time

Limitations in editing reports

Expensive
Pricing: 
Confirmit does not provide a free trial.

Contact customer support for exact pricing details. 
10. Verint ForeSEE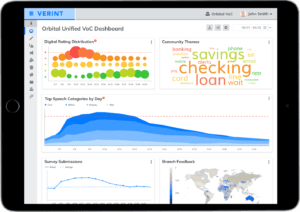 Verint ForeSEE is a real-time VoC tool with accurate multichannel analytics. Close the feedback loop immediately using the action plans to improve the reliability and quality of your services. 
Verint is an easy-to-use tool that helps you move beyond surveys. It produces detailed analytical reports from feedback on every touchpoint of the customer's journey. The leverage of using advanced AI to automate feedback collection and analysis helps companies create action plans instantly. 
Best Features
The VOC tool helps you drive results with insightful data from all the sources and touchpoints. It also allows you to combine data from multiple sources like chats, web windows, surveys, social media, and more.
Replace your manual and laborious feedback analysis management with automated text and sentiment analysis that offers error-free insights in seconds. 
Strategies to drive action
Verint provides you with action plans and helps you improve your customer experience and loyalty faster. It improves conversions and involves people of all levels as a team. 
Pros:
Easy to benchmark categories

Easy dashboard navigation 

Automates customer experience analytics 
Cons:
Lagging customer support

Below-average statistics tool

Delayed updates.
Pricing: 
Verint does not offer a free trial. 

Contact Verint ForeSEE to get accurate pricing details on the tool.
11. NICE Satmetrix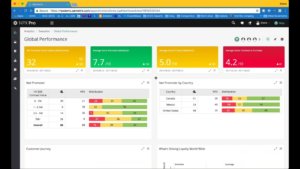 Another VOC analytics app is Nice Satmetrix which helps you make wiser decisions on time using AI and analytics. With omnichannel data and voice data, you can make real-time decisions and actions to transform the customer experience to another level. 
Nice Satmetrix eliminates blind spots and increases customer happiness. You can integrate VoC with legacy applications or systems to distribute real-time data. 
Best Features
Digital-first omnichannel feedback
Collect feedback and generate insights from every touchpoint and text. It helps you reach more customers and increase the conversion rate from multiple channels. 
Text, speech, and sentiment analytics
It analyzes text and speech from multiple channels to provide details on trends and tone with the help of a natural language processor. 
Pros:
Easier onboarding process

Responsive Customer support

Interactive UI
Cons:
Complex configurations

Limited customizations

Difficult learning curve
Pricing:
Do not offer a free trial. 

Contact SATMETRIX's sales support to learn more about their pricing. 
Conclusion on VOC tools 
As far as a business is concerned, knowing your customers is of utmost importance and cannot be ignored at all. VOC tools help you with just that.
They reduce your workload and help you know what your customers think about you, what their expectations are, what their likes, and dislikes are, etc.
So, before choosing a VOC tool, make sure it checks all the boxes. List down the objectives you wish to achieve through these tools, then compare them with the features of the tool and see if they will help you be successful in achieving your goals. Then, you will be able to select the right software for your business.
Bonus  FAQs about Voice of Customer Tools
What is the voice of the customer tools?
A VOC tool is software that allows you to collect feedback from your customer base and generate in-depth analysis reports from unstructured data. The main objective of a voice of customer tool is to derive insights, make actionable decisions, and deliver exceptional customer experiences.
Which tool has VOC?
All the tools mentioned above offer VOC. However, the best in the market includes SurveySensum, Monkeylearn, Thematic, etc.
What is the voice of the customer technology?
The technology of the voice of the customer is basically a group of tools and sequential processes that helps gather customers' opinions, sentiments, likes, and dislikes in the most effective manner.
How do you capture VOC?
There are many ways to capture VOC. The best way is to collect customer opinions with the help of a powerful VOC tool that comes with reliable features like a variety of survey options, text analysis, closing the loop, etc.
How much did you enjoy this article?
Stay up-to-date with latest CX tips and tricks, subscribe now!
Don't worry, we don't spam you.