10 Best Qualtrics Competitors and Alternatives to check out in 2023
Even though Qualtrics is a top-tier management solution that allows you to create and analyze customer and employee surveys, people still try to switch to different Qualtrics competitors. We will tell you why this is happening and introduce some of the best Qualtrics alternatives, along with their main features, pros, cons, and pricing. 
A quick overall comparison of Qualtrics competitors and alternatives
| | | | | | |
| --- | --- | --- | --- | --- | --- |
| Tool | Pricing | Free Version | Free Trial | Customer Support | G2 Review Score |
| Qualtrics | Contact for detailed pricing | Yes | Yes | 24×7 Email, chat, and phone support (depending on the plan) | 4.4 |
| SurveySensum | $99 / month | Yes | Yes | End-to-end customer support (Live chat, email, blogs, etc.), Dedicated CX Manager | 4.7 |
| InMoment | Contact for detailed pricing | No | No | Email, chat, and phone support | 4.7 |
| Retently | $2 / month | No | Yes | Email support, Zoom, live chat support, dedicated CSM. (depending on the plan) | 4.8 |
| Promoter.io | The other plans are $100, $150, and $225/month | No | No | Email and chat support | 4.5 |
| AskNicely | Contact for detailed pricing | No | No | Help center, chat, and mail support | 4.7 |
| GetFeedback | Contact for detailed pricing | No | Yes | Email support, help & resource center, help-articles | 4.5 |
| Medallia | Contact for detailed pricing | No | Contact to know more | Email support, customer knowledge center | 4.4 |
| QuestionPro | Pricing differs for each product | Yes | Yes | Email, LiveChat, and dedicated phone support‪ (depending on the plan) | 4.5 |
| Forsta | Contact for detailed pricing | No | No | Knowledge Base, email, and chat support | 4.2 |
Is this the right time to look for a Qualtrics Competitor?
Many reasons have been put forward by the customers as they look for the best Qualtrics International competitors. As Qualtrics International was obtained by SAP two years back, the merger created headlines and even caused a dip in SAP share prices.
High pricing and low collaboration features have also pulled customers from Qualtrics. Here are the main reasons why it is the right time to look for a Qualtrics competitor. 
Not user-friendly: Many customers complain that the software wasn't intuitive and required training to get the most out of it.
Not so transparent pricing: As contrasted to the current survey tools available in the market, Qualtrics is a bit costly. Even after

spending a huge amount of money, you just get access to limited features only. 

Focus is fixed on large enterprises only: Qualtrics mainly focus on large enterprises only.
So, here are the 10 Best Qualtrics Competitors and Alternatives of 2023
Stop right there! No more scavenging Google for the best Qualtrics competitors.
After some research, we've listed out the top 10 Qualtrics International competitors and alternatives for 2023. Take a look.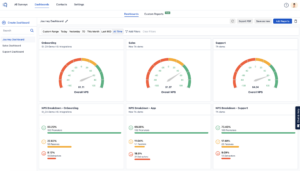 SurveySensum is a feedback management platform that facilitates enterprises to gather and act effectively on their feedback. 
Its team guides you on which touchpoints to capture feedback on and which metric is suitable for your objectives such as NPS, CES, and CSAT, trains you or your teams on how to close the loop, and guides you on how to combine business data and CX data to get buy-in from your management to take action.
Why SurveySensum?
Transparent Pricing: SurveySensum offers transparent pricing. What you see is what you get with no hidden charges involved.
Exceptional Customer Support: SurveySensum's support team is 24*7 available to help out its customers and offers support within 2 hours (which is unheard of). And not just that, all the custom requirements are taken into the consideration as well!
In-built survey templates: Use inbuilt survey templates to build effective and audience-specific surveys for different touchpoints at lightning speed.
Other features: Quick Online Surveys, WhatsApp Surveys, Multilingual Surveys, Role-based Dashboards, and more.
Pros
Easy to use

360-degree solution for customer professionals

Makes feedback actionable

Contact Management

Seamless Integrations

Text Analysis
Pricing:
2.
InMoment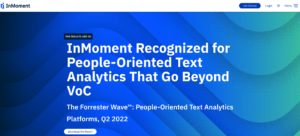 A leader in Experience Intelligence (XI), InMoment™, effectively converts metrics into meaningful insights to promote high-value business decisions and relationships with customers and employees. It is a great Qualtrics competitor and a cloud-based solution that offers leadership board, employee communication, and employee loyalty modeling capabilities. In addition, the platform highlights three clouds that operate seamlessly together to give companies a complete understanding of the most significant factors influencing their bottom lines.
Best features:
Text Analytics: It is an AI-powered adaptive model that understands all the VOC data with exceptional precision and perception.
Data Management: You can handle complex data sets for a complete experience representation.
Other features: CX Strategy & Design, Survey & Data Collection, Action & Case Management, Dashboard & Reporting, Text & Advanced Analytics.
Pros
Attractive design with a wide range of filters and options

Accurate and quick to update

Easy to use



Cons
Can only do NPS, CES, CSAT surveys

Limited customization
Pricing: Contact InMoment for detailed pricing
3.
Retently

Retently helps you effectively measure customer satisfaction, get relevant client feedback that you can work on, limit customer churn, and convert detractors into promoters. It is an ideal tool for measuring and improving customer satisfaction and loyalty through Net Promoter Score surveys. With Retently, you can gather customer feedback and analyze results through advanced analytics and create reports to take the right action. 
Best features:

Feedback analytics: Derive significant insights from customer feedback by utilizing text and sentiment analysis.
Survey Template: All you have to do is create, clone, or adjust an existing template for each campaign and use them when needed.
Advanced Survey Template Editor: It enables you to customize everything in your survey template.
Pros
Easy to use
High-quality survey design that works well on mobile and desktop.
Can integrate with other apps.

Cons
Very low customization, useful for people who just want to run NPS, CES, CSAT
Pricing
Essential – $25/month

Pro 5 – $199/month

Ultimate 10 – $399/month
4.
Promoter.io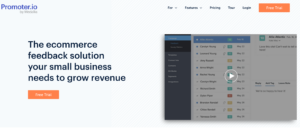 Promoter.io, a perfect Qualtrics competitor, is actionable customer feedback and predictive experience management software. It is the most comprehensive customer intelligence & engagement platform built to drive growth and customer retention. The tool combines feedback using a solid NPS approach with internal customer data from various sources to provide unparalleled customer insights. Again, you have a free Qualtrics alternative here. 
Best features:
Powerful dashboards and segmentation: Get an at-a-glance summary of the overall performance of your whole business. Segment results by product line, customer demographics, or any other relevant customer data.
Real-time text analysis: It is an effective machine learning that precisely displays popular themes from customer feedback.
Other features: Anonymous Feedback, Mobile Survey, Multi-Channel Distribution, Negative Feedback Management, Pulse Surveys, Third-Party Integrations
Pros
Very versatile and fast app
Good customer support
Surveys are customizable

Cons
The system of automatic information storage needs improvements.
Can't add more questions

Pricing
The basic plan is free

The other plans are $100, $150, and $225/month
5.
AskNicely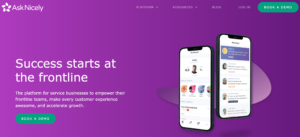 A popular solution in customer experience management, AskNicely is known to be the only mobile platform for people-powered businesses. They bring feedback, coaching, and brand-aligned service actions into the pocket of your frontline team. It claims to be the world's first pocket-sized customer experience coaching platform.
Best features:

Real-time Feedback: Get high productivity and accuracy with innovative real-time feedback. AskNicely allows you to analyze employee performance more frequently and consistently.
Staff Empowerment with Frontline: AskNicely assists you in training and empowering your frontline operators to make a remarkable customer experience.
Pros
Easy to use
Reports feature to analyze and improve business.
Customizable
Cons
Poor workflow
The integration lacks functionality.

Pricing: Contact AskNicely for detailed pricing
6.
GetFeedback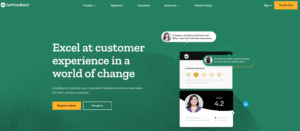 As a solid Qualtrics competitor, GetFeedback is an adaptable, easy-to-use customer experience (CX) solution. Big names like Crocs, Deckers, Hibbett, Puma, and YETI work with GetFeedback to procure feedback across all units and boost customer experience. As a result, they improve response speeds by examining your customers at the right time and place across all digital channels. They also immediately locate customer insights and courses by seamlessly combining your survey data with Salesforce data.
Best features:

Text Analysis: Text Insight reveals significant insights from the large amounts of unrestricted text feedback through sentiment analysis by identifying key phrases.
Visualization: Visualization aggregates trends in open-text responses while still enabling users to dive deep into individual responses to gain a fuller understanding of the "why" behind customer experience trends.
Other features: Reporting and Dashboards, Employee Pulse Surveys, Employee Segmenting, NPS/CSAT Scoring, Surveys, and Access Management.
Pros
Quick and easy to sync
Offers great pre-built templates
Easy to set up and manage surveys

Cons
The language implementation needs improvements.
Costly

Pricing: Contact GetFeedback for detailed pricing
7.
Medallia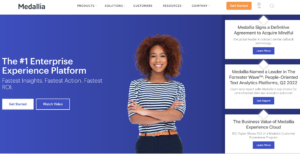 Medallia is one of the top Qualtrics alternatives and universal head in experience management and engagement. It assists everyone from the frontline to the C-Suite to become customer-centric with actionable insights that improve customer retention and bring more lead conversion rates. Medallia is implemented with the most extensive abilities for gaining feedback from email, social, digital web and in-app, conversational messaging, and associated devices.
Best features:

Text Analytics and Machine Learning: Quickly identify your biggest investment opportunities to improve customer experiences through Text Analytics and Machine Learning.
Risk Scoring: Find at-risk customers who are most likely to churn and analyze the factors that drive their behavior with neural-network-based predictive models.
Other features: Anonymous feedback, benchmarking, Complaint Monitoring, Customer Segmentation, Dashboard, Data Analysis Tools, Engagement Tracking, and Feedback Management.
Pros
Robust features with great insights
Instant, constructive feedback system
Flexible to use

Cons
Return on feedback is difficult
Expensive service

Pricing: Contact Medallia for detailed pricing
8.
QuestionPro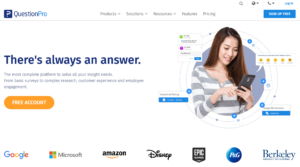 QuestionPro offers powerful online survey software designed to help you make better business decisions. It is a leading SaaS survey solutions company that delivers a wide range of applications to gather feedback and measure customer experience. In addition, QuestionPro provides advanced features to customize the survey experience completely.
Best features:

Heat Map Analysis: Visualize and identify which areas of your business get the most attention through a color-coded chart.
Push Metrics: Schedule and share weekly survey dashboard reports via email with your team to get the right insights.
Sentiment Analysis: Sentiment analysis uses advanced artificial intelligence technologies like Natural Language Processing (NLP), text analytics, and data science to classify text as positive, negative or neutral.
Other features: CX Management Software, Workforce
Pros
Offers free trial
Better survey system
Supports multi-language

Cons
The weighting tool needs improvements
Little expensive for its features
Some options are not customizable

Pricing
Survey Software
Essentials – Free
Advanced – $129/month
Team edition – Contact to request pricing
Customer Experience: Contact to request pricing
Employee Experience Survey and Analytics Platform: Contact to request pricing
9. Forsta (Confirmit)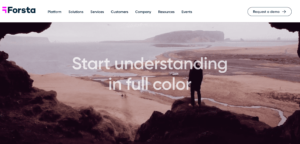 Forsta is a single, full-suite platform born from the merger of Confirmit, FocusVision, and Dapresy. Forsta delivers an upgradable end-to-end platform that enables you to gather, analyze, visualize, and act on data collected from any audience, be it from small teams to global communities.
Forsta also enables its clients to integrate with some of the most common platforms available for your CRM, web data, digital marketing, and analytics. It comes packed with the tools to provide better data and deeper insights. So you can push your business forward.
Best features:
Analytics Solutions: With Confirmit's text analytics solutions, users can gain rich analytical insights and tap into them to make business decisions.
Action Management: It analyses the survey results and points out appropriate measures to solve issues concerning a particular individual or department of a business.
Other features: Panel Management, Data Collection and Integration, Survey Design, Reporting and Analytics, Text and Social Analytics.
Pros
User-friendly and flexible
Customizable features
Cons
Reporting functions are sometimes confusing
Pricing: Contact Forsta for detailed pricing
10.
NICE Satmetrix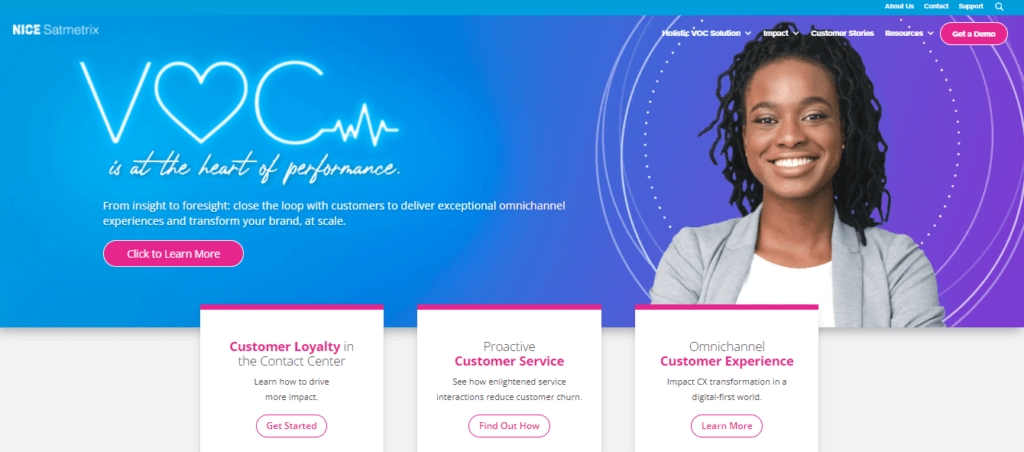 NICE Satmetrix provides unparalleled advantages to its users as they maintain their customer experience programs. They allow them to collect, integrate, and analyze customer feedback data. It is purpose-built for handling the whole customer experience management operation. 
Best features:

Digital-first Omnichannel Feedback: The omnichannel analysis enables businesses to capture feedback and assess every interaction or touchpoint. It assists companies to advertise to support prospects and customers across multiple channels, addressing each interaction or touchpoint.
Text and Speech Analytics: Identify emerging trends before they blindside your business with the help of integrated text and speech analytics.
Other features: Customer Journey Based Design, Closed-loop Action, and Consulting Services.
Pros
Good customer service
Easy to use and attractive design
Supports integration
Cons
Inability to contact detractors via the software.
Creating new surveys is difficult.

Pricing: Contact NICE Satmetrix for detailed pricing
Conclusion
There are surely a lot of options as alternatives to Qualtrics. However, choosing the right one for your business mainly depends on your requirements and budget. All these alternatives offer different features at different pricing ranges. After getting a concrete idea about all the best competitors of Qualtrics, you will be able to choose the right one and grow your business. 
How much did you enjoy this article?
Stay up-to-date with latest CX tips and tricks, subscribe now!
Don't worry, we don't spam you.