Do you know what's the biggest problem in retail? — Customer retention because of Customer churn.
It's like a game of now you see them, now you don't. Because customers swiftly switch to competitors if they don't feel valued and satisfied.
But why is that a big issue? Because enhancing customer retention rates can lead to profits that are double or even triple the initial amount. On the other hand, it is far more expensive to acquire new customers than to retain existing ones. This is the key that most brands understand. 
That's why they focus on customer retention strategies to retain their existing customers to improve the retail customer experience. By understanding their customers' needs, preferences, and pain points, these brands can deliver the best shopping experiences, fostering loyalty and repeat business. 
Here are seven proven customer retention strategies that top retail brands have mastered to tackle the challenge of customer churn and foster long-lasting loyalty and repeat business.
Top 7 Customer Retention Strategies in Retail 
Here are 7 proven strategies to forge lasting relationships with your customers. Also, make sure you have an exceptional retail customer feedback tool to effectively implement the following strategies.  
1. Leveraging Technology to Tailor Personalized Experiences
Nike, the sportswear giant has invested heavily in leveraging technology and data analytics to deliver personalized experiences to their customers.
One of their standout personalized initiatives is the NikePlus Membership program. Through this program, customers can create profiles, input their fitness and style preferences, and track their activities. Nike then uses this data to offer personalized product recommendations, exclusive offers, and early access to new releases. They even curate personalized workout plans and training tips based on the customer's fitness goals.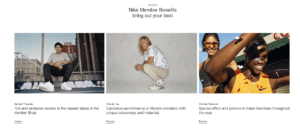 Nike's mobile app also plays a crucial role in personalizing the shopping experience. By using augmented reality, customers can virtually try on shoes, enabling them to see how different models and colors look on their feet before making a purchase decision.
Additionally, the Nike By You program allows customers to design their own custom sneakers, choose colors, and materials, and add personalized text. This level of customization goes beyond just preferences and lets customers create truly unique products that resonate with their individual styles.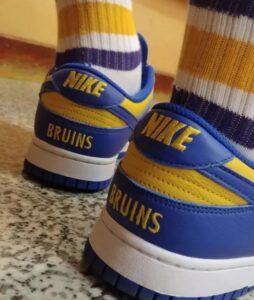 By integrating data-driven insights, advanced technology, and customization options, Nike has successfully built a loyal customer base that feels valued and understood, making it a prime example of how personalized customer experiences in retail can drive brand loyalty.
2. Building Meaningful Loyalty Programs
By leveraging customer feedback you can create meaningful loyalty programs that cater to the expectations and preferences of your customers. These programs will help you foster a long-lasting and meaningful relationship with your customers.
An excellent example of a brand that has successfully built customer loyalty programs in the retail industry is Starbucks. 
Starbucks Rewards program is an app-based program that allows customers to earn points, or Stars, for every purchase they make at Starbucks. The more Stars you accumulate, the higher your membership level, unlocking additional perks and benefits. These rewards include free drinks, food items, personalized offers, and even a free treat on your birthday.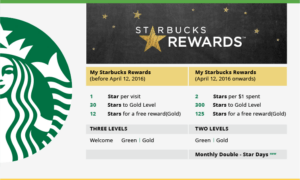 The program is designed to create a sense of exclusivity and special treatment for loyal customers. It encourages them to visit Starbucks more frequently and spend more money to earn Stars. Moreover, the app offers convenient features like mobile ordering and payment, enabling a seamless and rewarding experience for members.
Starbucks also leverages customer data to send targeted offers and promotions to its reward members. By understanding their preferences and purchasing habits, they can tailor offers that resonate with each individual, further incentivizing repeat visits and brand loyalty.
The success of Starbucks Rewards lies not only in the tangible rewards but also in the emotional connection it fosters with its customers. The program makes customers feel appreciated and valued, reinforcing their desire to continue supporting the brand.
Through this rewards program, Starbucks has been able to cultivate a devoted and enthusiastic customer base, showcasing how effective loyalty programs can be in driving customer retention and brand advocacy in the competitive retail landscape.
3. Enhancing Customer Service and Support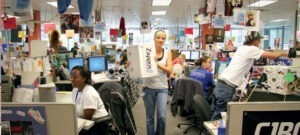 By connecting and actively listening to their customers and resolving issues in real-time, brands can create a positive customer-centric working environment which will ultimately enable them to deliver a great customer experience.
One brand that has excelled in enhancing customer service and support in retail is Zappos. Zappos, an online shoe and clothing retailer, is renowned for its outstanding customer-centric approach.
They are known for their legendary customer support, which includes their famous 24/7 customer service hotline. Zappos' customer service team has gone above and beyond to help their customers. Their longest customer service call is 10 hours and the best part is that the call wasn't about any product, the customer just wanted to talk. The team has also helped deliver the shoes of a best man overnight.
Zappos also boasts a generous and hassle-free return policy, allowing customers to return products within an extended window (often up to 365 days) and receive free return shipping. This policy not only provides peace of mind to customers but also shows Zappos' confidence in the quality of their products.
By focusing on exceptional customer service, Zappos has built a loyal and passionate customer following. Their commitment to putting the customer first has set a high standard in the retail industry, proving that outstanding customer service is a powerful way to create long-term customer loyalty and distinguish oneself in a competitive market.
4. Engaging with Customers Through Social Media
Social media platforms are one of the best ways to provide a great customer experience. It enables you to connect with customers, build relationships, and provide assistance to enhance the overall shopping experience.
A prime example of a brand that excels in engaging with customers through social media in retail is the beauty brand, Glossier. The brand has mastered the art of building a strong community and fostering meaningful interactions on social media platforms.
Glossier's social media presence is vibrant and authentic, creating a sense of connection and relatability with its customers. They use platforms like Instagram, Twitter, and TikTok to showcase user-generated content, customer reviews, and behind-the-scenes glimpses of their products and brand culture. They also encourage their customers to share their makeup looks, skincare routines, and product reviews using branded hashtags, such as #GlossierPink.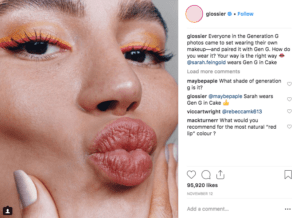 By using social media as a tool to create a two-way conversation and build a loyal community, Glossier has successfully cultivated a loyal customer base. Their social media strategy exemplifies how engaging with customers on these platforms can lead to brand advocacy, increased customer loyalty, and a competitive advantage in the retail industry.
5. Implementing Post-Purchase Follow-up
Actively gathering feedback from your customers as a part of post-purchase follow-up is a great way to provide end-to-end customer experiences. This strategy will help you to identify areas of improvement and take action to resolve those issues, ultimately enhancing your customer's shopping experience with you. 
A great brand example of implementing post-purchase follow-up in retail is Amazon. The e-commerce company is known for its proactive and comprehensive approach to engaging with customers after their purchases.
After a customer makes a purchase on Amazon, they receive a detailed order confirmation email, which serves as a reassurance of their purchase and includes the estimated delivery date. Once the item is delivered, Amazon follows up with a post-purchase email to check if the customer received the product in good condition and if they are satisfied with their purchase.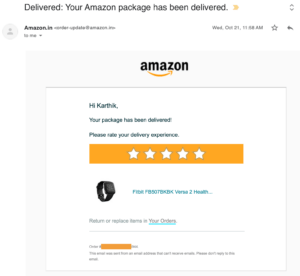 Additionally, Amazon encourages customers to leave product reviews and ratings. They send follow-up emails, asking customers to share their thoughts and experiences with the purchased item. This feedback system helps potential buyers to make informed decisions. It demonstrates Amazon's commitment to providing a platform for customers to voice their opinions.
Furthermore, Amazon's customer service team actively reaches out to customers who encounter any issues with their purchases. Whether it's a problem with delivery, damaged items, or any other concerns, Amazon strives to resolve these matters promptly and efficiently.
By engaging with customers after their purchase, Amazon demonstrates a commitment to customer satisfaction, which contributes to the brand's overall success and customer loyalty.
Explore SurveySensum to Create Effective Post-Purchase Follow-up Surveys – Request a Demo
6. Leveraging Customer Feedback and Surveys
Customer feedback surveys give you valuable insights into what your customers love, what they expect, and where they might be facing some challenges. By analyzing this feedback, you can figure out what you are doing right and what you could improve on. It's all about making smart, data-driven decisions to make sure you are giving your customers the best experience possible.
The Swedish furniture retailer, IKEA, is renowned for its commitment to understanding its customer's needs and preferences through continuous feedback collection.
IKEA regularly conducts customer satisfaction surveys both in-store and online to gather valuable insights about the shopping experience, product satisfaction, and overall service quality. These surveys cover various aspects, such as product design, store layout, staff assistance, checkout process, and delivery services.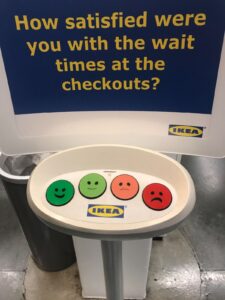 IKEA's feedback-focused approach in retail shows how involving customers and using their feedback can enhance business growth and satisfaction.
7. Creating a Seamless Omnichannel Experience
Customers want a shopping experience that caters to their convenience. With technology being as advanced as it is now, shopping is not limited to just stores or online. They can interact and buy through channels like online stores, mobile apps, physical stores, social media, and more.
Brands must embrace this approach, crafting a transparent and smooth cross-channel shopping experience using customer data.
Home Depot is a prime example of a brand that has successfully created a seamless omnichannel experience in retail. 
Home Depot's website and mobile app are central to its omnichannel strategy. Customers can easily browse products, access detailed product information, read customer reviews, and make purchases online. The website also features helpful DIY guides, project ideas, and instructional videos, providing valuable resources to customers.
The Pick Up In Store option allows customers to shop online and pick up their orders at their nearest Home Depot store. This service offers the ease of online shopping and quick product access, perfect for customers engaged in home improvement projects.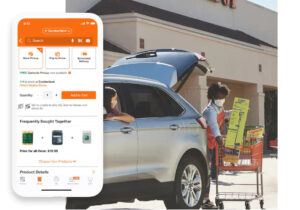 The in-store experience caters to omnichannel shoppers as well. Store associates can access online inventory, helping customers locate products, check availability, and even order items from the store if they're not in stock.
This blend of digital tools and physical stores showcases how a well-implemented omnichannel strategy can enhance customer connections, boost loyalty, and position a brand for lasting success in the competitive retail environment.
Conclusion
With intense competition and an abundance of options available to consumers, retaining customers has become a significant struggle for brands. To address this challenge, forward-thinking brands are implementing innovative customer retention strategies. 
According to the research study conducted by Harvard Business School, The Economics of E-Loyalty, increasing customer retention rates by 5% increases profits by 25% to 95%.
From personalized customer journeys to social media engagement, brands are creating innovative strategies to create great shopping experiences for their customers. These strategies not only enable brands to retain customers but also foster a sense of community and trust, further solidifying the bond between the brand and its customers.
In order to create effective customer retention strategies in retail, brands can invest in a good retail customer feedback platform like SurveySensum that will help them to leverage the potential of customer feedback which will help them to create amazing experiences for their customers, and take data-driven actions to identify areas of improvement and resolve issues in real-time.
How much did you enjoy this article?
Stay up-to-date with latest CX tips and tricks, subscribe now!
Don't worry, we don't spam you.