Customer first thinking is a MUST for businesses or brands to deliver BEST OF CUSTOMER EXPERIENCE!
Today the brand is no longer the star of the show – the experience is. Across the globe, businesses are struggling to enhance product or service usability by designing them to meet customer needs. Here's a quick analysis to design customer journey at different touch-points by integrating an AI-enabled experience management platform.
Emotional experiences last longer: The human-centered approach behind the design of a product or service has taken a central role in bringing user experience into life. With an experience management platform for your business, you are more likely to make your customers happy by tackling their problems quickly and effectively.
Amplify customer interactions: Artificial Intelligence (AI) can help businesses in creating personalized, relevant and lasting customer experience through smarter interactions. With an AI-enabled experience management solution, you can close the loop and resolve customer problems instantly in order to amplify meaningful interactions. Indeed, engaged customers later turn into your promoters. The platform can offer data-driven insights about customer satisfaction which will help businesses in gaining customer loyalty and earn business profits.
Keep evolving products: Businesses are evolving products but don't know exactly how to sell them in the target market. This needs sophisticated market research because the customer journey doesn't end when a customer purchases a product– it's an ongoing experience that requires customer-first thinking. Achieve customer experience at different touch-points in the customer journey by listening to what customers want.
In addition, a Walker study revealed that by the year 2020, customer experience will overtake price and product as the key brand differentiator.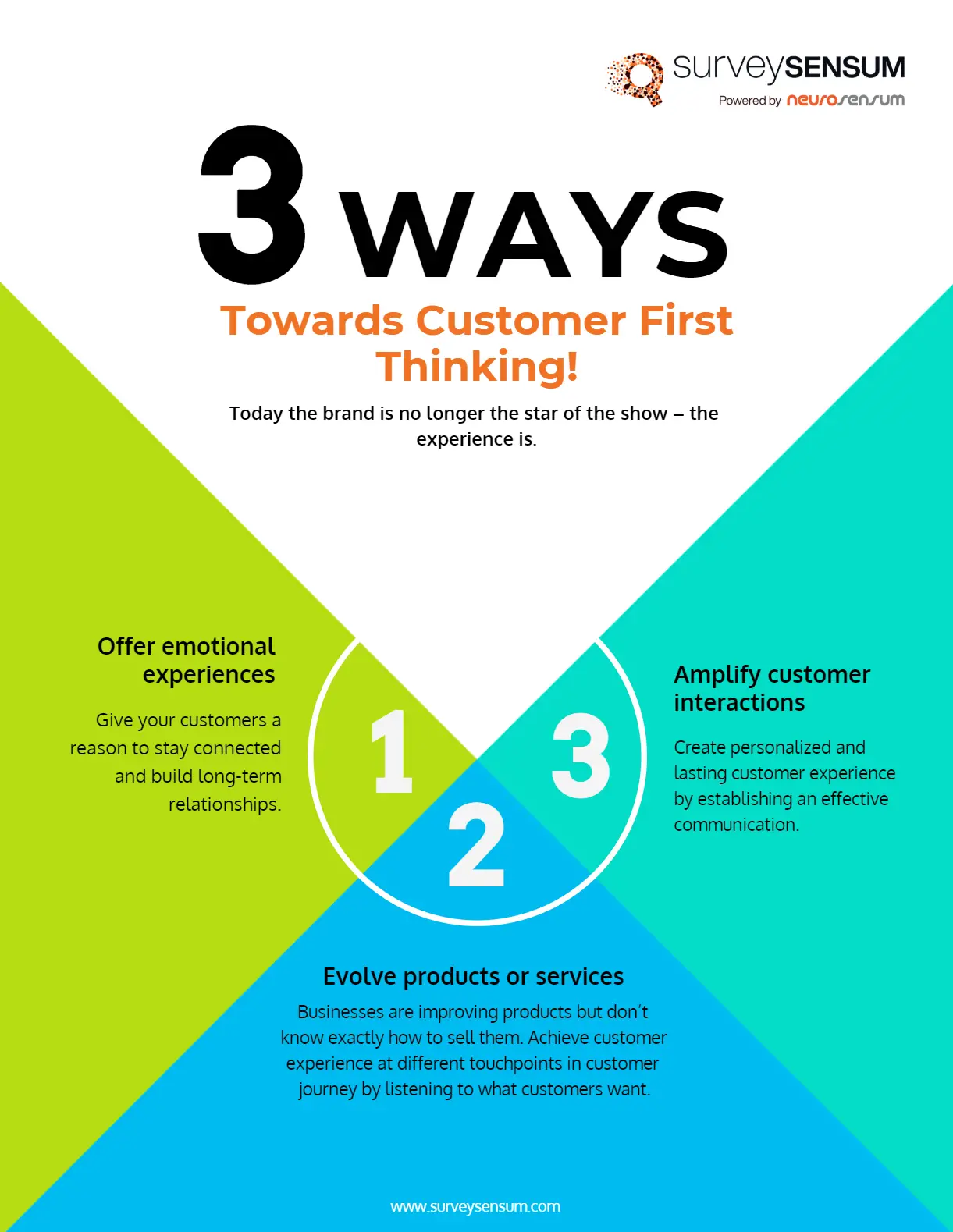 If you are a business looking for smarter ways to switch to customer-first thinking then feel free to drop in an email at support@surveysensum.com. CX experts will get in touch with you soon!


How much did you enjoy this article?
Stay up-to-date with latest CX tips and tricks, subscribe now!
Don't worry, we don't spam you.