SurveySensum: The right alternative to Qualtrics
Finally, a Qualtrics alternative that caters to your growth-stage business entirely. It is intuitive, engaging, feature-rich, and priced most reasonably.
Why Qualtrics may be the wrong choice for your business?
Qualtrics is one of the most popular CX software that helps users create surveys and generate insights based on their feedback. It is an advanced survey tool that lets you understand what your customers or employees feel about your business, brand, or services.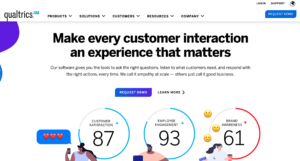 Qualtrics focuses on providing various solutions for businesses to analyze customer experience, employee experience, brand experience, and more. It then compiles all the feedback to produce actionable insights for the organizations to close the feedback loop and enhance the experience. 
Even after benefitting from the many advanced features and use cases of Qualtrics, people still look for better Qualtrics competitors. But why? 
Let us explore why they look for Qualtrics alternatives.
Cons of Qualtrics
Why do people want to switch from Qualtrics? Is it expensive, or is it hard to use? Let us analyze some of the cons of Qualtrics in detail.
Qualtrics is a complex platform to learn on the first go, and you need additional training, making it difficult for first-timers to create surveys quickly or navigate through it. If you inspect reviews on sites like G2 and Gartner, Qualtrics has the highest negative reviews from users for its user-friendliness. 
Qualtrics is costly, and they do not publish the pricing details on their website or anywhere. Customers often complain about the limited features and functions they receive even after paying a high cost. And not just that, the prices increase on annual renewals, and penalties are charged on extra responses.
Complex product & integrations
Qualtrics is part of SAP and has incorporated sophisticated technologies into its platform, making it complex and expensive for customers to integrate with third-party tools and apps. 
As users already pay a high price for Qualtrics and sign long-term contracts, the Return on Investment is always a question for many customers. The customers dont usually find value in Qualtrics as they have unusual contract lock-in periods. It often takes a long period for businesses to utilize the software to its full potential and generate a return on investments because it is expensive, complex, and requires trained people. 
Large Enterprise-focused Model 
Qualtrics software is not for everyone. The complexity and price make it affordable only to large enterprises and brands. Therefore, several smaller customers are trying to find a great alternative to Qualtrics to justify the ROI and find value addition to the services. 
Qualtrics is a great feedback platform, but it comes with its limitations. But if not Qualtrics, then what? Which one is the best alternative?
– SurveySensum
Here's why.
Why is SurveySensum the Best Qualtrics Alternative?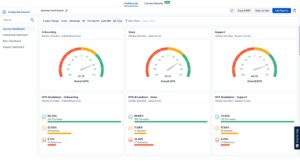 SurveySensum is a feedback management software that uses AI to facilitate end-to-end customer experience for businesses. It suits SMEs and large enterprises alike. SurveySensum helps you create lucrative surveys, gathers all customer feedback at one platform, analyzes it to identify top trends, shares instant reports, and helps you close the feedback loop enhancing the user experience. 
But is it the right alternative to Qualtrics? Let's find out.
A Quick Comparison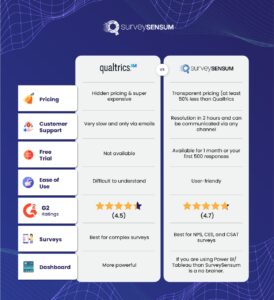 Qualtrics vs SurveySensum: Comparison in Detail 
Here's a detailed comparison that proves why Surveysensum is the Qualtrics alternative you should go for.
1. User Experience
Qualtrics does not offer a great user experience. Qualtrics is easy to set up and users find it difficult to master it. You'd need to get your people trained in order to use Qualtrics. And that would cost you extra, like 200 dollars per hour of training, to use the features and build the surveys. 
The most highlighted positive factor of SurveySensum is its user-friendliness. It is known to be very easy to set up and use. Even new users can understand the process and run surveys in no time.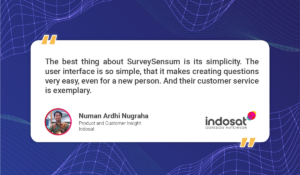 2. Sentiment Analysis
Qualtrics provides sentiment analytics features only in its advanced text IQ options. It is not available for normal users and accounts. 
SurveySensum's text analysis allows businesses to tag sentiments in real-time. All the feedback is gathered in one place and is tagged and categorized based on emotions and feedback quickly. In just a few minutes, you'll have the top trends and sentiments of the users on your dashboard.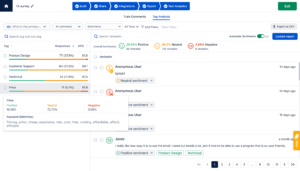 3. Customer Support
Qualtrics customers are really disheartened with the kind of support they receive from Qualtrics. There is no chatbot or phone number to reach out to. Email is the only mode of communication and sometimes it takes days to get their response. It has affected the quality of the support they offer, and small businesses find it hard to get support at the right time. 
SurveySensum on the other hand offers instant support to customers no matter if they are large enterprises or small businesses. It aims to resolve your issues in just 2 hours which is unheard of. Get a dedicated account manager, learning videos, articles, email and chat support, and more from SurveySensum.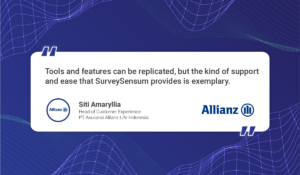 4. Pricing
Competitive pricing is the critical strategy to attract new customers and retain existing customers. It is very evident from the user reviews that Qualtrics is expensive for small businesses, and they focus mainly on large enterprises. Qualtrics do not publish pricing details on its website. And there are many hidden prices involved.
You can use SurveySensum for at least 50% lesser than Qualtrics costs. And the platform offers very competitive pricing based on the responses, unlimited surveys, unlimited users, and all the features you could ask for.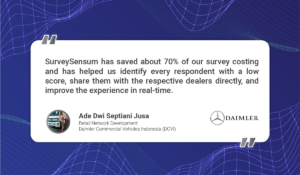 5. Free Version
Qualtrics doesn't offer a free trial. This makes it really difficult for the customers to see what they will get or how easy the platform would be. 
SurveySensum, on the other hand, offers a free account with 25 responses and 500 emails monthly. Users can enjoy unlimited surveys and add unlimited users to the free plan. 
6. Integrations and Plugin
Seamless integrations with third-party apps let you make the most of your time and energy. Qualtrics and SurveySensum enable you to integrate with hundreds of applications and centralize data in one place.
Though integration is costly in Qualtrics, it has more apps lined up for you compared to that of SurveySensum. 

Comparison Table for Qualtrics and SurveySensum (Based on G2 reviews)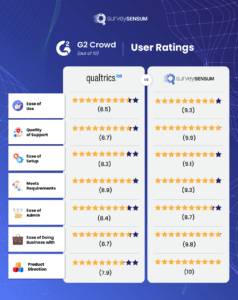 Organizations that have shifted from Qualtrics to SurveySensum for better PRICING and SUPPORT.

Takeaway
Unlike Qualtrics which is only best suited for large enterprises, SurveySensum is a perfect fit for small teams, SMEs, and large enterprises. It only costs you 50% of what you pay for Qualtrics, giving you almost all the features and functions. With customization and branding options, it meets all your requirements as an end-to-end feedback management tool and is the best Qualtrics alternative we have today in the market. 
Therefore, if you are looking for a more affordable, simple, and quick ROI-generating platform that has all the essential features at a fraction of the price of Qualtrics, then SurveySensum is the platform for you. 
Both are popular platforms in the niche and have been used widely by hundreds of customers across the globe. But the decision is always yours. 
Happy surveying!
How much did you enjoy this article?
Stay up-to-date with latest CX tips and tricks, subscribe now!
Don't worry, we don't spam you.