What is Customer Experience Management (CXM) – SurveySensum
What is Customer Experience Management (CXM)?
The system of marketing tactics, technologies, and processes that concentrate on customer engagement, satisfaction, and experience is called Customer Experience Management.
It is only by knowing the needs of customers can you create and deliver incredible experiences.
And how can you achieve it?
By listening to your customers across all touchpoints on all channels, analyzing their feedback, and acting on it!
But there is one common question that always confuses people!
What is the difference between CRM and CXM?
So, the major differences between CRM and CXM are: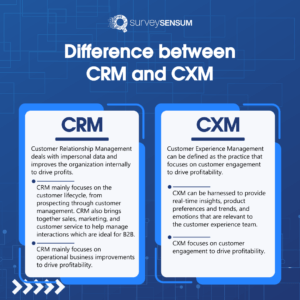 What are the benefits of Customer Experience Management (CXM)?
The benefits of CXM includes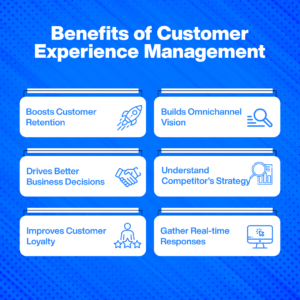 Let's talk about each in detail.
Boosts Customer Retention
CXM helps focus on retaining the customers with advanced methods like customer life cycle management, customer journey map, etc. They allow you to identify the touchpoints with the most friction and analyze the gaps between the experience customers are having and their expectations at each touchpoint.
Drives Better Business Decisions
CXM gives an enhanced view of customer feedback, behaviors, and preferences across all touchpoints. All this data helps you drive strategic business decisions that will not only enhance customer experience but will boost business metrics like retention, revenue, etc.
Improves Customer Loyalty
CXM helps you build deeper, lasting relationships with customers through personalized services and timely engagement, which improves customer loyalty and retention. For example, NPS helps you measure and improve customer loyalty and improve your product, or services as per customers' expectations.
Builds Omnichannel Vision
Omnichannel Vision in CXM offers a comprehensive view of the customer journey that allows you to observe, interact and get an overall picture of how happy your customers are at each touchpoint and what needs to be improved.
Understand Competitor's Strategy
Customers always tend to compare brands when making their choices and sharing their feedback. Measuring their sentiment can assist you in positioning yourself favorably against your competitors.
Gather Real-Time Responses
A state-of-the-art CXM platform alerts you when there is an unhappy customer, lets you respond in real-time, and turns their experience around. Customers will feel happy when there is always someone hearing their complaints and responding to them in time.
What are the factors to focus on while managing CX?
These important factors will help you manage CX better.
Omnichannel feedback allows customers to share feedback across multiple channels such as emails, surveys, in-apps, chat, support, etc. All they have to do is reach out. All of this data is gathered at one place for you to interact, analyze and take action on.
Data analytics delivers in-depth insights into customer behavior and foretells the outcomes of campaigns. It helps you identify what is performing well and what is not. Most importantly, it gives you the insights that can help you convince your management to focus on your CX program.
Employee Happiness Index measures the extent to which the employees of the company are satisfied with their job. When your employees are happy, they'll focus on your customers' happiness.
Customer centricity is an organizational mindset that places customers at the center of the business. As a result, the entire customer experience is deliberately and strategically outlined to be the differentiator. A customer-centric organization considers the whole customer journey and anticipates customer needs beyond any one transaction.
What are the best practices to implement customer experience management?
Keep these crucial steps in mind before implementing CX management.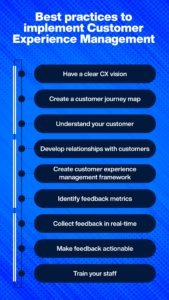 A customer experience vision is an action-oriented statement stating the purpose a company promises to its customers. A well-stated vision promotes engagement at all levels of the company and drives employees to work towards a common goal. Having a clear customer vision is important, and it is the sum-total effect of all interactions during a customer lifecycle that you want to achieve.
Here's a CX vision statement that is to-the-point, yet enticing:
"We believe that buying glasses should be easy and fun. It should leave you happy and good-looking, with money in your pocket." – Warby Parker
Create a customer journey map
A customer journey map is a visual representation of the entire interaction of a customer with your brand. It offers a strategic program to know customer expectations better and optimize the end-to-end experience. You need to define customer personas, and their goals, focus on your target personas, list out all the touchpoints and their actions, analyze the emotional driver, obstacles, and pain points of customers and then decide on strategies to act on it. You can use feedback surveys at each touchpoint to know exactly what your customer is going through.
That is the most important step to deliver exceptional customer experiences. Know your customer needs. You must see things from a customer's view to understand their needs and wants. You will get answers to what they are most concerned about and where they have challenges. You can find out by listening through different channels like phone calls, emails, in-apps, social media, etc.
Develop relationships with customers
A loyal customer always brings you more referrals, promotes your brand, and helps you improve your services. And customers become loyal when they are emotionally attached and satisfied with your products and service. If you can create healthy relationships with customers, they will always remember you and become loyal to your brand. You can build strong relationships with customers by offering timely customer service, loyalty programs, acting on their feedback, etc.
Create customer experience management framework
Creating a proper customer experience framework is imperative in improving CXM. You need to choose and decide on the right set of tools and procedures. You need to create a strategy to provide great services at every touchpoint of the customer journey by aligning every aspect of your business and customers.
Identify feedback metrics
Measuring the impact of your customer experience strategy is a crucial step. The purpose of evaluating feedback measures is not only to measure your ROI at the organizational level but also to understand which strategy is making the most difference in improving customer experience. The most popular feedback metrics are Net Promoter Score (NPS),  Customer Effort Score (CES), and Customer Satisfaction (CSAT).
Collect feedback in real-time
Collect feedback in real-time; i.e at the moment when your customers have just experienced your product or interacted with your business in any way. When that's the case, the customers are most likely to give you genuine and relevant feedback as the experience is fresh in their minds. However, if you are to collect feedback in the traditional way, you won't get reliable feedback since your customer won't be remembering the specifics of their experience since they've been asked after a delay.
Just gathering customer feedback is not going to make any difference. You need to analyze the feedback to make it more meaningful and act on it. You need to identify what the issue is, what needs improvement etc., and also dedicate a plan to implement the improvements.
A skilled team is the backbone of every company. Training is the shortcut to making your staff well educated and informed. In addition, it is a crucial process to understand emotions while communicating with customers. Staff can interact efficiently and enthusiastically if they have sufficient knowledge and build trust in customer relationships.
Implement your CX program with SURVEYSENSUM
Proven Ways, to bring great results from CXM
Here are some proven ways to get excellent results from CXM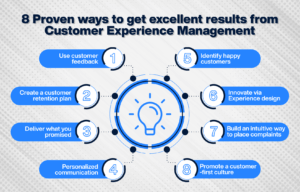 Utilize post-interaction and real-time feedback surveys like CSAT, NPS, or CES surveys. Don't forget to follow up with customers over the phone or email to understand more about their issues. Also use customer feedback obtained from different channels like emails, phone calls, websites, social media, etc. to know what customers want and take appropriate actions.
Create a customer retention plan
Retaining as many customers as possible is a critical process in any business cycle. It is a crucial driver of bottom-line growth. Studies show that a 5% increase in customer retention can result in a 25% increase in profit. It is mainly because a retained customer helps save the expenses of obtaining a new customer, and satisfied customers tend to order more.
Deliver what you promised
Good customer service levels up customer satisfaction. One of the best ways to make customers happy is to deliver what you promised. Make sure you promise what your brand aligns to because you could lose a significant number of customers if you fail to deliver it.
Personalized communication
Personalization has become a part and parcel of CXM. When you provide tailored experience or communicate in a way that pertains to the individuality of your customers, they are bound to feel important and cared for. Efficient personalization of communication provides a proven method for increased transparency, response rates, and loyal customer relationships.
The best way to improve customer experience is to find happy customers. Then talk to them. Understand which features, services, or products they are liking. Promote those features forward. Moreover, ask for references and collect their testimonials to build case studies.
→
How to turn your detractors into promoters?
Innovate via Experience design
Employ customer insights to determine and prioritize experience requirements and opportunities. You should also establish a defined and facilitate an end-to-end CX design process. It allows you to create products, services, and experiences that match customer requirements and adapt your business.
Build an intuitive way to place complaints
A problem with your product, employees or internal processes can be identified by analyzing customer complaints. You shouldn't miss these complaints and therefore build an intuitive and responsive way to place them. If the customers don't get a chance to present their issues to you, they will leave you for your competitors.
Promote a customer-first culture
Promoting customer-first culture means giving more importance to customers and delivering a positive experience throughout the customer journey. When you put your customers at the core of your business, you can collect a lot of valuable data that eventually helps you improve your product or service and enhance the customer experience.
Questions to ask while choosing a CXM software
Don't forget to ask these important questions while choosing CXM software.
Does it give you a better idea of customer profiles with real-time data?
The CXM software needs to be able to unify a wide range of behavioral, transactional, financial, and operational data. And it has to sort it to give you a close profile covering all the channels.
Does it extend personalization?
Personalization goes a long way in building relationships with the customer. And a good CXM system helps you with it. It helps you create exceptional experiences more quickly and deliver customized content on a large scale.
Does it only measure feedback? Or does it have more abilities to fortify CX?
Look for extra abilities like customizable survey templates, the ability to run multiple survey projects, segmentation and analysis, closing the loop on feedback, etc. These abilities fortify CX and make your business run smoother.
Does it produce intelligent reports?
Your CXM software should be able to analyze data and collate it into intelligent reports. In addition, it should allow the CX team's insights to leverage data in a centralized aspect. In other words, the CXM software should enhance collaboration, enable better decision-making, capture customer interactions, decrease the risk of errors, and build a better experience through insightful reports.
Does it help you streamline the customer journey?
The importance of the customer journey is indisputable. Ideally, your CX software should allow you to assign surveys to specific touchpoints of your customer journey so that you will know which touchpoints require improvement.
Is it intelligent enough to analyze customer sentiment?
It always helps if your CXM software features customer sentiment analysis to analyze and manage customer sentiment. Sentiment analysis discovers your customer's emotions in online communications by detecting patterns in the text that helps categorize their opinions as positive, negative, or even neutral. This can go a long way in improving CX.
Does it have the ability to build trust and even ensure customers' data privacy?
Customer data privacy is paramount in any business. Make sure the software includes end-to-end privacy, security, and compliance features.
Does it have enough integrations to make your work smoother?
Always look for CXM software that can integrate with other applications and platforms. By choosing software that works with the applications that you use every day, you actually save a lot of your time and can implement better ideas and processes.
Why choose SurveySensum's CXM solution?
These important points show why you should choose SurveySensum's CXM solution.
Powerful features
Templates
Integrations
Text analysis
Reports
Contact Management
Ensures the loop is closed
Custom Dashboard
SurveySensum has powerful features like in-built survey templates, end-to-end feedback management, contact management, text analysis, etc. These useful features will help you deliver the best customer experience.
Templates help you save time and reduce your workload. The questions, reports, dashboard, and close loop integrations are already included in the templates for easy access. You just need to update the name of your product/organization and set up follow-up questions.
Integrations will help you keep the company effective and efficient. Surveysensum allows you to receive responses on a Slack server, send surveys inside chats on Intercom and integrate with other CRM applications using Zapier. And for other applications, you can use its open API.
Its AI-Enabled Text Analysis helps you automatically extract top customer complaints from all the unstructured feedback that you receive.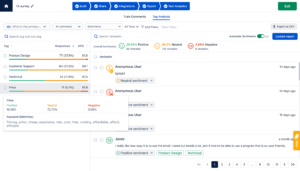 Its reports help you make important business decisions and deliver what customers want. Our automated dashboard provides NPS/CSAT scores, the trend of responses, and recent verbatims.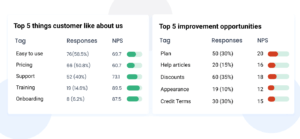 Powerful Contact Management
Contact management helps you manage the details of customers such as email, country, age, gender, etc. It helps analyze data in reports by demographics or other business metrics and share different surveys with different groups.
Ensures the loop is closed
Surveysensum ensures that instant response is given to customer feedback submitted. It also assists you at every stage of feedback collection to make it actionable.
The custom dashboard allows you to create multiple reports of different surveys/touchpoints inside a single location. It helps you compare different touchpoints or customize the report with multiple attributes.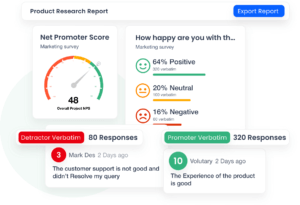 We are everything that's needed to deliver an exceptional Customer Experience