You expect everyone to respond to your surveys and answer the questionnaire sincerely. You sent the surveys regularly and put some serious effort into creating the survey questionnaires. Yet, you fail to get the survey response you wanted or sometimes do not even receive a single response at all.
Why?
Well, that's exactly what we are going to discuss with you today. In this blog, we will talk about the 12 main reasons why you are getting low survey response rates. These reasons will explain why hardly anyone responds to your surveys and will assist you in improving the survey response rate.
There are many survey methods available, and we have selected email surveys here to help you better understand the reasons as email is one of the most popular channels for distributing a survey. But it applies to any survey – in-app survey, website survey, telephone survey, etc.
Here's a quick video that talks about it, and we discuss the same in detail in the following blog.
Why are you NOT getting enough survey responses: 12 solid reasons
Let's dig into the 12 main reasons for low survey response rates and why customers are not participating in a survey:
What's Wrong #1. Your survey is too long and you're asking too much
One of the main reasons for low response rates in surveys might be that your surveys are too long.
The day-to-day life of a consumer has always been busy, and the digital era has made it busier. And somehow, you are still stuck on creating long surveys that no one wants to respond to.
The longer the questionnaire, the longer will be the time taken to finish the survey. This means there exists a higher probability that your consumers will abandon the survey mid-way. 
Most people's jobs are not just reading and responding to surveys, they have a lot more to do. And if you are asking for way too much, people will simply ignore that.
What you can do about it: Before you start crafting your surveys, consider how much time is valuable for every respondent. If you want people to respond to your surveys – make your questionnaire focused & surveys short. The true virtue is to be concise. Always try to minimize the time and effort that the person on the receiving end needs to spend if they decide to fill out your survey.
Also, don't promise a 2-minute survey in the email if you are going to ask a thousand questions in it. Deliver what you promise.
Value your customers' time.
What's Wrong #2. You don't A/B test delivery time
The biggest mistake most businesses make — especially when sending a survey email — is neglecting to recognize that timing plays a huge role in getting a response.
Maybe it won't if your survey email subject line is super boring or if your survey emails are the length of 12 installments of Crime and Punishment.
But otherwise, it will — and probably will affect your open rates, which in turn will determine your survey response rate.
Learn more on how SurveySensum can help improve your survey response rate by 80%.
What you can do about it: Well, you can A/B test and analyze the best delivery time for your survey emails, and then you can send your emails at that time to increase your open rates. But don't just test once and decide; test, test, and then test again before picking a time to send the survey emails.
Also when choosing a perfect time to send your survey emails, pay attention to the time zone your subscribers are located in.
If your email list contains people from all over the globe, you should test the best timing for each zone separately.
Picking one time for every time zone won't work – you need to pick different times for different zones if you want a good survey response rate.
If you are new to surveys and don't have enough data to pick the best time of day– you can use these days & timings to start with:
What's Wrong #3. You don't give them a reason to fill out your survey
Let's face it: surveys are boring – nobody is interested in replying to them unless you give them a reason to do so. But most businesses don't give their customers a reason to take up their surveys – they just make it all about themselves instead of the customers. Don't make this mistake. This can really affect the survey response rate.
What you can do about it: If improving your survey response rates is your goal, don't just tell people to share their feedback – instead, give them a reason to do that too.
See how Netflix prompts their customers to participate in a survey with a simple yet powerful email subject line.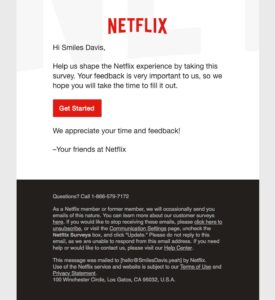 Netflix surely knows how to increase its survey response rates by just using the right words in the copy. Notice how they provide value to their customer by seeking 'help' from them? That's one way to get more survey responses. 
Try to give a reason for customers to open up and respond.
What's Wrong #4. Your surveys are not personalized
You have undoubtedly heard that personalization is the key to achieving success in the digital world, but when it comes to surveys, most people forget this rule. If you want a good number of survey responses, don't dismiss this crucial aspect.
What you can do about it:
There are many ways to include personalization in your surveys. Let's talk about the easiest way here. If the customers have signed up for your service and provided their details willingly, then including their first names in emails would be good practice for personalization.
 For example, if you're running an NPS survey you can personalize it by adding the survey respondent aka your customer's first name to it.
Or if you are conducting an email survey you can add the recipient's first name in the subject line.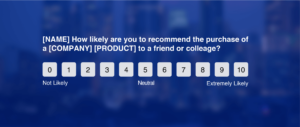 OR
If you are conducting an email survey, you can add the recipient's first name in the subject line
Do you know just by including the recipient's name in the subject line you can increase your open rate by 22.2 %? (Source: Adestra)
–> Here's how you can boost your response rate in B2C.
What's Wrong #5. You forget to double-check your surveys
This is going to be a short but necessary point. Misspellings and grammar mistakes can happen, but you can't afford one in your surveys.
Why? Because it can put off respondents and will make your business look sloppy and unprofessional. It shows a lack of effort.
If you're asking your customers to take out time to give you feedback, then having typos in it is not going to help the cause. They'll assume that you don't value their time and will not take it seriously.
What you can do about it:
Once you have crafted your surveys check them for typos and recheck them if possible. If you want your respondents to fill out your surveys, you need to make sure that there are no typos in your surveys.
Here is a thought, seek the help of a copywriter or copyeditor to go through the questionnaire to make sure it is error-free.
What's Wrong #6. You don't give your respondents an option to skip a question
Unless it is a small survey, please don't make it mandatory for your survey-takers to answer every question.
Why? Because sometimes survey respondents don't know the answer to a question. If you force them to take up every question, they'll either leave the survey or will give you false answers. And you don't want that.
What you can do about it:
Well, the solution is very simple – give your respondents an opportunity to skip questions that don't align with their persona or are not comfortable answering.

What's Wrong #7. You are not taking action on the customer feedback
Asking customers for their feedback is not enough. When you do that, they are making an effort to tell you how they feel about your brand, services, or products. They expect you to listen to them and take action on their issues. And when you don't do that, they might share their feedback once or twice, but they'll stop which will lead to low response rates.
Moreover,  what is the point of taking customer feedback if you are not going to do anything about it?
What you can do about it:
Take action on the customer feedback. As soon as there is a negative review, reach out to the respondents. Understand their issues in detail. Observe if others are facing the same challenges. If yes, discuss it with the relevant teams and remove the issue from the core. And don't forget to inform the respondents that they have been listened to, and certain actions have been taken on their feedback.
What's Wrong #8. Your surveys aren't real-time
You do not get enough survey responses or insights from the surveys if your surveys aren't real-time. It is a critical mistake that organizations make. Sending surveys at the wrong time will affect you badly as customers will lose interest in your business or they no longer mind the complaints, satisfaction levels, or feedback. 
What you can do about it:
You should automate the surveying tool and send surveys in real-time as and when the customer interacts with your business. You must identify the right time and schedule surveys accordingly before the customer loses interest in responding to you. This tells them that you value their opinion and feedback. The ultimate aim is to inspire the respondents to respond to your questionnaire.
It should also be noted that when considering launching a survey, always choose the tool that best fits your business. Here are some
best NPS tools
for you to consider if you're launching an NPS survey. 
What's Wrong #9. You aren't structuring your surveys logically 
Your surveys fail to impress if they aren't structured logically for the respondents to find a connection between the questions. Random questions without any sense will not trigger any interest in the audience. Instead, it might irritate them, and they would quit the survey in between. 
What you can do about it: Use the ínverted pyramid' pattern followed by experts. Screen your questions first and give them a logical structure so that the customer continues to answer your questions till the end.
What's Wrong #10. You are using the wrong platforms to share surveys
Understanding the audience type and the platforms they use to avail your products and services are too critical in a business.
If you send them surveys on the wrong platform, you tend to get no response at all. And if you do not create surveys to suit all these platforms and do not identify the right platform to share them, you will still have poor survey response rates. 
What you can do about it:
If you have a low response rate, you must first understand where your target audience is and choose the correct platform to share the surveys. Embedding surveys on the website, product pages, and social media handles, or even sharing them over WhatsApp will work if you understand the target audience first.

Social media handles take special credit when it comes to customers taking surveys. 
→ Read the benefits of using WhatsApp for surveys than any other medium.
What's wrong #11 – You are not asking the RIGHT questions
Stuffing your survey with unfitting or poor questions might be another reason why you are seeing a lack of engagement in your surveys. 
Imagine yourself getting a survey after you dined in a particular restaurant for the first time. But as you look through survey questions, you see that most of the questions concentrate on why you choose them over other restaurants, whether you like a dish you didn't order, and so on. 
Frustrating right? 
Exactly, the same will be the feeling the respondents have. So one of the best ways to get more survey responses will be to ask the right questions.
What can you do about it:
Start by asking relevant questions
Avoid confusing questions
Provide an appropriate answering scale to your questions

Ensure that the survey questions are neutral
→ Take a look at some of the NPS survey questions you can ask. 
What's wrong #12 – Poor timing
You have all the right questions in your hand, you are using the right platform…you have everything down to the minute details, but you send the surveys at the wrong time. 
Sending surveys to customers at the right time plays a crucial role in improving survey response rates. 
Imagine this, your new car is recently delivered to you, and within 2 hours, you receive an NPS survey asking whenever you'd like to recommend the car to your friends or acquaintances. How'd you feel about it? 
What can you do about it:
Send the right questions about the certain transaction that has taken place. In the above example, instead of asking the NPS question, ask, 'How satisfied are you with your car delivery'. Give some time to your customers to experience the car, and after 3-4 weeks, send the NPS survey. 
Take a look at the image given below to get a better understanding of the importance of timing.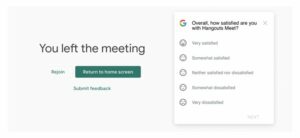 See how they asked the users about their experience using hangout meet just after leaving the meeting. Similarly, businesses should focus on launching the surveys at the right time. 
Points to Remember
Now that you know the reasons behind NOT getting the desired number of survey responses  – address these issues completely, to improve the ROI of your surveys. To make it even easier for you to increase your survey response rate, here are the key points from this post:
Make your survey as short as possible

Use A/B testing — not your guesswork — to pick the best time to send your survey

Give them a strong reason to take your survey

Add tokens of personalization to your surveys

Always double-check your surveys before you hit the publish button

Give your survey-takers an option to skip questions

You are not taking action on the customer feedback
Incorporate these points while creating your survey questionnaires and you are good to go. And of course, you will see the difference when the number of reliable survey responses shoots up. 
Bonus FAQs About Survey Responses
What is a good response to a survey?
A good survey response depends on the survey response rate and the reliability of the response. Practically, the average survey response rate can be between 10% and 20%. Usually, a survey response rate of 50% or more is considered good. As for reliability, you can depend on AI-powered survey tools to get a better insight into what exactly each feedback is.
How do I get survey responses?
First and foremost, you need a capable survey tool. You can then distribute the survey and get responses via various survey channels like a web link, email, website, social media, and in-app surveys. Your survey tool will gather the responses and give you instant notifications, alerts, and even insights into these responses.
What are the 4 types of survey questions?
There are more than 4 types of survey questions. Some of the effective ones are:
Multiple-choice questions
Likert Scale Questions
Rating scale questions
Dropdown questions
Ranking questions
How much did you enjoy this article?
Stay up-to-date with latest CX tips and tricks, subscribe now!
Don't worry, we don't spam you.