From DIY to Delight: How Brands Are Maximizing Self-Service Options to Reduce Customer Effort?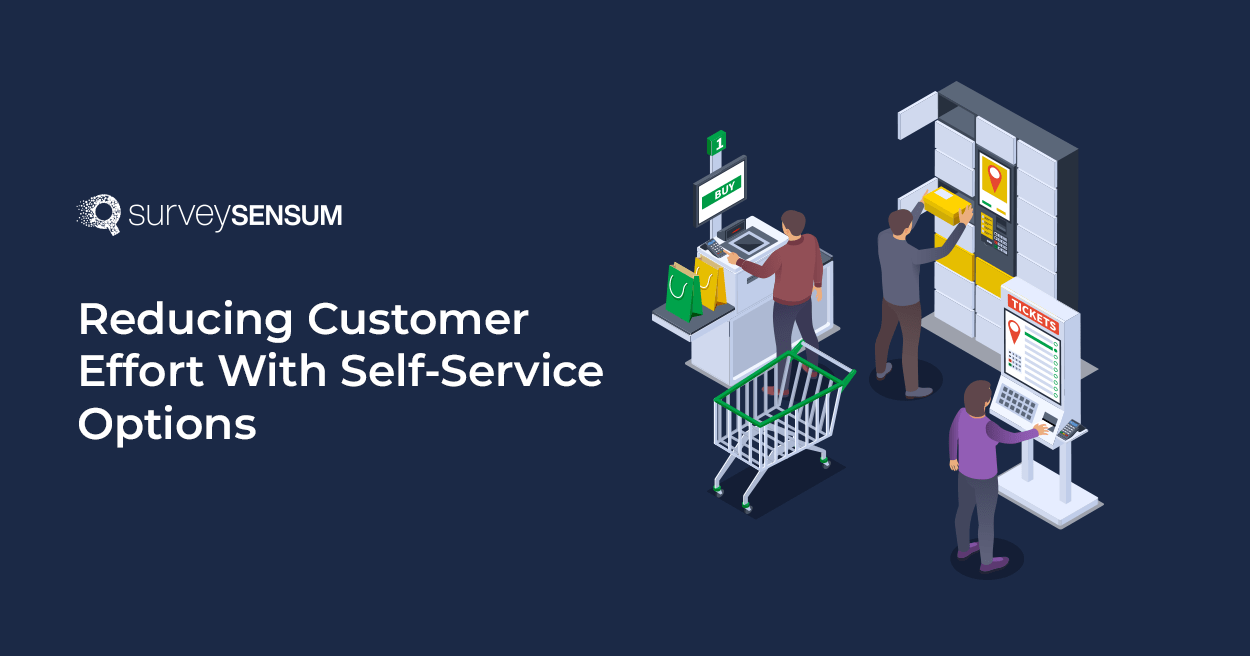 According to the Harvard Business Review article, Kick-Ass Customer Service, 81% of customers stated that they intend to take care of matters by themselves before reaching out to a customer service representative. 
Another research by Harvard Business Review on customer experience reveals that customers who fail in their attempt to use self-service options and are forced to pick up the phone to talk to agents are 10% more likely to be disloyal than those who were able to fully resolve their issues in their channel of choice. 
This shows that self-service is not only a tool to enhance customer experience but also a way to reduce your customer effort score. And this will enable you to retain your customers and make them feel loyal to your brand. 
But this is a reality that many brands are unable to understand. Only a handful of them understand this need of the hour and are using the self-service options to reduce customer effort and enhance their customer experience in the best way possible. 
So why not learn from them?
11 Brands That are Using Self-Service Options To Reduce Customer Effort In The Best Way Possible
1. Streamlining Shopping Experience to Reduce Customer Effort – Amazon
Ever noticed the 'Buy now' option while shopping from Amazon, next to the 'Add to cart' option?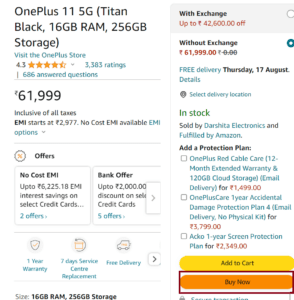 This feature allows you to purchase items in a single click while remaining on the same page as compared to the 'Add to cart ' option where you need to interact with multiple pages to place an order. This feature is best suited when you just have to buy one item.
By securely storing payment and shipping information, Amazon streamlines the transaction experience, eliminating the need for customers to repeatedly input details. The result is a frictionless shopping journey that significantly reduces customer effort. 
2. Personalized Approach To Customer Support – Apple
The way a brand handles its customers' problems can show how much they care about their customers. And nowadays, just improving your customer service process isn't enough for today's shoppers.
What brands need is to give customers the power to solve small issues on their own, without any hassle. That's where Apple comes in and nails it.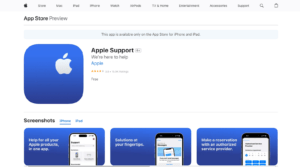 Apple's 'Apple Support' app provides personalized product recommendations, troubleshooting guides, and the ability to schedule repairs or support appointments directly from the app. This holistic approach goes beyond quick fixes, positioning Apple as a brand that prioritizes understanding its customers' unique needs and providing tailored solutions.
3. Empowering Users To Resolve Troubleshooting Issues By Themselves – Microsoft
Imagine you're working when your laptop disconnects from WiFi. You call customer support, wait an hour, and they solve it in just 2 minutes – it was a minor issue. Frustrating, right? Self-help options could have saved the hassle.
Microsoft's 'Windows Troubleshooters' epitomize the brand's commitment to empowering users with self-service tools.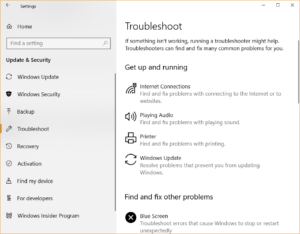 These built-in tools leverage advanced diagnostics to automatically identify and address common computer issues. By streamlining the process of problem-solving, Microsoft allows users to regain control over their devices without the frustration of grappling with complex technical procedures. 
This approach not only saves time but also boosts user confidence, reinforcing Microsoft's role as a provider of user-friendly technology solutions.
4. Instant Gratification Through Automated Messaging – Airbnb
In the realm of hospitality, Airbnb stands out for its innovative approach to reducing customer effort. By enabling hosts to set up automated messaging responses, Airbnb ensures that guest inquiries receive swift and accurate answers.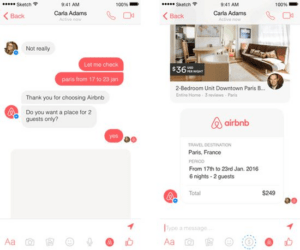 This feature also relieves hosts from the time-consuming task of individually responding to repetitive queries. The result is a win-win scenario, where both guests and hosts benefit from reduced effort and improved communication.
5. Seamless Account Management with Virtual Assistant – Bank of America
Leveraging the power of cutting-edge technologies such as AI chatbots, Virtual Assistants, etc. has streamlined and optimized repeated tasks and has also helped brands reduce customer effort.
How? 
Bank of America's Virtual Assistant, 'ERICA' embodies the synergy of AI and customer-centricity. This cutting-edge tool guides customers through account-related tasks, from resetting passwords to disputing charges. By offering immediate assistance without the need to wait for human support, Bank of America enhances account management efficiency.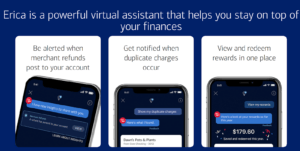 Also, AI-driven guidance ensures accurate and consistent information, reducing the chances of errors caused by manual intervention, resulting in a banking experience that prioritizes accuracy along with customer convenience.
6. Empowering Customers via Mobile Apps – Tesla
Mobile apps can also serve as a tool to empower customers to manage tasks on their own. How? 
Here's an example of Tesla's Mobile App that transcends traditional vehicle management by placing unprecedented control in the hands of car owners.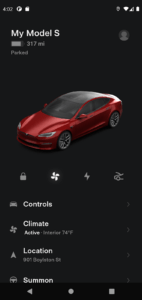 Beyond the convenience of remote monitoring, this app allows owners to schedule software updates and even summon their vehicles from parking spaces. This self-service approach minimizes the need for physical visits to service centers, freeing owners from time-consuming hassles. 
Reduce Customer Effort and Deliver Effortless Experiences with SurveySensum – Request a Demo
7. On-Demand Assistance to Reduce Customer Effort – Google Assistant
'Okay Google, what's the weather for today?'
Don't you just love this convenience in everyday life? Listening to news or weather reports while getting ready for the office and not having to sit down to read the news by ourselves.
Google's 'Google Assistant' redefines convenience in the digital age. By offering real-time language translation, task execution, and knowledge delivery, Google Assistant becomes a virtual concierge for users' needs.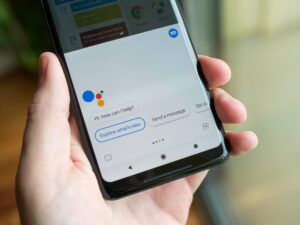 This self-service tool eliminates the need for manual searches and enhances user engagement by delivering instant, accurate assistance. Google's commitment to anticipating and meeting user needs underscores its dedication to reducing customer effort across various touchpoints.
8. Seamless Checkout Experience to Reduce Customer Effort- Walmart
'I love long queues at the checkout counter' – said no one ever! The no.1 reason people abandon carts is if they see long waiting lines at the checkout counter as everyone wants a quick, easy, and hassle-free checkout experience.
Walmart's 'Scan and Go' app transforms the traditional checkout experience. By allowing shoppers to scan items as they shop and pay through the app, Walmart eliminates the need for waiting in checkout lines.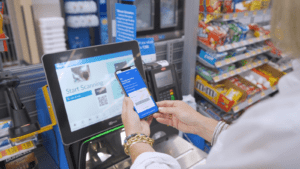 This innovation aligns perfectly with the modern consumer's desire for efficiency and convenience. The app also empowers customers to keep track of their purchases in real-time, providing transparency and control over their shopping journey.
9. Smooth Airport Experience via Self-Service Kiosks – Southwest Airlines
Imagine running late to catch a flight and then witnessing a long line at the ticket check-in counter – that's your horror movie right there. 
But thanks to the self-service check-in kiosks at airports, you can now avoid this and one classic example here is Southwest Airlines.
Southwest Airlines' self-service kiosks are a testament to the brand's dedication to reducing customer effort at every touchpoint.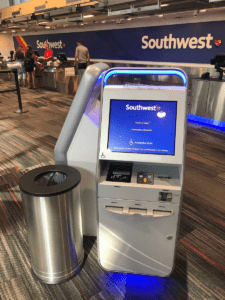 By enabling passengers to check in, print boarding passes, and modify flight details, Southwest empowers travelers to take control of their airport experience. The result is reduced reliance on staff interaction, shorter wait times, and a smoother journey from check-in to boarding.
10. Blurring the Lines Between Online and Offline Shopping – IKEA
Isn't convenient when brands offer a seamless multichannel shopping experience? One where you can browse from the comfort of your home, place an order, and then collect the item from the offline store to test the product before taking it home. One brand that's winning in the game is IKEA.
IKEA's 'Click & Collect' service bridges the gap between online and in-store shopping. By allowing customers to shop online and schedule store pickups at their convenience, IKEA minimizes the time spent browsing in-store.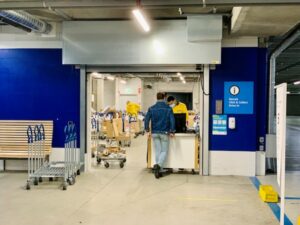 This self-service approach combines the advantages of digital shopping with the tactile experience of visiting a physical store, ultimately enhancing the customer's convenience and choice.
11. Customization and Convenience Through Mobile App – Starbucks
Who here likes personalization? EVERYONE! 
But what if you can experience personalization with convenience? 
Brands are now offering customization options to their customers through their websites and mobile apps – combining convenience and personalization together. One brand that is excelling in this space is Starbucks.
Starbucks' mobile app epitomizes convenience and personalization. By allowing customers to customize and place orders in advance, the app streamlines the ordering process, reducing wait times and ensuring accuracy.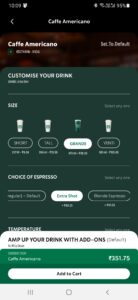 The app's integration with loyalty programs further incentivizes customers to embrace this self-service option, aligning with Starbucks' commitment to enhancing customer loyalty through seamless customer experiences.
Conclusion
The diverse brand examples that we discussed above excel in maximizing self-service options and showcase a common goal – to reduce customer effort and elevate customer experience to new heights.
As businesses are trying to evolve and adapt themselves to the changing landscape of customers' expectations, the incorporation of self-service options that acknowledge the value of customer time, the importance of convenience, and the need to provide tailored experiences, is becoming increasingly essential.
Additionally, as technology evolves, staying attuned to customer preferences and incorporating customer feedback becomes crucial to refining these self-service solutions. 
That's why having a customer feedback platform like SurveySensum is vital to reducing customer effort.  This tool will help you create powerful surveys, track thousands of feedback in real time, and alert you on detractors in time.
How much did you enjoy this article?
Stay up-to-date with latest CX tips and tricks, subscribe now!
Don't worry, we don't spam you.