There are two kinds of businesses in this world. The first kind — is successful businesses. The second kind — is the unshakeable businesses.
Successful businesses have a healthy bottom line and are able to sustain their growth. But, when a crisis hits they pull their shutters down along with the rest of the world.
Whereas, the unshakeable ones continue their existence as if nothing has happened. Of course, there could be minor tremors in their bottom line as well.
But, if you look at the bigger picture, these businesses have no threat to their future like the successful ones.
So, what makes these unshakeable businesses truly unshakeable? How do they manage to pull off a daring success streak even when the rest of the economy is crumbling? It is their obsession with customers.
In the words of Jeff Bezos, CEO of Amazon, (perhaps the best example of an unshakeable business),
"The No. 1 thing that has made us successful by far is obsessive-compulsive focus on the customer as opposed to obsession over the competitor."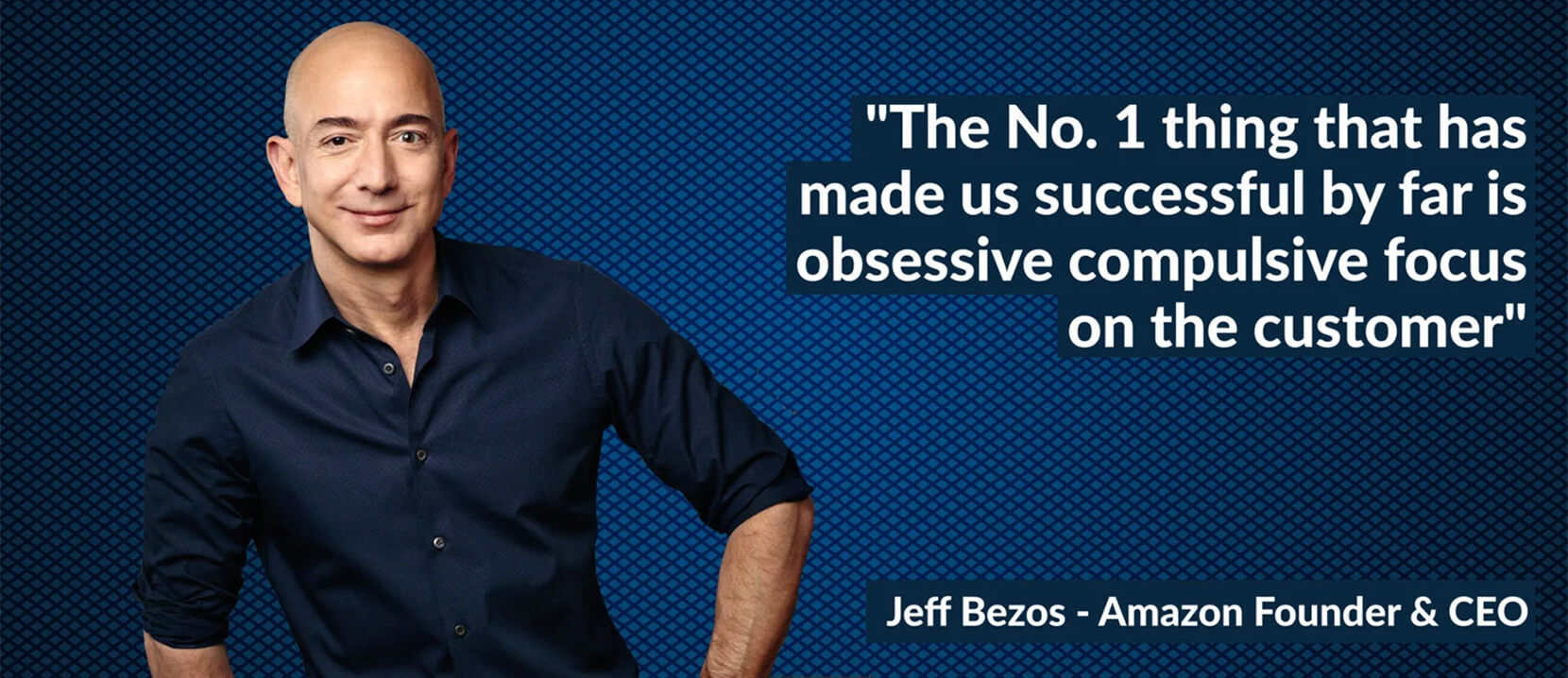 There is a term coined to refer to this obsession with customers and their wants. It is called customer-centricity. Of course, Amazon refers to it as customer obsession.
What is customer-centricity?
Customer-centricity is an umbrella term used to express several things that a business does to deliver a stellar customer experience.
It is not a process, but rather an organizational culture. It is not a single person's role, but a responsibility that everyone from the janitor to the CEO adheres to.
In a way, it is apt to call customer-centricity as a business virtue or a behavioral trait. It is displayed at all stages of the customer journey, right from prospecting to after-sales.
In a single line, we can sum up customer centricity as everything that a business does to put customers first and at the center of everything that it does.
There are certain elements that customer-centric businesses exhibit. All of these elements, or most of them together is what enables a normal business to become a customer-centric one.
Key elements of a customer-centricity culture
Although there are countless other traits, here are four elements that are visible across the culture of most customer-centric businesses:
Product or service
User experience
Customer service
Mission & Vision
Product or service
The very product or service that the businesses could make a customer-centric business. For example, Apple manufactures state-of-the-art computing devices.
In fact, some of the devices that it has introduced to the world did not even feature in the imagination of customers.
It is because customers often do know what they want until it is shown to them. To quote Steve Jobs: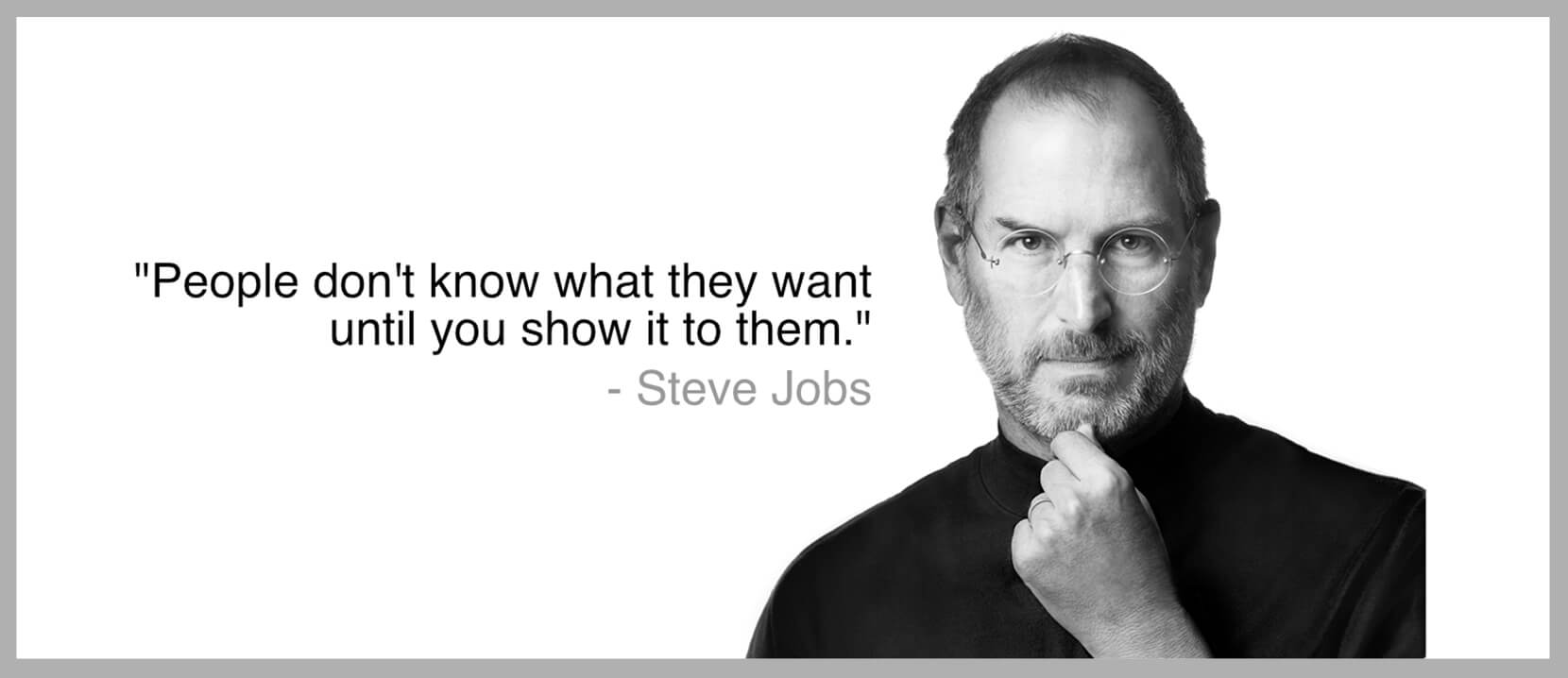 A product or service which addresses customers' wants directly, whether they are aware of it or not is what makes a customer-centric business.
That makes a customer-centric business and organization that anticipates customer wants, creates a product or service to solve them,
and then presents it to them in an impressive manner. It is what distinguishes them from the other also-rans.
Customer experience
There is already a lot of noise on the internet about user experience and customer experience.
Most of the material out there discusses how a mobile app should be designed, and how the customer should be treated at retail stores or in similar lines.
But, if you think deeply, true customer experience goes beyond that. In fact, it is not restricted to customer service that a brand bestows to its customers.
The experience that the customer undergoes even while looking at the products, shopping for them — online or offline, and using them is what crafts a unique user or customer experience.
When it comes to customer experience, the 75-year-old IKEA is one of the best examples we can learn from. IKEA,
the imposing blue mecca with many football-grounds-sized stores sells furniture and home utility items.
It seems to have mastered the art of customer experience earlier than any brand that we know today. Apart from its wonderfully-designed products, each IKEA store boasts of a planogram that will entice users and turns them into compulsive shoppers.
What makes IKEA's customer experience amazing is that it requires no hand-holding or assistance.
It can make any customer feel right at home while shopping for their home. Here is a slide from one of IKEA's marketing management presentations that drives home the point: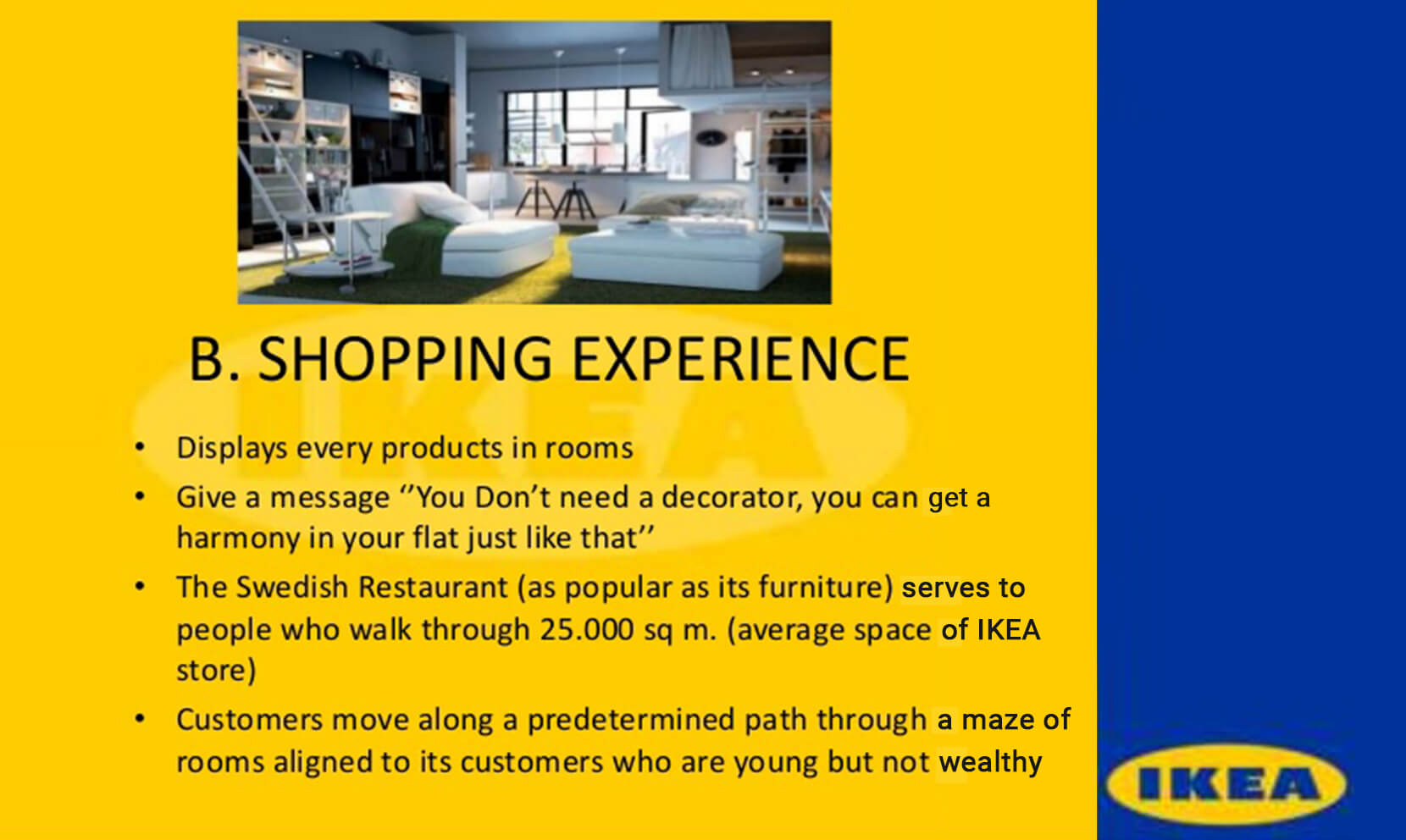 Customer service
Customer service that puts customers at ease, and even better, makes them feel great is an inevitable trait of customer-centric businesses.
To borrow the Zappos slogan, it is all about delivering happiness. Sometimes it could mean going beyond the known borders of customer service.
Take, for instance, their unlimited call times policy. Zappos customer care executives are not forced to curtail the support call length to shorter durations.
On the contrary, they are encouraged to talk as long as required to deliver what the customer is looking for, be it exchanging everything in a 19-item order or a conversation that lasts 10 hours, or 51 minutes. It is a real story of the longest customer service call.
In fact, Tony Hseih managed to make customer service an organizational culture which, in turn, has made it a top-ranking customer-centric company.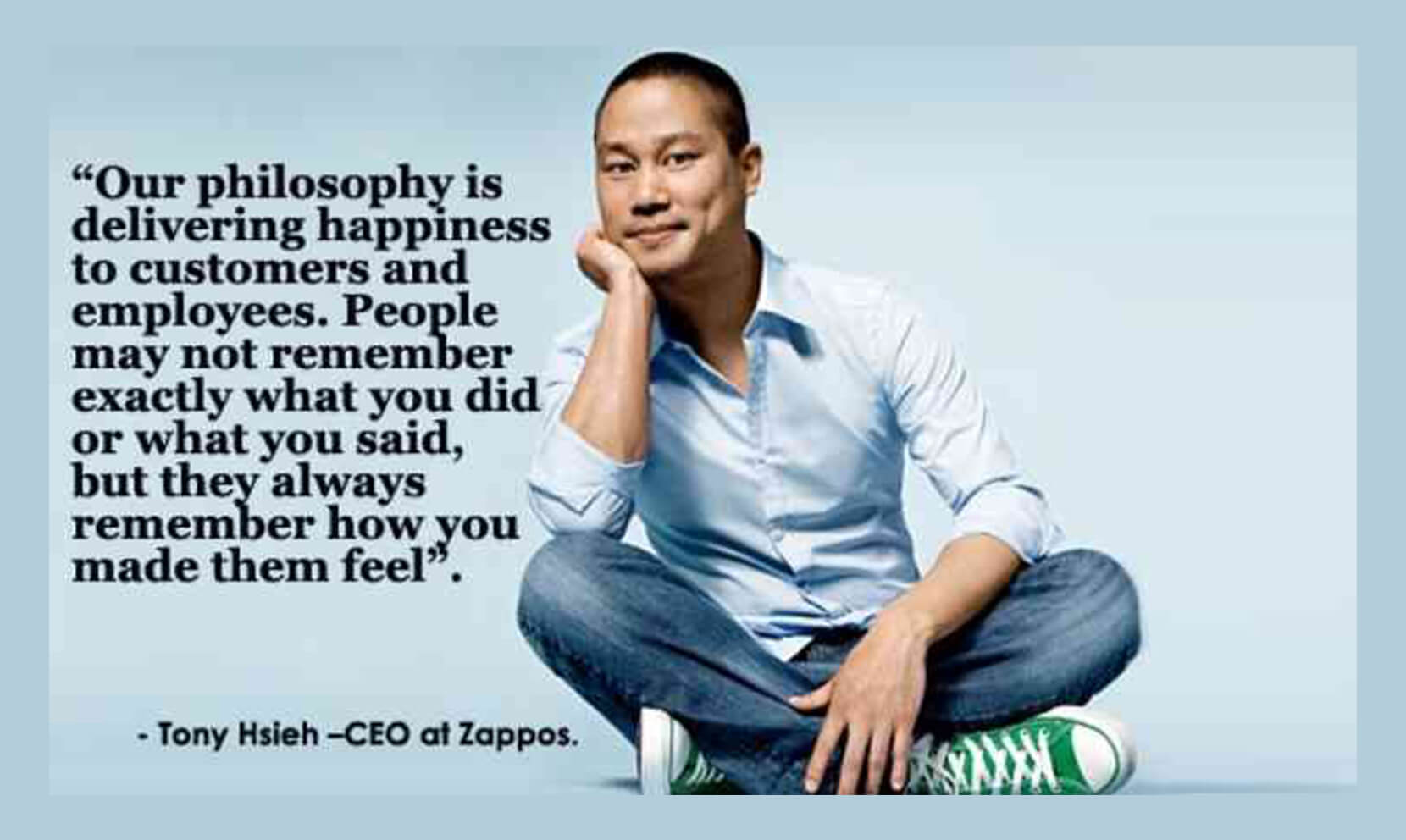 Mission & vision
For successful companies, mission, and vision statements are meant t be displayed on their website or corporate presentations. But, for the unshakeable, or customer-centric businesses, their mission and vision are the polestar towards which all their efforts and resources are used and will be used.
Look at Tesla's vision statement: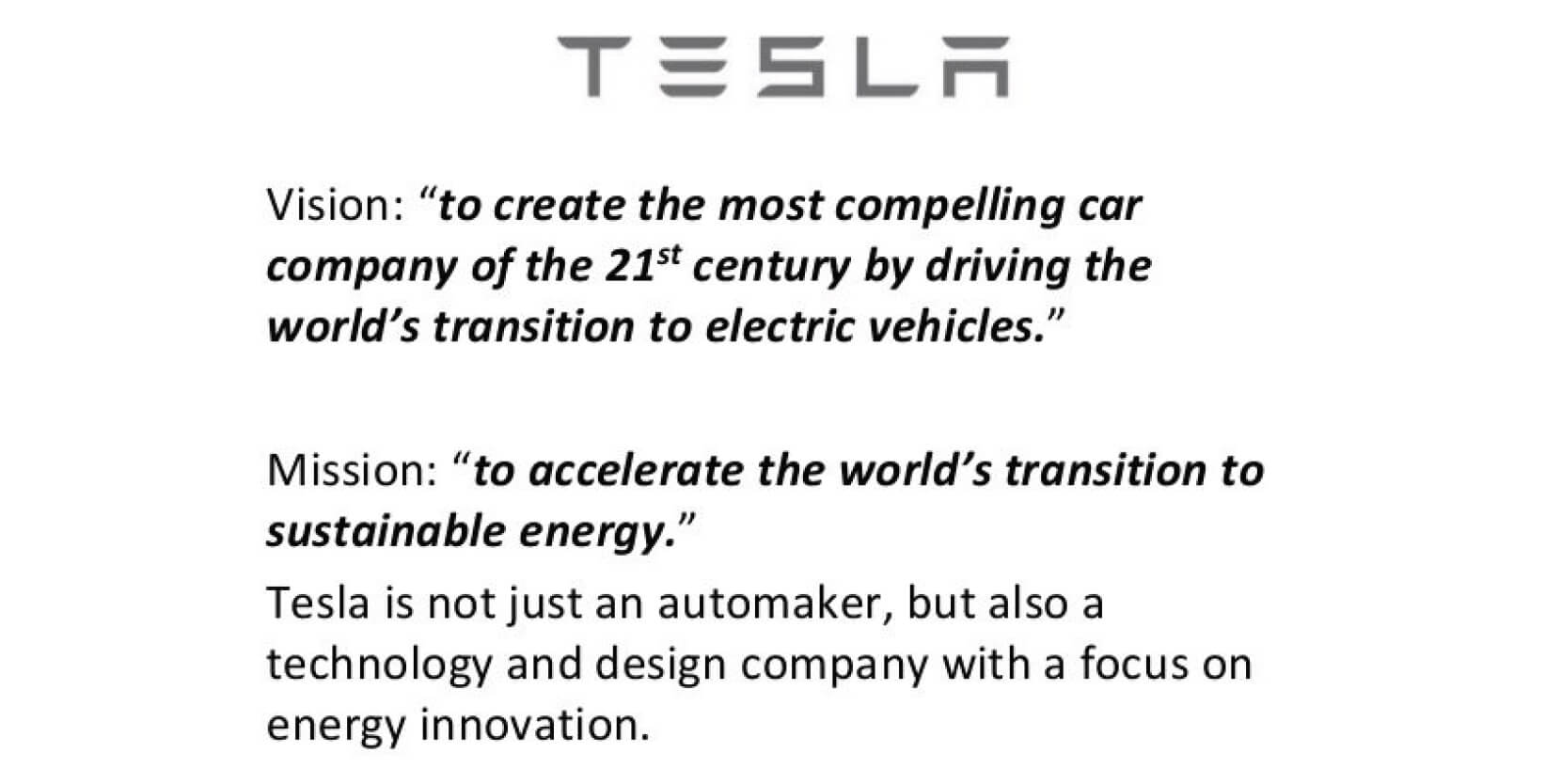 What makes Tesla unique from other automotive manufacturers is that Tesla manufactures and sells electronic vehicles that do not require fossil fuels.
They are environment-friendly and also have superior features compared to their ordinary counterparts.
This mission and vision which is genuine and powerful resonate well with customers who also care for the future of Planet Earth.
As a result, Tesla is able to swell its customer base to a great extent quickly. Tesla is able to succeed by driving customer-centricity.
How to create a customer-centric culture in your organization
As I said earlier in this article, customer-centricity is organizational culture. Only a handful of organizations are able to master it.
The volume and variety of customer data also overwhelm most businesses in achieving customer-centricity.
Perhaps, the biggest challenge among them all is the lack of an organizational-wide culture.
In most organizations, customer-centricity is regarded as essential in specific functions like marketing or customer service.
As a result, there is inconsistency, and often fallouts in the way how different departments view and treat customers. The negative impact of such fallouts is beyond measure.
An org-wide customer-centric culture is built over a period of time, by putting specific processes in place.
Here are some ways you can try your hand if your business is also on the path to building an organizational-wide customer-centric culture.
Create and train employees of user personas
Quite often employees fail to offer customers the experience or service they deserve because they do not have a complete view of the user persona.
The user persona is a detailed description of who the customer is, what kind of plan or service they are currently in, and what their expectations would be from the business.
User personas are usually crafted by the marketing and sales teams to pitch and win prospects as customers.
If done right, user personas are excellent depictions of who an ideal customer is, what their common pain areas are, and the expectations or desires that bring them to the business.
Example of a user/customer persona that can be used for employee training: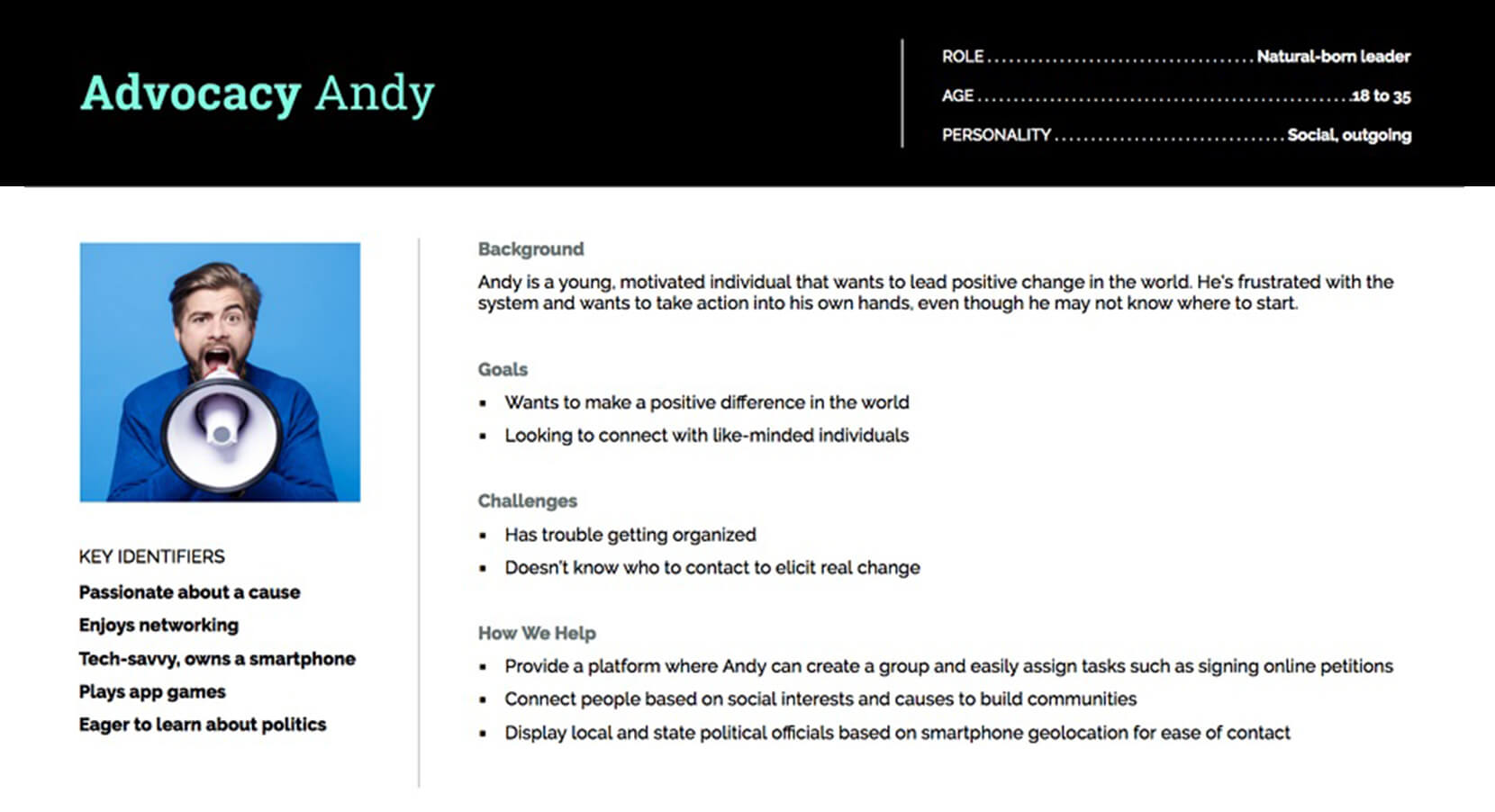 If all customer-facing functions in the business can be trained in user personas, they stand a better chance of delivering customer-centric services.
Think of airline staff who know how to help a customer who lost their luggage. Or an in-store assistant who can process returns for online purchases.
Training employees and making them understand the multi-dimension view of customers would go a long way in building a customer-centric organizational culture.
Map out the end-to-end customer journey
This is an extension of the previous point that calls out for employee training. Employee training solves only part of the problem.
To turn customer-centricity into an organizational culture there is the need to map out the customer journey from the first contact until purchase and beyond after-sales support.
A typical customer journey map is depicted in the image below: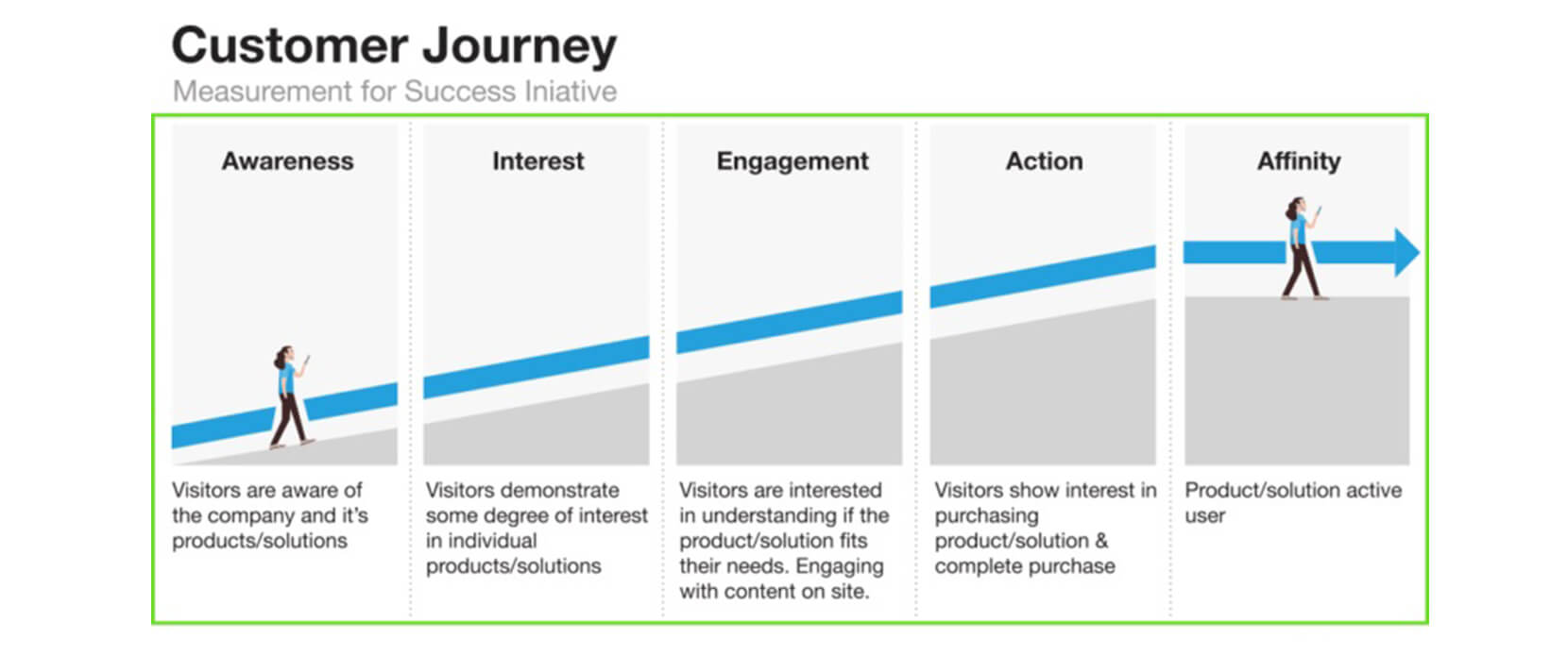 How is the customer journey related to customer-centricity?
As I explained at the beginning of this article, customer-centricity is everything that the business does to satisfy customers' wants and deliver a great experience.
Relevant customer experience can be provided only if the customer journey is mapped in detail.
In the absence of a customer journey, you will end up providing a misplaced customer experience.
For instance, a customer experience that is meant for a customer in the action stage is provided with awareness marketing content.
Measure customer experience
Peter Drucker, the American management guru once said, "If you can't measure it, you can't improve it.

This stands true for customer experience as well. You can devise new ways of improving customer experience only if you measure how good or bad it is right now.
There are several tools that you can leverage to measure customer experience and even customer loyalty with some amount of accuracy.
The most commonly used tools are:
Net Promoter Score (NPS®)
In-app surveys
Customer feedback systems
Net Promoter Score
Net promoter Score is a customer and employee loyalty measurement tool. It uses surveys with one question that seeks to find out the probability of a customer or employee referring their near and dear ones to the business.
In-app surveys
In-app surveys take the form of pop-ups or slide-ins on the app screen. They seek feedback from customers as to what features they like the most, what improvements they expect, and whether they would be interested in giving reviews and ratings in app stores.
Customer feedback systems
In addition to these channels, there are several customer feedback systems that a business can use — like SMS, email, in-store suggestion books, social media polls, and so on.
Collecting and compiling this customer feedback data can go a long way in enabling the business to craft a better customer-centric business strategy.
Make the c-suite accountable for customer-centricity
To turn customer-centricity into an organizational-wide culture, leaders must walk the talk. They should set an example to the employees as to how customers should be treated in private and public.
There are several stories doing the rounds on the internet that showcase how C-level executives have walked the path to serve customers.
A popular one is Elon Musk responding to customer queries through Twitter. Be it to flak or praise, or even a suggestion, Elon Musk is all hands when it comes to responding to customers who have a point to make.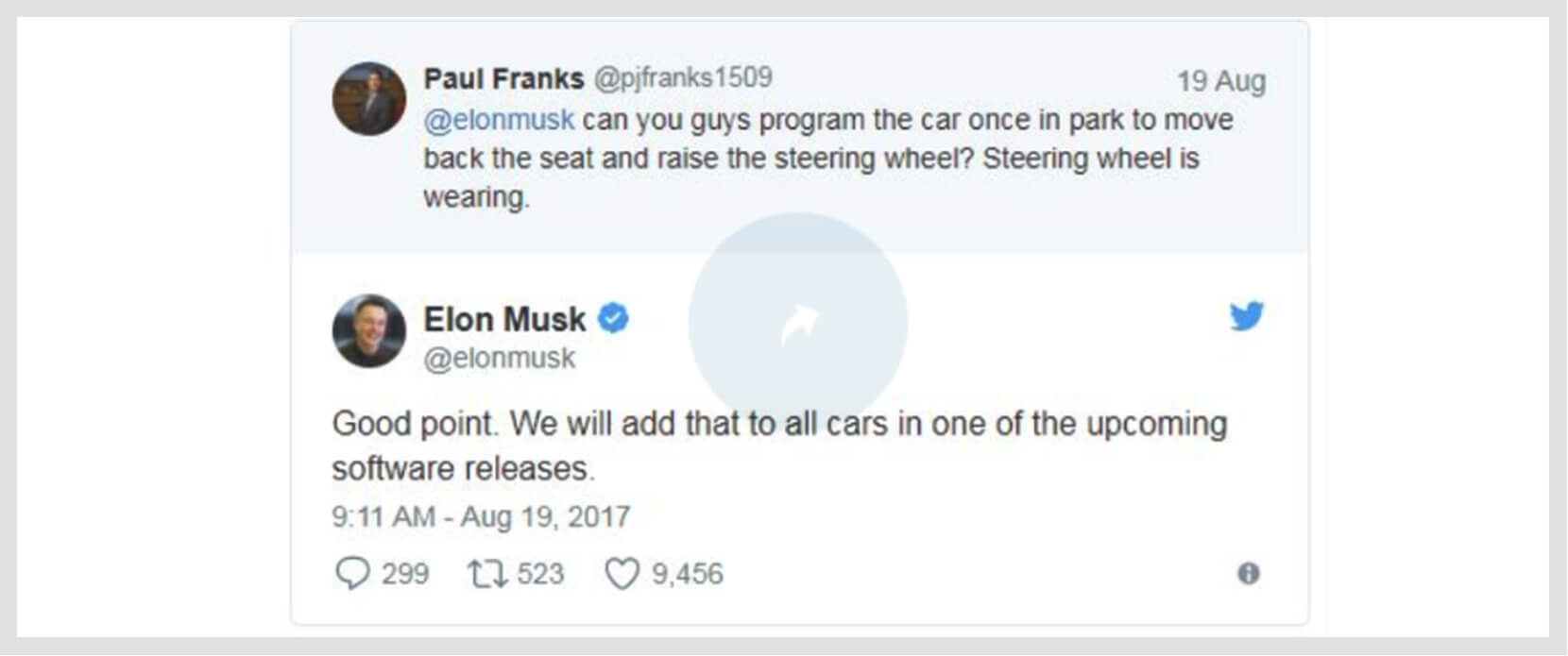 This might seem like a trivial thing to spend time on for a C-level executive. But, if you put yourself in the customer's shoes, it gives a different view.
These minute actions from the C-level show that the entire company is working with a customer-centric culture.
Furthermore, it inspires employees also to act in favor of the customer. This way an organization is able to motivate customers to be customer-centric without having to make them undergo extensive (or forced) training.
What is the value of customer centricity?
Why should you measure the value of customer-centricity? Customer-centricity calls for organization-wide workflow rewiring and also an elaborate overhaul of the entire customer service process.
All this calls for incurring time, energy, and even monetary expenses.
Even the act of improving customer service requires setting up round-the-clock accessible call centers that require more hiring and employee experience management.
From a business standpoint, this is definitely an addition to the already strained budgets.
So, it is imperative to know what RoI the business will derive from incurring the additional resources.
Hence, the need to know the value of customer-centricity.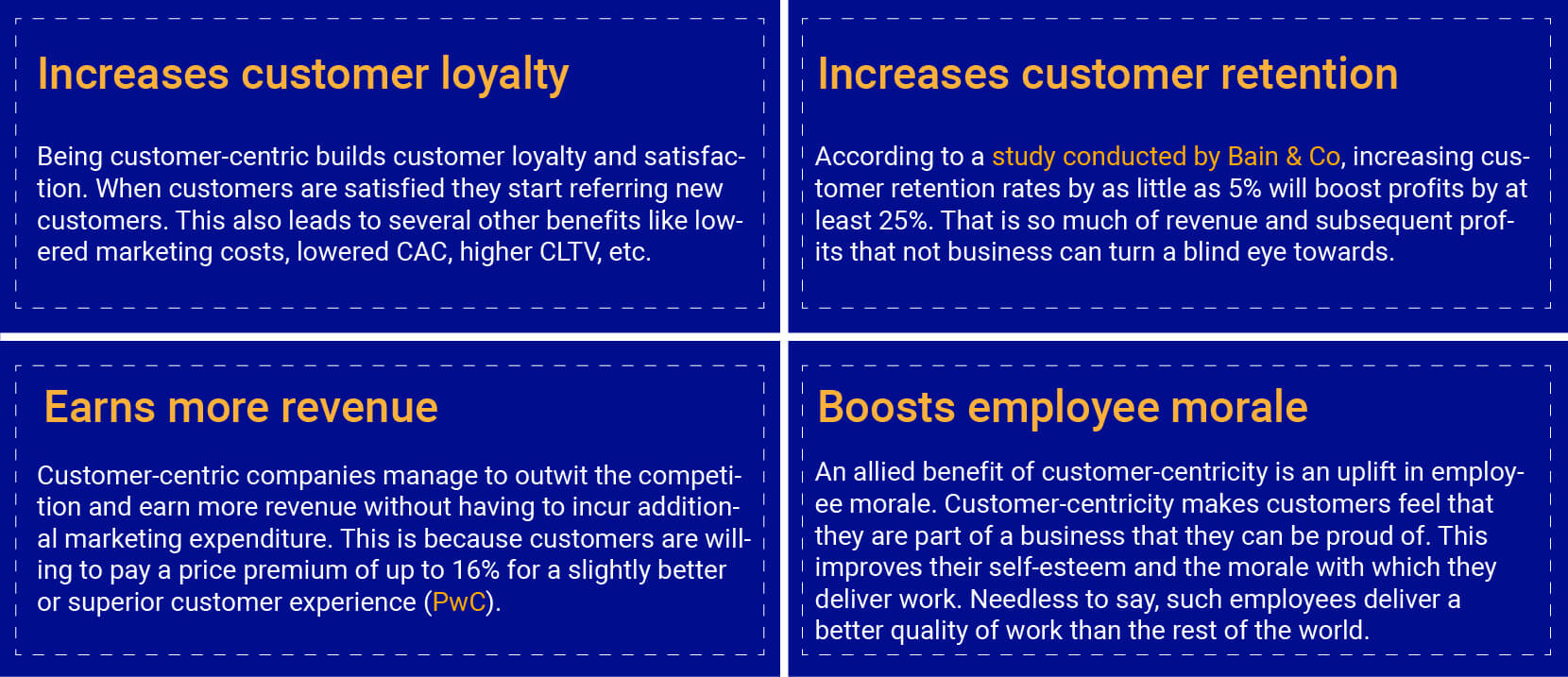 Success stories about Customer-centricity
Customer-centricity is not a new-age concept. It has been around for centuries — since Henry Ford envisioned the first car. When McDonald's envisioned takeaway lunches.
The unique thing about customer-centricity is that every single company that has built a customer-centric culture has managed to rise in popularity.
In fact, some of them have become the first choice for customers. That is one surefire way to beat the competition.
Here are some success stories of customer-centricity working in favor of businesses.
Casper:
Choosing a mattress that can give sound sleep is no child's play. Casper knew that for sure. That is why they set up physical nap rooms that allow customers to actually test and buy the mattress they need. They don't push their customers to buy the most expensive mattress, instead, put power in the hands of customers to m
Netflix:
Netflix sent Blockbuster — the DVD rental service to oblivion with its eclectic choice of content that does not cost a bomb, and without any exorbitant fees.
Slack:
Contrary to its name, Slack makes everyone productive. Especially, in communication. The instant messaging app has been built to help all kinds of customers, ranging from marketers to even software developers communicate and collaborate seamlessly without breaking into a sweat.
Volvo:
You may not see too many Volvo cars on the road. Similarly, you will not see too many Volvo cars getting into accidents as well. Volvo cars are rated as the safest cars that can ply the roads. After all, they are the inventors of the seat belt system, the patent of which was given for free to ensure road safety for all.
Bringing it all together
For businesses operating in the internet era, customer-centricity is not an option, but a necessity. In the pre-internet era, if a customer was dissatisfied, they will tell six of their friends.
In today's internet-driven world, a dissatisfied customer is empowered to share the negative experience with 600 or even 6000 people. Social media, instant messaging, customer reviews websites — the options and channels are countless.
That makes a customer-centric organizational culture a necessity for businesses. It can help a business reap several benefits — both monetary and non-monetary.
Such a culture will also help the business to beat the competition and become the first choice for its customers.