Online surveys, undoubtedly are the best means to gather customer feedback online in 2022. And for that, Google Forms is what comes to mind first!
But why?
Because it is simple and easy to use. 
It is easy to configure and does not need any additional logins, payments, or access permissions, as anyone with a Gmail ID can use it. 
Google Forms is one of the oldest and the simplest form builders in use, and it is free. Since it is a part of the Google Suite, you can play with the form builder to create several types of forms to capture information like contact details, customer feedback, interests, etc. 
Google Forms Features
Can limit the responses (one per user)
Cloud data storage on Google Drive
Real-time data analysis and graphical representation
Customization and randomization of questions
Yet, people are looking for Google Forms alternatives. But why?
Why do businesses look for Google Forms alternatives?
Google Forms is an easy-go option for many businesses. But sometimes when you need to configure some complicated surveys and need to include external elements, Google Forms is not often the right answer. There are many other limitations to Google Forms. Let's discuss some.
Limitations of Google Forms
Google account:

You can't store the data elsewhere. You'd need a Google account to create Google Forms and access the data from Google Drive. 

Customization:

Despite the versatility of Google, you'd have limited features and options to customize the forms and surveys. 

Attachments & uploads:

You can only upload one file at a time. Texts are limited to 500KB, images are limited to 2MB, and spreadsheets are limited to 40 sheets. 

Data analysis and reporting:

It is difficult to create complex and customizable analytical data and detailed reports with Google Forms when dealing with complex data samples or surveys. 

Complex surveys

You may often find it difficult to handle complex survey data with Google Forms, and can't fully utilize the data to the benefit of the business.
These are the reasons why businesses look for other form Google Forms alternatives. 
But which are the best alternatives in 2022? Let's have a look at the listicle below.
Top Google Form alternatives in 2022
Here's the top 10 list of Google Form alternatives. The list comprises both paid and free-form builders that make them the perfect alternatives. 
#1 SurveySensum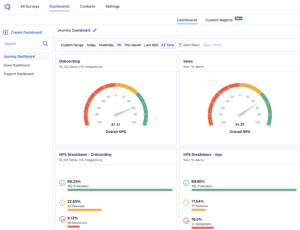 SurveySensum is a leading online survey tool and a form builder that is easy, affordable, and efficient. Best used by the automotive, insurance, and BFSI industry, SurveySensum meets all the business requirements you have around customer feedback better than most of the Google Form alternatives.
It helps you create NPS, CES, CSAT, market research, and all kinds of surveys and forms quickly. Allows you to share them on multiple channels with multiple people and gathers all the responses in one place in real-time. Post that, it analyzes all the responses with text analysis and gives you the top trends with easy reporting and insightful dashboards.
Features:
Data encryption to keep the data private and secure.
Seamless integration with third-party software and apps.
Quick and easy customization of the surveys to make them visually appealing.
Text and Sentiment analysis feature to understand the emotions behind responses
Automated word cloud to group tags automatically
Pros: 
Create and share NPS, eNPS, CES, CSAT, and other types of surveys quickly with built-in templates
Customizable pricing plans to choose from
Cons: 
For heavier integrations, you may need team support.
Free Trial: Yes, it offers a free plan and free trial.
Pricing: Pricing starts at $61/month
#2 JotForm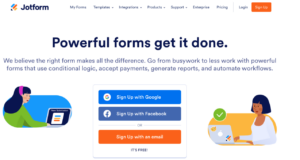 JotForm is a way more advanced and creative form builder than Google Forms. It helps you create compelling surveys and forms to collect customer insights. And offers unlimited customization, data collection, conditional logic, reports, and automated workflows.
Features:
Mobile-friendly form builder & theme customization
Offline data collection
Collects online payments, e-signatures, and files
E-mail notifications and alerts
Unlimited form duplication
Pros: 
Ease-of-use
Fast & flexible
Cons: 
Nearly inactive customer service
Expensive & alignment issues with pdfs and docs
Free Version: Available with 5 free forms per month
Price: Starts at $24/per month
#3 Microsoft Form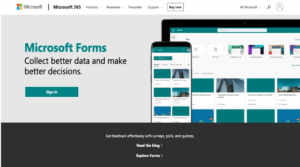 Microsoft is a perfect form builder in many ways. It is widely known to businesses and people and can easily integrate into Excel. It is not free unless you have an Office 360 subscription. 
Features:
Easy to set up forms and surveys
Visual drag & drop editor available
Import or export data to and from Microsoft Excel
Compatible with any web browser
Break down fields into multiple sections and fields
Pros: 
Best for general-purpose surveys
Unique features like QR code, spreadsheet support, etc.
Cons:
Limited text options and multiple choice answers
Not free for everyone
Free Version: Free trial available, no free version
Pricing: Starts at $7.99 per month
#4 TypeForm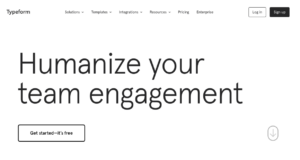 TypeForm allows you to create simple forms quickly, without any friction. Its surveys are usually short, crisp, and to the point with interactive themes and design elements. And it offers so many customizations that you'll never get bored.
Features:
Plenty of built-in templates and customization options
Uses conditional logic and features to build contact forms
Uses logic jumping smart calculations
Shows only one question at a time
Attractive and easily visible CTA buttons
Pros:
Visually presentable & pleasing
Easy to set up and create
Cons: 
Embedding to other pages is not easy
High pricing
Free version: Free plan is available
Pricing: Starts at $25 per month
#5 Zoho Forms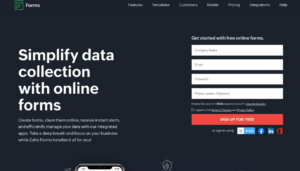 Zoho Forms is part of the Zoho Apps. It allows you to create forms, share them online, send alerts, and gather data in one place. It enables you to create beautiful forms without needing to know any piece of code and integrates with the app you already use.
Features:
Create, edit, and manage forms offline
Payment-friendly design forms
Built-in team collaboration tools
Drag & drop editor with 40+ field types
Built-in analytics and data export facility
Pros: 
Extremely customizable
Easy to learn without any coding skills
Cons:
Complicated integrations
Not mobile-friendly
Free version: Free version is available
Pricing: Starts at $10 per month
#6 SurveyLegend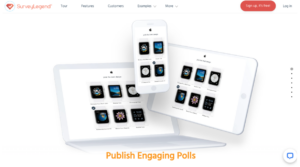 SurveyLegend is an advanced online form builder and a perfect Google Forms alternative in several ways. It helps you create mobile-friendly, responsive, and user-friendly forms and surveys for users. And the best part of SurveyLegend is its flexibility and customization possibilities. 
Features:
Beautiful design themes and templates
Mobile & tablet-friendly surveys
Built-in analysis tool to get real-time survey insights
CSAT templates to measure customer satisfaction
One-click shareable surveys using emails, FB, Twitter, URLs, etc.
Pros: 
Auto-saves answers even before users press the submit button
Super easy to set up and use
Cons: 
You need a paid account to access and use the data
Quite pricey if you need advanced features
Free version: Free version available
Pricing: Starts at $10 per month
#7 SurveyMonkey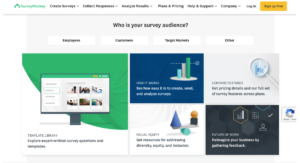 What makes SurveyMonkey a perfect form builder is that it lets you create surveys, polls, quizzes, etc. without any hassle and offers a vast range of customization options. 
Features:
Has over 1600+ expert questions to choose from
Has several templates to handle any type of audience
Uses conditional branching and skip logic
Provides WordCloud and Sentiment Analysis feature
Export data in multiple formats
Pros: 
Unique reporting tools & custom dashboards
Easy to brand surveys on paid plans
Cons: 
The free version has very limited features
The survey formatting and interface are not-friendly
Free version: Available
Pricing: The standard monthly plan for individuals starts at $12.22 per month
#8 Paperform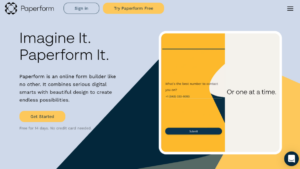 If you are looking for a simple form builder, then Paperform is the right choice. And the unique thing about Paperform is that their forms look like landing pages.
Features:
Built-in templates to create any type of forms
Built-in order management and inventory system templates
Has product catalog templates with payment options
Target marketing campaigns and graphic elements on surveys
Create forms like landing pages and run PPC ads
Pros:
Visually appealing UI interface
Easy to configure and use
Cons:
Limited integrations
Customer services are available only online
Free version: No free version, but a 14-day free trial is available
Pricing: The essential plan starts at $25 per month
#9 Wufoo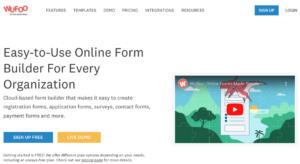 Wufoo is a cloud-based form builder and is all about simplifying the form-building process. It has an award-winning UI that allows businesses to customize the forms as they want. Also, it lets you create quick forms for registration, contact, surveys, payments, etc., hassle-free.  
Features:
Drag and drop editor to create forms quickly
Upload files in all formats
Secure data transmission using 256-bit SSL encryption
Real-time updates on responses
Customize branding on surveys and customize reports as you want
Pros: 
Extremely user-friendly user interface
Easy to create, share, and embed forms and surveys
Cons: 
Plans are expensive
No on-call customer support
Free version: Free version is available
Pricing: The starter plan begins at $14.08 per month
#10 Cognito Forms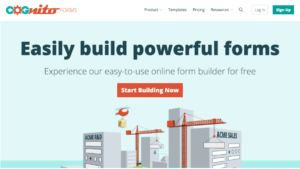 Cognito Forms is a well-known freemium survey tool. From simple to complex surveys, you can create anything you want with them. Moreover, it offers powerful features and can be integrated with the apps seamlessly. 
Features:
Has a myriad of built-in templates to start right away
Visual drag and drop editor to build forms quickly
Lets you integrate forms to payment services like Square and Paypal easily.
Provides a built-in data management system
Conditional logic to capture real-time information
Pros: 
Excellent customer support
Easy to set up and use
Cons:
Not useful for building complex forms
Incomplete documentation – users need to learn things by trial and error method
Free version: A free plan is available
Pricing: Starts at $15 per month 
Wrapping up..
That's all about the Google Form Alternatives.
To choose what works best for you, identify the objective first. Why do you want to create a form or a survey, what is its purpose, what do you want to achieve, and what kind of audience do you want to serve? Then match your requirements against the features of each tool and you'll find the one that's most suitable for you.
Meanwhile, try SurveySensum features for FREE →
We promise you – it is the simplest survey platform you'll find.
FAQ (Frequently Asked Questions) on Google Forms alternatives
Is there anything better than Google Forms?
Though Google Forms is free, it has several shortcomings. And there are many other alternatives that work best. Such as SurveySensum is one of the best Google Form alternatives for its features, integrations, plugins, usability, and functions. It lets you quickly create NPS, CES, CSAT, eNPS, and many other surveys. And comes with text and sentiment analysis features to make it even more purposeful. 
What can I use instead of Google Forms?
There are several online form builders and survey tools available in the market. We have listed down the ten best Google Form alternatives here. 
SurveySensum

JotForms

Microsoft Forms

TypeForms

Zoho Forms

SurveyLegend

SurveyMonkey

Paperform

Wufoo

Cognito Forms
Is Google Forms no longer free?
Google Forms is a free tool that you can use with your Google account. Despite its limitations, it allows you to create simple online forms and add standard questions, drag-and-drop functions, color themes, list-down menus, and more. You can view the responses online or export them to a Google spreadsheet. However, some of the Google From features are paid.
Which is better, Jotforms or Google Forms?
Jotform is better than Google Forms, providing hundreds of templates and widgets to make your survey more interactive. But when considering the endless features, functionalities, and integration possibilities, SurveySensum is the best alternative to Google Forms and ranks above Jotforms. SurveySensum is an all-in-one survey platform that allows you to create quick and easy surveys without rigorous training or lessons. It is also easy to share your surveys over multiple platforms. 
How much did you enjoy this article?
Stay up-to-date with latest CX tips and tricks, subscribe now!
Don't worry, we don't spam you.