How'd you feel if you get double the response rates on the surveys that you are getting now? Great, right?
Well, WhatsApp Surveys are the way to go!
Why? – Because why not send the survey on your customer's FAVORITE channels? Where they already are!
Long gone are the days of phone surveys, when you'd have to call every respondent to gather their feedback individually. Instead, launch a simple engaging survey to thousands of customers in just a few minutes and the responses start kicking it.
There is so much more to WhatsApp surveys. Let's discuss it in detail.
So, what are WhatsApp surveys?
In today's digital world, one of the most-preferred apps used by everyone daily is none other than WhatsApp. It is on everyone's tips, chatting in and out with friends and families, and now many brands have also started communicating with their customers over it. 
That's how much involved WhatsApp is in everyone's life.
So, why aren't you there?
Why not take feedback from your customers on WhatsApp only?
Not just this, there are many more reasons to choose the WhatsApp survey over other surveys.
Why should you send surveys on WhatsApp? 
Other than the fact that WhatsApp is used by everyone, there are multiple other benefits of sending a survey on it.
Let's talk about some. 
1. Higher response rate
Within a few clicks, you can share your survey with tens to thousands of people. And once you share your survey, there's a high possibility of getting quick feedback as many stay active on WhatsApp all the time, boosting your response rate. 
2. Flexible questionnaire 
You can create multiple types of questions in any form. For instance, the questionnaire can be a listicle or grid, or you can simply chat with them and send them the question type accordingly.
You can also add images, and emoticons to make your questionnaire interactive. But make sure that your questions are concise and straightforward. 
3. Affordable cost
Sending surveys on WhatsApp is cheaper compared to CATI surveys. For example, in the automobile industry, CATI surveys cost you around $5-$10 per interview. On the other hand, with WhatsApp surveys, you can gather feedback from the same sample at 70% of the reduced cost. 
But now the question is, how can you send a survey via WhatsApp? 
Well, here's a step-by-step process for it.
How to create WhatsApp surveys with SurveySensum?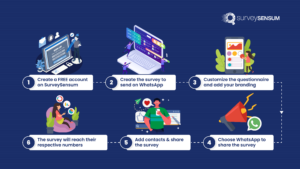 SurveySensum is one of the effortless, efficient, and affordable methods to launch any kind of survey in just a few minutes. It provides multiple templates for surveys like NPS, CSI, SSI, CES, products, and more.
All you need to do is select the template, add your branding, and you are good to go. You can send the survey on any of your customers' favorite channels. And now let's see how to create a WhatsApp survey.
So, let's try launching an NPS survey and sending it on WhatsApp with one of SurveySensum's templates. 
STEP 1: Create a free account on SurveySensum
Visit the SurveySensum website and click on the top right button "Sign up for Free". Fill in your details and click on Sign Up. 
Or you can click here to sign up.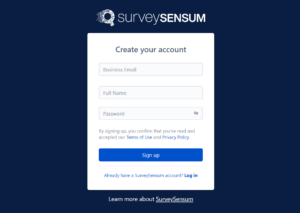 STEP 2: Create the survey to send on WhatsApp
Choose the survey template according to your objective or start the survey from the scratch. Let's choose the NPS template here.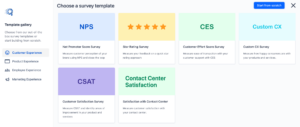 STEP 3: Customize the questionnaire and add your branding
Edit the questions as you like and add your brand's logo. Add the follow-up questions and click on 'Next: Share Survey'.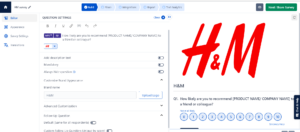 STEP 4: Share the survey on the right platform
As you can see, there are multiple ways to share your surveys. Let's pick WhatsApp here.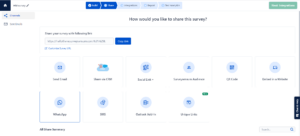 STEP 5: Add contacts from your contact list and share the survey
To share the survey, create or choose the Contact List by adding each contact or importing a list.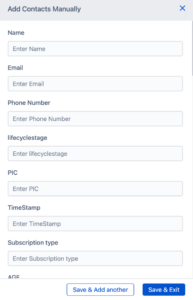 Write the survey body and share it across.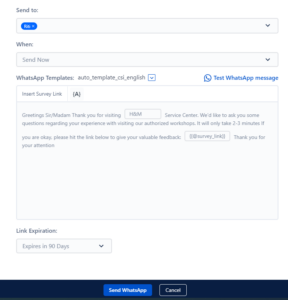 STEP 6: Your respondent will receive the survey on their respective numbers
Now that you know why and how to create a WhatsApp survey, it is important to understand its limitations as well.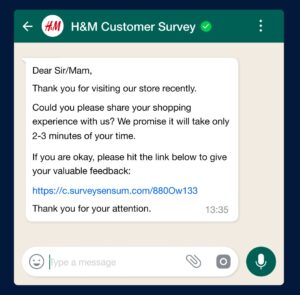 So, are there any limitations? 
Well, here's one.

WhatsApp surveys are not suitable for complex questions. You cannot conduct qualitative research through WhatsApp. If you want to acquire in-depth qualitative data, you can go ahead with alternative available options. 
Are WhatsApp surveys better than CATI/phone surveys?
You always get a call from the car dealer after buying a car, right?
What if, instead of a call, you receive a survey on your email or WhatsApp?
Wouldn't that be convenient?
Well, that's why online surveys are far better than CATI. 
There is so much you can accomplish with WhatsApp surveys. Why not try it with a sample first? 
Your first 100 surveys are on us. 😉
Bonus FAQs on WhatsApp Surveys
1. Does SurveySensum has a free option for WhatsApp Surveys? 
We generally have a free sign-up option providing you with the opportunity to create and run surveys efficiently. With SurveySensum, the first 100 surveys are free. Signup here. 
2. How do I create a survey on WhatsApp for business?
The best way to create an efficient WhatsApp survey is to partner with professionals like SurveySensum who can help you launch engaging surveys to thousands of your customers within minutes. 
Moreover, with such partners, you will get real-time feedback and help analyze the data to improve your business. 
3. Why is everyone opting for WhatsApp surveys?
Whatsapp surveys getting popular among organizations due to the following reasons.
Cost-effectiveness

Easier device accessibility

Flexible questionnaire 

Connect with a larger group of people in a short time

Higher responsiveness

Less time consuming
How much did you enjoy this article?
Stay up-to-date with latest CX tips and tricks, subscribe now!
Don't worry, we don't spam you.