Did you know "Indosat did 20 times more surveys in the last 6 months than in the past 1 year?" 
Wondering how?
Well, earlier they were struggling with getting responses from their customers via calls. And low response rate means, less customer interaction, and reduced sales.
So, what did they do? –  They shifted to WhatsApp surveys.
Why?
Because customers now prefer other platforms in the market, especially, WhatsApp.
"That's why 80% of messages sent on WhatsApp are seen within 5 minutes. –
INC42
"
Now,
They can limit the number of surveys sent to each customer.

They've started receiving real-time feedback.

They have saved 100K USD on the research cost.

And their response rate increased by 10 times. 
That's huge, right?
This is the reason why we say → send surveys on the RIGHT CHANNEL.
The challenge of low response rates was resolved by changing the channel. And they were extremely happy with the results. 
But one challenge still remained. – With a lot of responses came the challenge of managing and analyzing the WhatsApp survey feedback. And if you won't analyze those feedback then you won't be able to take the required action. 
So how will you analyze the WhatsApp survey feedback when you have thousands of responses?
Let's begin and look at the WhatsApp survey feedback journey in detail. 
How to create WhatsApp surveys?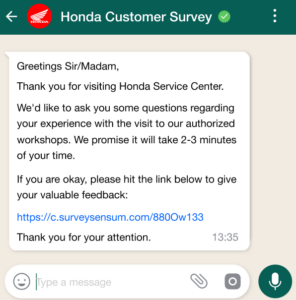 Creating WhatsApp surveys is a piece of cake. You can use any feedback platform like SurveySensum to create a WhatsApp survey. 
The first step however is to choose your survey objective, then accordingly create a survey. Customize the template, add the contact list, and share the survey across WhatsApp.
→ Here's a step-by-step process to create a WhatsApp Survey.
TIP:
While choosing the feedback platform, make sure your chosen platform supports sharing surveys on multiple channels and gives real-time feedback, instant analyses, and easily accessible reports on a dashboard. 
Now that you've created and launched the WhatsApp surveys, you must have started receiving feedback.
It's time to analyze that feedback.  
How to analyze WhatsApp survey feedback?
To analyze your WhatsApp survey feedback, Text and Sentiment Analysis is the best tool there is. 
And if your chosen survey platform doesn't offer the analysis, it's time to switch the platform. Because there are many survey platforms available in the market that can offer you all these features at an affordable cost. 
1. Text Analysis Tool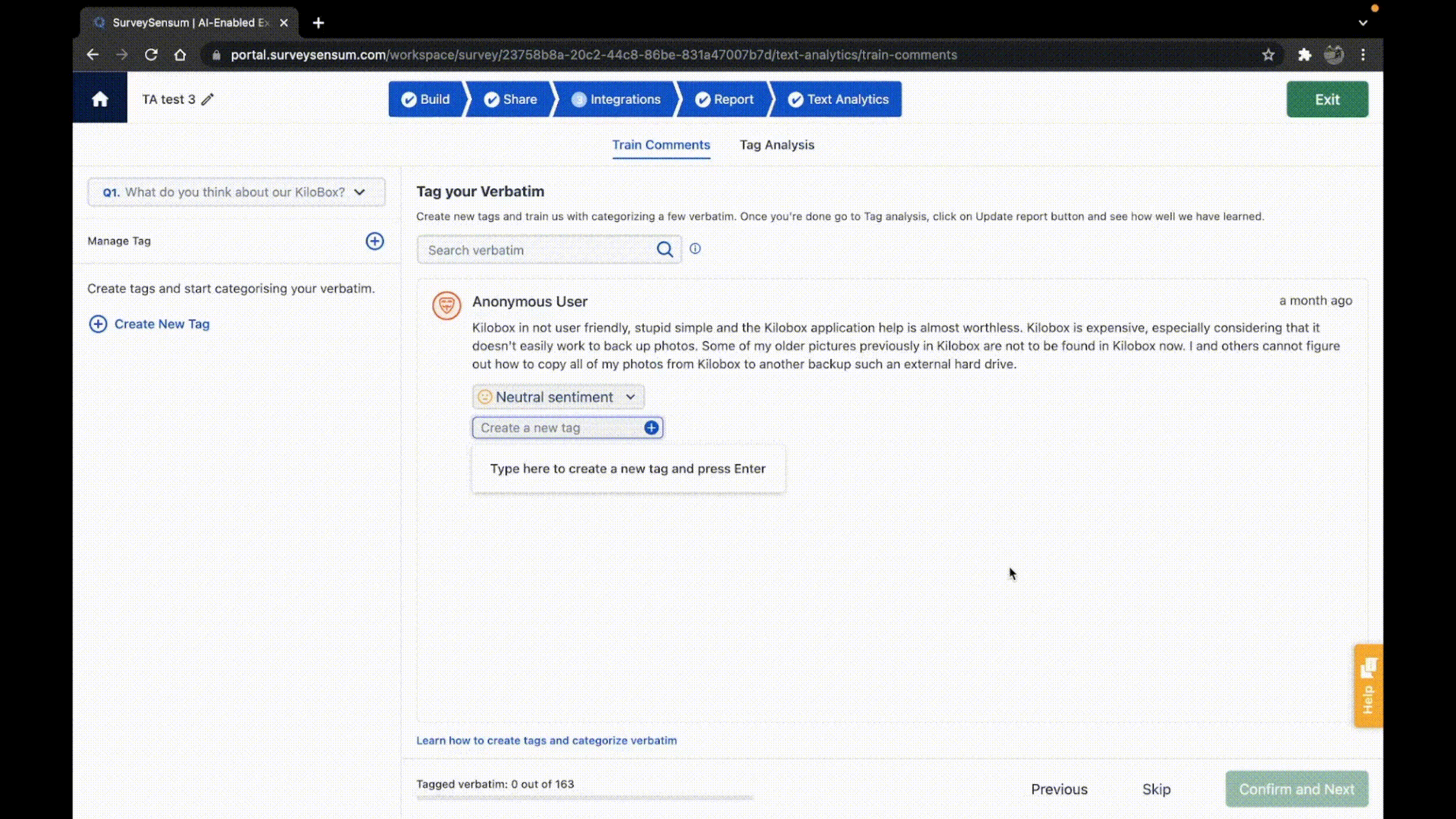 SurveySensum's Text Analysis tool lets you sort your received feedback and helps you identify the trending tags behind the customer feedback. 
Here's how this tool functions. 
For instance, if you have received 2500 survey responses, then you need to train the AI by tagging the first 100 responses as per the department like support, tech, product, and functionality like user-friendly, complex, simple, bugs; features, etc.
Then, after creating the tags, the machine will automatically tag all the feedback in real-time.
Now what?
STEP 1: Identify the top tags varying from your best product, feature, or service to the issues that your customers are facing. 
STEP 2: Segregate the positive and negative feedback to understand what is working best in your business and what is not.
STEP 3: Now use positive feedback in multiple ways like testimonials, presentations, and marketing. Share it with concerned employees or teams to keep them motivated and continue giving the best services.  
STEP 4: And deep dive into the negative feedback. Call your customers to understand the feedback in detail. Brainstorm ideas with your team to resolve their issues and prioritize the major 3-5 common things on which you can start working. 
Make sure to inform your customers that you have heard their issues and now you're taking action on them. And once the issues are resolved, informed them of it. Basically, close the feedback loop.
This will help you to build good customer relationships and simultaneously convey your gesture of valuing them and their precious time. 
This was all about Text Analysis.
Apart from Text Analysis, there are multiple other analysis tools and customizable dashboards that give you relevant insights on your WhatsApp survey feedback as per your requirements. 
Let's talk about some of those.
2. Sentiment Analysis Tool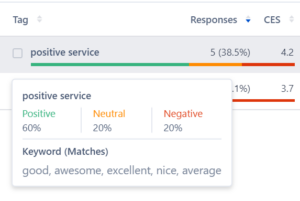 Along with the Text Analysis, the feedback can also be categorized as per the sentiment of the feedback. This tells you how many people are happy or unhappy with the brand, product, or service, and what needs to be improved. 
You will get the overall emotional quotient of the customer and know when the customer required an immediate resolution.
3. Crosstab Analysis Tool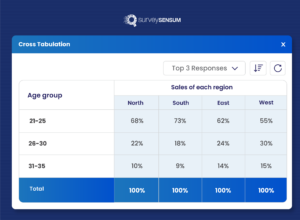 Crosstab, also known as cross tabulation, is an analysis tool that helps you compare the results of one variable with another. They basically present the data of a group and a subgroup with their relationship with each other. 
For instance, Dominos conducted a survey across India and now they want to analyze the region-wise feedback and see the performance of each region. In such cases, crosstabs are the most efficient. They categorize all the feedback into regions and segregate the feedback against each.
And not just that, the feedback can further be divided into the age-group and cities. Also, you can sort the feedback in the crosstab, making the analysis easier. 
4. WhatsApp Dashboard 

Feedback platforms like SurveySensum offer WhatsApp Analysis separately. Also with crosstabs, NPS charts, and other analysis tools, WhatsApp Analysis tells you everything you want to know about your WhatsApp campaign at the first glance.
You'll get the exact number of whether the WhatsApp survey has been delivered or not; how many people have opened, completed, or partially filled the survey, and the number of surveys that were bounced. And if there are any duplicates, it will update you so that you can take necessary actions. 
Moreover, you can automate your surveys, and can easily export the data in CSV format. 
Create FREE WhatsApp surveys with SurveySensum. Request a Demo for Free →
5. Survey Dashboard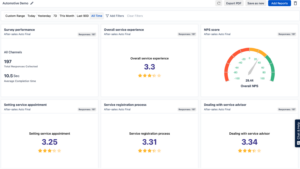 You can also analyze WhatsApp survey feedback as per the survey type.
Let's take an example of the NPS survey. After analyzing the NPS survey, the NPS dashboard gives you the total number of responses collected, the total number of promoters and detractors, top trends and sentiment, and more. 
Also, you can download the data by clicking on 'Export Report'. No more manual reporting is required. 
6. Journey Dashboard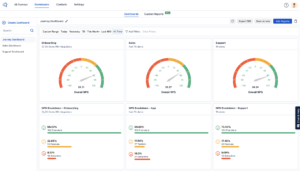 Along with each survey analysis, you can also visualize the feedback across all touchpoints in the customer journey. This helps you compare and analyze which touchpoint has the most friction and needs your most attention.
Other than these there are many other ways to analyze WhatsApp survey feedback. Why not start with creating the WhatsApp survey first? 😉
At last…
There are many benefits of WhatsApp surveys and they are very easy to create. Not only they will give you real-time feedback, but your response rate is also going to jump high!
So what are you waiting for?
Start launching your WhatsApp surveys and give your customers the BEST experience they deserve. And use these tips to analyze the WhatsApp survey feedback effectively. 
How much did you enjoy this article?
Stay up-to-date with latest CX tips and tricks, subscribe now!
Don't worry, we don't spam you.