How'd you feel if you called customer service and they resolved your issue in just 2 minutes?
You'll be content after receiving such a good response.
Well, something similar happened to me yesterday. 
After a hectic day at work, I ordered my favorite ice cream to make the day a little better. According to the app it was supposed to be delivered within 30 minutes. But neither it was delivered on time nor did the delivery executive take my calls. 
But after multiple calls to the delivery exec, when I reached out to the food aggregator, not only did they give me a discount on the next offer; along with the ice cream, they sent me a sandwich (as per my previous orders) for me. 
And yes, they apologized for the entire experience.
I was overwhelmed. The effort they put in to make me (one regular customer) happy left me in awe. 
I talked about my experience on Twitter. And not just that, I encouraged my friends to try the ice cream cafe.
That's something CUSTOMERS DO.
But now that you've put in efforts to enhance customer experience and they are happy with you, what are you planning to do with their positive feedback?
How to Leverage Positive Customer Feedback: Top 7 Ways
After going through many CX instances and business ideas, we collated the top 7 ways to leverage positive customer feedback to boost your business. 
The top 7 ways to leverage positive customer feedback.
Celebrate the small wins with the team

Encourage promoters to share their word of mouth

Request promoters for testimonials and referrals

Identify the best practices that actually work

Create beta users out of your promoters

Invite your loyal customers to participate in case studies

Enhance your content strategy by understanding their challenges and resolutions
1. Celebrate the small wins with the team
Keeping up the team's morale is important. After all, they are the ones putting in the effort. So, when their efforts are appreciated, celebrate that.
Give a shoutout to your company's group, announce the wins and clap around, leave a post-it, or celebrate the wins in the monthly or weekly meetings. This not only encourages them to take a step further but creates a healthy work environment in the organization. 
Kaye Chapman
, the Customer Journey Content Curator at Splunk, also talks about how they celebrate good feedback on their internal channel. She says,
"I think sharing internally is important. For positive customer feedback and good feedback generally, we have an internal channel called Kudos. Anyone can post & tag anyone else there. It's normal for us to appreciate publicly when we get that feedback and it's awesome tbh. #CXQOTD"

2. Encourage promoters to share their word of mouth
Word of mouth marketing brings more customers than anything else. Why? If you are looking for a refrigerator, for instance, it is the reviews of the previous customers about the brand and features that you are going to take into consideration, right?
That's why leverage your promoters by encouraging them to share their experience around. Ask them if they had a great experience, then write about it on review platforms such as Capterra or G2 crowd, or simply talk about it on social channels or with your friends. This is hands down one of the best ways to benefit from positive customer feedback.
3. Request promoters for testimonials and referrals
You can ask your promoters to share their testimonials with you. And use their testimonials on your social pages, website, landing pages, email campaigns, and more to bring in more customers with the same persona.
And especially in B2B space, when you go on a customer call, you can simply ask them, "Is there anyone you know who can benefit from tools like ours?" and it works wonders. 
We got some great clients because of this simple question *wink
Or, you can create a referral program where you can award them for the referrals. For example, share it with your 5 friends and earn a free 1-month subscription. Many OTT platforms are successfully doing this.
Through all of this, dont forget to thank them for their feedback about you. As
Michael Brandt
, CCXP, Founder of CX-Excellence states, "For good feedback, we need to show appreciation to the person giving it (short call/mail) and do more of what we are doing right! Don't take loyal customers for granted!" 

Also, this process demonstrates the beginning of an interactive relationship with the customer as this will, later on, help you to invite your loyal customers/promoters to participate in further events like case studies or webinars, and so on.  
4. Identify the best practices that actually work
There are a lot of things you do for the customer. But what actually works? 
Identifying those practices is incredibly important so that you know what is right, replicate that and put all your and your team's efforts in the right direction.
And positive feedback helps you with exactly that. It tells you what is working, what your customers are liking, and what they are happiest about and you can focus on just that!
Nicholas Zeisler, CX Strategist and Fractional Chief Customer Officer at Zeisler Consulting shares a similar view. He says that we can use positive feedback in two ways:
Institutionally

to help identify the best practices

Culturally

by celebrating the employees who are doing the right things.  
I always say you want negative feedback… you should always be looking for it…it's the best source of learning.

But you can use positive feedback to learn as well; and of course to celebrate! pic.twitter.com/a01sgqMGoe

— ✵Nicholas Zeisler (@NicholasZeisler) June 25, 2020
Mostly, in some industries, there are only a few people who get all the positive feedback. So, what you can do is identify those people and see what they are doing and create the best practices out of that. Simply replicate the process.
5. Create beta users out of your promoters
Launching a new thing takes time and effort. 
So, why not do it the right way? 
When you have customers who are happy with your services, use them. Ask them to explore your new feature, new service, or even an offer and take their feedback into consideration and then launch the feedback for the rest of your customers. Because promoters are always willing to help and make the best Beta users.
6. Invite your loyal customers to participate in case studies
You can turn positive customer feedback into case studies. Case studies play a crucial role as it helps you to give social proof and build trust with the target customers. 
And not just that, it attracts similar customers with similar problems and communicates that if you could do it for your one customer, you can do it for the other one. 
So, invite your loyal customers to share their stories with you. Get on a quick call and understand why and how did they find you. What were they looking for? How were their challenges resolved? Or if there is anything else they need. And create a case study out of all of it. And again, promote that case study everywhere, through social channels, email campaigns, websites, etc.
7. Promoters can help you to enhance your content strategy
Your content marketing strategy should be all around the customers. Why? Because it is them you are writing every bit of content for. So, who better to ask what they want to read than the customers? 
Yes, promoters can offer a lot of benefits and you can enhance your content strategy through them. But, how?
Ask your customers what they'd like to read about? What are they looking for? What kind of questions do their teams have? How is your product helping them? What kind of tips, benefits, guides, ebooks, videos, and examples, do they look for? And when you have these answers, you can simply create a content strategy that your customers want to follow.
Benefitting from Positive Customer Feedback: Takeaway 
CX practitioner, Schulbert Koleka meticulously concluded it by sharing four insightful points. 
Celebrate this milestone with your people and say thank you.

Learn from it and replicate it in areas where you're not doing well.

Encourage your teams to continue doing great things for your customers.

Encourage engagements with your clients.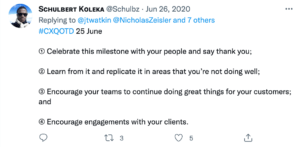 Gather positive customer feedback with a quick survey.
How much did you enjoy this article?
Stay up-to-date with latest CX tips and tricks, subscribe now!
Don't worry, we don't spam you.