Are you struggling to meet your B2B clients' ever-changing needs in today's fast-paced service industry? 
You're not alone. In the realm of B2B service, staying attuned to client feedback is more crucial than ever.
Further, a satisfied client isn't just a one-time win; it's the foundation of lasting partnerships. This is where customer feedback tools become essential. They empower you to gather, analyze, and act upon the insights your B2B service clients provide.
And having a robust B2B service customer feedback platform eases your work by creating, gathering, analyzing, and acting on feedback swiftly.
But what exactly a B2B service feedback tool is? And how to choose the right tool for your business? 
We are going to answer them here in this blog along with the top 10 B2B service feedback tools. 
Let's start with what a B2B service feedback tool means. 
What is a B2B Service Feedback Tool?
A B2B service feedback tool is software that collects and analyzes feedback from B2B customers. These tools gather input from clients through surveys and later analyze the survey data to identify areas for improvement, refine their services, and strengthen client relationships. 
This is how these tools are essential for providing better B2B services and staying competitive in the industry.
Now comes an important question – How to choose which feedback tool is apt for your business? 
Let's explore it here. 
How to Choose the Right B2B Service Feedback Tool?
While choosing the right feedback tool for your B2B service business you must check the following: 
Business Goals:

Define what you want to achieve with the tool, like improving

customer satisfaction

or streamlining operations.

Ease of Use:

Look for an easy-to-use tool that suits your team's skills.

Integration Capabilities:

Ensure the tool can seamlessly integrate with your existing systems and software. Compatibility with CRM systems, email platforms, and other essential tools is crucial.

Feedback Channels:

Consider how and where you want to collect feedback. 

Customization Options:

A good tool allows you to create tailored surveys and forms. 

Analytics and Reporting:

The tool should provide detailed insights, trends, and reports to help you make data-driven decisions.

Security and Compliance:

Ensure the tool follows industry-standard security measures and complies with data protection regulations like GDPR or HIPAA if applicable to your business.

Scalability:

Think about your future needs; select a tool that can grow with you.

Cost:

Evaluate the pricing structure and determine how it aligns with your budget. 

Customer Support:

Ensure

they offer good customer support that resolves your issues in no time. 
By carefully assessing these factors and aligning them with your specific business requirements, you can select the right B2B service feedback platform.
Let's have a glance at how we picked up the best tools and curated this list for you. 
How did We Evaluate the B2B Service Feedback Tools?
We assessed each feedback tool through a comprehensive evaluation process that considered crucial factors:
| | |
| --- | --- |
| Evaluation Criteria | Description |
| Pricing | We considered the cost of the tool and free plans or trials available.  |
| Customer Reviews | We gathered ratings and customer reviews from one of the renowned review platforms G2.  |
| Services | We evaluated each tool's core services and features offered by them. |
Now that we've explored the evaluation process, let's delve into the comparison of the top ten tools on the list.
10 Best B2B Service Feedback Tools: A Detailed Comparison
Here's a list of detailed comparisons of the top 10 tools that B2B services should use: 
B2B Service Feedback Tools
Features
Free Trial/Version  
Price
G2 Review
SurveySensum

User-friendly interface 

Customizable surveys

Omnichannel survey distribution

Real-time responses

Robust analytics

Seamless integration

CX consultation 

Actionable insights 

Both

$99 / month

4.7 (5)

Feedier

Interactive feedback collection

Feedback automation

Multi-language support

None 

Contact their team

4.5 (5)

CustomerGauge

NPS system

Comprehensive customer tracking

Easy to use

Free trial available 

Contact CustomerGauge

4.6 (5)

InMoment

Customized surveys

Real-time insights

Comprehensive reporting

None

Contact InMoment 

4.7 (5)

TypeForm

Multiple surveys designs 

User-friendly 

Seamless integrations

Free plan available 

25 USD /month 

4.5 (5)

UserReport 

Easy to use

In-depth analysis 

Diverse feedback method

Free sign-up up available 

Contact them

4.5 (5)

Qualaroo

Targeted surveys

Multiple integrations

Advanced analytics

15 days free trial available 

$ 99 /month

4.4 (5)

Retently 

NPS surveys and trend analysis

Detailed reports and dashboards

7 days free trial available 

$25/month

4.8 (5)

CrowdSignal

Various survey types

User-friendly survey creation

Customization

Free sign-up up available 

$15/month

4.2 (5)

NiceReply

Simplified customer feedback collection

Automated surveys

14-day free trial available 

$59 per month

4.5 (5)
Let's now dive into each tool. 
10 Best B2B Service Feedback Tools of 2023
After going through the detailed comparison of these ten tools, let's now look into these tools that can assist you in efficiently managing, distributing, and analyzing your surveys.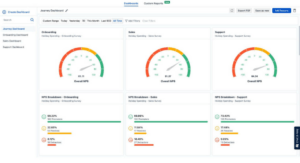 SurveySensum is your go-to B2B service feedback tool. It allows you to create surveys for customer and product experiences, including NPS, CES, CSAT, VOC, and more, using its customizable templates in a few minutes. 
After creating your preferred survey you can distribute it to those platforms where your customers are like WhatsApp, Email, SMS, in-app, CRM, and more. 
When all the feedback is gathered in one place, you can analyze it with advanced Text Analytics. This feature unveils trends, sentiments, and pain points in service delivery. 
Not just that, a CX consultant comes along with the product who guides you at every stage of the feedback journey, making it actionable and result-driven to enhance customer service and satisfaction. 
Best Features 
Collects

real-time feedback

from customers

Analyses of the gathered quantitative feedback

by advanced text analytics software to identify trends and sentiments for in-depth insights

Seamless integration

with other systems and CRMs

Supports

cross-tabulation,

sorting them and viewing in charts

Provides

quick hot alerts on detractors

to

close the feedback loop

effectively

Robust

customizable dashboard

where you can view reports of all the ongoing surveys and can share it with specific teams

Create surveys in

multiple languages

as it supports 50+ language translations
Pros
User-friendly interface 

Convenient 24×7 customer support available having SLA of 2 hours

Seamless integration for streamlined operations

Export responses automatically to the SFTP server

Automate surveys reducing your manual working hours 
Cons
A few integrations are yet to be added 
Customer Review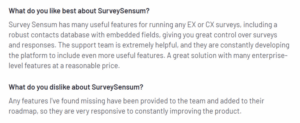 Source
Pricing: Its pricing starts from $99 per month. If you want to explore the platform, sign up for free and contact their team for more details. 
Boost Customer Satisfaction with CSAT Surveys – Sign Up for Free
2. Feedier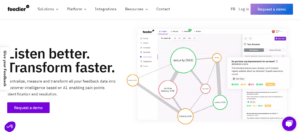 Feedier is another B2B service feedback tool that redefines feedback collection with interactive surveys. It uses gamification to encourage participation and gather valuable insights from B2B clients. Also, it offers comprehensive analytics that turn feedback data into actionable insights, aiding in the swift identification of areas for improvement. 
Best Features 
Interactive and engaging feedback collection

Comprehensive analytics and trend analysis

Multi-language support for global reach
Pros
Increases survey participation with gamification

Quickly identifies pain point areas by analyzing the feedback

Automates feedback collection processes
Cons
Less template design

Platforms' speed is slow 

Limited integration 
Customer Review

Source 
Pricing: Contact their team for pricing information.  
3. CustomerGauge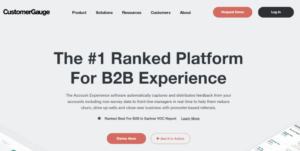 The next B2B service feedback tool is CustomerGauge. It is known for its focus on enhancing service excellence. It specializes in NPS, providing deep insights into customer preferences. It excels in closing the feedback loop efficiently, swiftly addressing concerns, and boosting customer satisfaction. 
Best Features 
Effective closed-loop feedback mechanism

Real-time reporting with visual dashboards

Identify critical touchpoints by mapping the entire customer journey
Pros
Offers deep customer insights with

NPS

Tailored for B2B service industry

User-friendly visual reports
Cons
Requires training for optimal use 

Not mobile-friendly 

Lacks robust data management
Customer Review

Source 
Pricing: Contact their team for pricing information.
4. InMoment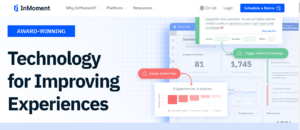 InMoment is a powerful feedback tool used by B2B. It's unique because it offers various feedback collection methods like surveys, social reviews, and VoC data. These methods give you a complete picture of what customers think.
Best Features 
Collects feedback via various channels like online surveys, email surveys, reviews, etc. 

Advanced analytics to understand customer behavior

AI-driven insights for problem prediction
Pros
Turns feedback into actionable insights to improve customer experience
Cons
Need training for advanced features

Slow survey tool 

Limited survey templates 
Customer Review
Source
Pricing: Contact their team for pricing information.
5. Typeform

Typeform is a versatile tool for B2B service providers. It offers engaging surveys, easy customization, and smooth device compatibility. Its unique feature of showing one question at a time improves the survey experience. It's great for small businesses and excels in various survey applications.   
Best Features 
Creates interactive surveys

User-friendly interface 

Offers personalization
Pros
Creating surveys is easy even without technical knowledge

Share surveys widely through multiple channels like email, SMS, etc.

Understand feedback better with detailed reports
Cons
Limited support available for complex survey logic

Expensive 

Have a learning curve 
Customer Review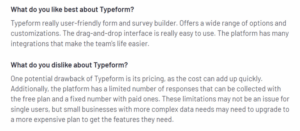 Source
Pricing: Starting at 25 USD /month 
Improve B2B Services with Customer Feedback-Request a Demo
6. UserReport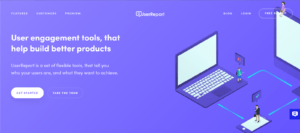 UserReport is a versatile user feedback tool known for its comprehensive approach to gathering insights. It is considered one of the best tools for B2B service providers because it offers a wide range of feedback options. Also, this tool focuses more on user satisfaction. 
Best Features 
Diverse feedback methods including surveys, widgets, and polls

User-centric surveys prioritize customer satisfaction

In-depth analytics for feedback interpretation
Pros
Comprehensive feedback options

Easy to integrate with other systems

Customer segmentation

to gather hidden insights
Cons
Technical expertise required for some paid features

Not a user-friendly interface

Limited customization
Customer Review

Source 
Pricing: You can sign up for free. If you want to know more, contact their team.
7. Qualaroo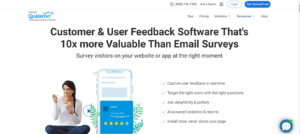 Qualaroo is a robust tool for gathering actionable user insights. It excels in targeting specific user groups, collecting exit feedback, and providing advanced analytics. It offers a suite of tools designed to help organizations understand user behavior, preferences, and opinions, ultimately facilitating data-driven decision-making.
Best Features 
Exit surveys to understand why users leave

Seamless integrations with other tools

Advanced analytics for trend identification
Pros
Identify customer churn to increase

customer retention

Supports A/B testing to optimize survey performance

Real-time user behavior tracking
Cons
Limited information in style API documentation

Cannot export data in multiple formats

Limited features in the trial version
Customer Review

Source 
Pricing: They offer a 15-day trial period and their basic plan starts at $99 /month. 
8. Retently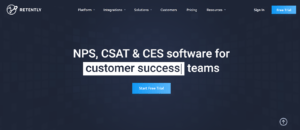 Retently is a user feedback tool that simplifies the process of measuring customer satisfaction, primarily focusing on NPS surveys. It stands out for its straightforward approach to gathering and understanding customer sentiments. It offers automated feedback collection, trend analysis, and integration options. 
Best Features 
NPS surveys for measuring

customer loyalty

NPS trends analysis for tracking customer sentiment changes

Integration options for seamless feedback management
Pros
Automated surveys at crucial touchpoints in the

customer journey

Detailed reports and dashboards to understand the feedback easily

Seamless integration with other tools
Cons
Limited types of survey

Cannot easily export data

Hard to integrate with some APIs
Customer Review

Source 
Pricing: Starting at $25/month.
9. CrowdSignal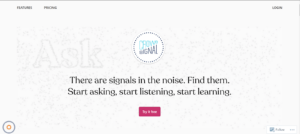 CrowdSignal is a versatile feedback tool that offers a wide range of survey types. It stands out for its flexibility in creating surveys tailored to your specific B2B service needs. It also offers a user-friendly interface, customization options, and more to deliver the best customer experience. 
Best Features 
Diverse survey types like NPS, CSAT, etc. 

Gather feedback directly on your website or app

In-depth insights into user sentiments
Pros
Easy to use platform 

Useful for creating polls, questionnaires, etc. 

Customize surveys to match your brand and target specific groups
Cons
Does not offer detailed analytics 

Costly 

Has a lot of bugs
Customer Review

Pricing: Starting at $15/month
10. NiceReply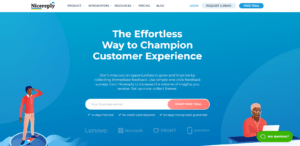 NiceReply is the simplest and easy-to-use customer feedback tool. It has made it to the tenth position because of its uncomplicated approach to collecting and analyzing customer feedback. Also, it offers one-click surveys that offer customers hidden insights into their satisfaction, loyalty, and advocacy.
Best Features 
Satisfaction scores and comments for sentiment analysis

Automate surveys to conduct regular feedback

Track feedback changes regularly 
Pros
Streamlined feedback collection

Easy sentiment analysis

Can easily integrate with other tools
Cons
Lacks basic functionality like overall CSAT calculation, exporting data, etc.  

Limited features like customization 

Cannot create multiple questions on the form
Customer Review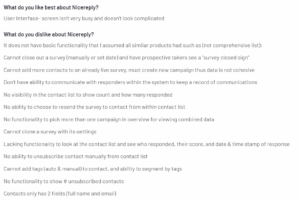 Source 
Pricing:  Nicereply does not have a free version, but it offers a 14-day trial for all its paid subscription plans. The cheapest plan starts at $59 per month for 3 users.
Wrapping up… 
That was all about 10 fantastic tools that can help you listen and understand your customer's expectations and needs. Each tool has its unique strengths, from tailored surveys to automated feedback collection.
Among these tools, SurveySensum stands out for pinpointing B2B service issues. It offers deep insights, real-time feedback, customizable surveys, easy integration, and closes the feedback loop effectively. If you want to improve your service quality and keep your customers happy, don't miss the chance to explore SurveySensum. You can either request a demo or try their free version. 
How much did you enjoy this article?
Stay up-to-date with latest CX tips and tricks, subscribe now!
Don't worry, we don't spam you.