According to a Microsoft Dynamics 365 State of Global Customer Service Report, 95% of consumers consider good B2B customer service essential for earning loyalty. Remember the old saying, "A happy customer is a loyal customer"? It's not just a cliché – it's the secret sauce to thriving in today's competitive market.
And to deliver top-notch service you need to know what they like, dislike, and expect from your business. 
That's where customer feedback comes into play.
So, let's explore how you can leverage customer insights to improve B2B Customer Service. 
What is B2B Customer Service? – A Brief
In simple terms, B2B customer service is like being a reliable buddy for its customers. You know, the kind who's always there to lend a helping hand when needed. 
That's right!
When a B2B company sells products or services to its customers it's not just the product they sell, they also trade the guide/help to make the best use of that product/service. ,
The main goal? – Building trust and loyalty so that these clients stick around for the long haul.
To make it happen, you need to consistently gather customer feedback and understand your customer's expectations.
But the thing here is – gathering customer feedback is a former part of the job.
The latter and most important part is to make use of it.
So, let's have a glance at how by leveraging customer feedback you can improve your customers service experience in B2B. 
Leverage Customer Feedback to Improve B2B Customer
Service
1. Knock, Knock, KNOW Your Customers!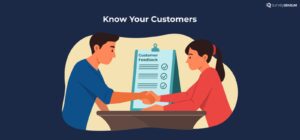 Understanding your customers is at the heart of enhancing B2B customer service. This knowledge is not just a surface-level awareness; it delves deep into comprehending their unique needs, challenges, and aspirations.
To truly know your B2B customers, consider employing a variety of approaches:
Surveys and Feedback:

Implement NPS surveys in B2B

to collect structured feedback. You can also conduct CSAT surveys at relevant touchpoints. Analyze the gathered responses to identify trends and areas for improvement.

Personalized Interactions:

Engage in one-on-one meetings to delve deeper into their challenges and aspirations. These interactions forge a stronger understanding and rapport.

Active Listening:

Pay attention not only to what they say but how they say it. Their tone, concerns, and emotions provide valuable insights.

Open Dialogue:

Encourage customers to openly share their pain points and objectives. This fosters transparency and leads to uncovering valuable insights.
In essence, knowing your B2B customers is a dynamic process that requires continuous effort. It's about cultivating a relationship that transcends transactions, fostering an environment of empathy, understanding, and collaboration.
2. USE Personalization
Personalization can WOW your B2B customers. 
You must treat each customer like a VIP to make them feel special. So, tailor your interactions and services to suit each individual's unique needs and give spot-on recommendations. 
And for that, you need to know your customers – And as discussed previously – what better way to do that than simply ask them?
But here's the real kicker – Integration!
Integrate all that customer data into one convenient place. This way, you'll have everything you need at your fingertips. By seamlessly merging customer data, you effortlessly provide tailored experiences that truly resonate. 
3. Ain't you there where your CUSTOMERS ARE?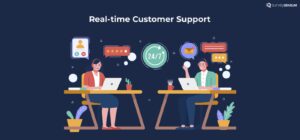 Do you want to know the secret to improving your B2B customer service? 
Consider giving your customers – streamlined communication channels. 
All you just have to do is – don't make your customers choose the channel. Simply BE AVAILABLE wherever THEY want to reach you! 
Offer multiple communication channels like email, phone, live chat, and dedicated account managers. This way, your valued customers can pick their preferred method of interaction.  
It's a win-win!
4. Create a Knowledge Base & Self-Service Options for Customers
Imagine having a one-stop shop filled with FAQs, helpful guides, detailed blogs, step-by-step video tutorials, and much more. All this is available at your fingertips.
Similarly, this availability allows your customers to find answers on their own terms. No more waiting on hold or getting lost in support queues! 
With this, your customers can quickly solve their queries, saving both them and your team time and effort. Also, this gives your team ample time to focus on more complex issues, delivering an even better service experience. 
5. Customer Support – Consistent & Reliable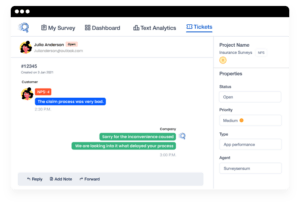 Picture this: you reach out, and within 2 hours, consider your concern solved – that's what SurveySensum promises. Plus, they keep you updated every step of the way, ensuring you're always in the loop.
But that's not where the story ends. They believe in honesty. If things take a tad longer, they won't leave you guessing. You and all their users get a heads-up because your voice matters too! 
Also, no matter where you are, you can reach out to them through their omnichannel customer support. They're one team, one family – ready to resolve your issues. Not just that; they're also with you through every survey and feedback journey. 
It's more than just a tool; it's your reliable companion.
So, experience seamless communication, the strength of unity, and solutions that don't wait, with SurveySensum.
Explore SurveySensum Today – Request a Demo
6. Train Each Team Member 
Is your support team consistently updated with your new products and services? 
Are they capable of giving detailed explanations of all your products?
If any of the above questions answer is NO then you must train your team to perfection! Invest in enhancing their product knowledge, communication skills, and problem-solving abilities. Trust me, it's worth every penny!
With the right training, they'll be armed with the know-how and confidence to tackle any challenge that comes their way. 
By nurturing your team's skills, you create a team of customer service rockstars who're ready to amaze your customer and turn them into your promoters. 
7. Keep Improving at Each Touchpoint: End-to-end Customer Journey
You must keep an eye out to improve at each touchpoint along the end-to-end customer journey. To do that, you have to make every interaction count – from the first hello to the final farewell.
How? 
Simply by 
Embracing customer feedback and using it as your guiding compass. 

Analyzing the gathered insights and fine-tuning your touchpoints accordingly. 

Mapping their entire customer journey

and paying attention to each touchpoint: the website experience, initial inquiry response, support interactions, and post-purchase follow-ups 
Address their pain points at these given touchpoints, meet their needs, and go the extra mile to delight them at every turn. Because your customers deserve a seamless, delightful journey from start to finish. So, remove any friction, and invest in seamless transitions between departments and channels. 
The result? You create loyal advocates who will spread good Word of Mouth about your exceptional service. 
Gather Customer Feedback with SurveySensum at Each Touchpoint – Request a Demo
8. Measure and Analyze Performance
To measure and analyze the performance of customer service metrics you must ask the right questions and let the data lead your way. 
Before delving into the process, consider these pivotal questions:
→ Is your response time quick and efficient, or does it need improvement?
→ How about resolution times—are they satisfactory, or is there room for improvement?
→ Are your customers highly satisfied and giving praise, or do you need to check for areas needing improvement?
By monitoring customer service metrics like response rate, resolution time, satisfaction scores, and retention rates, you'll uncover insights to boost your performance. This is how data-driven decisions and trend-spotting will elevate your customer service strategy.
9. Close the Feedback Loop Effectively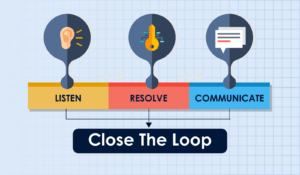 Have you ever wondered how to turn customers' complaints into compliments? 
By closing the loop effectively. When a customer raises a concern, respond with genuine empathy and take ownership of the issue at hand. Address their needs swiftly, and keep them in the loop throughout the process. 
By closing the feedback loop effectively, you can transform a detractor's potentially negative experience into an opportunity for delight. 
Turn your Detractors into Promoters with SurveySensum – Request a Demo
10. Collaborate with your Customers to Serve them Better! 
When it comes to improving your B2B customer service, you must ask your customers to join you in beta testing, focus groups, and advisory boards, where they can share their valuable insights. Their firsthand experiences and feedback help you identify pain points, discover hidden potentials, and refine your offerings to perfection.
This collaboration also fosters a sense of community, where your customers feel heard and valued, ultimately leading to a deep sense of loyalty. 
11. Dedicate Account Managers to Deliver the Best Customer Service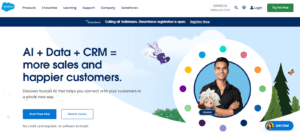 Have you ever wondered how B2B companies can provide such personalized service to their customers? 
They do it by assigning special account managers. These managers learn what each customer needs and provide solutions tailored just for them.
For instance, Salesforce sets an exemplary standard with its Customer Success Managers (CSMs), acting as trusted advisors, maximizing the value of their products, and promptly addressing any concerns – a perfect example of the power of dedicated account managers in enhancing B2B customer service.
Improve your B2B Customer Service With SurveySensum – Request a Demo
To Sum Up!
In the ever-changing world of B2B customer service, one thing remains constant – the significance of collecting FEEDBACK. 
Throughout this blog, we've explored the power of customer feedback in driving meaningful improvements and enhancing the overall customer experience. By actively listening to the voices of your customers aka your valued clients, you can uncover hidden insights, address pain points, and exceed expectations.
So, are you ready to deliver exceptional B2B customer service? 
Try it with SurveySensum. It is an all-in-one solution, which streamlines gathering, analyzing, and acting upon customer feedback effortlessly. 
How much did you enjoy this article?
Stay up-to-date with latest CX tips and tricks, subscribe now!
Don't worry, we don't spam you.