How would you feel if the customer support agent picked up your call and helped you instantly to resolve your issue? 
You'll be glad, right?
Every customer wants their issues to get resolved quickly. That's where CES comes into the picture.
CES (customer effort score) is a customer experience metric that gauges the effort put in by the customer to get an issue resolved or perform a task.  It basically helps businesses reduce the friction between the customer and the brand. 
But how will you measure the CES score?
For that, you need to create a CES survey and share it across multiple channels and analyze the result and take the necessary action. 
So, let's understand extensively what CES is.
So, what is CES?
Customer Effort Score (CES) is a customer experience metric that helps businesses to measure the level of effort made by customers to either use their products and services or to get their issues resolved. Also, it is used to give quantitative data. This data helps you to predict customer behavior, prevent customer churn, and increase customer loyalty. 
Further, CES is usually measured on a 5-point scale or 7-point scale that can be in the number, emoticon, or statement form with a standard CES question. Following is an example of a CES survey question for you.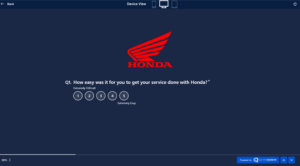 Let's dive deep into CES and understand CES's importance, when and what questions you should ask in CES surveys, how to create a CES survey, how to calculate it, and what actions should be taken to boost CES. 
Why is CES important?
CES plays a crucial role in the customer journey because 
It detects how much effort was put in by the customers to get in touch with your business

Indicates whether the customer is going to purchase any future product from your brand or if the customer going to spread bad word of mouth in the future. 

Reduce customer churn, customer support, and service cost if you will take action on CES insights

Recognize customer expectations and predict their behavior 

Decrease the number of customer service calls 
Instead of escalating the problem or switching the communication channel, you must brainstorm ideas with your team and create a process for each issue and implement them. As there is a high probability of customers being loyal to you if you will resolve their issues within the given time. 
This is the importance of CES but do you know what questions you should ask while creating CES surveys? If not, then let's move ahead and glance at the questions that you must ask. 
What questions can you ask in CES surveys?
CES gauges how much of the transactional effort (high or low) a user spends to use your product or engage with your whole business. That's why you should aim to ask straightforward questions while sending Customer Effort Score surveys. Here are the following types of questions to ask: 
Question to ask on the Likert scale: 
How easy was it to get your issue resolved today? 
Question to ask while onboarding customers:
How easy was it to get started with our product?
Question to ask post-purchase or subscription:
Ask open-ended CES questions: 
Is there anything else you'd like to share with us? 

How can we improve your experience? 
Now you know what to ask and when to send CES surveys. Make sure to share the survey's results with the concerned team so that they can also know what actions are required and where they are going well, and where not. 
Here's how you can create a CES survey.
Create a CES survey in just 2 minutes with SurveySensum
SurveySenum is an online survey builder platform that comes with multiple customizable question templates with hundreds of integrations, an all-in-one view dashboard, and accompanying all-time support available. 
And we are going to help you create a CES survey by following 6 simple steps. . 
Here are the quick steps to create a CES survey on the SurveySensum platform.
STEP 1: Create your free account on SurveySensum
Visit the SurveySensum website and click the Sign-up button to create dynamic surveys on your account anytime.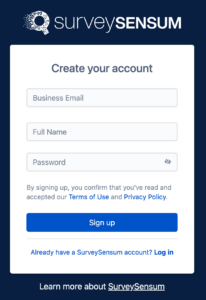 Step 2: Choose the CES template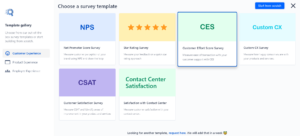 STEP 3: Customize the CES survey template
The inbuilt template lets you create your survey within minutes. Just customize it a bit as per your brand requirements.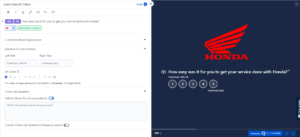 STEP 4: Time to share your survey 
Sharing the survey on the right platform is one of the crucial steps. So, here we are sending it via WhatsApp as it is one of the most used social platforms. 
STEP 5: Create a contact list
To send surveys on WhatsApp, first, you need to create a contact list of your customers.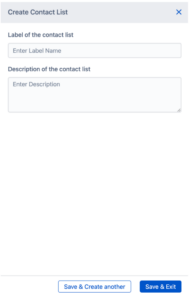 The survey template will open. Choose the list of your customers and click on 'Send WhatsApp'.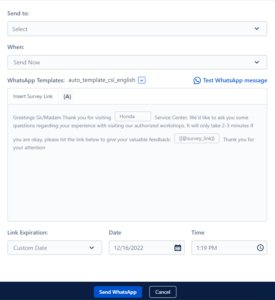 This is how your customers will receive the CES survey on WhatsApp.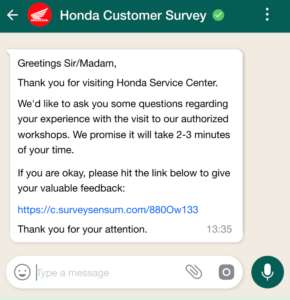 This was about WhatsApp. 
If you are sending the CES survey via email then select 'Send Email' on step 4 and fill in the details in the email template. And this is how your customers will receive the survey in their email.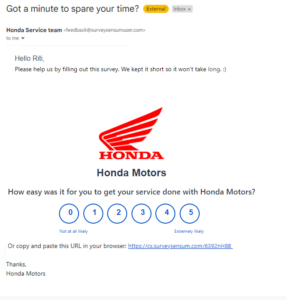 STEP 6: View reports on the dynamic all-in-one dashboard
With SurveySensum's exclusive dashboard, you can view all the reports of surveys. You can also select a particular section of the report and customize the dashboard view. This is what your CES survey dashboard will look like.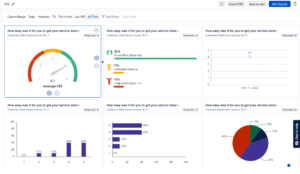 You can also add reports as per your preferences that you want to view on your dashboard.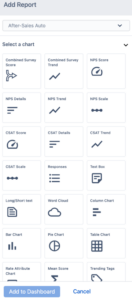 In 6 easy steps, you can create your CES survey and view reports on the exclusive dashboard. 
Moving forward, let us understand how to calculate CES. 
How to calculate CES?
To calculate your CES score, just simply divide the sum of the number of responses received by the total number of responses. 
For instance, there are a total of 9 respondents who respond to your CES survey on a 1-5 point scale.
Out of 9, 3 customers rate 4, 4 customers rate 5, and 2 customers rate 2.
CES responses= 4+4+4+5+5+5+5+2+2 =36
CES= 36/9
CES= 4
Your CES score is 4, that's an average score. A CES score above 5 is considered a good score and vice versa. So, you need to focus on what issues your customers are raising and how you can resolve their issues. 
Another thing to keep in mind is that always include an open-ended follow-up question so that you will get to know the reason behind their given score. And then you can create a more strategic action plan to make your customers' experience better. 
What else can you do to make your customer's experience better? By taking action on the received CES surveys. Now is the time to take action on it. 
Act upon CES insights
You have created the CES survey, and shared the survey with the customers, and now what? This is the time to analyze the survey results of those who received feedback and take action on it. Do not collect input just for the sake of it. Sit down with your team and do the following steps to act upon those insights.
1. Prioritize product backlog
The CES survey you conducted probably asks for new features or bug fixes opportunities. So, depending on the number of scores assigned to each request, you can plan or prioritize your roadmap. 
2. Keep your processes simple & easy
Multiple processes can be streamlined in SaaS customer flows. Your conducted survey will let you know what processes can be more simple including the onboarding process. If you understand the whole customer experience, then it would be easy for you to make the processes simple. 
Also, customer journey mapping can be useful here as it will enable you to decide when and where you should make simple processes. 
3. Unify your customer service
Unifying your customer service is one of the most crucial things at CES. You must limit channel switching and train your customer support team to focus more on low-effort interactions. Also, you can create an internal guidebook to help customer service representatives to solve customer issues quickly. 
4. Create an e-resource 
Customers prefer to solve the issues on their own. So what you can do for them is create a resource that should be easily accessible online. You can include helpful articles, blogs, frequently asked questions, and much more. Additionally, you can provide video tutorials created with a user-friendly Video Editor tool to guide them through the process.
Also, you can add in-app messages and chatbots where they can chat about their issues, etc. 
5. Inform your customers regularly 
You are doing endless work to give your customers a better experience but how will they get to know whether you heard them or not? So, always inform your customers about the actions you are taking.  
Conclusion 
To sum up this discussion with less effort, no customer feedback metric can offer you everything that you need. 
Each metric has its own significance and aim and the CES survey's aim is not only to increase customer retention and satisfaction but also to decrease disloyal customers, decrease churn, and prevent potential reputation-damaging negative reviews from happening. 
However, CES is not sufficient in itself as it doesn't offer the entire picture of the customer experience. So, it is used with other customer experience metrics like NPS and CSAT.  
So, start creating CES surveys within minutes and try to maintain a high CES score. 
How much did you enjoy this article?
Stay up-to-date with latest CX tips and tricks, subscribe now!
Don't worry, we don't spam you.