Did you know that 79% of people shop on their mobile devices at least once in 6 months
And no matter how attractive or data-driven your marketing campaigns are if you don't provide a positive mobile CX to your customers then they are 62% less likely to make any future purchases from you?
That's why this should come as no surprise that the quality of mobile customer experience you provide to your customers has a profound impact on satisfaction, loyalty, and overall business performance. 
It's high time that brands start focusing on creating exceptional experiences through their mobile apps as part of their broader customer experience management strategy.
But how to do that?
Well, you can start by scrolling down and exploring the 9 proven ways to improve your mobile customer experience. But first, let's start by understanding what is mobile CX and why is it so important.
What is Mobile Customer Experience?
Mobile customer experience refers to the overall quality of interactions and experiences that customers have with a business through mobile devices. 
It encompasses all the touchpoints and interactions that occur on mobile platforms, including mobile websites, mobile apps, text messages, and other communication channels that customers use on their mobile devices.
But why is it important? Let's find out.
Why Mobile Customer Experience is Important?
Here are some key reasons why mobile CX is important:
1. Ubiquity of Mobile Devices: Mobile devices have become integral to our lives. Statista states that the number of smartphone mobile network subscriptions worldwide reached almost 6.4 billion in 2022, and is forecast to exceed 7.7 billion by 2028.
2. Customer Expectations: Customers have high expectations for the mobile experiences they encounter. Sweor found out that 85% of adults believe that a company's mobile website should be as good as or better than its desktop website.
3. Competitive Advantage: An exceptional mobile CX can set businesses apart from their competitors. According to Google, 67% of mobile users say that when they visit a mobile-friendly site, they're more likely to buy a site's product or service.
4. Customer Loyalty: Mobile CX directly influences how customers perceive a brand. According to Google, 52% of users said that a bad mobile experience made them less likely to engage with a company. 
5. Increased Revenue: A better mobile CX can lead to increased sales and revenue. Statista predicts that by 2025, retail e-commerce sales are expected to grow almost twofold, amounting to approximately 710 billion U.S. dollars.
Now that we know the importance of having an exceptional mobile customer experience, let's now understand what can you do to improve your mobile CX.
How Can You Improve Your Mobile Customer Experience?
1. Know Your Customers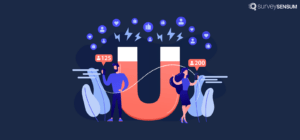 Step one is all about getting to know your audience really, really well. Here you need to understand who your customers are, what they like, and what are their expectations and preferences. Once you've got that down, you can create user personas that serve as the foundation for your strategy.
So here's how to do it:
Set Clear Goals and Objectives:

Define your goals and objectives clearly and make sure they align with your overall business and mobile CX objectives. 

Segment Your Audience:

Divide your user base into segments based on factors like behavior, location, etc. This allows you to create more personalized engagement strategies.

Multi-Channel Approach:

Engage users via various channels, including email, push notifications, in-app messages, and social media. 

Optimize UI/UX:

An easy-to-navigate, user-friendly design is crucial for engagement.

Customer Feedback: Provide opportunities for users to give feedback and share their experiences. Act upon this feedback to make

iterative improvements to your mobile CX.
2. Give Customers a Choice in the Onboarding Process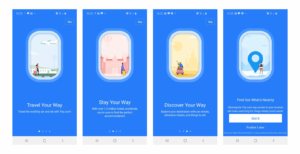 Imagine installing a home decor mobile app but as soon as you open the app, it shows you hundreds of tutorial videos on different features and disrupts your experience. And there is no option to skip it. Frustrating, right? 
This is why it is highly important to simplify your user's initial interaction with your app. One effective way to do this is by creating an optional onboarding flow. 
For example, Trip.com provides its users with a step-by-step on how to get started with the app but also provides the option of skipping the steps if the user feels like it. 
Here's how you can implement this strategy to enhance the mobile experience:
Keep It Optional:

Design your onboarding flow as a non-mandatory process. Give your customers the option to either proceed with the onboarding or skip it.

Quick & Easy:

Create an onboarding process that is quick and easy by keeping things simple. This will reduce your

customer effort in the onboarding process

and improve their experience.

Provide Value:

Make the onboarding flow valuable and informative. It should offer insights into the app's key features and benefits.

Progressive Onboarding:

Rather than presenting all information at once, break it into smaller steps that users can navigate easily.

Clear Exit Option:

Implement an accessible 'skip' or 'exit' button, so users who change their minds or want to explore independently can do so easily.
By respecting users' choices and providing valuable, tailored information, you can strike a balance between offering guidance and allowing exploration, leading to higher customer satisfaction and retention.
3. Meet Your Customers Where They Are
Providing in-app support makes customers feel that the help is always there for them It also helps reduce frustration and enhances customer retention, ultimately contributing to the overall success of your mobile platform.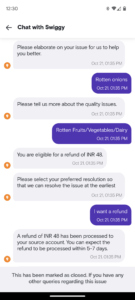 For example, Swiggy's in-app chat support provides 24*7 responsive customer support. It provides both chatbot support, where users can solve issues by themselves, and live chat support with customer support agents.
So, here's how to implement in-app support effectively:
Integrated Help Center:

Create an integrated help center within your app. This should be user-friendly and easily accessible from the main interface.

Self-Service Options:

Offer a range of self-service resources such as FAQs, video tutorials, how-to guides, and searchable knowledge bases. 

In-App Chat Support:

This allows users to initiate conversations with customer support or access instant assistance without leaving the app.

Ticketing System:

Include a ticketing system for users to submit questions, issues, etc. Ensure that users receive confirmation of their request and that it's tracked efficiently.

Multilingual Support:

If your app has a global audience, consider providing support in multiple languages.
By offering in-app support, you empower users to find the assistance they need within the app or mobile site, leading to a more seamless and satisfying mobile experience.
4. Create Simplified Navigation
Did you know that 61% of users state that their favorite mobile app is easy to use and navigate?
Finding basic features on a mobile app shouldn't feel like a chore, right? This is why it is essential to have a well-organized and intuitive navigation structure that can make it easier for users to find what they're looking for and engage with your mobile app.
Here are some key steps to achieve this:
Prioritize Content and Features:

Identify and prioritize what users are likely to access most frequently and ensure that these are easily accessible. 
For example, when you open the Uber app, you directly search for your destination and book your cab because that's what you are there for.
Clear Hierarchy and Structure:

Organize content and features into logical categories and sections. 

Limit Menu Items:

Limit the number of menu items to a manageable quantity because too many choices can overwhelm users.

For example,

Spotify's menu list only has only three essential items – 'Home', 'Search', and 'Your Library'.

Use Descriptive Labels:

Use descriptive labels for menu items and buttons.

Provide Search Functionality:

Implement a robust search function that allows users to find content quickly. Include auto-suggestions and filters to refine search results.
A user-friendly and intuitive navigation structure can lead to improved customer satisfaction, reduced bounce rates, and increased engagement so pay attention to it.
5. Encourage Users to Give Feedback
Imagine exploring a gaming app. As you are playing the game the app suddenly crashes. You opened the app again but you lost your progress. Frustrated, you started the game again but didn't encounter the issue again. 
But what about that one-time crash? What if it happens again to some other user? 
This is where customer feedback comes in. 
Encouraging users to provide feedback on their experience allows you to gather insights, identify pain points, and make necessary improvements.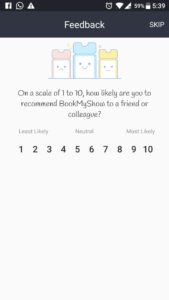 For example, BookMyShow launches in-app surveys when customers have booked their movie tickets. The survey asks the users to rate their experience with the app and also provide any suggestions they would like to see.
Here's how you can effectively encourage users to give feedback:
In-App Feedback Mechanisms:

Implement user-friendly in-app feedback forms, such as survey pop-ups. But ensure that these are easily accessible and non-intrusive.

Clear CTA:

Include a clear and visible CTA that prompts users to provide feedback. 

Timing and Context:

Present feedback requests at appropriate times and in relevant contexts. 

Short and Simple Surveys:

Keep the surveys short and simple. Long and complex surveys may deter users from participating. 

Provide Multichannel Surveys:

Offer multiple channels for users to give feedback, including in-app forms, email, and social media. 
By actively encouraging users to give feedback, you demonstrate that you prioritize their needs and are committed to delivering an excellent mobile customer experience. 
Launch In-App Surveys To Boost Mobile CX- Request a Demo
6. Make your MVPs VIPs
Do you know the most important pages or sections of your mobile app? It is your product and category page. 
According to a benchmark report by Contentsquare, product pages took up an average of 30.7% of the buyer's journey on mobile in 2022. 
Although every touchpoint is important in a customer journey, you need to pay extra attention to your product and category page. This is because a customer, that reaches your product page, can be easily persuaded to click on 'add to cart'.
So, by optimizing these pages, you can provide a better, more engaging experience for your mobile users. Here's how to do it:
Streamlined Design:

Design these pages with a focus on simplicity and clarity. The goal is to make the user journey as straightforward as possible.

Fast Loading Times:

Ensure that these pages load quickly. Optimize images, reduce server requests, and employ caching techniques to speed up page loading.

Responsive Design:

Make sure that these pages are responsive and compatible with various mobile devices and screen sizes.

Visual Hierarchy:

Implement a clear visual hierarchy to guide users' attention to the most important elements. 

User Testing:

Conduct user testing to observe how real users interact with these pages. 
By giving your MVPs the VIP treatment, you prioritize the pages and features that have the most significant impact on user satisfaction and conversion rates. 
7. Eliminate Friction
No one likes a disturbance when it comes to experiencing a mobile app. Surveys pop up, information videos pop up, apps crash, and many other issues that damage customer satisfaction, retention, and conversion rates.
This is why it is important to reduce obstacles and streamline the user journey as it leads to increased engagement and higher user satisfaction. So, here's how you can achieve this:
Simplify Onboarding:

Minimize the number of required fields during onboarding. Implement social login options and remember-me features to expedite the process.

Reduce Page Load Times:

Optimize your mobile app or website for speed. Faster page load times reduce user frustration and encourage them to stay engaged.

Intuitive Navigation:

Simplify navigation by organizing content logically and using clear labels. Limit the number of menu items and ensure a user-friendly layout.

Streamlined Checkout Process:

Minimize the number of steps required to complete a purchase and provide multiple payment options.

Feedback Mechanisms:

Encourage users to provide feedback about their experiences, specifically regarding any friction they encounter. 
A frictionless experience makes it easier for users to achieve their goals, whether it's finding information, making a purchase, or engaging with your app, ultimately leading to higher customer satisfaction and increased retention.
8. Live Chat Support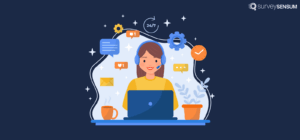 Do you know that live chat provides faster response times compared to email or phone support? It typically takes an average of 2 minutes for a live chat agent to respond to a customer query. This is why more than 41% of customers prefer live chat support over other channels.
This is because when you provide a live chat support option to your users, you enable them to reach out in real-time. This not only creates a streamlined experience but also helps you improve your customer satisfaction. 
Keep in mind that providing the service is not enough. You also need to make sure that your team is responsive and knowledgeable enough to handle different situations. 
So, here's how you can effectively integrate live chat support into your mobile app:
Choose the Right Software:

Select a reliable live chat software solution that is mobile-friendly and offers features such as real-time messaging, chatbots, etc.

Accessible Placement:

Position the live chat button prominently on the mobile app, making it easily accessible. 

Clear Operating Hours:

Communicate the operating hours of your live chat support. If it's not available 24/7, let users know when they can expect assistance.

Quick Response Times:

Users appreciate timely assistance, so set SLAs to ensure quick replies.

Integrations:

Integrate your live chat with other systems, such as CRM or ticketing tools, to provide a seamless support experience.
Implementing live chat support in your app not only offers immediate assistance to users but also showcases your commitment to providing a seamless and user-friendly experience. 
9. Self-Service Support
Are you aware that nearly 81% of customers prefer to take care of matters by themselves before reaching out to a customer service representative?
Yes, that's right. In this digital age, users actively look for options that will enable them to take care of minor issues like refunds, etc, by themselves. This is why integrating self-service support is a valuable approach to improving the mobile customer experience.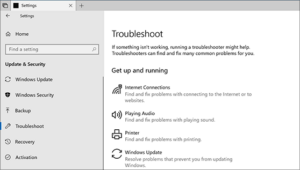 So, here's how you can effectively implement self-service support:
Knowledge Base:

Create a comprehensive knowledge base or FAQ section that covers common user queries and issues.

Troubleshooting Wizards:

Design troubleshooting wizards that help users diagnose and fix issues by providing a series of questions and steps to follow.

Chatbots for Self-Service:

Implement chatbots that guide users through self-service support. Chatbots can provide instant responses to common queries.
By offering self-service support, you enable users to troubleshoot, find answers, and achieve their goals independently, reducing reliance on direct support channels. 
There you go, 9 proven ways to improve your mobile customer experience. Let's now explore the best practices for designing mobile surveys.
Improve Your Mobile Customer Experience With SurveySensum – Request a Demo
Designing Mobile Surveys: Best Practices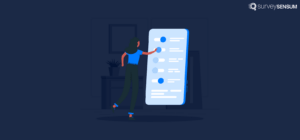 Gathering customer feedback should be an essential step in your strategy to improve your mobile customer experience. By listening to the voice of your customers you can understand their pain points, needs, and preferences and optimize your mobile app to create a seamless experience.
With that in mind, let's explore some of the best practices for designing mobile surveys.
1. Start a Conversation
When launching a survey, create a conversational environment. Instead of immediately diving into questions, greet the respondents, explain the purpose of the survey, and ask follow-up questions to understand your customer's pain points. This helps establish a rapport and encourages users to engage with the survey. 
For example, if someone says they were not impressed by the payment page interface, ask them a follow-up question about it, just like you would in natural conversation, rather than simply going to the next question in a pre-set routine of standard questions.
2. Launch the Survey at the Right Time
Timing is crucial for survey deployment. Present the survey at moments when it's contextually relevant, such as after users have completed a purchase, or finished a task within your app. This ensures that users can provide feedback based on their recent experiences.
For example, let's say you have a flight booking app. So, as soon as someone completes their booking, send them an in-app survey asking about their experience with the booking process.
3. Make It Mobile-Friendly
Mobile screens are limited in size, so the survey design should be adapted for different mobile devices. Use responsive design principles to fit different mobile screens. Also, keep questions and answer options concise and legible without requiring excessive scrolling. 
4. Choose Your Distribution Channels
The choice of distribution channels depends on your target audience. In-app surveys are suitable for existing app users, while email invitations may work well for a broader audience. The key here is to understand your audience and the context of your survey. 
5. Avoid Grids and Matrix Questions
Grids and matrix-style questions, which often work well on larger screens, can be challenging to navigate on mobile devices. To optimize the user experience, use single questions whenever possible, as they are more mobile-friendly.
6. Don't Forget Your Survey Scales
Keep these three points in mind while assigning scales to your survey questions
Verbal label your survey scales

to help respondents understand the meaning of each option, especially when using

Likert scales

. 

Avoid agreement scales

like  Yes/No or True/False as they limit the nuance of respondents' opinions. Instead, opt for Likert scales that offer a balanced range of responses, allowing users to express their views more comprehensively.
Keep numeric scales concise. Use 5 points to reduce confusion and make it easier for users to select the most appropriate response.
7. Keep It Short
Lengthy surveys can lead to survey fatigue and lower completion rates. Prioritize brevity by focusing on essential questions that address your research objectives. Surveys should be no longer than 5-6 minutes.
8. Personalization
Personalization can boost user engagement by making respondents feel valued and understood. Addressing users by name or tailoring questions based on their previous responses demonstrates that you are genuinely interested in their opinions.
By following the above best practices, you can create an optimal mobile survey to gather feedback the right way and enhance your mobile user experience.
Conclusion
The m-commerce sales are projected to hit approximately $710 billion by 2025. So, it's imperative that you keep up with the growing demand for mobile devices. So, keep up with the changing trends and create an effective strategy to improve your mobile customer experience using the 9 proven tips.
But creating a strategy to improve your mobile customer experience is not enough, you also need to implement, track, and improvise on your strategy. And the best way to do that is by listening to the voice of your customers through a robust customer feedback tool like SurveySensum.
How much did you enjoy this article?
Stay up-to-date with latest CX tips and tricks, subscribe now!
Don't worry, we don't spam you.