What is a Net Promoter Score Survey Question?
Net Promoter Score (NPS) is a business metric that allows you to gauge customer loyalty by asking a simple question,
–> 'How likely are you to recommend us to your friends or family?'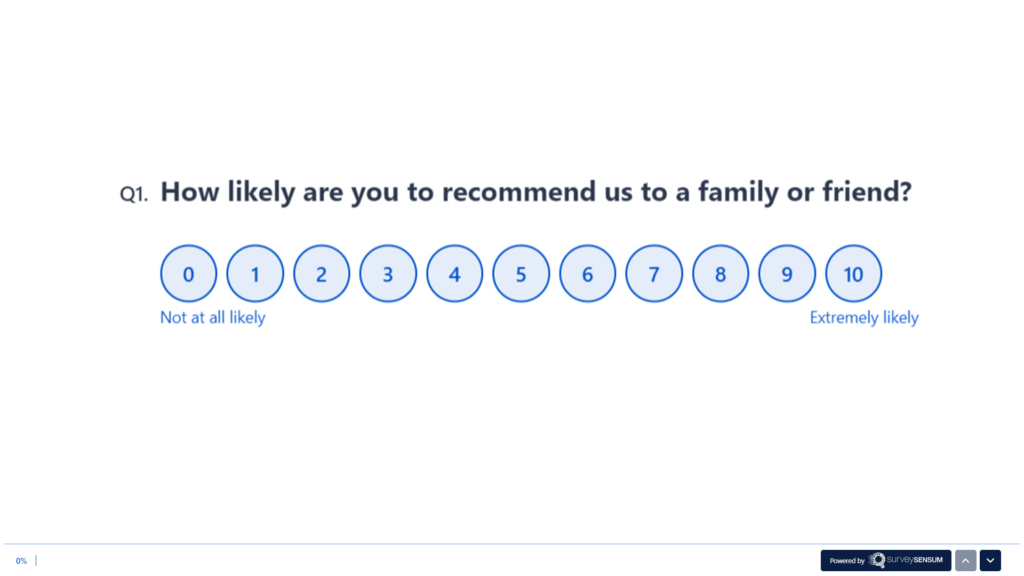 This question is answered on an 11-point rating scale, ranging from 0 (not at all likely) to 10 (extremely likely). The respondents to these questions are divided into three categories called Promoters, Passives, and Detractors (which we will discuss later) based on their responses.
But, don't forget to ask the open-ended question.
NPS Score is not efficient if you don't know the why behind the customer feedback!
So, every NPS survey question is followed by an open-ended question that allows the respondents to share the reason behind their score (which will discuss this further in detail).
NPS is a key predictor of a business's ability to win and retain its disgruntled customers. It helps you identify what is working for you and what is not! The success of NPS lies in the fact that your current customers stay with your brand while helping you get more business year after year.
It is not just a metric but an indicator of brand success and has a direct relation with Customer Experience (CX). It helps businesses to analyze customer insights and accelerate growth by driving customer loyalty.
According to a KPMG survey,
86% of the loyal customers recommend a company to friends and family.
66% of loyal customers share a positive review after a good experience.
46% of the loyal customers stay with the brand even after a bad experience.
That's how important customer loyalty is!
So, how would you create an NPS Survey?
NPS survey is carried out using NPS software with AI-capability that can not just ask the questions, but also help you collect responses and analyze these results. The surveys are typically distributed using customer emails, in-app surveys, and social media.
If the NPS survey question is written in the right tone, and phrased to convey the question you want to ask it will fetch the response you are looking for. Those responses that you get for your NPS Score can influence how the business will treat customers and serve products or services in the future.
That said, it is imperative that we need a solid Net Promoter Score Survey template. 
Why a template? Templates standardize a process. They ensure that all the checkboxes required to do something in the right fashion are ticked. Also, they help in automating the process of sending Net Promoter Score surveys. You don't have to waste time every time you want to send an NPS survey.

Now it is time to create a Net Promoter Score survey. Be it a relationship survey or transactional surveys, these steps remain the same.
1. Give a title for your survey
The title should be short, crisp, and self-explanatory. Your customers should ideally understand the motive of the survey from the title itself. You can use creative titles, provided they do not make the motive ambiguous.
Some NPS survey title examples are:
"Joe, please share your thoughts!"

"Joe, we're improving, could you help?"

"Your feedback helps make us better!"

"How was your experience?"

"Did you buy it from us recently?"
2. Add a brief description
A brief description should help customers understand better why the survey is being conducted. It can also be used to specify whether the survey pertains to a specific transaction or is a periodical one that evaluates the customer experience over some time.
3. Add the NPS question
As we discussed before, an NPS survey will typically have only one question. Jump to this section to know how to identify the right Net Promoter Score question for your survey.
4. Add a thank you note
Your customers are taking their precious time and effort to give you feedback. That feedback is going to help improve your product/service. So it is basic etiquette to thank them for taking the time to give feedback.
Choose the right Net Promoter Score Survey Question! (Also, includes some NPS Survey examples)
There are two components to an ideal NPS survey. 
One is the NPS question which asks customers to rate the business/product/service on a scale of 1 to 10.
Second is the open-ended question that seeks to find out why the customer has given the specific score. 
No NPS survey is complete without these two components. Once the customer gives the rating, which is the first component, they are directed to the second component — the open-ended question. Once the responses for both these components are given, customers are usually redirected to a Thank You or an in-page popup.
The standard NPS question is as below:
→ On a scale from 0-10, how likely are you to recommend our business to a friend or colleague?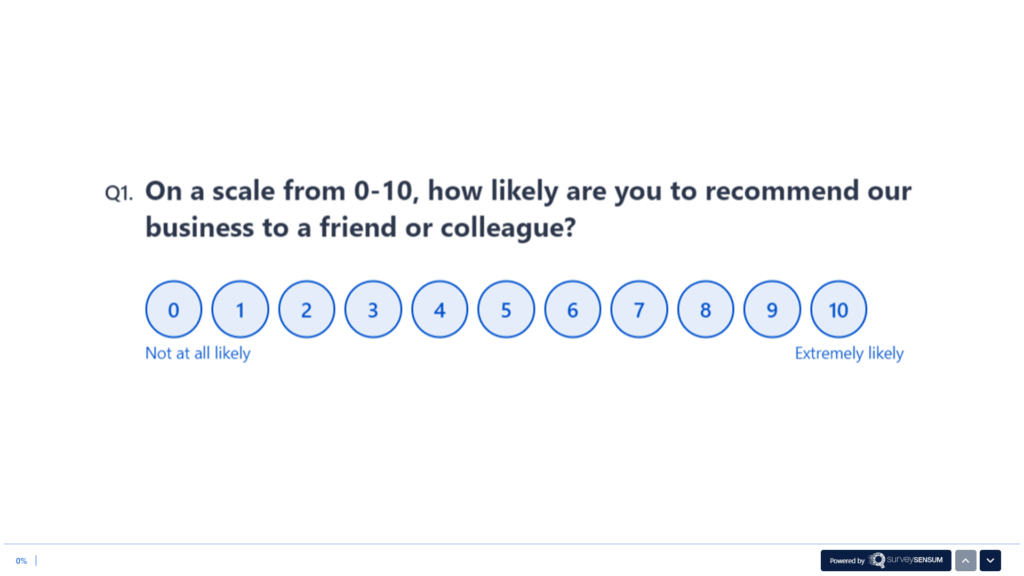 However, this same question is not used every time. Depending on the business, and its offerings, it is customized to gather customer feedback.
So, how you can customize each component of an NPS survey question so that the most genuine feedback can be elicited from customers?
Let's begin with the rating component.
1. Requesting a rating
The primary responsibility of this component is to collect a rating from customers. The rating is usually collected in the range of 0 to 10. And the customers are segmented into promoters, passives, and detractors based on the ratings that they give. So this question of the survey must be straightforward and without any ambiguity.
The use of a 0 to 10 scale helps maintain uniformity across all surveys. Also, across all industries where NPS surveys are used, this same scale is in effect. This simplifies the task of comparing your NPS score with the industry average and competitor NPS score as well. Hence, it is recommended to stick to a scale of 0 to 10.
Asking for a rating also has several other advantages.
It is an ideal way to begin a survey if you are sending it for the first time.

It quantifies customer feedback into an absolute number.

It is possible to target specific customers and their pain areas based on the rating provided.
Now that we have covered the rating component, let's look at how to structure the open-ended question of the NPS survey.
2. Open-ended questions in the NPS Survey
The purpose of open-ended questions in Net Promoter Score Surveys is to unearth the logic behind customer ratings. But, what is an open-ended question? How is it different from a close-ended question?
Open-ended questions are those which require the respondent to craft a descriptive response as opposed to a simple 'Yes' or 'No'. Open-ended questions are necessary for an NPS survey since they push the customer to give a descriptive response about their experience or feedback instead. Descriptive feedback helps the business learn in detail the customer's sentiments and act accordingly.
For instance, let's take the case of a detractor. What negative experience made them give a low rating? Alternatively, in the case of a promoter, what positive experience made them give a high rating?
Open-ended questions help understand the reason why customers gave a specific rating.
A typical open-ended question for a detractor would look like this:
→ What was missing or disappointing in your experience with us?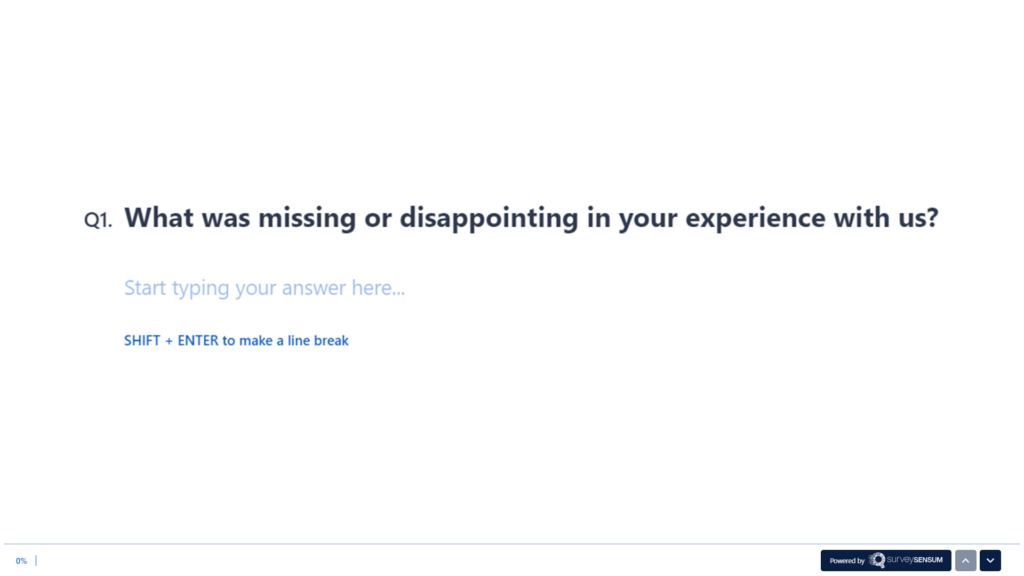 As you can see from the question, it forces customers to open up and speak at length and in detail about the experience that they had.
Usually, while writing reviews, customers find it difficult to state their frank opinions. However, an NPS survey that has an open-ended question like this makes them comfortable to speak out their concerns in detail.
Similarly, for passives the question can be customized as below:
→ What can we do to improve your experience?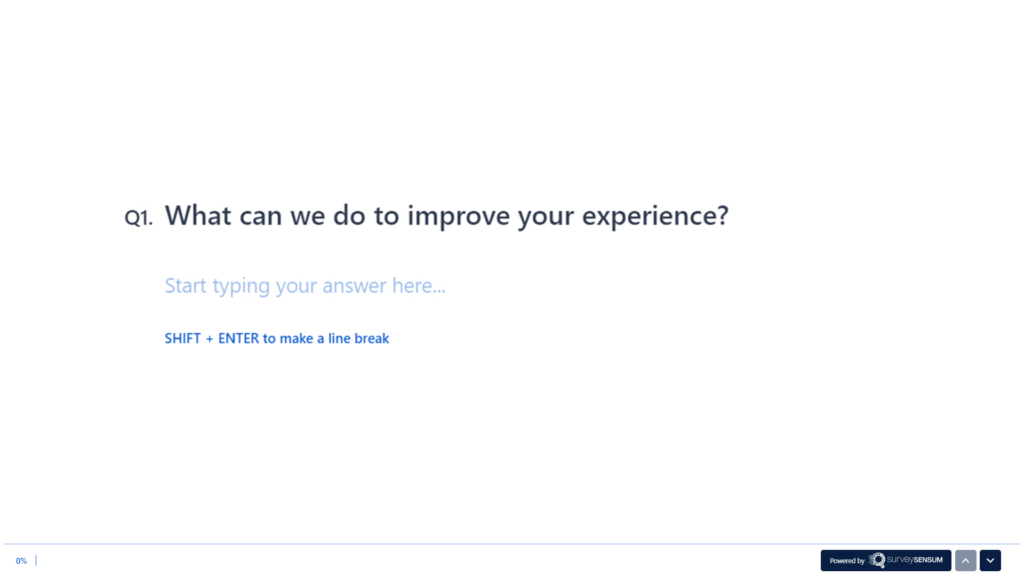 Here the question is specifically focusing on the improvement aspect. It will persuade the passive customer to cite specific instances in service or product features that they wish were better.
The open-ended question for promoters would be more focused on identifying the positives that impressed them. This could be product features, a delightful shopping experience, and so on.
Hence, the open-ended question for a promoter would be:
→ What do you like the most about us?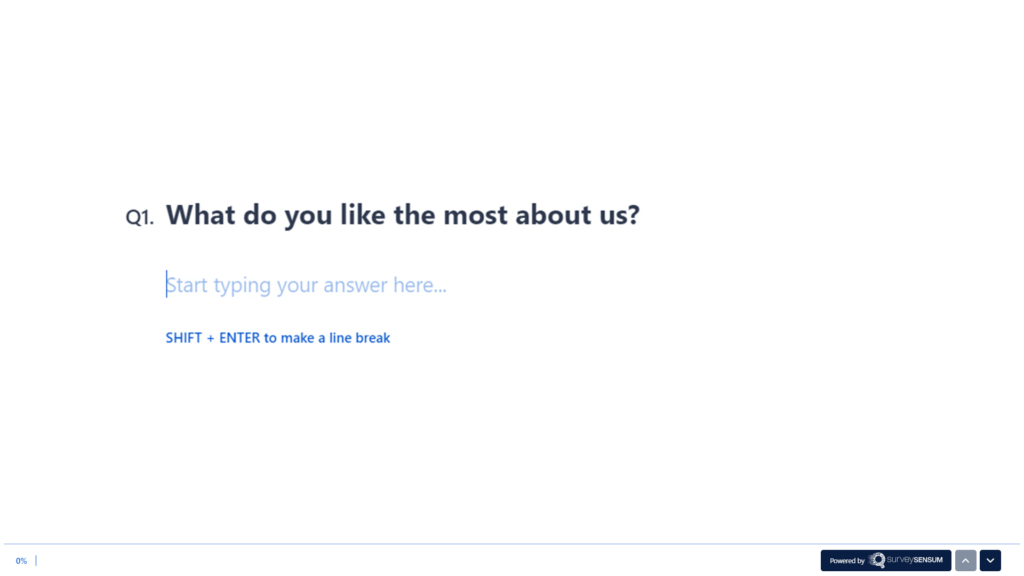 The logic behind this question is to make the customer list specific features or highlights that make them a promoter for the business.
Let's say Apple is conducting an NPS survey. The above NPS survey question will make the customers spell out specific Apple product features like great design, sturdy build, reliable support, and so on. The absence of such a question would allow the customers to cut short their feedback with monosyllables.
There is another allied benefit of this question is that it gives you user-generated content that can be used as testimonials. These customer testimonials can be used in landing pages, case studies, and in other marketing collaterals where customer proof is necessary.
3. Ending the Survey with a 'Thank you'
Although the NPS survey is fairly quick and easier to respond to, it is implied that we thank the customers for taking the time and energy to do it. It is an act of good faith that will make the customers fill up the next time you send an NPS survey.
4. Power of Personalization
Finally, do not forget the power of personalization. A well-personalized survey question can make customers feel attended to individually even when the survey is sent to thousands of customers.
For example, in an NPS survey, a simple 'Thank You' is not adequate. It has to be personalized. Depending on the response of customers, you can tweak the thank you note so that they get the impression that the business is going to act on their feedback.
Let's take the example of detractors — the most disappointed lot of all. Instead of popping up a "Thank you for responding to our survey' message, you can use something more elaborate and personalized like, "Thank you. We will work on your feedback to improve the [feature name]/service."
Similarly, for passives, it could be, "Thank you for responding to the survey. We would be happy to work on your feedback and make the feature/service the way you want it. Stay tuned to our updates."
And for promoters, it could be, "We are super-excited to know that you liked our product. Thank you for responding to the survey. Do spread the message."
Are you ready to create your own NPS survey now?

How much did you enjoy this article?
Stay up-to-date with latest CX tips and tricks, subscribe now!
Don't worry, we don't spam you.