Bird's eye view of NPS benchmarks across industries
Is 45 a good NPS score?
It seems good, right? 
However, the average industry NPS score is 60 and the score of a few other companies (from the same industry) are 42, 65, and 77. 
Now, let me ask the question again – Is 45 a good NPS score?
No, and that's why NPS benchmarking is important. 
Because sometimes while the NPS score seems good, it is not. And we only know it if we benchmark it against the industry average.
What is NPS Benchmarking? 
NPS benchmarking helps you identify your brand's position in the NPS metric. And gives you a bird's eye view of the performance and perception of each brand. 
Now the question is, 
How can you know where your brand stands?

And,

how good is your NPS score?
To know that, let's first understand the industry benchmark – A good resource to go to for this information is the 2022 Satmetrix Net Promoter Benchmarks report (for US consumers).
The survey was conducted for 192 brands in 23 industry sectors covering a whopping 63,939 respondents. Based on the survey, here is the NPS benchmark as per industry.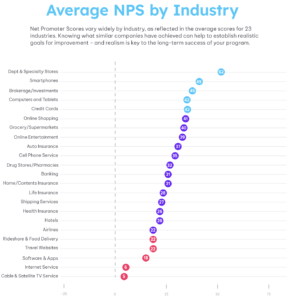 2022 Satmetrix Net Promoter Benchmarks report (for US consumers).
Use this data to drive success!
What is a good Net Promoter Score?
As a thumb rule, a good Net Promoter Score is divided into three categories: 
A score above 20 is GOOD

A score above 50 is GREAT

A score above 70 is EXCELLENT
Any positive integer can be deemed to be a good NPS score since it indicates the overall positive sentiments of customers towards the business. However, the average NPS varies significantly from industry to industry. So, what constitutes a good NPS score for the hospitality industry may not apply to the retail industry.
There are two variants of the NPS — absolute and relative NPS.
ABSOLUTE NPS

refers to the overall positive score where your score is marked as average against the score of all other industries.

In RELATIVE NPS

, the comparison is made with other companies in the same industry.

For example,

McDonald's compares its NPS score with Burger King.
This gives more context since it helps the business identify with certainty whether the score is good or bad. Also, relative NPS gives more clarity on the company's position. Here is how.
Let's take the NPS score of two companies: A & B.
Company A may have achieved an NPS score of 50 while it might be considered the market leader in size or pioneer in innovation. On the other hand, Company B may have achieved an NPS score of 60 whereas it is a startup that has just begun to grow.
So, it is better to go by the relative NPS which compares the NPS score with the industry average.
Why should you benchmark your NPS score?
We all know, a high NPS score is definitely good because it means that the number of customers who love your brand is more than those who don't.
But how do you know what is a good NPS score (when the score is not high)?

And what should be your goal or target for improvement?
That is where NPS benchmarking comes in, it doesn't just tell you about your brand's NPS score but gives you the entire picture, and answers questions like
Which competitors your customers are most likely to switch to?

What do they feel about you when it comes to your biggest competitor?

Not just your competition, it also tells you if there is a competitive alternative that you should worry about.
For example, Ford, and BMW did not feel that TESLA is their competitor as it was building electric cars but once they realized that the customers want electric cars, they started making their own.
Questions to ask yourself before benchmarking your NPS score
Q1. What should be the objective of your NPS Benchmarking?
Goal Setting

Competitive Comparison

SWOT Analysis
Q2. What is your brand promise? Or the vision of the next 5 years.
This will help you decide what factors/journeys or products you want to benchmark yourself. 
For example, you are a broadband company and aim to provide the fastest internet speed. Then that's your brand promise and you should ask questions about that.
Q3. Against whom I should benchmark?
Ideally, top 3-4 competitors covering 70% – 80% market and competitive alternatives.

If you are a niche player then head to head with top competition.
Q4. How frequently I should do benchmarking?
If an industry is quite dynamic like E-commerce it can be done Quarterly. 

For less dynamic industries (telecom, insurance, banking) semesterly or yearly benchmarking is good as you are also doing transactional CSAT.
Q5. How much sample is enough?
Sampling design is done per brand and per area level.

A minimum sample of 100 – 150 per brand per area is recommended.
Q6. Who should you reach in benchmarking?
Own customers

Key competition users

Your lapsers (the people who left you for your competition
Q7. What actions should you take post-NPS benchmarking?
Set goals against the competition

Understand your relative weaknesses and improve

Work on communication strategy
Q8. Which cities should you choose?
Pareto Principle: Top 4-5 regions covering 80% of sales
Q9. What research data do you already have?
There are always a few problems that customers complain about on the regular basis. Identify those problems and understand if you are losing your customers because of them. And if the same thing is happening with your competitors.
Getting to – how to benchmark your NPS Score?
1. Benchmark it against the industry average
As discussed, the NPS score can vary with the industry. And that's why an airline should not compare its NPS score with an internet company. For instance, the highest NPS score for an airline is 71, on the other hand, the highest NPS score for an internet service is 27. While they both are the best in their industry, they should now be compared.
However, if in the banking industry, your NPS score is 65 and the average industry NPS score is 70, then you need to improve a bit! And if your score is 72 then you are doing great!!
As said, there are multiple factors that affect your score. That's why it's crucial to benchmark your NPS against YOUR INDUSTRY average.
2. Benchmark it as per your regional/cultural average 
Here's an insight: US consumers are more inclined toward premium-price products while Asians prefer budget-friendly products.
The same can be seen in their NPS responses. 
So, without regional consideration, you will benchmark your NPS score incorrectly.
3. Benchmark score against the channel's average
You must be asking for feedback on multiple channels eg, email, chatbot, and support calls. While email surveys get more responses, in-app surveys or SMS surveys get very few.
That's why always calculate your NPS score according to the channels you are surveying!
Factors that influence Net Promoter Score benchmarks
1. Market size & spread
The bigger the market size and geographical spread, the more varying would be the NPS score. A bigger market caters to customers hailing from diverse cultural backgrounds. And diverse customers with different mindsets often give different feedback. 
For instance, European customers are reserved when it comes to giving negative feedback, on the other hand, US customers are more generous while sharing their feedback. Similarly, there are countries like Japan where people usually give low ratings because it is considered rude to rate a business as either too good or too bad. 
2. Customer expectations 
Customer expectations vary drastically with the industries. 
For example, customers in the medical industry are more focused on expertise and availability. Alternatively, customers in the internet service industry want exceptional customer service. As a result, the NPS scores that these industries achieve would also be significantly different.
3. Competitive forces
The level of competition involved in an industry also affects the NPS score drastically. A cut-throat competitive scenario would require businesses to innovate faster and better which would result in better customer service.
This should help lift the NPS score as well. On the other hand, a moderately competitive environment could slow down innovation or sustain the current level of customer service, which may not give a positive thrust to the NPS score.
But, what if you cannot do NPS benchmarking? 
Even if you are unable to do benchmarking, no matter what size your business is, here's what you can do.
Start measuring NPS for the first six months and see the trend. 

Take action on customer complaints and check the average score from time to time.

Once the action is taken, SET UP a milestone, 5-10% higher than the current score, for the coming six or twelve months. 

Keep working on the customer feedback and don't forget to INFORM your customers of the ACTIONS you've taken on their feedback. 

At last, MEASURE the impact of the actions you have taken and I promise your customers will be much happier and you'll see an increase in your NPS score.
The trick is to LISTEN to your customers and ACT on their feedback.
Benchmark your NPS score with SurveySensum. Request a Demo →
While there are many benefits to NPS Benchmarking, it comes with its limitations
Pros and Cons of NPS Benchmarking
Pros and Cons of NPS Benchmarking
Pros
Cons

Gives a comparative picture of you vs competition

Expensive

Helps you to decide a benchmark of NPS for goal setting and evaluation

Needs outside support as you need the database of competitor users to reach out

Helps in understanding your strength vs competition

Time taking

Helps in communication strategy 

Not a tool for real-time action 
Now that we know everything there is to know about NPS benchmarking, let's talk about how SurveySensum can help.
Going beyond the Net Promoter Score Industry Benchmarks: How can SurveySensum help?
If you want to gather real-time insights on your customer loyalty, SurveySensum is the perfect NPS tool for you. The insights given by this platform can help you to maximize the ROI by steering the business operations. 
It helps you create efficient NPS surveys, gather customer feedback at one palace, and help you take action on the shared feedback; enabling you to improve the experience across the entire customer journey. 
Also, you can improve your NPS by taking action on the given customer feedback and benchmarking it against your previous score!
Here are some of the exclusive features of the SurveySensum survey software that helps you enhance your customer experience.
With SurveySensum, you can send NPS surveys to multiple channels such as WhatsApp, email, chatbots, Slack, SMS, in-app, web app, and more. Also, you can incentivize your customers by integrating coupons or promo codes with the surveys.
You know the best way to use your collected NPS data is to integrate it with your CRM. It gives you instant information about the customer and their emotions towards the brand. Also, you can automate sending surveys post certain actions or triggers. 
SurveySensum comes with a customized dashboard view that gives you a quick glance at all the live analytical data. From the current NPS score, the response rate of the ongoing survey, the percentage of detractors and promoters, top customer complaints, and more, everything is available on one screen! If required, you can also customize the dashboard further to create your own custom view with relevant data required for reporting.
Advanced filters and reports
Advanced filters and reports are other critical features of SurveySensum. All you need to do is select the filter as per your requirements and download the reports. It's that simple!
Analyzing qualitative feedback can be cumbersome! But text analysis makes it easy for you. It tags all the customer feedback and segregates them based on the top customer complaints and sentiments. This enables you to prioritize customer issues and resolve them accordingly. 
SurveySensum can help you raise your NPS score beyond the industry benchmarks. You can try it for free.
Benchmark your NPS score with SurveySensum → Request a Demo
USE CASE: How a popular broadband provider benchmarked its NPS score against its competitors?
Benchmark your NPS score with SurveySensum. Request a Demo →
How much did you enjoy this article?
Stay up-to-date with latest CX tips and tricks, subscribe now!
Don't worry, we don't spam you.