CATI Interview Alternative for Automotive Market Research: Online survey software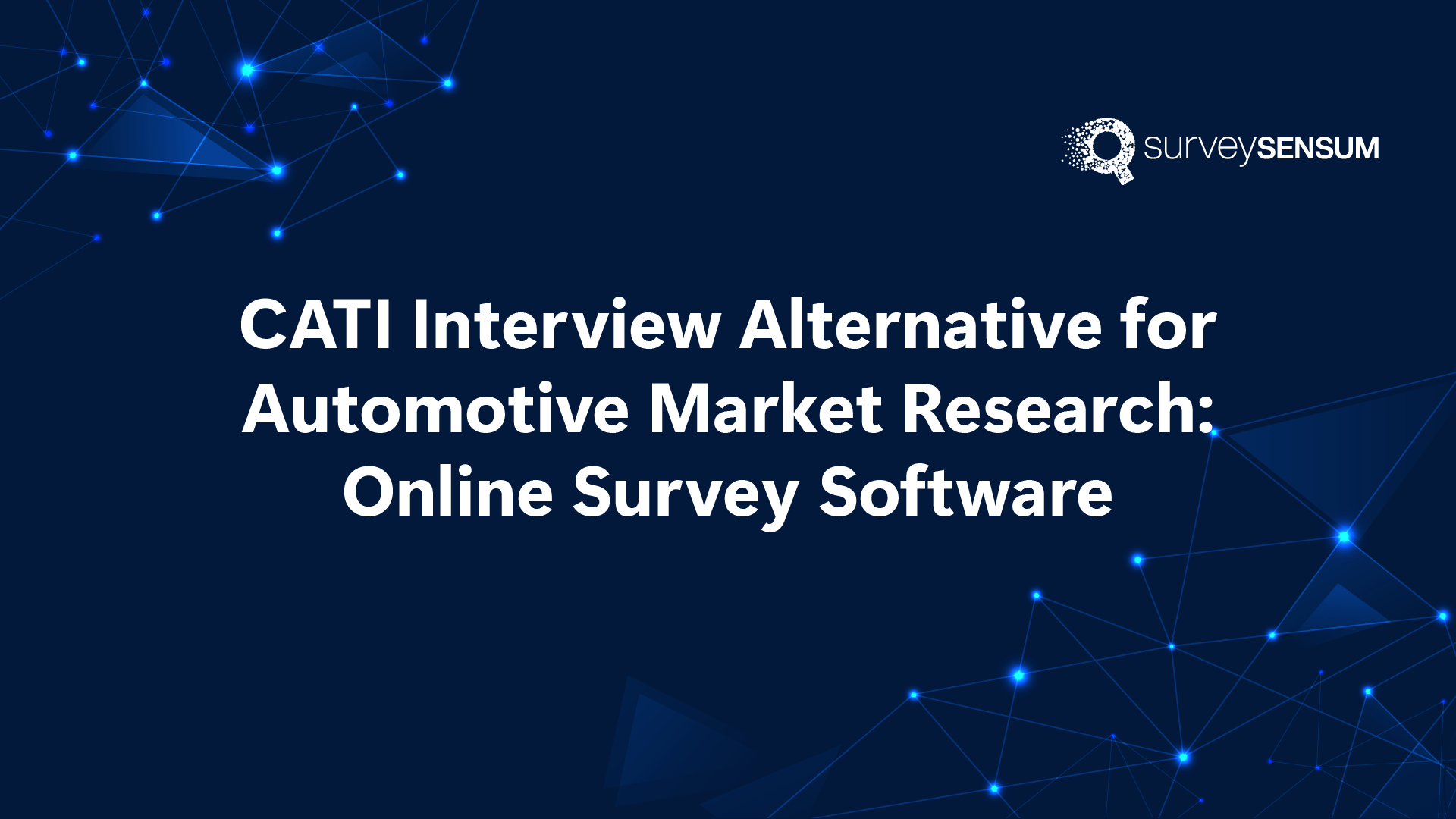 What are CATI interviews?
CATI interview (Computer Aided Telephone Interview) is a surveying approach where an agent or interviewer carries out surveys over phone calls. The interviewer uses an electronic device such as a laptop, computer, or smartphone and reads out a predefined set of questions or scripts to the respondent. And they record the responses either manually or automatically using the software. 
CATI interviews are best known for their qualitative approach and research. It has also been used widely in the automotive industry to find actionable insights on sales, customer satisfaction, model testing, and market research. People use it to understand the pulse of the customers whenever they want to test an idea or concept before launching. 
But, is CATI the perfect automotive research tool today?
Let's find out.
What are the objectives of automotive market research?
It is essential for the automotive industry to analyze and determine what works in the market at regular intervals to keep up with the customer's expectations. And to find that out, we need to create an objective to identify all the required details from the research.  Details such as what type of product customers are looking for, the anticipated features of a new car, the youth's attitude, etc. Some of the objectives of the CATI surveys for automotive market research include the following. 
Understand customer expectations

Evaluate marketing strategies and branding

Identify product development strategies

Sales prediction & market segmentation

Customer satisfaction

Dealer attitude, customer handling, and pricing

Pricing & finance sourcing perceptions

Service & maintenance satisfaction

Car color, features, and safety expectations

Buying decisions and habits

Aftermarket sales & demand
While the research for the automotive industry can be detailed, meticulous, and time-consuming, it cannot afford to have any errors. 
Here's why.
Why can't you have room for errors in automotive research?
The automotive industry needs excellent qualitative and quantitative research, bigger data samples, higher survey response rates, better response quality, cost-effectiveness, and demographic-based, age-based, and target-based responses to make conclusive decisions on time. 
Why?
Because it's a billion-dollar business! Every customer is looking for the best car from their desired manufacturer at the best price and is not ready to compromise on quality, performance, safety, and convenience.
Studies indicate that a car manufacturer launches a new car after years of research based on certain parameters and features, design upgrades, and thought processes about how much a customer will pay for a new car. Only then an automotive manufacturer would be able to conceptualize and manufacture vehicles that win peoples' hearts. It takes them approximately 4-5 years to launch the final product into the market. They cannot afford to take a risk and lose millions of dollars. 
Therefore, it is only through proper research and analysis that a car manufacturer will understand the customer's buying behavior, expectations, perceptions, and choices to decide on the actions to meet their demands and needs.  
That's why there can't be any room for errors in automotive research and studies. Any room for error will question the project manager's competency, cost them a lot of expenses, and cause a lot of mishaps for the company. 
So, is CATI perfect for automotive research then? Not anymore. 
Why?
Why is CATI no longer the perfect research tool for automotive research? 
In this fast-moving automotive industry, decisions need to be made quickly, and you need a ton of supporting analytical data and documents to back your decisions. 
The auto industry also requires large data sampling as there are millions of car users worldwide, waiting for a new model. And all the quantitative data as quickly as possible to research, develop ideas, estimate costs, and do a lot of other associated processes easily. 
CATI surveys cant offer both. It can neither survey a large sample nor can it provide quick results.
And there is so much more that CATI surveys can't do, making them an imperfect tool for automotive market research.
Slow results:

We cannot rely on CATI to make immediate conclusive decisions as calling everyone takes time. And not just that, the analytical reports are compiled and delivered much later after the interview, which often takes a month. 

Unreliable results:

The performance of third-party agents is unreliable. They often do not care about the intention of the surveys nor empathize with the respondents, triggering biased answers and results. And sometimes, CATI agents request or influence the respondents to give a score of 10. 

High cost:

CATI is very expensive and costs around $5-$10 for an interview, which the automotive industry can't afford when they want to interview thousands of car users.  That's why CATI cannot be used to sample a larger audience as the cost would be too high.

Low response rate:

The survey response rate for CATI in the automotive industry is very low, as car users or buyers often terminate the interviews in between if the interviewer doesn't really know about cars, the interviews are too long, or often the respondents are busy at the time of the call. 
Now that we know that CATI surveys are not the right tool for automotive market research, what can be used that gives ideal research data at the right time with the right costing?
What is a CATI interview alternative for automotive market research?
The best CATI interview alternative for automotive market research is online surveys, otherwise called CAWI (Computer-aided Web Interview). Businesses can configure online surveys and share them with thousands of customers in a few clicks on multiple channels. 
How do online surveys surpass CATI interviews?
Though CATI interviews have their own significance in certain areas of research, online surveys are considered far better and more feasible than CATI. 
Flexibility and convenience boosting the response rate:

They do not interrupt their busy schedules, allowing them to respond to the questions in their own time, and increasing the response rates. And it makes it easier for a business to reach a global audience and collect large data samples in a short time. 

Real-time insights:

Online surveys are better than CATI interviews as they are powered by AI, machine learning, etc., to create reliable analytics and reports. It stores all the responses in a central database to compile and process them quickly. Therefore, businesses can generate actionable insights in real-time and act immediately.

Affordable:

Online surveys outsmart CATI cost-wise also. A CATI survey costs around $5 to $10, whereas an online survey costs around $3 only, at one-third of its price.  

No agents training required:

CATI surveys are often administered by trained executives or outsourced agents. The businesses need to give them continuous training sessions so that they uphold the value, reputation, and image of the brand high. By implementing online surveys you can eliminate all these costly outsourcing and training requirements. 

More personalized and engaging:

CATI surveys are dull and boring as you need to literally just listen to the interviewer, answer his questions at his pace, and have to confront his attitude. But for online surveys, things are much more simple and smooth. You can incorporate graphics, images, videos, and more visually appealing and engaging elements in the questionnaire so that the respondents find them attractive and interesting. It is very helpful when it comes to concept testing.
SurveySensum – The online survey software for automotive market research
SurveySensum is one of the best online survey tools that has been widely accepted and used, especially in the automotive industry. If you are looking to collect data from the right people in real-time at affordable costs, then SurevySensum is for you. It is a widely used solution in countries like Indonesia by automotive manufacturers and dealers to gain valuable market insights. 
The best part of SurveySensum is that it helps you create strategies that align with your research goals and objectives. It helps you create quick online surveys and gain insights in real-time. And gives you real-time analysis reports at a reduced cost compared to telephone surveys. 
SurveySensum guarantees reliable and quality data that you otherwise compromise with CATI. The software is so dynamic and uses technologies like machine learning and AI to improve survey response rates, provide open-ended feedback, and generate actionable insights in real-time. It can be integrated with any third-party APIs or CRM software. 
How does SurveySensum work?
SurveySensum is a leading customer feedback management platform for the automotive industry where you can collect a massive number of responses quickly. It is the perfect tool for automotive research if you need to identify the reason behind the sales declination, measure customer satisfaction, understand service satisfaction, know customer expectations, identify customer trust, learn about connected car technologies and cost-effectiveness, and more.
Now, how does SurveySensum work? Let's see in the steps below.  
Create a survey in 2 minutes:

You dont need an agency. Create CSI/SSI/VOC/NPS survey or edit a template on your own in just 2 minutes.

Share the survey to the customer on the right channel:

Send the surveys on the channels where your customers are, such as WhatsApp and emails, SMS and boost your response rate.

Share real-time feedback with the dealers:

From the dealers to the CX team, everyone can see the real-time feedback.

Send instant notification to the dealers on every detractor:

Dealers or the CX team get instant notification on every unhappy customer so that they can take the required action in time.

Analyze feedback to identify top customer complaints:

Identify top customer complaints and sentiments from thousands of open-ended feedback without any manual tagging.

Personalized dashboards for every dealer:

Give access to the information that pertains to them only. Every dealer has their own personalized dashboards with all the information they require.
Benefits of using SurveySensum for automotive market research
SurveySensum is a cost-effective, quick, and reliable survey system used by businesses across the globe. Some of the benefits of using SurveySensum for automotive research are the following.
Higher survey response rates

Templates to create instant surveys

Real-time response and analysis

Reduces survey cost

Omnichannel surveys

Eliminate biased responses

Quality customer feedback

No data manipulation
Examples of how SurveySensum has helped automobile companies
Challenge:
Nissan's CX team was using CATI surveys and was receiving only 5% response rates from more than 75 dealers across eight regions, and it was expensive.
Result:
Nissan Motor switched from CATI to online surveys and saved 80% of their expenses while increasing the response rate to 35% quickly. It also helped them save more than 30 hours a week and a lot of energy. 
Challenge:
Mercedes wanted to listen to its customers and offer a simple and quick platform to share feedback. They were using CATI surveys and provided regular agent training. Yet, the response rate was low.   
Result: 
Mercedes switched from CATI and used multiple online surveys like CSI, SSI, VOC, and NPS to capture real-time feedback from customers. It helped Mercedes save more than 70% of its cost and generate actionable insights. 
Conclusion
Online surveys are the best alternative for CATI interviews if you wish to know your customers and the market on a deeper level. Online surveys come with real-time alerts, an intelligent monitoring system, interactive dashboards, customization options, and accurate analytical and statistical data. 
How much did you enjoy this article?
Stay up-to-date with latest CX tips and tricks, subscribe now!
Don't worry, we don't spam you.