What is Customer Experience?
How a customer perceives your brand throughout their buyer journey is called Customer Experience. It is the sum total of all the interactions and experiences your customers have with your brand. 
Improving customer experience can help you,
Boost customer loyalty

Increase customer retention

Encourage word of mouth and referrals

Optimize cost of acquisition 

Enhance brand awareness 
But how can you do it? 
How can you improve customer experience?
For that, you require Customer Experience software.
What is Customer Experience software?
A customer experience software or customer experience management software (CEM) is the one that helps you manage your organization's interactions with your current and potential customers efficiently. 
How?
It listens to your customers' voices, helps you identify experience gaps, analyzes customer responses, improves customer interactions, enhances customer service, and does a lot more.
Basically, customer experience software is a cloud-based solution that enables you to manage all your customer interactions, analyze the data, and help you close the gaps between customer expectations and the current experience that is currently being delivered. All of this from a single, unified point.
Now that we know what Customer Experience software is, what can we do with it? How does it help?
So, why do you need customer experience software: Benefits
A well-designed customer experience software helps you identify experience gaps and deliver exceptional customer experiences with ease. 
Delivers exceptional customer service
What do you need to deliver exceptional customer service?
All the information that you can possibly get about the customer, right? An ideal customer experience software helps you with just that. 
It gathers all-important customer data in one place and ensures that the relevant agent has all the important customer details like demographics, purchase records, and previous conversation records across all channels, so that they know the history of the customer and can provide a better customer experience, boosting customer satisfaction.
Boosts engagement with omnichannel services
Your customers are everywhere. They are not limited to one channel, be it emails, social media, or chatbots. That's why it is important to talk in the same brand voice, make the same promises, and create the same perception of the brand to deliver a seamless customer experience across all channels.
A robust customer experience software helps you with it. It manages all the customer interactions across all the channels. And that's not it, it distributes all the relevant data across the organization with easy-to-use customizable dashboards. 
An ideal customer experience software automates key tasks and analyzes all of your customer experience data in one centralized place. It helps you save time and effort by offering advanced techniques like data analytics, custom dashboards, survey builder, pre-built templates, and more. 
This way, you can get more productive work done in less time.
Improves customer segmentation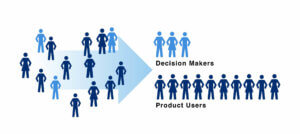 There are thousands of customers out there. The same kind of services or products or even experiences is not suited for everyone. That's why it is necessary to segregate the customers according to their demographics, buying behavior, psychographics, etc.
An exemplary customer experience tool automatically divides customers based on their location, gender, age, buying behavior, choices, etc. so that they can be targeted appropriately.
Manages customer feedback in real-time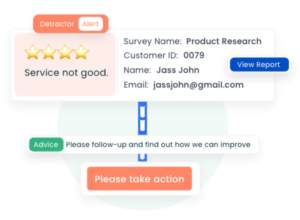 Businesses can gather feedback from respondents and analyze them in real-time.
How? 
A well-designed CX software helps you send customer surveys, gathers customer responses, and sends instant notifications whenever customers raise concerns. It helps the CX team to reach out to the customers in time and analyze the root cause of the problem. This helps them in taking the required actions and removing the problem from the core. And when they inform customers of this, they'll feel valued and satisfied – boosting customer loyalty and retention.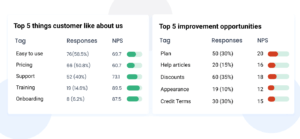 Sometimes you have tons of information on the customer. So, how do you get the relevant insights from it?
The CX software helps you with this as well. While it helps you gather that information, it also analyzes that information for you. 
For example, a good feedback management system offers text and sentiments analysis, that uncovers how customers feel about your brand, products, or the services that you provide to them. It gives you real-time insights into how customers feel about your brand, what are the top customers' issues, and what are their expectations. 
Offers personalized dashboards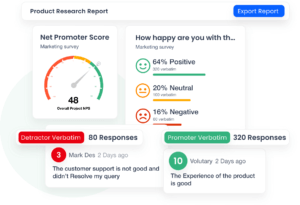 When so much is going on around it, it is important to have all the important information on a single screen in front of you at all times. 
A good CX software development includes personalized dashboards that give you an overview of the entire customer journey, tell you what is happening at each touchpoint, even the performance of the agent at each touchpoint, the current NPS score across the customer journey, and a lot more.
Every company has diverse customer pain points and expectations. Off-the-shelf CX software often fails to address these unique needs. With a dedicated in-house team focused on developing custom software, brands can ensure their solutions are tailored to their customers' specific requirements. 
Moreover, it also tracks any customer issues and provides reports for further analysis and actions.

Seamlessly integrates with other apps

The worst part about using any platform is using another one to do stuff that the first one cant do. 
A CX software is all about improving customers' experiences, but it can only be done if you are at ease while providing those services. 
A good CX software resolves this issue as well. It seamlessly integrates with your existing systems and technologies offering a smooth workflow. Some of the tools already have pre-built integrations or connectors, or companies can use APIs to integrate.  
→ Try all these features with SURVEYSENSUM
So, what is SurveySensum?
Is it a Customer Experience Software?
As defined above, customer experience software is a cloud-based platform that helps you gauge, manage, and improve customer experiences. It simply complements (customer relationship management) CRM software as apart from managing customers' information, a CX software leverages that information and recommends actionable improvements.
SureySensum is just that, around customer feedback. 
It is a robust feedback management software that promotes SMEs and growth-stage companies to act effectively on customer feedback. It helps you determine when to launch surveys, what questions to ask, how to analyze results, identify experiences gaps, and do so much more.
But why SurveySensum?
Sends surveys in 2 minutes with pre-built templates
SurveySensum offers pre-built templates for multiple surveys such as NPS, CES, and CSAT. These templates come with pre-filled questions, prefab reports, insightful dashboards, and detractors alerts. All you need to do is edit the name of your organization, put up a logo, add follow-up questions if you want, and you are set to go.
Share surveys across multiple channels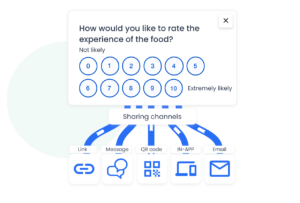 Yes, your customers are everywhere. Now, you can easily share surveys on WhatsApp, chatbots, emails, or in-apps using SurveySensum. You just need to upload your CSV file and mail your customers from within the software. Also, you can set up automated reminders to non-responders and limit the number of emails.

Seamlessly integrate with your existing applications
SurveySensum seamlessly integrates with the applications/tools (Zendesk, Freshdesk, Zapier, Hubspot, Intercom, or  Slack) that you use every day. Moreover, it offers an open API that enables you to integrate it with your existing applications removing the interface barriers so that you don't have to use multiple platforms. Everything can be done on one single platform.
Know what your customer feels about you with Text and Sentiment Analysis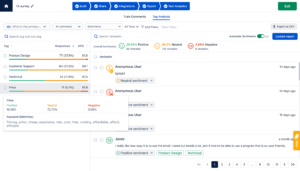 SurveySensum features innovative Text and Sentiment Analysis that helps you uncover patterns and trends within the text by extracting quantitative data from qualitative information. No need for manual coding. Everything is automated and you get top customer complaints and sentiments from thousands of feedback in just a few minutes.
Get all the relevant insights on your reports
Analyzing responses is as important as collecting feedback. SurveySensum's innovative automated dashboard displays NPS/CSAT scores at all touchpoints across the customer journey, top customer trends, customer sentiments around touchpoints, and recent verbatim. You can also customize the report, filter the required data, and share it with the respective management or team to get their attention on your CX program.
Leverage the power of custom dashboards
The custom dashboard allows you to create multiple reports of different surveys/touchpoints inside a single platform. In addition, it helps you to compare different touchpoints or customize the report with various attributes like roles. The role-based dashboards are also available for each employee to have specific data that corresponds to their role in the company.
Build perfect customer journeys with SurveySensum!
Gather valuable feedback, analyze them, and act on time to improve customer engagement and experience with SurveySensum's powerful customer experience software.
How much did you enjoy this article?
Stay up-to-date with latest CX tips and tricks, subscribe now!
Don't worry, we don't spam you.