Have you ever wondered how you can enhance user onboarding and improve your product not just to meet customers' expectations but to exceed them?
With IN-APP SURVEYS.
What are In-App Surveys? 
In-app surveys are short surveys that are launched inside the app and help you gather customer feedback at relevant touchpoints.
These smart pop-up surveys engage with the users while they're actively using your app or website, seeking their feedback or ratings – leading to high response rates. 
But how lucrative can they be?
Well, to leverage their benefits fully, you must use the right customer feedback platform that can efficiently conduct in-app surveys and provide comprehensive analytics.
That's not it. the benefits of the efficient in-app survey platform go further. And that's what we're going to explore in this blog.
So, without further delay, let's dive into the top 7 in-app survey tools.
Top 7 In-App Feedback Tools
The best 7 tools that you can use to conduct in-app feedback are: 
In-App Feedback Tools
Features
Free trial/version 
Price
G2 Review
SurveySensum

Customizable surveys

Multi-channel survey distribution

Real-time responses

Robust text and sentiment analytics

Seamless integration

Bird's eye view dashboard 

Actionable insights 

User-friendly 

CX consultation 

Both

Starts at $99 / month

4.7 (5)

HelpStack

Multi-Channel Support

In-App Knowledge Base

Customizable Widgets

Contact their team

Contact their team

3.9 (5)

Doorbell.io

Effortless Integration

Multi-Service Compatibility

Real-Time Engagement

Free trial available 

Starts at $29/month

4.3 (5)

ProProfs Survey Maker

Versatile Survey Types

Seamless Integration

Extensive Templates

Free sign up available

Starts at $19 per month.

4.3 (5)

SurveySeparrow

User-Friendly Surveys

Seamless Integration

Extensive Customization

Both 

Contact their team

 

4.4 (5)

UserVoice 

Real-Time Feedback

User Activity Insights

Session Replays

Free trial available 

Starts at $699/mo annual agreement

4.5 (5)

Mopinion 

Comprehensive Feedback 

User-Centric Insights

Versatile Survey Campaigns

Free trial available 

Starts at € 259 per month

4.1 (5)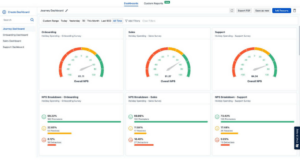 SurveySensum stands out as one of the best AI-enabled in-app feedback platforms, offering a comprehensive set of features that make gathering customer feedback and insights effortless. 
It empowers businesses to extract maximum value from in-app surveys with real-time feedback. With a versatile array of survey options, including NPS, CES, CSAT, product feedback, onboarding, and more. It analyzes all the gathered feedback with text and sentiment analyses and gives you top trends and sentiments in just a few seconds. 
Not just that. SurveySensum goes a step further by offering CX consultation to its customers. This invaluable service helps you leverage the feedback gathered, providing expert guidance on how to make it actionable. 
What makes SurveySensum unique from other platforms? – Best Features
In-App Surveys:

With SurveySensum, you can effortlessly create in-app surveys, ensuring a seamless feedback experience right within your application.

Branching Questions (Skip Logic):

Tailor your surveys based on user responses using skip logic, enhancing the relevance and engagement of your feedback forms.

Unlimited Templates and Themes:

Choose from an extensive library of templates and themes to customize surveys, ensuring they align with your brand and user preferences.

Automated Reminders:

Boost response rates

with friendly reminders, prompting users to complete surveys without being intrusive.

Omnichannel Survey Distribution:

SurveySensum supports multiple distribution channels, automating survey delivery through various communication methods.

Hassle-free Integration:

Seamlessly integrate SurveySensum with your existing systems, minimizing the complexities of implementation.

Text Analytics Software:

Gain valuable insights from open-ended responses with the tool's text and sentiment analysis capabilities.

Multilingual Surveys:

Break language barriers and engage a global audience with multilingual survey options.

Closing the Feedback Loop:

SurveySensum helps you close the feedback loop by facilitating follow-ups and tracking issue resolutions.

Robust Dashboard:

Stay informed with a robust real-time dashboard, offering clear insights into user sentiments and trends.
Pros 
Easy to use 

Seamless integration

Actionable insights through analysis

Global reach with multilingual surveys

Enhanced user engagement

Real-time insights via an intuitive dashboard
Cons
More integrations are required to be added 
Customer Review: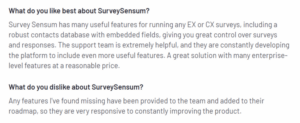 Pricing: The free version of the tool offers limitless users, surveys, and questions, with paid plans beginning at $99 per month.
Boost Product Adoption with In-App Surveys – Sign Up for Free
2. HelpStack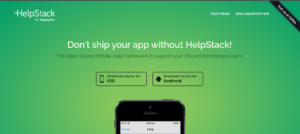 HelpStack's open-source code seamlessly integrates with your mobile apps, making in-app feedback easy. Users can quickly submit feedback for glitches, and a built-in chat option allows real-time conversations with app users. 
Best Features
HelpStack excels in managing feedback from multiple channels, including email, chat, and social media, offering a comprehensive view of user sentiments

It boasts an in-app knowledge base, enabling users to access FAQs and resources within the app, reducing support ticket volume

It offers customizable widgets for surveys and support forms, seamlessly integrating with your app's design and

customer experience
Pros
Versatile multi-channel support

In-app knowledge base for user self-service

Customizable widgets for a seamless app experience
Cons
Not user-friendly interface 

Integration with certain CRM systems can be complex
Customer Review 

Pricing:  Contact their team

3. Doorbell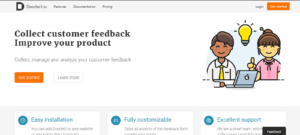 Doorbell is a user-friendly feedback tool, installable on your app or website within minutes. It smoothly integrates with 30+ services like Asana, Slack, and Jira, allowing you to capture real-time feedback and engage with customers. 
Best Features
Doorbell.io integrates effortlessly with your app or website

It works seamlessly with over 30 services, simplifying feedback management.

Capture and respond to feedback in real-time without leaving the platform.
Pros
Easy and quick installation

Compatible with numerous services

Real-time customer interaction
Cons
Not good for NPS surveys

The default forms could be more modern and accessible
Customer Review 

Pricing: Starts at $29/month 
4. ProProfs Survey Maker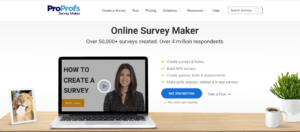 Another in-app feedback tool is ProProfs Survey Maker. It creates personalized surveys, quizzes, polls, and tests to engage users and boost response rates. Integrated with your mobile app, it streamlines review collection for app stores. With multiple templates, skip-logic, and customizable themes, you can gather accurate data from the right users.
Best Features
Create engaging surveys, quizzes, and polls

Integrated with your app for easy feedback and app store reviews

Access 100+ pre-made templates for quick survey creation
Pros
Diverse interactive survey options

Simplified review collection

Wide template variety
Cons
Not good customer service

A steeper learning curve for advanced features
Customer Review 

Pricing: Starts at $19 per month. 

5. SurveySparrow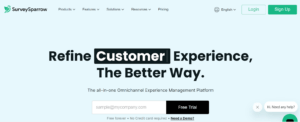 SurveySparrow offers user-friendly online surveys, seamless integration, extensive customization, and real-time feedback. Businesses and individuals can effortlessly enhance user experiences and make data-driven decisions.
Best Features
Easily create engaging online surveys to capture user insights effectively

Integrate with ease, ensuring smooth in-app feedback collection

Tailor surveys to your specific needs with a wide range of customization options
Pros
Intuitive survey creation for valuable insights

Effortless integration for in-app feedback

Extensive customization to match your requirements
Cons
Limited reporting and analytics capabilities in the basic plan

User interface customization options may be restricted for some users

In-app notification features are not available in all plans
Customer Review 

Pricing: Contact their team 
Boost Product Adoption with In-App Surveys – Sign Up for Free
6. UserVoice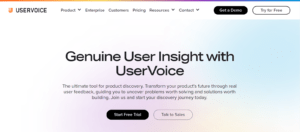 UserVoice provides valuable real-time insights into in-app feedback. It helps businesses understand user behavior before, during, and after feedback submission. UserVoice also offers session replays for visualizing the user experience.
Best Features
Capture and

analyze user feedback

in real-time

Gain a comprehensive view of user actions before, during, and after feedback submission

Visualize user in-app experiences through session replays
Pros
Valuable insights from real-time feedback

Comprehensive understanding of user behavior

Visualize user experiences through session replays
Cons
New users may find the interface confusing

The search capability and analytics are limited

Improved onboarding is needed to help users navigate settings effectively
Customer Review 

Pricing: Starts at $699/month.
7. Mopinion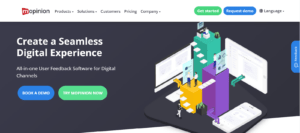 Mopinion is a robust feedback tool that can be used to boost app usability and user experience with powerful insights. It allows you to collect feedback not only from your app but also from your website, email, social media, and more.
Best Features
Gather insights from various channels, including your app, website, email, and social media

Understand user preferences and behavior to improve app usability

Create customized surveys for actionable feedback
Pros
Powerful insights to enhance app usability

Collect feedback across multiple channels

Tailored surveys for valuable user input
Cons
Reporting needs improvement

Not user-friendly

Higher-tier plans may be required for in-app feedback surveys
Customer Review 

Pricing: Starts at € 259 per month
That was all about the top seven in-app feedback platforms. 
Conclusion 
After exploring the realm of in-app feedback tools, it's clear that selecting the right one is about as challenging as finding a needle in a haystack.
These tools claim to transform your user experience and improve your app but let's be real. What's more exciting than dealing with "limited customization options," navigating the "confusing interfaces," and embracing those "higher-tier plans"?
But here's the kicker: We've given you the lowdown on both the promises and potential pitfalls. Now, instead of taking our word for it, why not explore SurveySensum, the first in-app survey tool? With its versatile surveys and real-time insights, it elevates your feedback game. Just click below, request a demo, and who knows? Your next click could be a game-changer for your app!
How much did you enjoy this article?
Stay up-to-date with latest CX tips and tricks, subscribe now!
Don't worry, we don't spam you.