In today's competitive market, customer satisfaction is crucial for businesses to succeed.
After all, the longer you keep your customers satisfied, the more likely they are to stay loyal to your brand and continue to invest in your products.
These statistics highlight the crucial role that customer experience plays in customer retention and acquisition in the automotive industry. It is essential for automotive companies to prioritize the customer experience to stay competitive and retain loyal customers.
In this blog, we will explore various strategies that automotive businesses can use to improve customer satisfaction.
From providing exceptional customer service to offering personalized experiences, we will cover a range of tactics that can help businesses stand out in a crowded marketplace. 
Whether you're a dealership, a car manufacturer, or a service center, the insights and tips shared in this blog can help you enhance the customer experience and drive long-term success. So, let's get started!
Top 5 solutions to improve customer satisfaction in the automotive industry
Here are the top 5 solutions that can help you to improve customer satisfaction and deliver the best online experience in the automotive industry. 
Ready to take your customer satisfaction to the next level? – Dive in!
1. Focus on the automotive customer journey by digitizing 
This underscores the importance of keeping your online resources up-to-date. Before even setting foot in a showroom, customers spend an average of 7 months researching the type of car they want to buy. – Source
To capture these potential customers, your website should be easily visible to them during their online research.
By keeping your website updated, you can experience a range of benefits, such as increased sales, improved online reputation, and acquisition of new customers.
So, if you want to stay ahead of the competition and ensure your business's long-term success, it's crucial to prioritize your online presence.
So, the question arises –
how do you create a strong online presence?
To begin with, your website should provide all the necessary information, such as easy booking for test drives, service appointments, showroom visits, virtual tours, customer assistance, mobile accessibility, and more
While the process of digitizing may seem daunting at first, it will prove to be an asset in the long run. By centralizing customer information and feedback, you can quickly and satisfactorily resolve any issues they may have.
It's essential to prioritize customer support and create a seamless online experience with an informative website.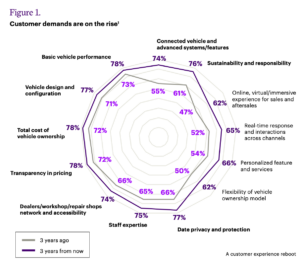 So, by providing excellent online experiences, you can stay ahead of the curve and continue to attract and retain customers in the automotive industry.
2. Be critical with your CSAT questionnaire surveys & share them at the right channel at the right time
Simply creating a CSAT survey is not enough to truly understand your customers' feedback.
A well-designed and interactive questionnaire with a limited number of questions and a visually appealing design are all important factors to consider. It's also crucial to ensure that the survey is relevant to the specific touchpoint to which it is being sent.
But the timing of when you send the survey is also very important.
Whether you choose to conduct surveys online, or offline, make sure it's at the right time for the customer. Utilizing an omnichannel customer feedback survey platform can help streamline this process for online surveys.
By now, you understand the importance of creating and sharing effective CSAT surveys in the automotive industry.
But how can you identify the crucial touchpoints in the customer journey and benefit from conducting continuous customer feedback? Let's explore the answers to these questions.
3. Gather continuous feedback and identify the key touchpoints
Customer feedback surveys are a crucial tool for understanding your customers' needs and expectations. However, the benefits of conducting regular surveys go beyond simply knowing what your customers want.
By regularly gathering feedback, you can quickly identify what's not working and make improvements that can set you apart in the automotive industry.
Analyzing the feedback you receive from surveys allows you to make informed decisions about the improvements that you need to make to your products and services to enhance the customer experience.
By taking action based on feedback, you can demonstrate to your customers that you value their opinions and are committed to delivering the best possible experience.
Ultimately, this can lead to increased customer loyalty, positive word-of-mouth, and business growth.
And now comes – How to identify the key touchpoints?
Identifying the key touchpoints in the customer journey requires a thorough understanding of your customers. Put yourself in their shoes and analyze their journey, including pain points, attitudes towards your products or services, and behavior throughout the customer journey.
By mapping the customer journey and identifying gaps in their experience, you can pinpoint the key touchpoints that require improvement to enhance their overall experience.
4. Time to close the feedback loop by leveraging the CSAT results
Now that you have shared the survey, it's time to leverage the results to serve your customers better. 
Analyzing the gathered feedback and acknowledging it is just the beginning.
You need to go further and take immediate action to address any concerns or issues raised by customers and inform them about the action taken. This engagement will not only increase customer loyalty but also help you acquire new customers while retaining existing ones.
It's crucial to listen to your customers and analyze their feedback thoroughly.
Use a customer feedback tool or CRM with 'Text and Sentiment Analysis' to segregate the responses into tags and highlight the top-notch issues, complaints, and appreciations chronologically, enabling you to take immediate action and effectively close the feedback loop.
Moreover, using live chat and WhatsApp as handy support can help you instantly resolve customer issues and build long-lasting relationships. 
5. Build long-lasting relationships
Your customers are your top priority, so always put them first and focus on building long-lasting relationships.
Many business owners make the mistake of ending their relationship with customers once the transaction is complete. However, this approach does not work in the automobile industry. To ensure customer satisfaction, it is essential to follow up with them. 
This is where after-sales services come into play. Even if you attract many customers to buy a car from you, they are unlikely to return if you do not follow up with them.
To build lasting relationships with your customers, it's important to 
Actively LISTEN

to their expectations and experiences. Incorporate their feedback into future interactions and strive to deliver the best experience while fulfilling their needs. 

Utilize a CRM or customer feedback tool

to manage and collate all feedback, analyze the data received, and deliver personalized experiences to customers to make them feel valued. This can help you earn their loyalty toward your business.

When you follow up with customers

, you make them feel special. Follow-ups can be done through phone, email, or text, where a simple "how's our car doing?" can go a long way. Asking for reviews is also an excellent opportunity for customers to share any problems they may have encountered with their purchase, allowing you to address them promptly.
Building trust is crucial to nurturing customer relationships. You can build trust by showcasing testimonials and reviews from other clients, which can help build credibility and establish your brand as trustworthy.
You are now equipped with 5 effective solutions to enhance customer satisfaction in the automotive industry. 
But do you know SurveySensum helped Mercedes Benz achieve a 30% increase in customer satisfaction? Here's how – 
How SurveySensum helped Mercedes Benz to create a delighted customer experience?
If you want to boost your customer satisfaction like Mercedes Benz, consider using SurveySensum to turn customer feedback into actionable insights.
Bonus Tip: Don't forget to share your automobile customer satisfaction ratings
Before making a purchase, most of us tend to read reviews online, and your potential customers are no different, especially when it comes to buying a car. Therefore, it's essential to ask your customers to leave online reviews.
However, merely getting reviews is not enough. It's crucial to manage both positive and negative reviews carefully. But how can you do that?
— When you receive positive reviews:
Capitalize on them to enhance your business's reputation.
You can conduct interviews with customers who gave positive feedback, create and utilize their testimonials on social media to showcase your company's strengths, and share the positive feedback with your team to boost morale.
By leveraging positive reviews, you can turn customers into loyal patrons, boost sales, increase brand awareness, acquire new customers, and much more.
— When you receive negative reviews:
They can be detrimental to your business's reputation if not addressed correctly.
Therefore, it's crucial to reach out to the customer who left negative feedback, understand the issue they faced, and assure them that you will work to resolve it.
Closing the feedback loop in this manner demonstrates that you take customer feedback seriously and are committed to improving their experience.
With proper handling, negative feedback can even become an opportunity to convert an unhappy customer into a loyal one.
Key Takeaway
To achieve this, you should focus on delivering the best customer experience possible. Here are some tips:
Pay attention to all touchpoints throughout the customer journey.
Provide personalized customer service that meets their needs.
Use short and simple questionnaires when conducting customer satisfaction surveys.
Send surveys at the right time and through the right channels.
Regularly collect and analyze customer feedback to identify key touchpoints.
Utilize CRM or customer feedback tools such as SurveySensum to track customer feedback.
Close the feedback loop by taking action on feedback and following up with customers.
Encourage happy customers to leave online reviews on platforms such as Google, G2, and Capterra to increase positive word of mouth.
Build honest and long-lasting relationships with your customers.
In conclusion, providing excellent customer service and building strong relationships with customers are crucial for success in the automotive industry. 
By listening to customer feedback, following up with them, and taking action to address their concerns, dealerships can increase customer satisfaction and loyalty and ultimately drive sales and revenue. 
Leveraging tools like CRM systems and customer feedback platforms can help streamline these processes and make them more efficient. 
By implementing these best practices and continually striving to improve the customer experience, dealerships can position themselves for long-term success in the competitive automotive market.
How much did you enjoy this article?
Stay up-to-date with latest CX tips and tricks, subscribe now!
Don't worry, we don't spam you.