Surveys are indispensable tools in the modern business world. And an intelligible survey tool offers actionable insights, detailed reports, and powerful analytics to improve the decision-making of an organization and inculcate customer feedback into the processes.
But which survey tool is the best in the market?
Which one should you opt for?
Qualtrics, SurveyMonkey, and SurveySensum are the top three survey tools in the market that offer exceptional services and features to their customers but come with some limitations.
In this article, we'll discuss each of these tools in detail and compare them to understand the best survey tool for the customers' needs.
Introduction – Qualtrics vs SurveyMonkey vs SurveySensum
SurveySensum
SurveySensum is one of the best survey tools that use AI and other advanced technologies to create intelligent NPS, CES, CES, CSI, SSI, and market research forms and surveys to gather customer feedback. It is a multichannel and multilingual tool that empowers you to create surveys, collect all the feedback from multiple channels in one place, analyze that feedback, and create insightful action plans and reports in real-time. 
This feedback platform is majorly used by the automotive, BFSI, and insurance industries, and is known for transparent pricing and lightning customer support.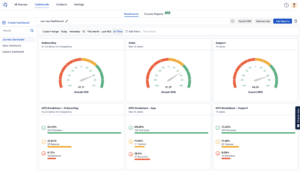 Automobile giants like Daimler (Mercedes-Benz), Astra(Honda), Indomobil (Nissan), etc., from Indonesia, are some of the most promising clients of SurveySensum. 
Qualtrics
Qualtrics is a leading survey tool that businesses use to survey their customers. It helps you create and launch surveys quickly and collect important analytics to drive business growth, understand customer satisfaction and loyalty, and improve the overall customer experience.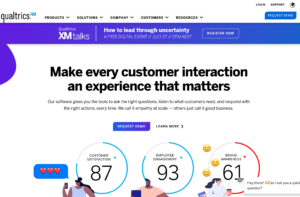 Some of the notable byproducts of Qualtrics are Customer XM, Employee XM, Brand XM, Design XM, Core XM, and XM Dscvr. The solution works best for industries like Education, Healthcare, Technology, Retail, Financial Services, B2B, Travel, Hospitality, etc. 
Business giants like Volkswagen, Chobani, Finder, Vietnam Airlines, Healthscope, etc., are among the famous clients of Qualtrics. 
SurveyMonkey
SurveyMonkey is one of the global leaders in the industry. They offer multiple plans and packages for users according to their business requirements. It is ideal for a business to create online surveys effectively and generate strategic analytics and insights using SurveyMonkey. It is comparatively easy to use and execute.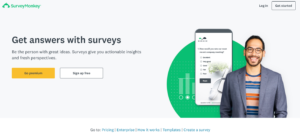 Momentive and GetFeedback are two other brands of SurveyMonkey. SurveyMonkey lets you create surveys for measuring CSAT, employee engagement, NPS, market research, etc., without hassles. You can collect survey responses in real-time from multiple sources and integrate the data into several external and internal applications to make the best out of the survey results. 
Adobe, Verizon, Johnson & Johnson, TweezerMan, etc., are some of the celebrated clientele of SurveyMonkey. 
Now, as we have seen a brief intro of the three industry-leading survey tools, let us explore and compare their features.
Feature comparison – Qualtrics vs SurveyMonkey vs SurveySensum
Qualtrics, SurveyMonkey, and SurveySensum are all very competent and leading survey platforms that offer several critical features to their clients to measure various experience metrics easily. 
Let's move into the feature comparison of Qualtrics vs SurveyMonkey vs SurveySensum. 
#1- Pre-built templates & questionnaire
What is more critical and welcoming in a survey form builder? A set of interactive and customizable pre-built questionnaires is the answer, undoubtedly. It should let you start the survey without chaos and headaches. 
Qualtrics is a sophisticated and expensive research tool that claims to offer a number of pre-built templates & questionnaires. Despite the claim and costly packages, users often find issues with Qualtrics templates as they have limited features and functionalities.
SurveyMonkey, though is a much simpler survey tool that offers several pre-built sets of questions composed by experts, you still sense the generic feel and look of these templates and questions. You will need to spend a considerable amount of time again to make them visually appealing. 
SurveySensum is an advanced survey tool that is less expensive compared to Qualtrics and SurveyMonkey. It offers rich pre-built templates and questionnaires with advanced features so that you can start surveying in minutes. You can seamlessly enjoy templates for NPS, CES, CSAT, VoC, product experience, brand experience, and more. 
Create NPS, CES, CSAT surveys for FREE
#2 – Customization capabilities
Survey design customization is a core competency that every business looks forward to while implementing a survey tool. 
Qualtrics allows you to customize surveys to suit your branding. Though it provides some unique features, styles, and fonts, it is only available for paid customers. 
SurveyMonkey is a great tool for surveying but lacks customization capabilities. Survey templates and styles are all the same and generic. If you happen to have a paid plan, then you can do a few more tweaks, but that's it. 
SurveySensum allows users to customize their designs and themes to a greater extent as compared to Qualtrics and SurveyMonkey. It is easy to personalize, brand, and change the feel of the surveys with SurveySensum, and it does not cost a lot. 
#3 – User Experience
A great survey tool should guarantee a great user experience for the users and their customers. It should be easy to learn and execute. Customers who are filling out the surveys must find them interactive and visually compelling. 
Qualtrics, though the most expensive of the other two survey tools, doesn't provide enough user experience in the prima facie. Beginners find it difficult to master it and have to spend a considerable amount of time learning and mastering the survey tool.  
Though SurveyMonkey is one of the most popular survey tools to measure various engagement metrics, it doesn't provide a very intrinsic or interactive user experience. Customers are often unhappy with the visual aesthetics and often need to customize templates from scratch to make the form designs and themes attractive. 
The user experience of SurveySensum stands out if we evaluate the numerous positive reviews in G2 and other software review platforms. As per the reviews, it is one of the most user-friendly survey platforms in the industry, while being easy to set up and use. They affirm that even novices can create and run surveys quickly.
#4 – Customer Support
Who doesn't need excellent customer support? It is one of the most influential factors that lets you choose a product. 
Qualtrics claim to offer great customer support in general. Yet, customers complain that their support ticket turn-around time is often long or delayed compared to SurveyMonkey and SurveySensum. Also, they only offer email support and do not have any telephone or chat support systems.
Though SurveyMonkey tries to offer generous customer support, in contradiction to their claims, users often find it hard to navigate through their website's support page to raise a query or get immediate support. 
The best part of SurveySensum is its real-time help and unconditional customer support. All its G2 reviews suggest that SurveySensum has a very responsive and supportive team to improve both product experience and user experience.
#5 – Text & Sentiment Analysis
Text & Sentiment Analysis is one of the most sought-after features of survey platforms. It helps you understand the emotions behind responses and make decisions accordingly. 
Qualtrics offers sentiment analysis tools only on its advanced levels. Normal users and account holders cannot use these features as part of the analytics. 
SurveyMonkey's Sentiment Analysis is a paid feature that is available only on certain plans and packages. And, it is also only available in English surveys. 
It is easier to identify and tag sentiments and emotions in real-time with SurveySensum. You can also use advanced features like tagging, word-cloud, etc., with the help of AI and ML. It is available in all plans.
#6 – Integrations
Integrations are always exciting as you can easily connect the surveys with third-party applications, CRM software, and other internal tools to squeeze the juice out of it and make better decisions in time. 
Qualtrics has more apps lined up in the system for you to connect with. It is expensive but allows you to connect with several third-party apps and tools.
SurveyMonkey has 100+ apps listed in the directory that you can connect to directly. 
Though often you need support to integrate with third-party apps, SurveySensum lets you connect your NSP, CES, CSAT, and eNPS surveys hassle-free to a number of third-party apps and software seamlessly.
#7 – Pricing
Pricing is the most critical factor that captures customers. How much would you be able to spend when it comes to an online survey tool? Let's find out the prices of Qualtrics, SurveyMonkey, and SurveySensum. 
Pricing details aren't available on their website. You need to reach out to them for the pricing. However, Qualtrics customers are annoyed with the hidden pricing that they charge for every new feature or update they roll out.
The basic plan per user per month starts at $28. Enterprise plans are customized according to your needs. 
The basic plan starts at $49 per month for 250 responses with unlimited surveys and unlimited users. You also get a free expert consultation for surveys. 
#8 – Free version & trial
Who doesn't like to give a free trial to the software before making up their mind for purchase? Well, let us see if Qualtrics vs SurveyMonkey vs SurveySensum offers free trials or a free version. 
There is a free trial available but no free versions. 
No free trial but has a free version with very limited features. 
SurveySensum offers a free version with 25 responses and 500 emails per month. Also, you get unlimited surveys and unlimited user accounts on the free plan. 
Experience SurveySensum for FREE
Tabular Comparison – Qualtrics vs. SurveyMonkey vs. SurveySensum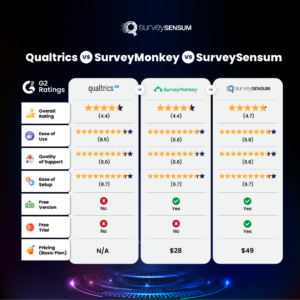 Conclusion: Which one should you choose?
All three survey platforms excel in their capacities in the market. Now, which one should you pick?
Each of the platforms tries to offer advanced and unique features to stand out in the crowd. It is advisable to set your budget, expectations, and requirements clearly before trial-running various online survey tools. Compare your expectations and requirements with the features offered, customer support, pricing, reachability, unique functions, user-friendliness, and many more factors before making up your decision. 
How much did you enjoy this article?
Stay up-to-date with latest CX tips and tricks, subscribe now!
Don't worry, we don't spam you.