AskNicely is a customer feedback platform that helps businesses gather and analyze customer feedback. It specializes in Net Promoter Score surveys, enabling companies to measure customer loyalty and satisfaction. AskNicely streamlines the feedback collection process through various channels, such as email, SMS, and in-app messages.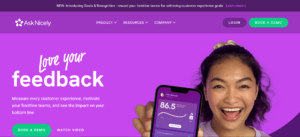 However, despite its effectiveness, AskNicely has some drawbacks to consider. Its pricing model does not align with the budgets of smaller businesses. Additionally, new users often face a learning curve while navigating its features. But that's not all; this blog will also explore other aspects such as AskNicely's alternatives, competitors, and shortcomings.
Before diving in, let's understand the reason behind customers looking for AskNicely alternatives. 
Why should you look for AskNicely alternatives?
Exploring alternatives to AskNicely is crucial for you, as it allows you to address concerns such as poor customer support, limited customization options, and restricted integrations. Let's delve into these issues in more detail.
1. Limited integration 
AskNicely has limitations when it comes to integrating with other software systems and tools, potentially hindering seamless data flow and workflow optimization. Here's one of the customer reviews talking about it on the G2 platform. 

2. Unsatisfactory customer support 
Users have reported instances of subpar customer support from AskNicely, which is frustrating when seeking assistance or troubleshooting issues. Here's a customer review out of many explaining this tool's unsatisfactory customer support on the G2 platform. 

3. Limited customization 
Some businesses find that AskNicely's customization options are limited, making it challenging to tailor surveys and dashboards to their specific branding and needs. Here's a customer review out of many explaining this tool's limited customization available on the G2 platform. 

4. Expensive 
While AskNicely is undoubtedly effective, its pricing model does not align with the budgets of smaller businesses or organizations with limited resources. The cost of using AskNicely is relatively high, and for some, it does not offer the best value for their specific financial situation.
Here's a customer review out of many explaining this tool's costly price available on the Capterra platform. 

These four limitations ain't enough, there are more. Such as the tool:
Does not have a user-friendly interface

Have a steep learning curve for new customers

Lacks NPS or database hot alerts  

Have limited analytics 

Lack of custom filter options
Now that you know why you should look for alternatives, let's now find out what factors we have looked at while curating the list of 7 best tools that are AskNicely competitors. 
How Did We Evaluate AskNicely Alternatives?
We assess and compare alternative solutions to AskNicely in a methodical manner. This evaluation helps you make informed decisions about which alternative best suits your needs. The evaluation typically involves 
Features and Customization:

Begin by assessing the features offered by each alternative. Consider whether they offer the customization options needed for your specific surveys and feedback forms.

Analytics and Reporting:

Evaluate the analytics and reporting capabilities of each alternative. Are they robust and able to provide the insights you require?

Integration Capabilities:

Investigate how well each alternative can integrate with your existing software systems and tools. Seamless integration is crucial for efficient data flow.

Ease of Use:

Consider the user-friendliness of each platform. How intuitive is the interface, and how much training is required for users?

Pricing Structure:

Compare the pricing models of the alternatives. Are they affordable and aligned with your budget?

Customer Support:

Assess the quality and responsiveness of customer support provided by each alternative. 
By conducting such evaluations, you can identify the most suitable alternative that aligns with your specific requirements and goals, ultimately ensuring you make the right choice for your feedback and survey management needs. 
AskNicely Alternatives: Overview 
Now without wasting much time, have a glance at the table here enclosing the 7 best alternatives. 
| | | | | |
| --- | --- | --- | --- | --- |
| AskNicely  Alternatives | Pricing | G2 Review Score | Free Trial | Free Version |
| SurveySensum | $99 per month | 4.7 (5) | Yes | Yes |
| Qualtrics | Contact their team for details | 4.4 (5) | Yes | No |
| Delighted  | $224 per month | 4.7 (5) | Yes  | No  |
| Birdeye | Contact their team for details | 4.7 (5) | NA | NA |
| Medallia  | Contact their team for details | 4.4 (5) | Yes  | No  |
| SurveyMonkey | $20 per month | 4.4 (5) | Yes | No |
| Nicereply  | $59 per month | 4.5 (5) | Yes  | No |
7 Best AskNicely Alternatives and Competitors 
You've thoroughly gone through the list of the top 7 tools that are alternatives and competitors of AskNicely. So, let's dive deep into each tool exploring their best features, benefits, limitations, customer reviews, and their respective price.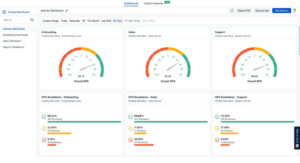 As we delve into AskNicely alternatives, SurveySensum emerges as a top survey-creating tool that redefines how businesses collect and utilize feedback to increase customer satisfaction. It excels in several key areas, including seamless integration capabilities, round-the-clock customer support with an impressive 98% retention rate, transparent pricing, and limitless survey customization options. 
Whether you're looking to conduct customer experience, employee engagement surveys, product evaluations, 360-degree feedback, onboarding surveys, NPS in B2B, or CSI, SSI surveys for the automotive industry, SurveySensum stands out as a robust solution tailored to your business needs. Not just that, there are many more benefits that this tool offers and you can leverage.
Best Features
SurveySensum

seamlessly integrates

with various tools like HubSpot, Salesforce, Slack, Outlook, etc., simplifying the incorporation of feedback into existing workflows.

It offers an

easy-to-use interface

for creating and managing surveys effortlessly.

The platform helps businesses act on customer feedback promptly,

closing the feedback loop

for improved customer satisfaction.

It offers

instant hot alerts

on negative feedback aka

detractors

, allowing you to quickly respond to customer concerns.

It offers

robust analytics capabilities

, via advanced

text analytics software

, to uncover valuable insights from customer qualitative feedback. 

Offer

CX experts to

assist you in survey design, data analysis, and best practices implementation.

It prioritizes

data security

, ensuring the confidentiality and integrity of feedback data.
| | |
| --- | --- |
| Pros  | Cons  |
| Easily learn the usage of the product to get handy within minutes  | A few integrations are yet to be launched  |
| Create personalized surveys with multiple in-built templates and themes  | |
| Offers dynamic features like crosstab, import survey responses, automation in surveys, and more.  | |
Customer Review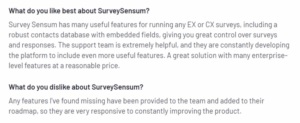 Pricing
You just have to pay for the number of responses you want and its basic plan starts at $99/month.  
Create Any Type of Survey on SurveySensum – Sign Up for Free

2. Qualtrics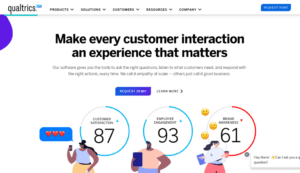 Another AskNicely alternative is Qualtrics, a leading customer experience management platform that empowers organizations to collect, analyze, and take action on feedback from customers, employees, and other stakeholders. With its versatile survey and feedback collection capabilities, it facilitates data-driven decision-making to enhance customer experiences, improve employee engagement, and drive organizational success.
Best Features
Qualtrics covers a

wide range of experience management areas

, offering a holistic approach to improving interactions.

It offers

robust analytics and reporting features

, including sentiment analysis and text analytics, to help users gain deeper insights from survey data.

It

integrates

with other software systems, facilitating the connection of feedback data with existing tools.
| | |
| --- | --- |
| Pros  | Cons  |
| Real-time insights for agile decision-making | Expensive for small-scale businesses |
| Robust analytics and reporting capabilities | Learning curve for new users due to its extensive features |
| Efficient automation and workflow management  | Maintenance and updates require IT support |
Customer Review 

Pricing
Contact their team for the information.
3. Delighted 

Delighted is the third alternative to AskNicely. It is a customer feedback tool that lets organizations effortlessly gather, assess, and take action based on valuable customer feedback. Its user-friendly interface and robust feature set make it a game-changer in enhancing customer experience and driving business growth.
Best Feature
Users benefit from

real-time data analytics

, allowing them to address customer feedback promptly. 

Delighted

seamlessly integrates

with popular CRM and business tools, streamlining data management.

Delighted focus on

NPS surveys

, making it a standout choice for assessing

customer loyalty

.
| | |
| --- | --- |
| Pros  | Cons  |
| Easy to Use | Limited data export options in low-tier plans |
| Omnichannel survey distribution  | Advanced analytics need expertise |
Customer Review

Pricing
The basic plan of this tool begins at $224 per month. 
4. Birdeye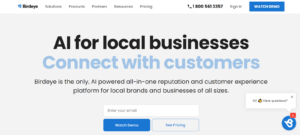 Birdeye is a powerful platform that helps businesses improve their online reputation and customer service. It achieves this by collecting and managing customer feedback, monitoring online reviews, and automating various customer engagement tasks. 
Best Feature
Offers

real-time review tracking

from different platforms, enabling quick responses to customer feedback.

Customizable surveys and feedback

forms help gather insights for enhancing products and services.

Businesses can

compare their online reputation

with competitors, facilitating data-driven improvements.
| | |
| --- | --- |
| Pros  | Cons  |
| Streamline online reputation management | Initial learning curve for new users |
| Smooth onboarding  | Integration with certain platforms is limited |
Customer Review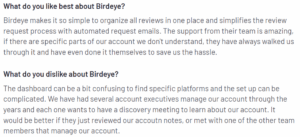 Pricing
Contact their team for price information. 
5. Medallia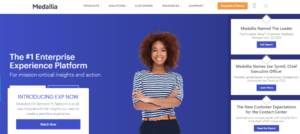 Medallia is a leading customer experience management platform that helps businesses optimize their customer interactions and gather valuable feedback. With a suite of robust tools, Medallia allows organizations to analyze survey data, drive improvements, and enhance overall satisfaction. 
Best Feature
Medallia offers

versatile feedback collection mechanisms

, including surveys and feedback forms, enabling businesses to capture insights across various touchpoints.

It employs

advanced sentiment analysis

algorithms to gauge customer emotions, providing businesses with deeper insights into customer satisfaction levels.

Its

real-time reporting and dashboards

offer instant access to critical customer data, allowing businesses to make informed decisions promptly.
| | |
| --- | --- |
| Pros  | Cons  |
| Holistic feedback collection | Initial setup requires technical expertise |
| Seamless integration options | Costly compared to other tools  |
| Real-time data insights | Requires continuous monitoring and analysis |
Customer Review

Pricing
Contact their team for cost details. 
Analyze Gathered Customer Feedback with TA – Request a Demo 
6. SurveyMonkey

SurveyMonkey is the penultimate alternative to AskNicely, an online survey platform that allows users to create surveys and questionnaires hassle-free. It is widely used by businesses, organizations, and individuals for collecting feedback, conducting research, and making data-driven decisions.
Best Features 
Offers a wide range of

expert-designed survey templates

for various industries and use cases

SurveyMonkey Genius

is an AI-powered feature that provides personalized survey recommendations to optimize your survey questions

Its

mobile app

allows you to create, distribute, and analyze surveys on the go.
| | |
| --- | --- |
| Pros  | Cons  |
| User-friendly interface | Advanced features like customization are only available in paid plans |
| Skip logic and branching | Restrictions on the number of questions and responses in the free plan |
| Diverse survey distribution methods | The learning curve for complex surveys |
| Integration with third-party apps | Data export options are restricted |
Customer Review

Pricing
The price of the tool starts at $20 per month. 
7. Nicereply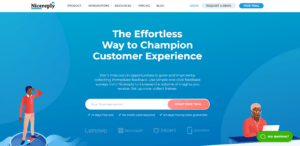 Nicereply is a leading platform designed to help businesses enhance their customer satisfaction and feedback management. With a suite of innovative tools, Nicereply empowers organizations to measure customer interactions, collect feedback, and analyze data to drive improvements. 
Best Feature
The platform simplifies

NPS survey

measurement, enabling businesses to assess customer loyalty and identify areas for growth.

Its

real-time reporting and analytics

dashboards provide instant access to customer feedback data, facilitating timely decision-making.

Nicereply seamlessly

integrates

with popular CRM and helpdesk software, streamlining the incorporation of customer feedback into existing workflows.
| | |
| --- | --- |
| Pros  | Cons  |
| Multichannel feedback collection | Initial setup may require technical expertise |
| Customizable survey templates | Continuous monitoring and analysis are necessary |
| Real-time reporting and analytics | Integration complexities with certain systems |
| Extensive integration options | Limited customization options in some areas |
Customer Review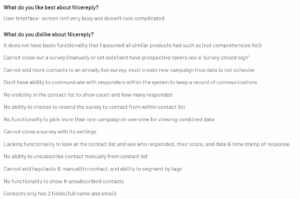 Pricing
The basic plan of this tool starts at $59 per month. 
Conclusion 
In exploring these top AskNicely alternatives, it becomes evident that each solution brings its unique strengths and capabilities to the table. The choice between them ultimately depends on the specific needs and priorities of your business. 
While AskNicely itself offers robust feedback management, other options like SurveySensum cater to diverse requirements, from multi-channel feedback collection to advanced sentiment analysis, offering various features to enhance customer experience and satisfaction.
To choose the right tool for your business, get in touch with our CX expert by requesting a demo here. But make sure you know your organization's goals and customer service objectives, ensuring a tailored fit for your unique requirements.
How much did you enjoy this article?
Stay up-to-date with latest CX tips and tricks, subscribe now!
Don't worry, we don't spam you.