Every business wants to build a loyal customer base to run its business in the long run. 
But, how do you build a loyal customer base? Is it all about the quality of your products and services alone? Or is there something else involved in creating loyal customers? 
For instance, earlier we weighed customer loyalty only on the quality of products and services sold. But, it then became evident that customer loyalty also resembles the effort your customers put in to acquire your products and services.
If your customers can't find immediate solutions to their queries, connect to a customer support section to raise an issue, and get reliable customer assistance, they become disloyal. And, that means the more extra effort they need to put in to interact with your business, the more disloyal they become. 
To resolve all these issues and help businesses measure and improve their Customer Effort Score (CES), several companies have developed CES tools like SurveySensum, Qualtrics, SurveyMonkey, etc.
Therefore, in this article, we will discuss points like what is a CES score, how to measure it, and what are the top 11 CES tools in 2023, etc. in detail. 
Explaining CES Tools and CES Score
Now, let us examine what a good CES score is, how to calculate it, and how a CES tool helps you. 
The idea behind measuring the customer effort score came from the Harvard Business Review. It explained the importance of delighting the customer and measuring the CES score to understand their ease of using your services and satisfaction. 
So, what is a good CES score and how do you calculate it?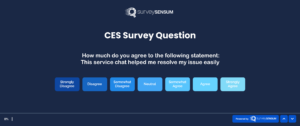 Customer Effort Score (CES score) is a metric that tells you how easy it was for your customers to do business with you. A business can launch CES surveys to calculate the CES score on a scale of 1-7 and identify how effortful it was for a customer to resolve an issue, raise a ticket, get assistance, or purchase a product or service. A score of 1 indicates 'very high effort', whereas a score of 7 indicates 'very low effort'. 
A good CES score
A good CES score would be anything above 5. If you have lower scores, it is time to identify the friction and resolve issues immediately to improve their experience. 
But, when to launch a CES survey?
You can launch the CES surveys immediately after a purchase or an interaction with the customer, or you can use them to examine the overall customer experience.
And, how to calculate CES score?
You need to calculate the average score of the CES survey responses to understand the CES score. The formula to calculate the CES score would be as follows;
CES score = (Total sum of responses) / (Number of responses)
What is a CES tool, and how does it work?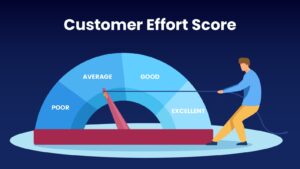 A Customer Effort Score tool is software designed to help businesses create and launch interactive CES surveys instantly without any hassles. It lets you brand your surveys with logos, texts, and other elements. It also comes with in-built survey templates and different types of customer effort score questions. A good CES tool can also let you send follow-up questions, create real-time reports and summaries, and share the surveys over multiple channels and sources. 
A CES tool has the ability to add follow-up questions, integrate them with your helpdesks, generate real-time reports, collaborate with your team members, and work in sync with other customer experience tools. 
Features of a Good CES Survey Tool
Before we dive into the top CES tools, let's take a look at some key features that make a CES survey tool good.
The tool should provide the ability to add follow-up questions according to the survey score.
It should offer real-time CES reports.
It should allow the integration of help desk tools.
And it should also be able to gauge other CX metrics. In other words, the tool should have the ability to conduct not just CES, but also NPS and CSAT surveys.
Let's move on to the top CES tools for your business.
CES Tools Comparison Chart
CES Tool
Critical Features
Free Version
Free Trial
Price
G2 Review
SurveySensum

Pre-built templates
Insightful dashboards
Real-time feedback
Text analysis
Affordable
Exceptional customer support
Easy personalization

Yes

Yes

$99/month (Billed annually)

4.7 (5)

Qualtrics

Activity Tracking
Automated Routing
Campaign Management
Feedback Management
Reporting/Analytics
Workflow Management

NA

NA

Not available

4.4 (5)

SurveyMonkey

Live Results Sharing
Mobile Surveys
Offline Response Collection
URL Customization

Yes

Yes

$20/user/month

4.4 (5)

SurveySparrow

Anonymous Feedback
Benchmarking
Customer Segmentation
Multi-Channel Data Collection
Multi-Channel Distribution
Negative Feedback Managemen

t

Yes

Yes

Not Available

4.4 (5)

Jotform

Collaboration Tools
Customizable Templates
Project Planning & Scheduling

Yes

NA

$34/month (Billed annually)

4.7 (5)

Typeform

Collaboration Tools
Conditional Logic
Customizable Branding
Customizable Forms
Data Analysis Tools
Data Capture and Transfer
Data Extraction

Yes

NA

$25/month

4.5 (5)

Retently

Activity Tracking
Campaign Management
Loyalty Program
Negative Feedback Management
Rewards Management
Sentiment Analysis

No

Yes

$299/month (Billed annually)

NA

NiceReply

Complaint Monitoring
Engagement Tracking
Feedback Management
Multi-Channel Data Collection
Multi-Channel Distribution
Multi-Language
Negative Feedback Management

No

Yes

$59/month (Billed annually)

4.5 (5)

InMoment

Ad hoc Reporting Benchmarking
Goal Management
Predictive Analytics
Predictive Modelling
Profitability Analysis
Pulse Surveys
Reporting & Analytics

No

No

Not Available

4.7 (5)

Qualaroo

Anonymous Feedback
Data Analysis Tools
Predictive Analytics
Pulse Surveys
Question Branching
Question Library

No

Yes

$79/month (Billed annually)

4.4 (5)

QuestionPro

Customized branding
Export data
Advanced skip logic
Multilingual surveys
Custom survey link
Crosstab analysis

Yes

Yes

$99/month (Billed annually)

4.5 (5)
Top 11 CES tools in 2023
Here's a compiled list of the top 11 Customer Effort Score tools in 2023 to help you create and launch CES surveys hassle-free and improve your customer's experience. 
#1 SurveySensum
SurveySensum is the most efficient CES tool in 2023 compared to its counterparts in terms of pricing, usability, analytics, and results. It uses advanced tools, text analysis, insightful dashboards, word clouds, and more to help you identify disappointed customers, brand your surveys, eliminate duplication, improve analytics, and create quicker and faster surveys. 
SurveySensum is one of the most effective feedback platforms used by the automotive, insurance, and BFSI industries. It helps you launch personalized surveys at every touchpoint across the customer journey, gather all feedback in one place, analyze the feedback, and close the feedback loop to enhance customer experience. 
Best Features:
Personalization and survey branding: The CES tool allows you to personalize your surveys with your logo, images, and other elements. Using the Customer Effort Score tool, you can modify the theme, designs, survey questions, and more.
Customized follow-up questions: You can send custom follow-up questions to customers based on their feedback. You can also control and limit the follow-up questions to a particular group of respondents.
Multi-channel platforms: SurveySensum lets you share your surveys over multiple channels to reach more audiences and facilitate better response rates. You can share the surveys over emails, WhatsApp, social media, CRM software, etc., or embed the URL to a website.
Third-party app integration: This CES tool allows you to integrate the CES surveys with a number of third-party applications. Some of the apps supported are Hubspot, Slack, Zapier, etc.
Intelligent analytics and reports: The best part of the CES tool is that it lets you create intelligent reports and actionable insights in real-time. You can also present the surveys at every touchpoint to improve your experience across the entire journey.
Text & sentiment analysis: SurveySensum lets you analyze the responses using text and sentiment analysis to understand the emotions and trends behind each response.
Pros: 
Exceptional support team
Ability to run multiple feedback management programs at a time
Affordable
Cons: 
Need a few more integrations to support
Pricing: Starts at $99/ month if billed annually
#2 Qualtrics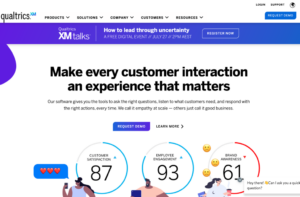 If you are looking for a reliable Customer Effort Score tool, Qualtrics is your right choice. It offers 100+ survey question types and 50+ templates. It has one of the best analytics among its competitors. 
Best features:
Online and offline surveys
An AI tool to improve survey response rates
30+ graph types and visual data representations are available
Pros: 
Provides advanced features to create and launch surveys
Can easily integrate with existing software
Cons:
Not easy to learn, especially for first-time users
Too many features are often creating chaos
Pricing: Connect with the customer support team for a quote. 
#3 SurveyMonkey

Another interesting Customer Effort Score tool is SurveyMonkey. It is well-known for its mobile-friendly surveys and pre-built templates. You can customize follow-up questions easily and use filters, tags, and other elements to group your surveys to create insightful reports quickly. 
Best Features:
Automatic weblinks & response validations
200+ pre-built survey templates
Real-time responses, summaries, reports, and snapshots
Pros:
Anonymous survey submission
Unique reporting tools and custom dashboards
Cons: 
Boring and outdated theme and survey structures
Limited branding and customization elements
Pricing: They offer a free version through their Basic plan. The paid plan starts at $20/user/month. 
#4 SurveySparrow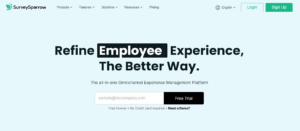 SurveySparrow tool allows you to collect both quantitative and qualitative responses from various touchpoints without hassles. The conversational UI of SurveySparrow also offers a great experience to customers. 
Best Features: 
Conversational and compelling user interface
Conditional logic, 1500+ integrations, skip logic, etc.
Multiple User accounts under one account
Pros:
Flexible and powerful mobile version
Easy-to-use survey forms and built-in templates
Cons:
Lacks email marketing features
Too much developer dependency for bulk actions
Pricing: They offer a free plan for personal use. Contact the SurveySparrow team to get details of their paid plans.
#5 Jotform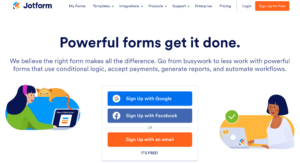 Jotform is a powerful CES tool to create engaging and visually appealing CES surveys. It enables you to gather feedback easily and integrate it with other software. The tool has several features that allow you to create effective workflows quickly. 
Best Features:
Conditional logic, skip logic, and branching

Quick data export and import feature

Customizable tools and templates
Pros: 
Easy to set up, use, and customize

Several integrations, out-of-the-box widgets, and features
Cons: 
Considered more expensive than its counterparts

Jotform is often considered spam, and mail ends up in the spam folder
Pricing: They offer a free version with 100 monthly submissions. Their paid plans start at $34/month if billed annually.
#6 Typeform

Typeform is a simple and hassle-free Customer Effort Score tool that lets you create customized surveys and questions without hassles. It is considered to be the gold standard of no-code solutions where you can personalize workflows and custom surveys quickly.
Best Features:
Mobile-optimized surveys 

Branding customization and survey customization

Quick data capture, transfer, extraction, exporting & importing 
Pros: 
Very crisp, clear, and beautifully designed surveys

Responding to the surveys is often fun, intuitive, and engaging
Cons:
The interface is laggy and can't handle complex forms

It is expensive, and many features are way beyond affordable plans
Pricing: The basic plan starts at $25/ month.
#7 Retently

Retently is one of the best Customer Effort Score tools in 2023 that allows businesses to conduct and send short surveys quickly. It facilitates a business to segregate audiences, schedule surveys automatically, and create surveys in multiple languages hassle-free. 
Best Features:
Closed-loop management and instant analytics

Audience segmentation and automatic survey scheduling

Custom workflows and survey template customization
Pros:
Great customer experience and service assistance

Easy to set up, use, and import data
Cons: 
The basic subscription model has too many limitations

In-app surveys miss several functionalities
Pricing: For B2B businesses their pricing plan starts from $299/month (billed annually).
#8 Nicereply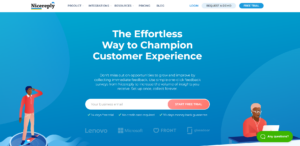 Nicereply is a great CES tool that lets you create and share surveys quickly across all customer touchpoints. It has mechanisms to track and monitor feedback, insights, and trends easily and identify dissatisfied customers easily using filters, tags, and comparison reports. 
Best Features:
Complaint monitoring & negative feedback management

Customer engagement traceability

Automated workflows & push notifications
Pros:
Intuitive dashboard and reporting features

Easy to customize and use tools
Cons: 
Functionality limitations and flexibility issues

You need to restart the survey from scratch if some error occurs in between setups.
Pricing: Their starter plan is $59 per 3 users per month, and they offer a 14-day trial.
#9 InMoment

InMoment was earlier called Wootric. It is a perfect CES tool if you are looking forward to running micro surveys or collecting advanced CES insights. It automates data analysis processes and can collaborate with NPS, CES, and CSAT surveys without problems. InMoment also provides custom filters, real-time alerts, push notifications, etc. 
Best Features:
Multilingual surveys and multi-channel platform

Text & advanced analytics and predictive analysis 

CS strategy & design to initiate surveys based on event
Pros: 
Best customer support among its competitors

Easy to create surveys and understand what is wrong with the help of intelligent analytics
Cons: 
No flexibility in customizing surveys and questions

Lacks effective

closed-loop

evaluations and comparisons
Pricing: Contact the team for pricing 
#10 Qualaroo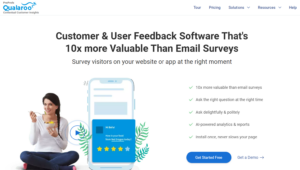 Qualaroo CES tool is designed to collect CES feedback from websites, embedded links, product pages, pop-up windows, etc. It uses Qualaroo-Nudges to transact with customers and capture responses quickly. Real-time updates, sentiment analysis, text analysis, etc, are some of its intuitive features. 
Best Features:
Offers multilingual support and multi-channel surveys

Prototype testing, skip logic, and pre-built templates

Design customizations and responsiveness 
Pros:
Great for targeting and white-labeling

Pop-up tools (Nudges) for perfect A/B testing
Cons:
Limited grouping and reporting functionality

Cannot clone desktop nudges to mobile
Pricing: The essential package (contextual + email surveys) starts at $79/month if billed annually.
#11 – QuestionPro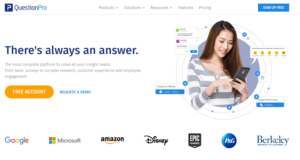 This online survey tool helps you collect data and perform qualitative and quantitative analysis. QuestionPro provides quick and easy surveys with intuitive UI and 300+ survey templates. In addition, it offers real-time reporting and a custom dashboard, making it easier to understand the survey performance.
Best Features:
Create surveys optimized for mobile devices and share them through different platforms. These platforms include email, integrated pop-ups, SMS, QR code, and social media channels.
Compare data across different segments or groups of respondents.

Customize survey paths based on respondents' answers for a more personalized experience. 
Pros:
It is simple and easy to use.
All data is collected and stored securely.
Multi-language support.
Cons:
Limited customization of survey designs.
Higher learning curve
Expensive pricing
Pricing: It offers a free version with limited features, and its paid plans start from $99/month for 1 user.
Final Verdict on the Top 11 CES Tools
Now as you have learned about the top 11 Customer Effort Score tools in 2023 along with their pros, cons, and important features, it is time to finalize the one that suits your requirement and budget. 
The ideal way is to run the trial versions and evaluate their effectiveness, compare the prices and features of all platforms, and come to a conclusion. 
Now that you know where to start and what to do, keep in mind that you need to pick the right CES tool to enjoy the benefits to their fullest. Give each one of the CES tools in the list a try and see personally what works best for you.
If you are still unsure about choosing the right software for your requirements, please feel free to reach us. 
Frequently Asked Questions (FAQs) on CES Tools
What is a good CES score for SaaS?
Any score above 5 is considered a good customer effort score. But keep in mind that no matter the score you receive at the beginning, you can always get insights about the responses by following up with adequate questions. 
How to improve the CES score of your business?
Always provide multiple channels for your customers to contact your business and for you to acquire feedback from your customers.

Provide your customers with self-service options making it easier for them to get their queries answered and reducing customer effort

Customers always want their issues resolved quickly as possible and implementing a robust customer service approach can improve your CES score. 
How can CES score help your business?
Can find and focus on what the audience wants and areas to improve customer satisfaction.

Help you boost your customer loyalty.

The feedback received can provide insights into improving your products/services.
How much did you enjoy this article?
Stay up-to-date with latest CX tips and tricks, subscribe now!
Don't worry, we don't spam you.