What is the Net Promoter Score (NPS)?
In 2003, loyalty consultant Fred Reichheld proposed a simple method to measure customer loyalty, called the Net Promoter Score® (NPS®) system.
NPS is based on the question "On a scale of 0-10, how likely is it that you would recommend [company name /product/service] to a friend or colleague?"

This question is answered on an 11-point rating scale, ranging from 0 (not at all likely) to 10 (extremely likely)
Net Promoter Score (NPS) Calculation
The NPS score is calculated by subtracting the percentage of Detractors from Promoters.

The success of NPS lies in the fact that your current customers stay with your brand while helping you get more business year on year.
Recent research has confirmed that "60% of new customer leads are referred by fans of the brands".
The fans of the brands are your brand promoters who use your products/services and also promote them in society and amongst friends, just out of the love and trust they have in your brand.
You get free business without getting to spend any extra $'s on the marketing budget.
As your business grows, the cost of acquiring new customers goes up due to an increase in competition, marketing experiments, and other external factors.
It is then the customer lifetime value (CLTV) becomes a critical metric for your business. A high NPS fueled with a good laid out customer experience (CX) program adds to both LTV and sustenance and gives enormous results.
How do you get loyal customers?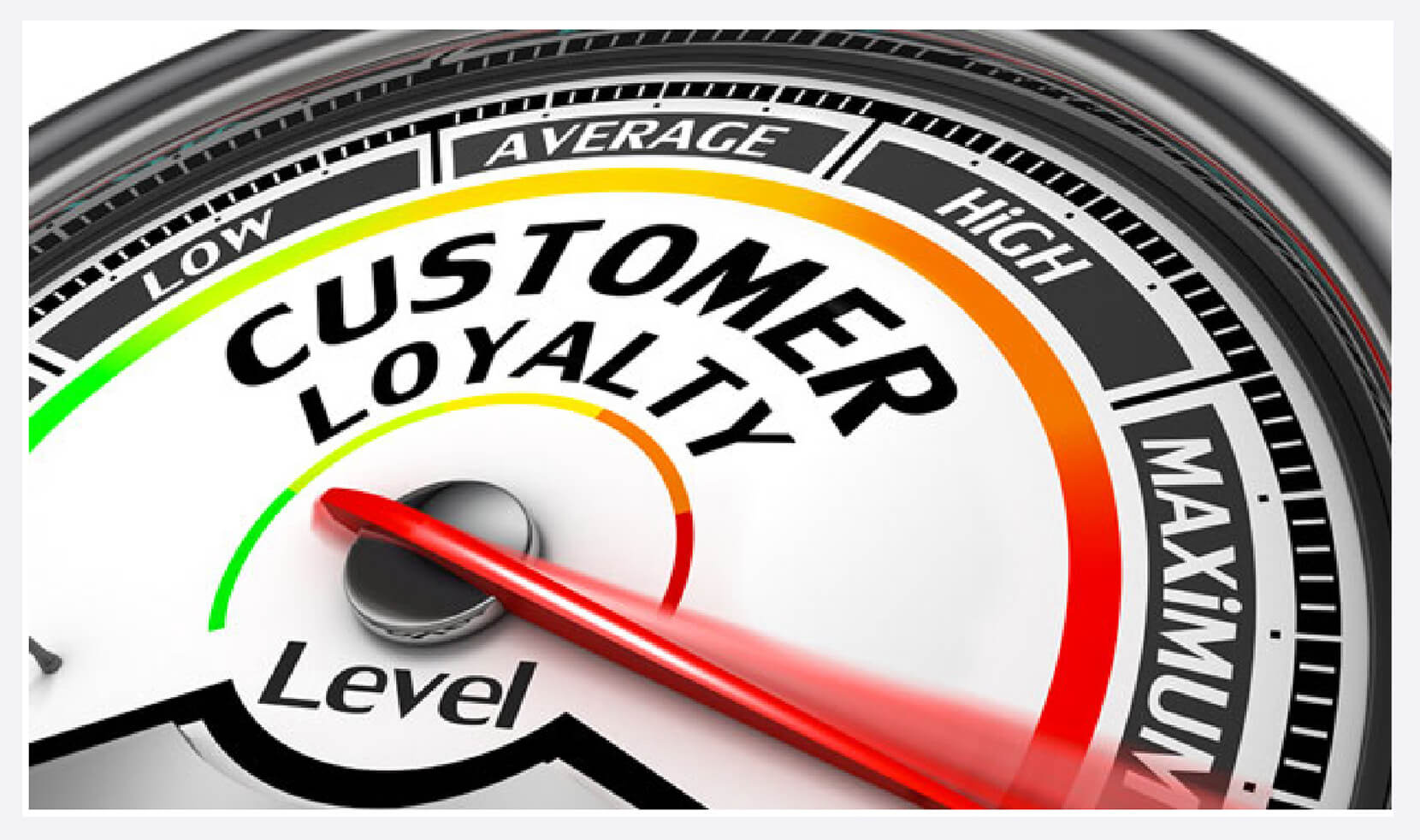 A single answer to this would be great customer experience (CX).
In recent years, research by Forrester and Gartner has found at least 70% of business leaders believe CX will help their companies differentiate in a world where products and services are increasingly commoditized.
Hence, competing only on the price factor is not a long-term viable strategy for brands anymore.

This is the reason why NPS is such a critical metric for your business. The question itself creates an emotional bond between you and your customer.
The answer offers you a peek into the likes, dislikes, and expectations of the customer with regard to your brand.
Improvement in NPS contributes directly to the net increase in revenue of a brand and drives front-line accountability to deliver customer excellence.
Employees at all levels take customer satisfaction more seriously when they are motivated by brand success.

A promoter would mean:
Repeat business
Long-term association with your brand
Free Word-of-Mouth Marketing: More new business
Forgive small Issues (Act as a Family Member)
Provide feedback for improvement (Act as a consultant)
Hence, a good NPS program can make customers turn into brand ambassadors.
Businesses can take the following approaches for NPS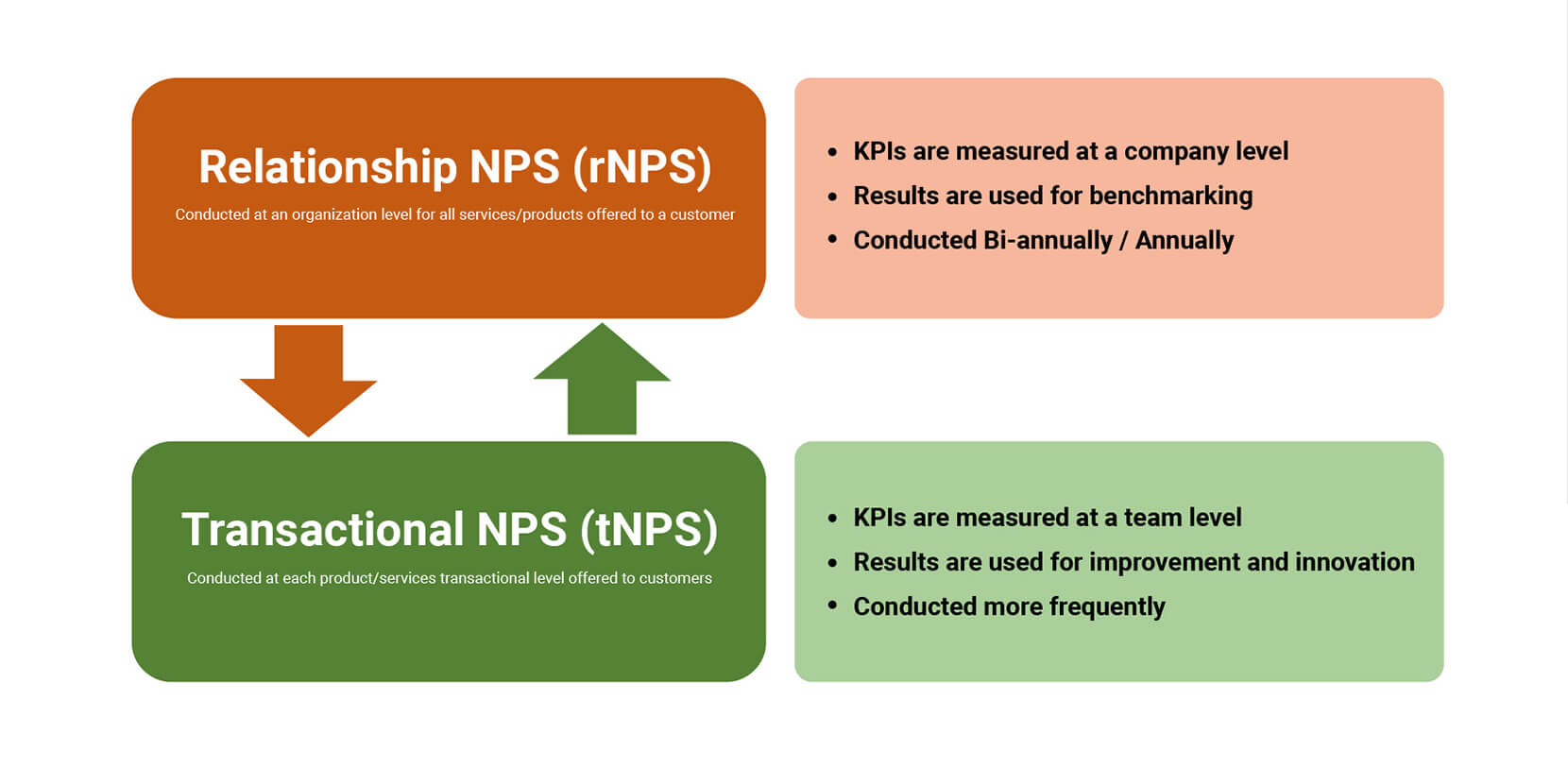 Relationship NPS:
surveys are typically conducted once bi-annually or annually to get an overall assessment of how customers perceive the organization and its products, services, and support delivered.
Some organizations survey customers more often than required. One should be careful to not overload customers with unnecessary survey requests.
Keep in mind if your customers are utilizing multiple products/services of your brand, they should not be overloaded with individual surveys for each.
This is a very common mistake found in relationship surveys.
Relationship surveys are recommended to have a maximum of 10 to 15 questions which can be answered in 10 minutes or less.
For high-net-worth customers, it's possible to get good results from longer surveys, especially if you make it clear that customer feedback will be taken seriously.
Transactional NPS surveys:
There are no set rules for Transactional NPS surveys. It depends on the type of industry and the frequency/value of transactions happening on a regular basis.
These surveys are typically conducted at least once a month for quick and actionable feedback.
The frequency of surveys should be defined and managed efficiently.
Transactional surveys are recommended to have 5 to 10 questions maximum which can be answered in 10 minutes or less.
For the best results, you should keep the content of the survey personalized.
It is also recommended to always keep an open question to get feedback to capture additional sentiment and feedback from the customer.
Net Promoter Score (NPS):

Generally speaking, a positive NPS or NPS above 0 is considered "good". Anything above 30 is considered as a great NPS.
On the other hand, if your NPS score is below 0, then that is a clear indication that your company needs to start improving customer satisfaction levels.
But of course: what is considered a 'good' NPS score' also depends on your industry.
Let's look at some of the Net Promoter Score benchmarks: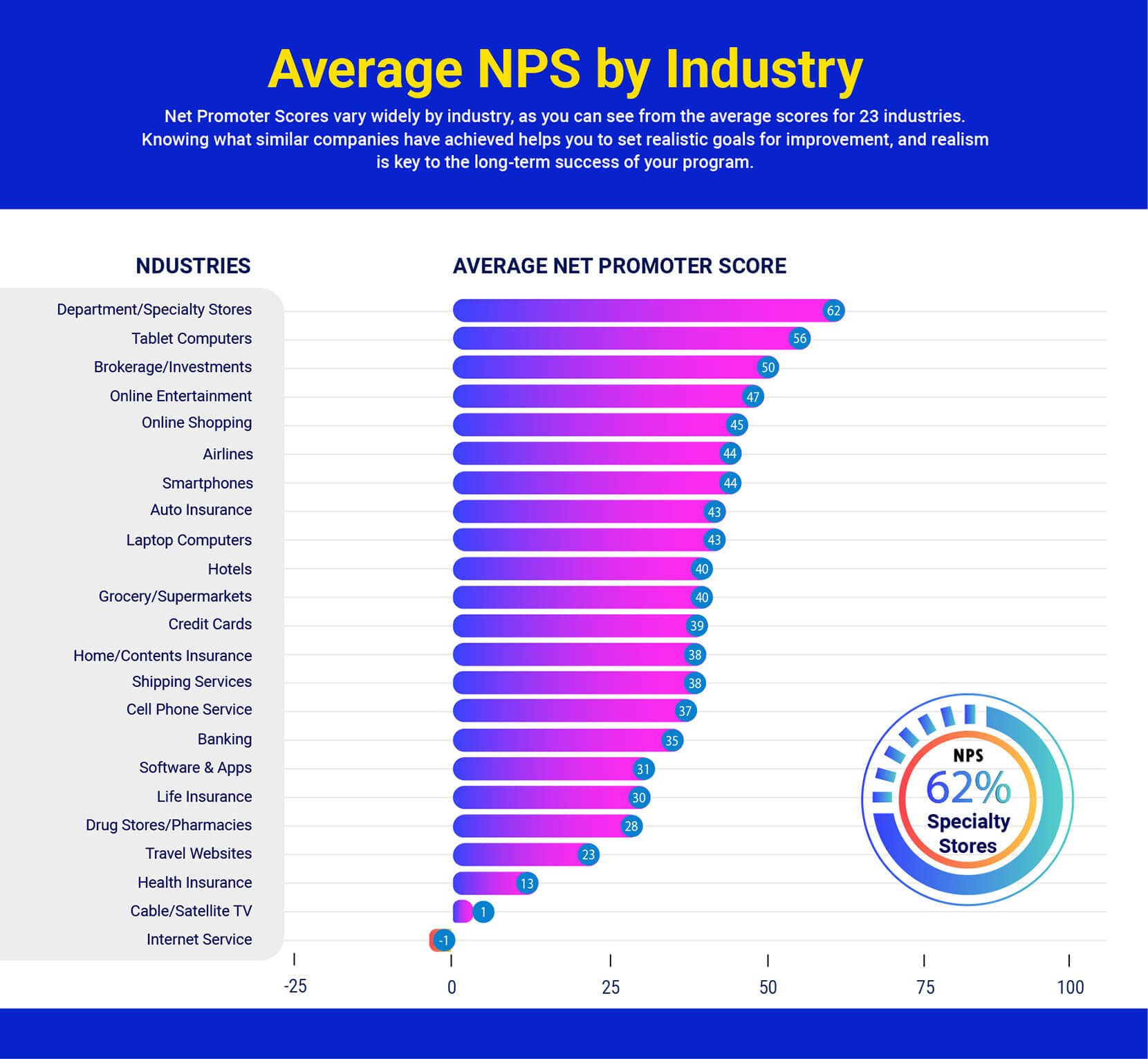 How to get the best out of an NPS Survey?
Below is a quick checklist item to keep in mind to get the most value out of an NPS survey
1. Act on feedback and close the loop:
Once the response has been captured, make sure we have proper communication with the customer. We should empathize with the issues faced by customers and do all in our capacity to resolve the issue.
Always Remember: Communicate, Empathise, and Resolve
2. Set the baseline to measure the performance:
Make sure to set a baseline to keep track on a daily and weekly basis and then increase to track performance monthly, quarterly, and yearly.
This acts as a pulse tracker of customers to see what is happening at the moment of the truth. Baseline metrics can be done through benchmarking exercises.
Once you have the latest industry benchmark, you can use that as a benchmark to achieve as a baseline.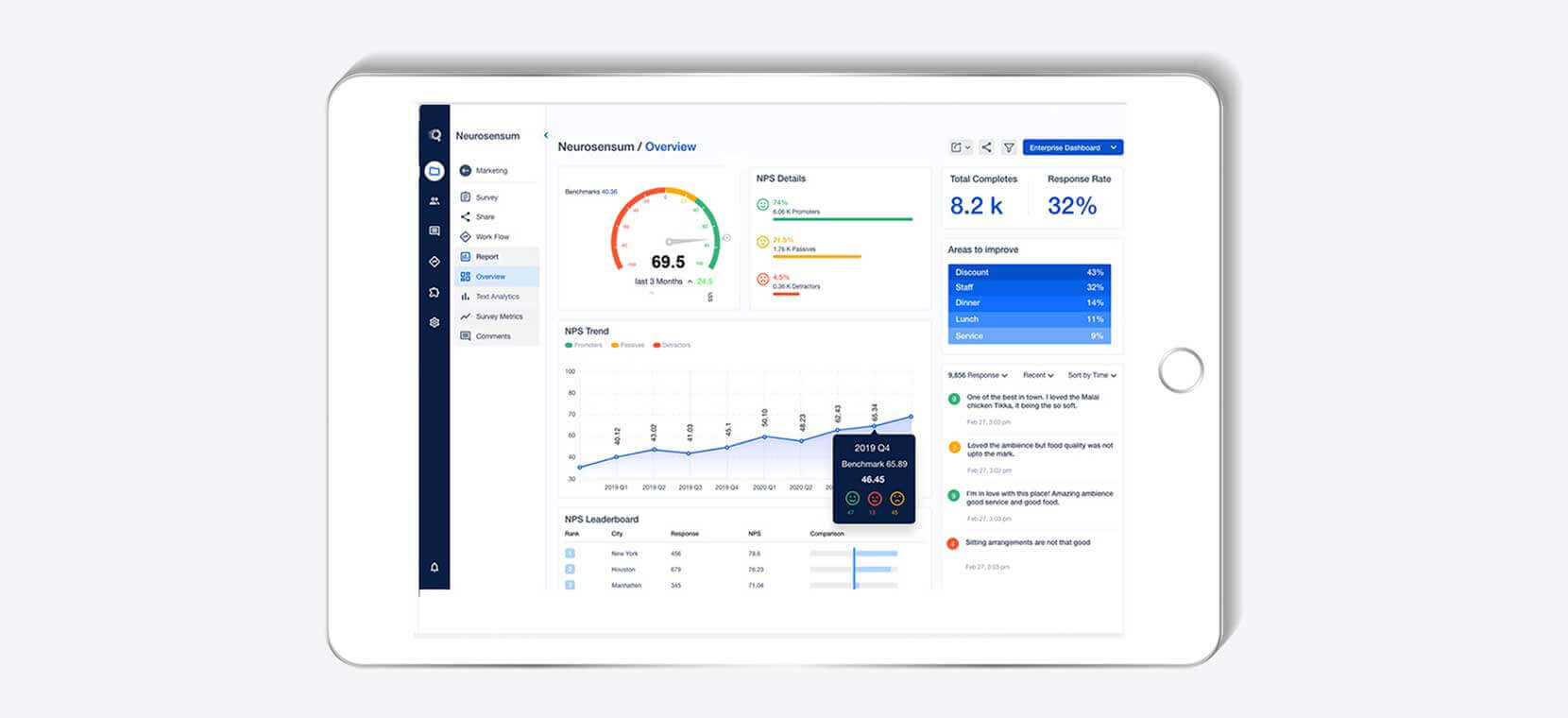 3. Top to Bottom alignment on the metric:
Everyone in the organization should support the actions out of NPS results/analysis. This should be done from top to bottom.
Many Net Promoter Score programs fail due to internal conflicts and not getting support to complete the actions that came out as a result of the NPS program.
4. Regular Insight and Action Tracking:
The net Promoter Score program needs to be tracked and worked upon on an immediate basis. A brand should keep a Service-level Agreement (SLA) to respond back to any detractors.
This is very important to listen to your customer, however, if you listen and don't respond this can have a negative impact on the brand value.
Net Promoter Score can inform your user onboarding and product development, and help you reduce your churn and increase customer retention.
5. No Gamification of data:
Since NPS is related to performance metrics, it is often seen that feedback invitations are crafted in a way that pushes customers to give a higher rating to the NPS question.
This happens especially in the case of relationship surveys because the results are related to employee bonuses and appraisals. This is a place where the maximum twist happens in data collection.
This becomes a common problem because organizations push too much on attaining a specific number in comparison to delivering an enhanced experience to the customer.
Example: Recently I placed an order with Swiggy and on the arrival of the food, the delivery boy asked me to give him a good rating in return.
In such cases, we get emotional and end up giving a higher score, maybe even a 5-star. While in reality,
this is not a true picture of the experience one had with the food delivery.
An organization that focuses more on Customer Experience as compared to just increasing a number, should avoid such practice in his/her organization.
6. Relate NPS with CLV for the best course of action:
For quick results, you should connect the NPS survey responses to your high-worth customers for key focus.
While collecting feedback we need to keep a close eye on the responses coming from high-worth customers and those cases should be monitored on priority.
7. Choose Touchpoints and Mode of Distribution wisely:
Be wise in selecting the best distribution model for your transactional and relationship surveys.
Initial data collection methodologies have evolved to a great extent from pen-paper, telephone, and email to In-App, Social Media, Website Intercepts, SMS, and WhatsApp surveys.
The main key driver factor is the customer journey and their touchpoints with brands are changing.
Earlier, offline surveys were the most preferred mode of the survey, but now businesses can't even think of doing it. Online/Digital and Mobile are what are driving the market today.
I would recommend choosing the best mode of distribution to reach your customers, especially at the touchpoints where customers and brands meet.
Example: If a customer is shopping through your app, asking for feedback via an In-app survey is the best way to go. This works best for collecting feedback through transactional surveys.
For relationship surveys, it has been observed that a more formal way of collecting feedback is much appreciated by customers.
Surveys via email and SMS work very well. Some Industries specifically banking for their key clients recommend doing it personally over the phone, live video chat, or face to face.
If you are defining your customer experience journey and setting up the NPS program and need expert guidance, feel free to contact us.
How much did you enjoy this article?
Stay up-to-date with latest CX tips and tricks, subscribe now!
Don't worry, we don't spam you.