Welcome to the age of customer experience. Here customers are willing to pay a premium price for better service. They are also willing to remain loyal to a business if the Customer Experience is great.
But, is it? Is your customer experience great?
Are you listening to your customers? Do you know what your customers like and dislike the most about your business offerings?
If you are a business that is keen on growth, customer feedback is too precious a treasure to squander. The simple process of collecting customer feedback and deep diving into it can throw insights into what customers like about your business, what they dislike, and areas that need improvement.
Also, knowing what your customers feel about your business has other benefits as well.
PwC in its
Future of Customer Experience Survey
found that customers are
willing to pay a 16% price premium on products and services
, plus increase their loyalty if the brand delivers a good customer experience. Additionally, they are more likely to try additional services or products from the same brand if the customer experience with one product or service is good.
It is here that Net Promoter Score surveys come into play. A targeted NPS survey can collect relevant customer feedback and turn around business fortune.
Let's dive into it.
NPS® stands for Net Promoter Score®. It is an index that ranges from -100 to 100 which indicates how willing customers would be to recommend your business to others. It is considered as an approximate measure of a business's ability to win and retain customer loyalty.
Net Promoter Score® focuses on the fair treatment of customers and employees. Unlike traditional accounting that focuses on short-term business profits, NPS® looks at the long-term picture. It focuses on how well-perceived a business is through the eyes of its customers and employees.
Walt Bettinger, CEO of Charles Schwab, the global financial services firm says so about Net Promoter Score® –
"The beauty of Net Promoter is that it helps to simplify complex issues and helps people to make the right decisions. It makes people ask themselves: Is this the right thing to do for our customers, and is it economically appropriate for the firm?"
Now that we know what NPS is, let's go through its brief history.
History of Net Promoter Score®
NPS® is the brainchild of three entities:
Fred Reichheld – A business strategist with specialization in loyalty marketing and loyalty marketing model.
Bain & Co – A global management consultancy that offers business consultancy services to public and private enterprises as well as for not-for-profits.
Satmetrix – An experience management software provider.
The concept of NPS® was first introduced to the world through an HBR article "The One Number You Need to Grow" authored by Fred Reichheld.
The idea of NPS® was to replace the complicated process of running a typical customer satisfaction survey. Net Promoter Score boils down the process to a single question whose responses can be used to determine customer satisfaction, and in some cases employee satisfaction as well.
The single question for NPS® calculation is:
"On a scale of 0-10, how likely is it that you would recommend [your business name] to your friends, family, or business associates?"
But to achieve all that you need to calculate your NPS Score. 
To calculate the net promoter score, let's first understand who are Promoters, Passives, and Detractors.
When we ask the NPS question, we divide the respondents into the following three categories based on their feedback. 
Promoters: Customers who are extremely likely to recommend your product/service to others? They rank the highest in the NPS® score, that is, 9 or 10.
Passives: Customers who are satisfied with your product/service. There is a high possibility for passives to switch loyalty to competitors for want of more features, pricing, service, or any other factor. They rate 7 or 8 on the NPS® survey.
Detractors: Customers who your product/service failed to impress. They may have been subject to poor-quality products or services. In addition to switching loyalty, they might also resort to spreading negative remarks about your brand. They stand in the range of 0 to 6.
Now that you know who is who, here is the formula for net promoter score calculation.

The NPS score can be anywhere between -100 and +100. 
For example: if you have 25% promoters, 55% passives, and 20% detractors, your NPS® calculation will be,
25% (promoters) – 20% (detractors) = +5.
Find out your NPS Score. Create a FREE NPS survey now.
Running an NPS® survey is like scaling the Everest summit. There are several key aspects to it. To make the best use of an NPS survey, you must identify the right type of survey to run, the scenario for which the survey is going to be used, and identify the question that will provide maximum responses.
So, how many types of NPS surveys are there?
Types of NPS® surveys
Before setting up an NPS® survey, you ought to know the various types of surveys that are available at your disposal. The two types of NPS® surveys are:
Relationship surveys
Transactional surveys
1. Relationship surveys
Surveys conducted to gauge customer loyalty (or their positive relationship) with the entire brand are referred to as relationship surveys.
They ask customers about the overall experience of dealing with the brand, their satisfaction levels, and also suggestions for improvement. They are conducted in the frequency of quarterly, half-yearly, or yearly.
Example: An on-demand video streaming service sends a monthly survey requesting feedback about its service quality.
2. Transactional surveys
Transactional surveys aim to investigate customer feedback for each transaction. The primary purpose of these types of surveys is to figure out the means of improving customer experience.
They are usually sent immediately or within a day or two from the completion of the transaction. Transactional surveys are apt for those companies which have a limited number of interactions with the customer and hence limited opportunities to seek feedback.
Example: A five-star hotel seeking feedback from a guest who completed a stay recently.
Ask the right question and you are bound to get the right answer. This holds not just in everyday communication, but also for a Net Promoter Score Survey.
So how can you create a perfect and efficient NPS Survey?
How to create an efficient NPS® survey?
Now that you know what kind of surveys you can go after, it is time to create a Net Promoter Score ® survey. Be it a relationship survey or a transactional survey, these steps remain the same.
1. Give a title to your survey
The title should be short, crisp, and self-explanatory. Your customers should ideally understand the motive of the survey from the title itself. You can use creative titles, provided they do not make the motive ambiguous.
Some suggestions for an NPS® survey title are:
Joe, please share your thoughts.
Joe, we're improving, could you help?
Your feedback helps make us better!
How was your experience?
Did you buy from us recently? How was the experience?
2. Add a brief description
A brief description should help customers understand better why the survey is being conducted. It can also be used to describe whether the survey pertains to a specific transaction or is a periodical one that evaluates the customer experience over a period of time.
3. Add the NPS® question
Like we discussed before, an NPS® survey will typically have only one question.
'On a scale of 0-10, how likely is it that you would recommend [your business name] to your friends, family, or business associates?'
4. Add a thank you note
Your customers are taking their precious time and effort to share their feedback. That feedback is going to help improve your product/service. So it is basic etiquette to thank them for taking the time to give feedback.
Use our NPS template to create an efficient survey
NOTE: An efficient NPS tool helps you create lucrative NPS surveys and launch them at the right touchpoint and at the right time. Also, the tool helps share alerts to the team when a detractor shares their feedback and analyzes all the feedback. Not only it'll help you close the loop in time, but it will also help you create an efficient NPS program.
Here's a list of top NPS tools that can help you achieve the same.
Strategic business applications of Net Promoter Score (NPS)
Net Promoter Score can be strategically implemented across your organization to measure success or failure at various levels:
Geo-location-based NPS

: You can conduct an NPS survey to identify the best performers among your customer-facing teams catering to various geo-locations. Let's say you have a customer success team for Europe, one for North America, and one for South America. If you want to know which of your teams is delivering the best in customer satisfaction – just conducting a geo-location-based customer NPS survey will tell most of the story.

Kiosk-based NPS

: If you own a store or outlet that has a physical location for customers to walk in and out, this is the best place to implement a kiosk-based NPS using a tablet screen. Here, customers walking out of the store can give an NPS based on their latest experience with the brand and can provide immediate feedback. A single NPS question is a much better alternative to get a customer satisfaction indicator, than asking customers multiple survey questions to get the same derivative indicator.

Website/App NPS

: In the present era, customers spend most of their time online using websites and mobile apps. This is where they engage with brands and form opinions about a product by reading reviews and surveying them here can help you increase your net promoter score.
One of the creative ways to deploy an NPS survey on your website and mobile app is by triggering the survey based on buyer's journey or action. For instance, after cart checkout for eCommerce sites, page exit action (a survey pops up when user actions to exit a product page), etc. These are strategic locations to be selected based on business priorities, site structure, and user behavior on your website or app.
The net promoter score question is the epicenter of a survey. Its tone and structure will determine how customers will give their feedback. Also, there are different types of NPS® questions for different scenarios. Some such questions and scenarios in which you can use them are listed as below:
Scenario 1:
When you want to gather feedback about the entire company.
"On a scale of zero to ten, how likely are you to recommend our business to a friend or colleague?"
The benefits of these questions are:
Ideal question for the first NPS® survey
Helps break the ice with your customers
Gives a bird's eye view of your customer sentiments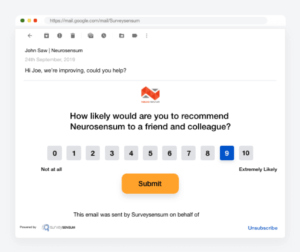 Scenario 2:
When you want feedback on a specific product or service of the company.
"On a scale of zero to ten, how likely are you to recommend our [product or service name] to a friend or colleague?"
The benefits of this net promoter score question are:
It focuses on a single product or service.
The responses will be targeted.
Helps identify specific features/offerings that need improvement
Scenario 3:
When you want to use NPS® surveys internally to gauge employee satisfaction.
"On a scale of zero to ten, how likely are you to recommend [company name] as a potential workplace to your friends?"
The benefits of this question are:
It helps identify active, passive, and detractor employees.
Helps identify pain points for employees

Helps create an organizational culture that fosters employee happiness
Now, the follow-up questions to supplement customer feedback
The objective of a Net Promoter Score ® survey is to collect customer feedback in the form of a rating. But, why did each customer give the specific rating that they gave? Are there specific reasons that have motivated the rating?
Open-ended questions that follow the net promoter score question can help you answer these questions.
Here are some examples of NPS follow-up questions.
What is the primary reason for your score?
What was missing or disappointing in your experience with us?
How can we improve your experience?
Which features do you value/use the most?
What do you like most/least about (company or product name)?
What is the one thing we could do to make you happier as a customer?

If you are running a Net Promoter Survey, respond with a 'Thank you.'
Be it good or bad, your customers made an effort to share their feedback with you so don't forget to acknowledge them for it.
Moreover,  a simple 'Thank you'. can help nudge the customer to turn from being a detractor to a passive and ultimately to a promoter.
Here are some examples.
For Promoters:
"Thanks for taking the time to share your feedback. We are thrilled to have you as a high-value customer. Your feedback will help us come up with product/service improvements that will make your experience better than what it is now."
How does the note help retain customers who are promoters?
The note explicitly mentions that the customer is a high-value customer. This gives the customer the impression that they are exclusive and are more valuable to the company than the other customers.
This privilege makes them feel more attached to the brand and also persuades them to promote the brand to their friends and colleagues.
For Passives:
"Thanks for taking the time to give your feedback. We will work on each and every suggestion that you have given. You will see a significant improvement in our offerings in the days to come."
How does the note help retain customers?
The note establishes the company's notion to work on the customer's feedback. This will convince the passive customer that all their pain areas have been acknowledged.
The last statement gives an assurance that things will change soon. This helps reduce the possibility of passive customers looking for other alternatives. When the improvements happen and their level of satisfaction soars high, they will ultimately turn into promoters.
For Detractors:
"Thanks for taking the time to give your feedback. We will work on each and every suggestion, positive and critical, that you've shared with us. Our team will reach out to you in the near future to understand more about the not-so-great experiences that you might have had. Be assured that we will do everything possible to deliver great experiences to you in the near future."
How does the note help retain customers?
At the onset, it establishes the fact the business acknowledges both the positive and critical feedback given by the customer.
It also indicates that the team will reach out personally to identify what went wrong with each interaction. The final statement gives the assurance that the feedback will be used to improve their experience.
Launch an NPS survey and find out how many DETRACTORS, PASSIVES, and PROMOTERS you have!!
An NPS® survey cannot be orchestrated manually. And there are several expectations about NPS that the C-suite and other stakeholders should be made aware of before the survey launch.
Whether or not you have got a good net promoter score

Whether or not you have to improve your NPS score

The best way to get a relevant NPS score

Efficient net promoter score calculation

Net promoter score analysis
All these factors can be determined in the best possible way with NPS tools. Also, the tool should make it easy for customers or employees to give their ratings and suggestions easily.
Now, there are tons of tools in the market and you cannot select a random one. You need to select the most efficient NPS tools that are responsive, efficient, and accurate with a neat user experience.
SurveySensum – An NPS® survey tool that you can count on
SurveySensum's Net Promoter Score® is one such top-ranking tool that helps businesses of all scales create NPS® surveys without breaking into a sweat.
You can run NPS® surveys through the omnichannel route that encompasses chat, email, web, and SMS. The unique attribute about SurveySensum is that — it is powered by Artificial Intelligence. Its added intelligence helps listen, interact, engage, and turn customers into super fans.
Apart from helping you create and run NPS® surveys instantly, SurveySensum also helps predict customer churn, uncover hidden patterns in customer behavior, and manage your customer experience centrally.
Want to know how to measure and improve Net Promoters Score for your organization, talk to us!