In the dynamic landscape of B2B manufacturing, where innovation is the lifeblood of progress, the power of customer feedback cannot be overstated. 
Picture this: a renowned manufacturer increased its revenue by a staggering 20% within a year, solely by listening to its customers' voices and integrating their insights into their operations. 
That's the transformative potential of harnessing customer feedback, and in the year 2023, it's not just an option – it's an imperative.
In a world increasingly defined by data-driven decision-making, customer feedback stands as a beacon of valuable information. 
And in this blog, we will explore the top 10 manufacturing feedback tools that can redefine your interactions with clients.
Let's dive in together and explore the world of B2B manufacturing feedback tools.
Let's explore what these tools are here. 
What are B2B Manufacturing Feedback Tools?
B2B manufacturing customer feedback tools are designed to gather, analyze, and act upon feedback from B2B customers in the manufacturing industry.
These tools help manufacturers collect valuable insights, opinions, and suggestions from their clients, suppliers, and partners, allowing them to enhance their products, services, and operations.
But is it worth it? 
Why Should You Use B2B Manufacturing Feedback Tools?
You should use B2B manufacturing feedback tools because they help you to:
Understand what your business partners and customers think

about your products and services.

Identify quality issue

s, evaluate supplier performance, and uncover operational inefficiencies.

Gather valuable information and opinions,

enabling improvements in product development, inventory management, and customer relationship

building.

Boost collaboration

by involving your partners in the process.

Adapt more effectively to changes in the market and stay ahead of your competitors,

including adapting to market demand changes, ensuring compliance with regulations, customizing products, and embracing sustainability practices. 
By using these tools, you can ensure better product quality, stronger relationships, and increased success for your manufacturing business. 
Now that you know why to use these tools, let's find out the best tool for your business to use. 
Top 10 B2B Manufacturing Feedback Tools
Here's a list of the 10 best feedback tools that can help your manufacturing business: 
B2B Manufacturing Feedback Tools
Features
Free trial/version 
Price
G2 Review
SurveySensum

Customizable surveys

Multi-channel survey distribution

Real-time responses

Robust analytics

Seamless integration

Actionable insights 

User-friendly 

CX consultation 

Both

Starts at $99 / month

4.7 (5)

CustomerGauge

Robust NPS System

Accurate Revenue Impact Assessment

Comprehensive Customer Tracking

Free trial available 

Contact CustomerGauge

4.6 (5)

Hotjar

Heatmaps

Scroll Tracking

Conversion Analysis

Free version available 

Starts at $80 USD/ month

4.3 (5)

Typeform

Customizable designs 

Intuitive interface 

Logic jumps 

Seamless integrations

Free plan available 

Starts at 25 USD /month 

4.5 (5)

Freshdesk

Multi-Channel Support

Ticketing System

Automation

Free trial available 

Starts at ₹999 /agent/month

4.4 (5)

InMoment

Customized Surveys

Real-Time Insights

Comprehensive Reporting

Multi-Channel Feedback

None

Contact InMoment 

4.7 (5)

Zendesk

Automation and Workflow Tools

Customizable Knowledge Base

Analytics and Reporting

Seamless Integration

Free trial available 

Starts at US$ 55 per agent/month

4.3 (5)

Jira Service Desk

Ticketing System

Self-Service Portal

Automation

Free plan available 

Starts at $21 per agent

4.2 (5)

Google Forms

Scalability 

User-friendly 

Real-time responses 

G-Suite integration 

Both

Starts at $12 per user per month

4.5 (5)

Microsoft Forms

Integration with Office 365

Ease of Use

Response Analysis

Security and Compliance

Collaborative Features

Free version available 

Starts at $6.00 user/month

4.4 (5)
Let's explore each feedback tool in depth.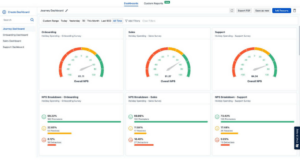 SurveySensum, an AI-powered B2B manufacturing feedback tool, simplifies feedback collection with NPS, CES, and CSAT surveys. It lets you send surveys on multiple channels including WhatsApp surveys, Email surveys, and more. 
And once the survey responses start coming in, the tool centralizes the feedback, automates analysis using Text Analytics software, and provides detailed reports on a user-friendly dashboard. 
Moreover, SurveySensum is not just a product, it comes with a CX consultant who helps every step of the way – from asking the right questions to what actions to take on the insights gathered, implementing NPS in B2B the right way, or working on the customer churn.
There is so much more to it.
Best Features
Offers a variety of

in-built customizable survey templates

for quick real-time data collection.

Advanced survey customization

for tailored feedback collection

Real-time feedback analysis

for prompt decision-making.

Features a

role-based, powerful dashboard

and helps you gather reports tailored to your business needs.

Offers

exceptional customer support,

resolving issues within 2 hours.

Provides access to a dedicated

CX consultant

who assists in enhancing the

customer experience

.

Utilizes

Text Analytics

to rapidly process numerous responses, revealing real-time trends and customer sentiments for issue resolution and process improvement.

Close the feedback loop

by identifying at-risk clients and addressing their concerns promptly. 
Benefits
Enhanced product quality and customer satisfaction

Streamlined operations, optimized processes, and reduced costs

Compliance with industry standards and regulations

Promptly addressing customer concerns for increased loyalty and business growth

24×7 customer support 
Limitation 
While SurveySensum offers a multitude of advantages, a few app integrations are in their roadmap. 
Customer Review: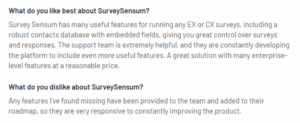 Pricing: The tool has a free version with unlimited users, surveys, and questions, while the paid plans start at $99 per month.
Improve Your CX with SurveySensum – Request a Demo
2. CustomerGauge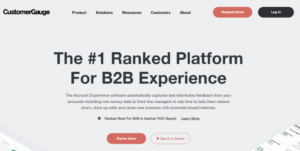 CustomerGauge is another B2B manufacturing feedback tool that addresses business challenges effectively by using NPS. This enables tracking of customer loyalty and retention while managing overall customer experiences. Not just that. This tool has several other best features: 
Best Features:
NPS system provides in-depth insights into

customer loyalty

and experience management.

Manufacturers gain valuable revenue-related insights to make informed decisions.

The 360° customer tracking tool ensures a complete understanding of customer interactions.
Benefits
Improved CXM with NPS

Valuable revenue insights

Comprehensive customer tracking
Limitations 
Limited survey customization

Not robust in data management 

Complex for beginners
Customer Review:

Pricing: Contact their team for more information. 
3. Hotjar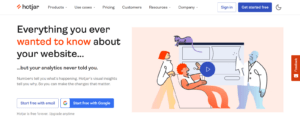 Hotjar is a valuable tool for B2B manufacturers, helping them understand and enhance their website's performance. It offers features like heatmaps, scroll tracking, and conversion analysis to pinpoint user behavior and improve the site.
Best Features:
Visualizes user interactions via heatmap to identify effective and ineffective site elements.

Shows where users lose interest in web pages.

Tracks conversion drop-offs to optimize the sales funnel.
Benefits
Provides insights into user preferences

Improve website efficiency and user satisfaction

Ideal for

B2B SaaS

companies
Limitations 
A learning curve is there as some features may require time to learn
Customer Review:
Pricing: Starts at $80 USD/ month
4. Typeform

Typeform is a versatile tool used by B2B manufacturers to create engaging surveys and forms for various purposes. It stands out for its user-friendly interface and flexibility in designing surveys and forms tailored to specific needs.
Best Features:
A wide range of templates and customization options are there, allowing manufacturers to create surveys that match their brand and goals.

Its intuitive drag-and-drop interface makes it easy to build surveys and forms, even for users with minimal technical expertise.
Benefits
Easy data collection from various sources

Versatile for feedback, and research

Quickly creates survey 
Limitations 
Higher-cost plans for advanced features

Learning curve for beginners

Basic reporting is not as advanced as specialized tools
Customer Review: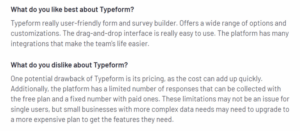 Pricing: Starts at 25 USD /month 
5. Freshdesk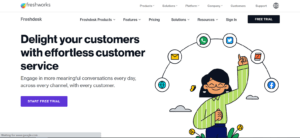 Freshdesk is a popular customer support software that offers solutions for efficient B2B manufacturing feedback management.
Best Features:
Manage feedback from various sources like email, chat, phone, and social media in one place.

It provides a ticketing system to organize and prioritize feedback, ensuring no concerns get lost.

Users can automate repetitive tasks, saving time and ensuring prompt responses.
Benefits
It simplifies managing feedback

It automates support tasks and provides helpful knowledge tools

Freshdesk's insights aid in improving products and services
Limitations 
Complex setup 

Slow system

Not a user-friendly interface

Less integration 
Customer Review: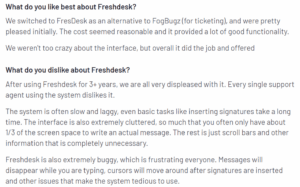 Pricing: Starts at ₹999 /agent/month
Gather Customer Feedback with SurveySensum – Sign Up for FREE
6. InMoment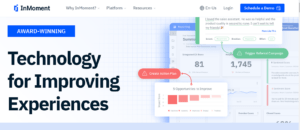 InMoment is a versatile tool used by B2B manufacturers to collect and analyze customer feedback. It helps them to make informed decisions by collecting feedback across various touchpoints, improving products and services, and boosting overall customer satisfaction. 
Best Features:
Create tailored surveys for specific feedback needs

Get immediate feedback for quick decision-making

Analyze data with detailed reports and dashboards
Benefits
InMoment provides valuable insights into customer experiences

Real-time data helps manufacturers make informed decisions

Addressing feedback boosts

customer satisfaction

and loyalty
Limitations 
Not user-friendly interface 

Have a learning curve

Hard to customize the surveys 
Customer Review:

Pricing: Contact their team
7. Zendesk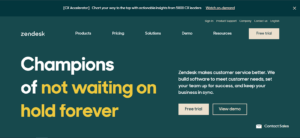 Zendesk serves as a versatile tool for B2B manufacturers, enhancing customer support, streamlining operations, and facilitating data-driven improvements. While it has its learning curve and pricing considerations, its benefits often outweigh these limitations, making it a valuable asset for manufacturers committed to delivering exceptional customer experiences.
Best Features:
Zendesk excels in managing customer interactions across various channels, consolidating all communication in one place

It offers robust automation capabilities to streamline repetitive tasks, making support teams more efficient

Create a repository of product information and troubleshooting guides, empowering customers to find solutions independently
Benefits
Empower support teams by resolving issues faster

Automation frees up teams to focus on complex tasks

Analytics tracks performance, revealing trends for product and service enhancements
Limitations 
Complex user interface 

Advanced features come at a cost

Integration with existing systems can be tricky
Customer Review: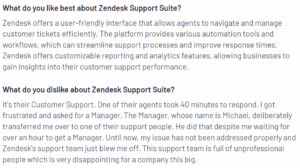 Source 
Pricing: Starts at US$ 55 per agent/month
8. Jira Service Desk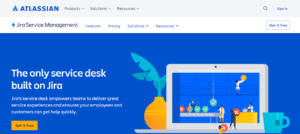 Jira Service Desk is a popular support management software developed by Atlassian. It's designed to help businesses provide efficient customer support and IT service management. It allows teams to create, track, and manage service requests, incidents, and customer inquiries. 
Best Features:
Jira's robust ticketing system organizes and prioritizes support requests effectively

It empowers customers to find solutions on their own

Automate repetitive tasks, freeing up support teams for more complex issues
Benefits
Streamline support operations, reducing response times

Advanced reporting and analytics

Adapt the evolving needs of growing B2B manufacturing businesses
Limitations 
Difficult UI

Hard to customize 
Customer Review:

Pricing: Starts at $21 per agent
9. Google Forms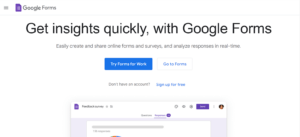 Google Forms is a versatile survey and form creation tool offered by Google. It's a user-friendly platform that helps B2B manufacturing businesses collect valuable feedback, conduct research, and streamline various data collection processes.
Best Features:
Google Forms provides an intuitive interface suitable for users with varying levels of technical expertise

Businesses can create customized surveys and forms tailored to their specific needs, whether it's gathering feedback, conducting market research, or assessing employee satisfaction

Seamless integration with other Google Workspace tools, such as Google Sheets for data analysis and Google Drive for secure storage
Benefits
Easy to use

Budget-friendly 

Real-time responses
Limitations 
Limited advanced customization compared to dedicated survey tools

Specialized surveys require more robust software

Requires internet access for online operation
Customer Review:

Pricing: The tool is free to use. They offer a paid plan for businesses for $12 per user per month. 
10. Microsoft Forms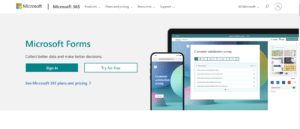 Microsoft Forms is a versatile survey creation tool offered by Microsoft as part of its Office 365 suite. It empowers B2B manufacturing businesses to create surveys, quizzes, and forms to collect data, gather feedback, and streamline various processes.
Best Features:
Seamless integration with Microsoft 365 for enhanced data management

Real-time analytics with visualizations

Strong security and compliance standards
Benefits
Intuitive, User-Friendly Interface for all users

Streamlined workflow with Microsoft 365 Integration

Customizable forms for specific needs
Limitations 
Less advanced customization 

The free version has some limitations, including a cap on the number of responses and the absence of some advanced features
Customer Review: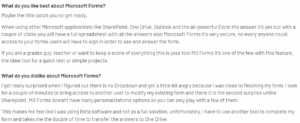 Pricing: Starts at $6.00 per user/month
Summing Up 
These 10 B2B manufacturing feedback tools offer different benefits and cater to various business needs boosting your business' productivity. Manufacturers can save costs, enhance customer satisfaction, and streamline operations using these tools. To choose the right one, consider your requirements and budget. With these tools on your side, you can stay ahead of your competition, adapt to market changes, and achieve success.
How much did you enjoy this article?
Stay up-to-date with latest CX tips and tricks, subscribe now!
Don't worry, we don't spam you.