Typeform is one of the many online survey tools that help users create interactive forms to collect customer data quickly. It is creative and is focused to help businesses create forms with less friction. 
Yet, some of the Typeform users, after enjoying its customizable web forms, find it unreasonably expensive and not meeting their purposes. All they look forward to is a cost-effective form builder without complicated features or plan limitations. 
So, let's explore the reasons why many businesses are looking for a Typeform alternative. Also, compare and examine the best Typeform alternatives available in the market today. 
Why Typeform alternative?
Though businesses use Typeform to capture feedback, there are some factors that are driving businesses away from it. Let us take a look into it.
No analysis of the data collected
Had to spend hours making sense of the data in excel
Not for NPS, CES, and CSAT surveys – only for marketing surveys and forms
Poor customer support
Limited features on the basic plan
Limited language customizations and data export functionalities
So which is the perfect alternative?
Which platform can you use?
Here's the compared and compiled list of the top 10 Typeform alternatives that can help you out.
Top 10 Typeform alternatives in 2023
#1 SurveySensum
SurveySensum is one of the leading online survey tools and a perfect Typeform alternative available in the market today.
Here's why.
It can help you create beautiful NPS, CES, CSAT, and all kinds of surveys at all the touchpoints across the customer journey. After gathering all the feedback in one place, it runs text analysis and gives you common insights. And its cross tabs and powerful dashboards enable you to see all the critical data at a glance.
Moreover, you can customize the reports however you want. 
SurveySensum is best suited for businesses that need to collect feedback as quickly as possible at affordable pricing. It is commonly used in automotive, insurance, and BFSI industries helping them enhance their customer experience in real-time.
Features:
Improved data security to keep the data encrypted and private.
Real-time feedback where you get notified of every response.
The text analytics feature identifies the emotions behind each response and groups them accordingly.
The automated word cloud feature tags word clouds automatically and understands the trends.
Pros: 
Create NPS, eNPS, CES, CSAT, and other types of surveys quickly with the pre-built templates.
Has customizable plans to suit your needs
Cons: 
You may need support for complex integrations.
Free Trial: Yes, it offers a free plan and a free trial
Pricing: You get customizable pricing options. The basic plan starts at $49/month if billed annually. 
Integrations: Yes, it supports integrations. 
Try SurveySensum features for FREE →
#2 Google Forms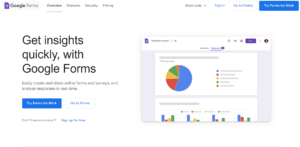 Google Forms is the simplest online survey form people are familiar with in the market. It is a perfect solution for both individuals and businesses if they need a simple form builder. It is similar to Typeform in most ways and enables you to create simple surveys and forms,
Features: 
Question shuffling and reordering
Questionnaire customization
Automatic answer suggestions for questionnaire
Quick statistics and reporting system
Pros: 
Unlimited questions and surveys
Free for lifetime
Cons: 
Not best for complex forms and surveys
Limited design customization
Free Trial: Yes, a free version is available.
Price: Free to use
Integration: Supports integration 
#3 Zoho Form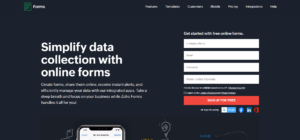 Zoho Forms is a simple and generic form builder. Both businesses and individuals can use it to collect data and run it through other Zoho apps. Though it has limited features, it is a good Typeform alternative for those looking for a cheaper option. If you are using the Zoho toolkit, it is going to save you a lot of money. 
Features:
Quick and easy collaboration with other tools
Built-in safety and security features
Easy embedding of surveys into websites
Seamless branding & drag and drop feature
Pros: 
Works well with Zoho Office Suite
Allows you to manage forms offline
Cons: 
Free version is allowed only one user
Doesn't offer room for customization
Free Plan: No, but offers a free trial
Pricing: Starts at $10.87/month
Integration: Supports integration
#4 Paperform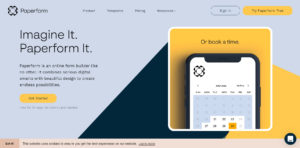 Paperform is a creative form builder that allows you to create beautiful forms online. The advantage of Paperform is that you need not require advanced knowledge or expertise to create forms online. 
Features:
Quick payment & inventory integrations
Conditional logic
Completely customizable forms
650+ professional templates
Pros: 
Provides plenty of customization options and themes
Lets you add documents and multimedia files in the forms
Cons: 
Lacks direct integration with eCommerce ESP and helpdesks
Need in-depth knowledge to use advanced features
Free Plan: No. Only a free trial is available
Price: Starts at $24/month
Integration: Yes, supports 2000+ apps
#5 SurveySparrow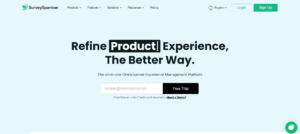 SurveySparrow is an advanced survey tool that offers excellent analytics and user experience. It is easy to use and manages as its interactive and conversational interface helps you create surveys quickly. 
Features: 
Responsive and mobile-friendly surveys
Customizable analytics & branding
Conditional branching & skip logic
In-depth visual dashboards and reports
Pros: 
Lets you collect data from multiple sources
Provides chatbots and other technologies
Cons: 
Pricey plans
Difficult to compare multiple surveys result
Free Plan: Yes, offers a free plan only for personal users
Price: Starts at $19 per month
Integration: Yes, supports integration
#6 Formstack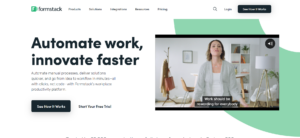 Formstack lets you design forms beautifully with images, graphics, and other elements. It can collect the electronic signatures of respondents, and doesn't require you to learn to write a single line of code to get all these done. 
Features:
Conditional branching and logic in the form
Electronic signature capturing
Intelligent analytics and reporting
Simplified workflows and team collaboration
Pros: 
Easy to set and use
Reduces scrolling and displays one question at a time for better response
Cons:
You need in-depth CSS and other coding skills to integrate APIs
Customer support is not resourceful
Free Plan: No, offers a free trial
Price: Starts at $50/per month
Integration: Supports integration
#7 Jotform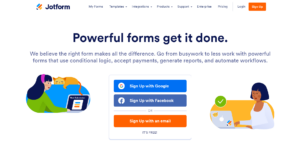 Jotform helps you create robust forms and collect data easily. It also comes with payment integrations like PayPal, Clickbanks, etc., and offers secure data collection mechanisms. It has thousands of templates to choose from and lets you streamline work quickly and easily. 
Features: 
Drag and drop form builder
Auto email campaigns
Offline data collection
Conditional logic and custom notification
Pros: 
Capture response even in the form of emails
Offers several integrations
Cons: 
Offers limited customization for form and analytics
Some form design features are buggy and slow down the form builder
Free Trial: No, but offers a free version
Price: Starts at $34/month
Integration: Supports integration
#8 Wufoo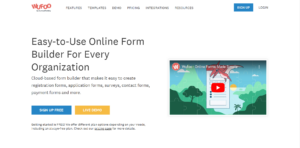 Wufoo is a minimalistic tool that allows you to create quick online surveys and forms. It can easily integrate payment apps and e-commerce collaborations quickly. Moreover, it is cloud-based and has an excellent user interface.
Features:
Branding and customization facilities
Robust security features
Real-time notifications
Custom reports and notifications
Pros:
Provides integration support with lots of third-party apps
Connect with payment gateways easily
Cons: 
Often difficult and tricky to learn for novices
Often has outdated user experience and platform feel
Free Trial: Yes, it offers a free trial and free version.
Price: Starts at $14.08/ month
Integration: Yes, supports integrations
#9 SurveyMonkey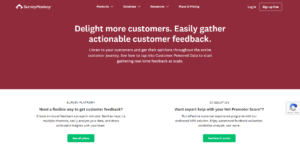 SurveyMonkey gives you a lot of customization options and logic rules. But a big concern with SurveyMonkey is that you need to pay an additional amount if you want to add more users.
Features:
Mobile-friendly, professional, and responsive forms
Multi-format data export
Question branching and skip logic
Web links, chats, and emails to collect max response rates
Pros: 
Lets you build advanced surveys
Easy to create questions, surveys, and polls
Cons: 
Customer service is often not that great
Pricey premium features
Free Trial: Yes, but no free plan
Price: Starts at $25 per user per month
Integration: Supports integration 
#10 Qualtrics
Qualtrics is one of the most popular online survey tools. It is expensive but allows you to collaborate with multiple departments easily. It offers extensive integration support and provides real-time analytics. 
Features: 
Offers enterprise-level survey tools
Comes with built-in sentiment analysis tools
Equipped with advanced tools like AI, ML, etc.
Lets you capture feedback from multiple sources
Pros: 
Can make real-time changes
Offers a very organized and detailed support page to figure out issues
Cons: 
Very expensive
Poor customer support
Often javascript fails and needs extra effort and attention to resolve it.
Free Trial: Offers a free trial, but no free plan
Price: Contact Qualtrics sales team for pricing
Integration: Supports integration 
Quick Comparison Table of 10 Alternatives
Let's sum this up and compare the most essential factors of the Typeform alternatives.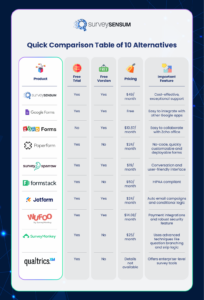 Which Typeform alternative is best for you?
You have read through all the 10 alternatives of Typeform and might still be at a hard place deciding which to choose for your business. 
Well, here's what you can do. 
Identify your requirements, fix a budget, and then analyze each of the Typeform alternatives individually to come to a conclusion. 
And do keep in mind one thing, you should choose the right one for your business and not what's best in the market. 
With that said, if you are still unsure about choosing the right software for your requirements, our experts are at your disposal, please feel free to reach out and get a free consultation.
Meanwhile, try SurveySensum features for FREE →
Frequently Asked Questions on the Online Form Builder
What are some free Typeform alternatives?
SurveySensum
Google Form
Wufoo
Jotform
You can read more about this from our resources 10 best Google Form Alternatives.
Why is SurveySensum the best choice for your business?
Apart from helping you with form building, SurveySensum helps you with
The timely launch of the campaign
Analyzing the collected data
Prioritizing the action based on the customer feedback
Provide insights and actionable tips to workout the data
What are the benefits of using an online form builder?
Following are a few of the benefits of using an online form builder.
Easy to build
Cost-effectiveness
Collect accurate information/data
Help improve/increase conversion rates
The data collected will be securely stored
What is the best online form builder?
Some of the best online form builders include: 
SurveySensum
SurveySparrow
Jotform
Formstack
Wufoo
How much did you enjoy this article?
Stay up-to-date with latest CX tips and tricks, subscribe now!
Don't worry, we don't spam you.