The right way to launch an NPS program – with SurveySensum
NPS is more than just a number! 
It gives you opportunities for improvements, reduces customer churn, boosts loyalty, gauges customer happiness, and does a lot more.  
While businesses are chasing to boost their NPS score, they've forgotten that it's not just about the score but also what comes with the process. 
With every NPS survey, you learn what customers are liking, what challenges they are facing, what can be improved, and if they are going to stay with you – only if used correctly.
So, let's understand what is the right way to launch an NPS program and what you need for it.
Here's a quick brief on the Net Promoter Score
What is NPS? – a quick brief
Net Promoter Score (NPS) is a relationship metric that measures customers' loyalty over time. Its index ranges from -100 to 100 which indicates if your customers are going to recommend your business/brand to acquaintances by asking one simple question.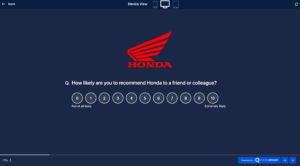 But this is not complete in itself. 
Ask an open-ended question followed by the loyalty question to know the reason behind the given score. 
For instance, if the customer has given you a 9 score then you can ask: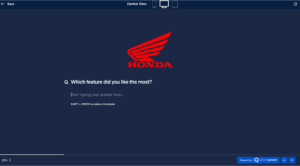 Similarly, if a customer has given you a bad score, let's say 4, then you can ask: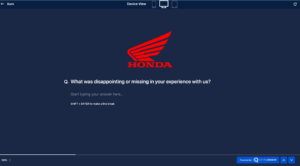 But in order to know what your customer feels about your brand, to share and collect feedback from multiple platforms, to analyze the gathered feedback, and to get the reports instantly; you need the best NPS tool.
The question now is, how will you know which is the best NPS tool amongst so many available tools in the market? 
Here's how you can identify the best NPS tool. 
The best NPS tool will not only help you to gauge customer satisfaction and loyalty but it will also help you make the process easy. With in-built templates, you can share NPS surveys in just a few minutes, with dashboards you can quickly gather insights, the reporting helps you share results, and the alerts help you take action on the feedback in time and close the loop.
There is so much to an NPS tool. Let's look at some of its features that must be included while choosing the best NPS tool. 
Features of the best NPS tool
Here are the features that you must keep in mind while selecting the right NPS tool: 
Automated surveys

Customizable survey templates 

Seamless integration 

Customer segmentation as per their persona to choose the right sample

Customized dashboard

Real-time notification alerts

Comprehensible reports
There are many NPS software available in the market but having the above-mentioned features and the ability to help your business grow makes an NPS tool the best. See how SurveySensum can help your business. 
How SurveySensum's NPS tool help your business?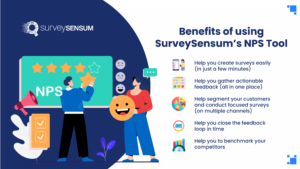 Here are some of SurveySensum's best features
1. Running out of time to create NPS surveys?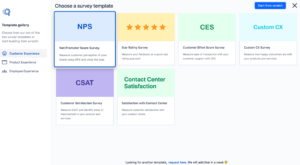 With SurveySensum's in-built survey templates, you can create an NPS survey within minutes. All you need to do is, choose the NPS template (which includes the loyalty and the follow-up question), add your branding, and you are good to go!
2. Instant automated alerts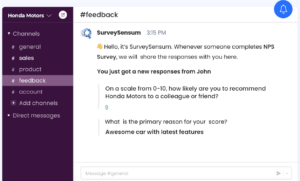 Yes, now you can get instant notifications just after the customer has responded to your survey. With this alert, you can take instant action on detractors and close the feedback loop effectively. 
For instance, Honda motors integrated SurveySensum with Slack and this is how they receive instant notifications on Slack whenever the customer responds.  
And not just that, with every good feedback that you receive, you can share it in your group and give a shoutout to the person responsible for it; creating a healthier and appreciative environment at work.
3. Text and Sentiment analysis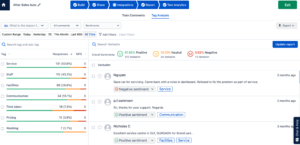 Text and sentiment analysis lets you analyze the received open-ended feedback. All you need to do is train the machine on how to create the tags according to the concerned department, functions, features, experience, etc on the first 100 feedback.
And once you do that, all the remaining feedback will be tagged in real-time, giving you the top trends, customer complaints, and sentiments. 
All of this is done in minutes and you will have top areas to work on. 
4. Sharing surveys on the right channel is the need of the hour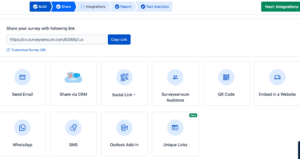 Do you know which channel your customers are using the most?
If yes, then share your surveys there only because that can increase your survey's response rate. The preferred channel of your customers can be any platform such as Email, Whatsapp, SMS, in-app chats, website, bots, social media channels, etc. After finalizing the channel, upload your CSV document or add the details directly and share your surveys. 
But how to handle non-responders?
For them, you can set up automated reminders and reduce the number of emails to avoid survey fatigue. 
5. Powerful dashboard and reporting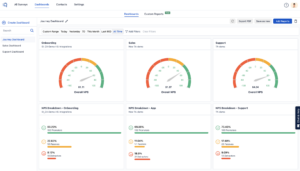 SurveySensum's dashboard gives you an extensive view of all your current surveys on one single screen with all its reports and data. It shows you the total number of detractors and promoters, the number of feedback received, top trends, and sentiments.  Further, the customizable dashboard lets you view insights of a particular survey as per your requirements. 
Another thing to note here is that no manual reporting is required on this platform. You can simply click on "Export Report" to download the data. 
6. Seamless integration 

You can integrate SurvyeSensum with the applications you use daily to avoid the hassle of switching from one platform to another. Applications like Zendesk, Hubspot, Salesforce, etc can easily be integrated into SurveySensum. 
You can customize it to receive the notification directly on the Slack server, share surveys inside chats on Intercom, or integrate with other CRM applications using open APIs. 
7. Easy user interface 

You DONT need to learn how to use SurveySensum. 
Its user interface is really simple and understandable. All you need to do is explore and navigate through the platform to grasp all the features and their usage easily. Also, it saves ample time on analysis and reports.
8. Brilliant customer support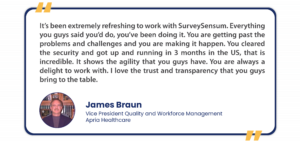 The best thing about SurveySensum is – its support. It is known for it!
Have a problem? Just reach out to its team anywhere you want to (email, WhatsApp, chat, on-call), and they'll be there, every step of the way till your problems are resolved.
9. Transparent pricing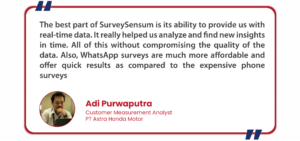 Yes, we are not kidding!
No hidden pricing or charges on upgrades. Pay only for the number of responses you want. Also, the best way to see how SurveySensum works is by opting for its free trial as all the features are free to use, so you can explore the platform entirely.
You can read more about our pricing plans here.
How to create an NPS survey – with SurveySensum
Here's a step-by-step guide about creating an NPS survey quickly on SurveySensum. 
STEP 1: Create your account for free
Go to the SurveySensum website and on the top right corner of the page, click on the Sign-up button. 
Or, sign up for free from here.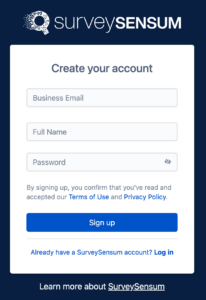 STEP 2:  Create a survey by selecting the NPS template
After logging in, click on "Create survey" and choose the NPS survey template.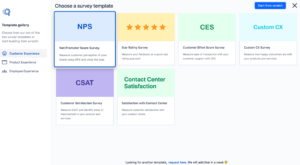 STEP 3: Customize the pre-built NPS survey template
After giving the name to your survey and selecting the language, customize the template as per your business requirements. Add your branding, and edit open-ended questions (if you want to).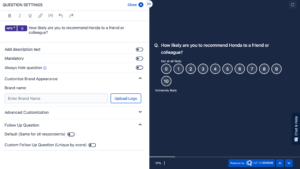 STEP 4: Share your survey on your customer's preferred channel
With the multiple options available for sharing the survey, you can choose any one medium. 
Let's share it via WhatsApp here.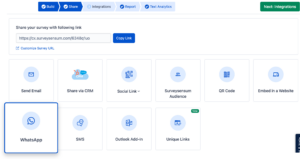 Create a contact list of your customers.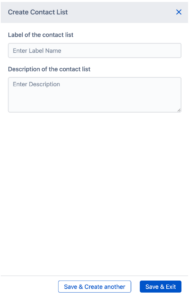 After creating the contact list, select the template and send the survey on WhatsApp.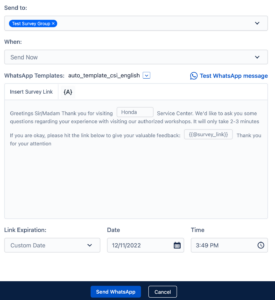 This is how your customers will receive the survey on WhatsApp.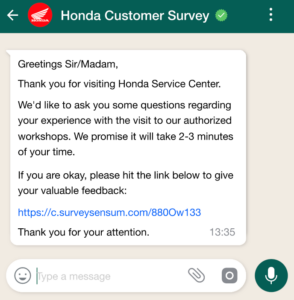 If you are sending the survey via email, select email, fill in the details and click on send button given in the top right corner.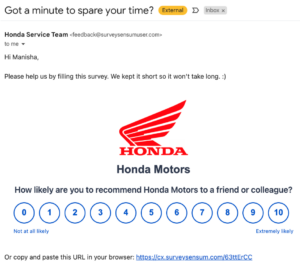 This is how the respondent will receive the mail. 
STEP 5: View reports on your all-in-one dashboard
After receiving the responses, here's what the well-designed and sorted dashboard will look like. It will display everything from the NPS score to the top trends.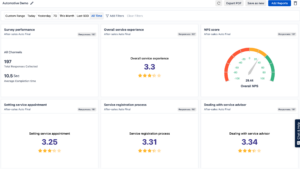 And not just that, you can customize the dashboard as per your needs. For instance, you can edit the resorts that you want to see on your dashboard.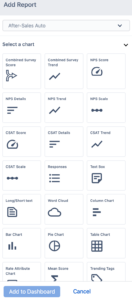 This is how you can create an NPS survey on SurveySensum hassle-free in just 5 steps, get instant notifications, and view all the reports whenever required. 
To sum up
NPS is not just a number. It can be a real asset to the organization if used in the right way. And for that, you need a powerful NPS tool. So, choose it wisely!
Meanwhile, try SurveySensum's features like NPS calculator and create a free NPS survey today.
How much did you enjoy this article?
Stay up-to-date with latest CX tips and tricks, subscribe now!
Don't worry, we don't spam you.